Columbus Day
October 13 is Columbus Day [The Oatmeal].
Happy Columbus Day! pic.twitter.com/xbHjXExOHc
— Laila Lalami (@LailaLalami) October 13, 2014
Hong Kong
HK honcho C.Y. Leung: "Students have zero chance of success" [South China Morning Post].
Eyewitness account of clash at Mongkok [Asian Correspondent]. Admiralty crowds swell after government ends talks [Asian Correspondent]. (And too close to deadline to fish out the tweeted photos, but where barriers were removed by police, protesters are rebuilding them with bamboo, packing tape, and cement (!).) More on new barricade construction [South China Morning Post].
Dozens of masked men rush barricades at Admiralty [AFP].
Hong Kong's European legacy, and the shadow cast by the Century of Humiliation [The Diplomat].
Images from the third week of Hong Kong protests [Getty].
America the Petrostate
Proven shale reserve figures are not the same as reserve figures marketed to investors [Bloomberg]. Sure, but 500% off? In the direction of, like, "oceans of oil just waiting under there"?
Communists in Somerset, Kentucky open city-owned gas station [Governing].
ObamaCare
Fortunately, any significant information on ObamaCare 2.0 won't appear until after the mid-terms [USA Today, Bob Laszewski].
Privatized Medicare plans deny promised coverage and reject valid claims. "Federal officials expressed frustration that they were seeing the same kinds of deficiencies year after year" [New York Times]. Another neo-liberal infestation gone wrong or, according to your perspective, gone right.
Imperial Collapse Watch
More than $1 billion in Iraq reconstruction money was spirited to a bunker in Lebanon as the American and Iraqi governments ignored appeals to recover the money, according to James Risen's new book [Guardian]. That's real money!
Iraq merc trainer SCI International was run by a scammer and fabulist [Outdoors]. Birds of a feather.
Ferguson
I should have exhaustive coverage of this, since STL > HK for local or rather continental interest, but I — and especially since the cops whacked another black kid — come away with the impression of actions that are organic, well-planned, strategic, disciplined, and in it for the long haul; it's probably a good thing the media glare isn't focused on STL right now. I care less about people parachuted in, especially professors of this or that. We'll see how it goes, and especially how it goes if the grand jury doesn't indict Darren Wilson.
Mainstream needs to understand that "unrest," "civil disobedience," and "anger" are not interchangeable concepts [LA Times]. Good quotes, less good framing.
About 120 people from outside STL training for civil disobedience. "I guess I'm here to learn how to get arrested" [St. Louis Post-Dispatch].
2014 and 2016
Administration sets up panel to review Secret Service "lapses" [McClatchy]. Translation: No more hooker eruptions 'til after the midterms.
Six Senate seats "most likely" to switch from Democratic to Republican control [WaPo].
DSCC outraises Republicans by $30 million, has $14.2 million cash on hand [Rollcall].
More on "mystery candidate" Greg Orman, the "independent" challening Pat Roberts in Kansas:
Kansas City Star (Missouri paper, Kansas markets) endorses Greg Orman [Kansas City Star]. " A successful Olathe businessman who has the needed background to work with other senators"… Because he will caucus with whichever party wins the majority? [HuffPo].

92% of Ormans contributions were over $2,300, as opposed to 42% for Roberts; McKinsey employees are Orman's #2 contributor, at $20,000. And #1? The family of Rajat Gupta, a former managing director at McKinsey convicted of insider trading [Open Secrets, September 4]. How cozy. And here's a very interesting true fact, from the [Topeka Capital-Journal, September 21]:

After Gupta's conviction, Orman was handpicked by Gupta in April 2013 to be Gupta's representative on the two-person board of New Silk Route, a Cayman Island-anchored $1.21 billion private equity partnership concentrating on markets in the Middle East, Asia and the Indian subcontinent.

Orman and Gupta's names appeared on Securities and Exchange Commission records as "indirect owners" of the fund in 2013, the period during which Gupta was appealing his guilty verdict.

Orman remained on New Silk Route's board until March 2014, choosing to leave three months before launching his Senate campaign. Orman's replacement on the New Silk Route board was Aaron Deuser, an analyst at Orman's Exemplar Wealth Management in Olathe. Deuser also has worked for Orman's campaign.

Hmmm…. (Oh, I forgot the headline: "Orman's link to jailed investor deeper than first portrayed." So that would be the "need background" the Kansas City Star thought so highly of. Check. Anyhow, more here.) Now, the story of Orman's murky ties to crooked money hasn't quite died [The Hill, October 12], although it nearly has, presumably because soi disant Democrats in the pockets of finance is a total non-story after Obama's bailouts.

All this said, I'm pleased that Orman's campaign manager tweeted that Roberts was part of the "bedwetter's caucus" [Washington Monthly]. Too bad he forget to mention the Bedwetter's Caucus is thoroughly bipartisan.
Ebola
McCain: "There has to be some kind of czar" because fear [Bloomberg]. If we didn't have jalopy institutions hollowed out by austerity and neo-liberal infestations, even authoritarian followers wouldn't saying this.
Louisiana AG to block transport of incinerated ebola waste across state lines from Texas because fear [CNN].
CDC head advocates "rethinking" approaches, "doubling down on the amount of training" [Wall Street Journal]. Exactly what the nurses' union called for a week ago ("How do we clean an elevator?") but of course a nurse had to die for a course correction to be made.
Cuomodammerüng
Courageously profiling, Cuomo punts on fracking, Tappan Zee tolls, and casinos 'til after the election [Newsday].
Cuomo gave his State Police security detail watches as gifts, using campaign funds. There are rules about that, but Cuomo asked the State Police Superintendent, who said fine [Times-Union]. So that's alright, then.
Howie Hawkins has 10% of the vote, says Quinnippiac poll [Daily News]. Not spoiler territory yet — or the second coming of Jesse Ventura — but Hawkins got 1.3% in 2010.
News of the Wired
Plug-n-play Tor in box, rounded for concealment in  body cavities (!) [Wired]. Here's hoping Tor itself is safe.
"Our toleration of ******* behavior must end, and it's such an integral part of nerd culture that nuking the entire thing from orbit is the only way to be sure" [Radar].
SF bros rent soccer field, kick local kids out. "Off Camera Guy in Dropbox Tee-Shirt: 'Who gives a shit? Who cares about the neighborhood?'" [Uptown]. Note the happy effect of neo-liberal policy of charging fees for "public" services.
Intel pulls advertising from Gamasutra in Gamergate fallout, issues non-apology apology [Polygon]. And does not re-instate the ads.
How LinkedIn became a player in China [New York Times].
S'pore to be renamed Lee Kuan Yew next year [New Nation].
"And they're like, 'Uhhhh. Who gave this to you?' 'The King of Sweden'" [Scientific American].
France's Jean Tirole wins 2014 "Nobel" Prize for Economics for his work on regulating monopolies and cartels [France24]. Funny, he's not from Chicago.
Farage to join Cameron, Miliband and Clegg in TV debate, but not Greens or SNP [Independent]. BBC underlining the "British" in "BBC."
Rhetorical figures are full of win, with examples [HuffPo].
Big red sun [NASA].
* * *
Readers, feel free to contact me with (a) links, and even better (b) sources I should curate regularly, and (c) to find out how to send me images of plants. Vegetables are fine! Fungi are deemed to be honorary plants! See the previous Water Cooler (with plant) here. And here's today's plant (via):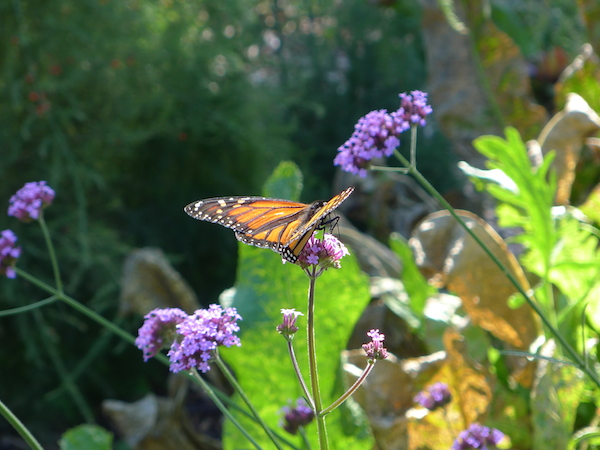 I know this shot (of verbena) contains an animal, but I'm going to rationalize it as depicting a whole system, of which plants are a part.
Talk amongst yourselves!