This is Naked Capitalism fundraising week. 1049 donors have already invested in our efforts to shed light on the dark and seamy corners of finance. Please join us and participate via our Tip Jar, which shows how to give via credit card, debit card, PayPal, or check. Read about why we're doing this fundraiser, what we've accomplished in the last year, and our current target, funding for more original reporting.
Lambert here: I'm just going to say what I said yesterday: "bad-ass" is just shorter for "original reporting." Help Yves become even more bad-ass! The PayPal button is to your right.
* * *
Hong Kong
HK squillionaire Jimmy Lai: "I am sure the whole world will wish it had spoiled kids like these" [Economist]. Protester study corner at Occupy Admiralty [Twitter].
Hacked recordings released, between Lai and Taiwanese protesters experienced in mass street protests and "high-stakes activism" [Asia Times]. There's starting to be a lot of oppo, but whose oppo isn't entirely clear.
Protesters regroup and take to the streets again after government rejects talks [Reuters].
The protesters are well equipped to sit it out, with supply stations stocked with essentials. They also have makeshift showers and dozens of tents pitched where they can sleep.
Shorter: Funding.
Mong Kok home of the "scrappiest" protests [McClatchy].
MH370
Emirates head Tim Clark points out the transponders were disabled from the flight deck, and ACARS is hard to disable and pilots aren't trained for it. So how'd that happen? [Der Spiegel]. Clark: "MH 370 was, in my opinion, under control, probably until the very end." At some point, we'll write this one off with "we'll never know" [Bloomberg] but not, apparently, yet. 
CNN's aviation analyst Miles O'Brien: The Boeing 777's underfloor equipment bay "hatch" allows access to circuitry and fuseboxes, is outside the cockpit door, and commonly not secured [CNN].
An official report from the Australian Transportation Safety Board on how MH370 went down based on a simulation [International Business Times]. There will be "ongoing refinements" in the search area [Daily Mail].
2014 and 2016
Kansas "independent" Greg Orman, hoping to unseat Roberts and caucus Democrat, wants to cut Social Security [Salon]. And you thought Democrats had given up on the Grand Bargain!
In unrelated story, squillionaires rush to helicopter drop pallets of cash to Orman campaign [Politico].
Hillary Clinton's stand on the "Grand Bargain" at Colgate University last year:
In reply to a question about long-term budget deficits, Mrs. Clinton touted the sort of compromise Mr. Obama has embraced. She suggested something akin to Mr. Obama's "grand bargain" –  a deficit reduction package that includes both tax revenue increases and adjustments to Social Security and Medicare.

"What has worked is a compromise where, yes, we raise revenues for a certain period and we go and look at entitlements to see what is fair and can be done either existing beneficiaries or people who are going to rely on these programs …" Mrs. Clinton said.
"Without really disadvantaging." So what does that mean? People might feel they're disadvantaged, but won't "really" be, because hedonic adjustments? Like a cheaper brand of cat food?
Gwyneth Paltrow to Obama: 'You're so handsome that I can't speak properly" [McClatchy]. Well, power is an aphrodisiac. Obama's quote:
Most of the gains in our economy go to the folks who are in this lovely yard—and the average person has not seen their wages or incomes go up in the last 20 years"
Thought balloons over the heads of "folks" in the yard: "Good job!" and "You say that like it's a bad thing."
Paul Ryan's Hachette book becomes easily discoverable, gets a 25% discount, and ships immediately, unlike other Hachette authors [McClatchy]. What, no ads from Jeff's house organ at WaPo?
Voter ID laws successfully shrink electorate for youth and blacks in Kentucky and Tennessee [WaPo].
Another trial balloon for Mitt Romney [Times]. Dear Lord! If we'd elected Romney, income inequality would be even worse, the economy would be in a permanent recession, and we'd probably be at war. Oh, wait…
Cuomodammerüng
Cuomo proposes creation of state Office of Faith-Based Services [Daily News]. A twenty-point lead and he's pushing a Bush program from the year 2000 (A.D.)?! Cuomo didn't "have to say that," so just like Clinton and America's imperial mission and blowing wedding parties to pink mist, he must really believe this stuff!
Cuomo proposes to fund new Tappan Zee bridge with some of the $4 billion in bankster settlement fines [Journal News]. The crash and then the bailouts were the largest upward transfer of wealth in world history, and all New Yorker's get out of it is a lousy toll bridge? So Cuomo actually is selling a bridge, here. I never thought I'd see that done in real life!
Stats Watch
Import and Export Prices, September 2014: "Year-on-year, import prices are deep into the deflationary zone at minus 0.9 percent." "When excluding agriculture, export prices also fell 0.2 percent on the month and are unchanged year-on-year" [Bloomberg]. On imports, cheaper oil, and cheaper goods from EU owing to the strong dollar [Reuters].
Rapture Index: Steady [Rapture Ready].
News of the Wired
* * *
Readers, feel free to contact me with (a) links, and even better (b) sources I should curate regularly, and (c) to find out how to send me images of plants. Vegetables are fine! Fungi are deemed to be honorary plants! See the previous Water Cooler (with plant) here. And here's today's plant, and I forget what it's called: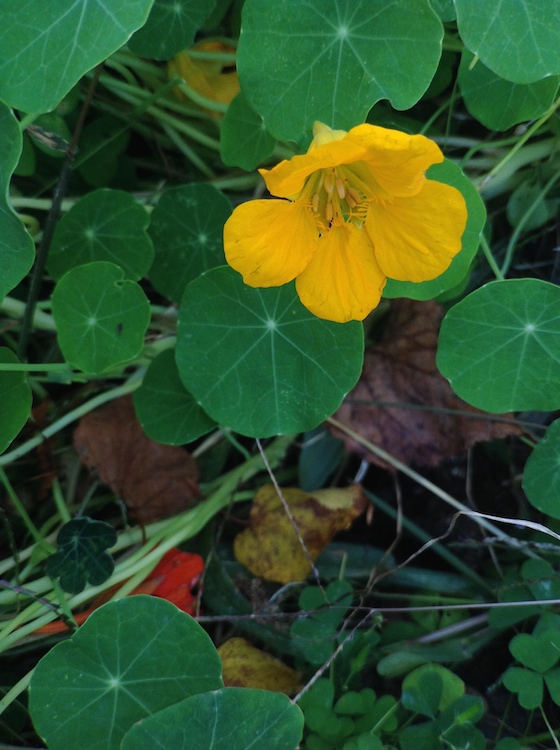 I like the tapestry-like look of the "mess" — no bark mulch for me! — because it reminds me that the complexity of the systems we as humans build is as nothing beside the multilayered complexities of even a small patch of a small garden.
Talk amongst yourselves!