By Lambert Strether of Corrente
Class Warfare
Yellen expresses "great concern" on "income inequality" at Boston Fed conference on said topic, and lists "four building blocks" for "gains in income and wealth": (1) "Resources Available for Children"; (2) "Higher Education that Families Can Afford"; (3) "Opportunities to Build Wealth through Business Ownership"; (4) "Inheritances" [Board of Governors of the Federal Reserve System]. (5) Accounting Control Fraud; (6) Helicopter Drops (6). Fixed it for ya. So where's mine?


Ebola
Questions real reporters should be asking Texas Presbyterian [Steven Brill, Reuters]. Here's a good one: "How, in fact, are the bonuses at Texas Health determined?"
Nina Pham stable and in good spirits at NIH [McClatchy]. Movie title: "Escape from Texas Presbyterian."
Exposed Texas health workers isolated on Carnival cruise ship [Reuters]. Not perhaps the best optics.
Obama names Democratic Third Way insider and Biden (and Reno (and Gore)) chief-of-staff Ron Klain ebola "czar," placing him in "Homeland Security" chain of command [New York Daily News]. Klain was General Counsel of Gore's Florida Recount Committee [Wikipedia], so let's hope things turn out better this time. Klain has no health care experience.
WHO: "Nearly everyone involved in the outbreak response failed to see some fairly plain writing on the wall" [Guardian]. Well, except for Médecins Sans Frontières, Cassandras for both WHO and the CDC.
Republicans call for sphincter control travel bans [AP]. 
Hong Kong
Mong Kok: Cleared [Reuters]. Recaptured [WSJ]. Photos [Hong Wrong].
Protesters leery of government offer of talks [Asian Correspondent].
CY Leung: "The Hong Kong … government cannot make something that is not in the Basic Law possible" [Christian Science Monitor].
And on the mainland, conflict over land in Kunming [New York Times]. From the details, there weren't many "study areas" set up…..
Ferguson
St Louis Mayor agrees to meet with protesters after 60 protesters hang banner in City Hall [Riverfront Times]. Here are the demands of Young Activists United, which will be in attendance:
The group wants Slay to force police officers who have "any interaction with the public" to wear body cameras, establish a civilian review board and independently investigate all fatal police shootings. The group also asked Slay to break ties with the federal government's 1033 program, which sends military hardware to police departments. Maggie Crane, the mayor's chief spokesperson, tells Daily RFT that the city has no relationship with the program.
Quite moderate! How about turning any existing armored vehicles into planters in city parks and letting them rust out? Notice also how the protests have scaled out to St Louis as a whole. Impressive.
St Louis cop Keith Novara placed under investigation for calling protester's boss because of protester's "inciteful" tweets [St Louis Today]. But he's not suspended. So, citizen harrasment is departmental policy, then? (If you want to hear the followup conversation between protester and cop, before this became a story, see yesterday's Water Cooler.)
Detail on the stately pace of the Darren Wilson grand jury [Vox].
America the Petrostate
"Capitalism's catabolic implosion" [Counterpunch].
New York's highest court upholds local fracking bans [CNY Central]. Good!
Railroads argue crude shipments should be kept secret because terrorists and environmental extremists [McClatchy].
2014
Race tightens between sleazy private equity "No Labels" D mole Greg Orman and R silverback ("Soros!" "Baby killer!" "Illegals!") Pat Roberts [Public Policy Polling]. Meanwhile, the AFL-CIO, with its fearsome "ground game," backs Orman [National Journal].
Is Martha Coakley the Bill Buckner of Massachusetts politics? [Politico]. Coakeley as Massachusetts Attorney General took Goldman Sachs for $20 million in fines, and didn't run on that in 2010, blowing the race. So, no, she's not. Bill Buckner couldn't choose to play with two good ankles, but Coakley chooses not to run on her one good issue. Unfortunately, the Ds have no late inning defensive replacement.
2016
Crowdpace unbundles the Overton Window for politicians issue-by-issue; here's Hillary Clinton [Politico]. "Just where does the Russian Tea Room stand?"
Real time oppo from Republicans on Clinton [National Journal]. Interestingly, they're not targeting only conservatives.
Stats Watch
Housing starts, September 2014: Total starts and permits up, but permits below expectations. Multifamily permits up, single families down [Bloomberg]. "[E]conomists showed little enthusiasm" [USA Today]. And mortgage rates still at all-time lows.
Consumer sentiment, October 2014: Expecations component up, current conditions unchanged [Bloomberg]. Dollar edges higher [Reuters]. Cheaper gas trumps ebola fear. "[C]onsumers are still not spending freely" [WSJ]. 
Rapture Index: Unchanged [Rapture Ready].
Cuomodammerüng
Grandstanding Cuomo announces random ebola drills on New York Subway [HuffPo]. "Neither Cuomo [subway head] Prendergast addressed how random subway drills might affect the public."
News of the Wired
* * *
Readers, feel free to contact me with (a) links, and even better (b) sources I should curate regularly, and (c) to find out how to send me images of plants. Vegetables are fine! Fungi are deemed to be honorary plants! See the previous Water Cooler (with plant) here. And here's today's plant, at Thompson Wildlife Refuge in Markham, VA: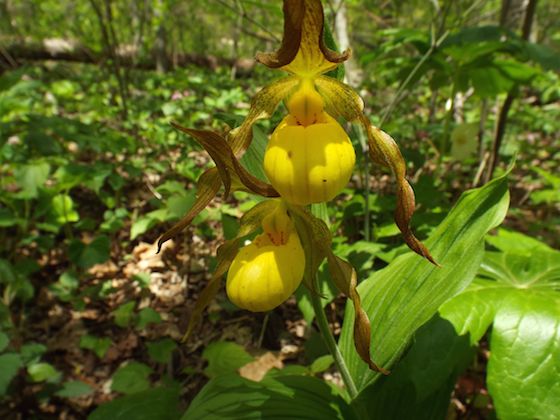 Talk amongst yourselves!