By Lambert Strether of Corrente
Ebola
Personal Protective Equipment (PPE) geekery; it's doffing that's the problem [HuffPo].  It's almost as if the virus attacks our society's weakened immune system, not the body's.
WHO declares Nigeria and Senegal virus-free [BBC].
Cuba deploys hundreds of medical professionals to West Africa [New York Times]. More than our sclerotic institutions can do.
Hong Kong
Hong Konger arrested for "accessing a computer with illegal or dishonest intentions," meaning urging people to protest [WSJ, "Hong Kong Protests: Man Arrested Over Online Messages"].
An "urban village" at Admiralty [NPR], a "perfect anarchist collective" (!) [Time].
The "Umbrella Revolution" in Lego [NBC]. Not Legco, mind you.
Ferguson
How Ferguson Became Ferguson [Economic Policy Institute].
Protesters and football fans clash after Rams game [International Business Times]. Here's the video.
Oddly, or not, the Keene, NH PD did not deploy its $286,000 BearCat armored vehicle, despite arson, vandalism, and assaults from a violent, drunken mob, which our famously free press described  as "rowdy students," as opposed to Ferguson, where protesters were described as "thugs" [Boston Globe]. One can only wonder why. And while we're at it, where's the pearl-clutching about "white on white crime"?
2014
Saving the Senate comes down to the black vote [New York Times]. Nice to see Justice pursuing a civil rights charge in Ferguson. Oh, wait….
40,000 unprocessed Georgia voter registrations. mostly black and Hispanic [Al Jazeera]. Sure, it's reprehensible, but how come this project only started months ago, and why aren't the Ds sponsoring it as a party-building effort, instead of letting some non-profit do it? To me, it's kayfabe: The Ds want to point the finger at the Rs, but don't want to actually do what they blame the Rs for preventing them from doing. 
Shifting demographics haven't changed the race or gender of elected officials [The New Yorker]. Or the class, one might add, as the writer does not.
Obama hits the campaign trail, first in very friendly counties, then in merely friendly states [WaPO]. But people leave early [Reuters]. Ouch.
2016
Jebbie's the pick the the litter [WaPo]. Yikes.
Clinton aides said to bury hooker eruption at State [Time]. No traction, because the entire imperial apparatus is implicated.
Clinton tests 2016 themes on the road [WSJ]. Pro quote: Evan Bayh. Anti quote:  Roger Hickey.
Harper's print version: "Stop Hillary!" She's got a weak Senate record, she's a hawk, she's ambitious, not idealistic, and has no trouble representing the rich [HuffPo]. Unlike… Unlike… Wait, I'm thinking… 
America the Petrostate
Fracking Activist Vera Scroggins fined for being in the same general area as Cabot Oil and Gas Corporation [Guardian].
Stats Watch
Rapture Index: Down one on earthquakes [Rapture Ready].
Cuomodammerüng 
Well ahead, Cuomo runs out the clock with no "press the flesh" events [New York Daily News]. But he threw his "core supporters" a sop with a court appointment [New York Times].
Meanwhile, Cuomo's concept is that Clinton and the Ds are "center left" [New York Magazine]. Ds are so weird.
As for 2016, Cuomo hasn't raised money or campaigned for other Ds. Or visited Iowa [CBS].
And what's with the white pumpkins? [New York Observer].
Maps and Mapping
Africa may not look like we think it does [Think Africa Press].
Edward Tufte on maps moving in time [Edward Tufte]. With side-by-side method for setting standards of excellence.
The BBC's ontology for news storylines [BBC]. Ontologies using the same data architectures as maps.
Network analysis of Game of Thrones, and how to predict the next Bin Laden [Defense One, (furzy mouse)]. Network analysis using the same data architectures as maps and ontologies.
News of the Weird
* * *
Readers, feel free to contact me with (a) links, and even better (b) sources I should curate regularly, and (c) to find out how to send me images of plants. Vegetables are fine! Fungi are deemed to be honorary plants! See the previous Water Cooler (with plant) here. And here's today's plant (Petra):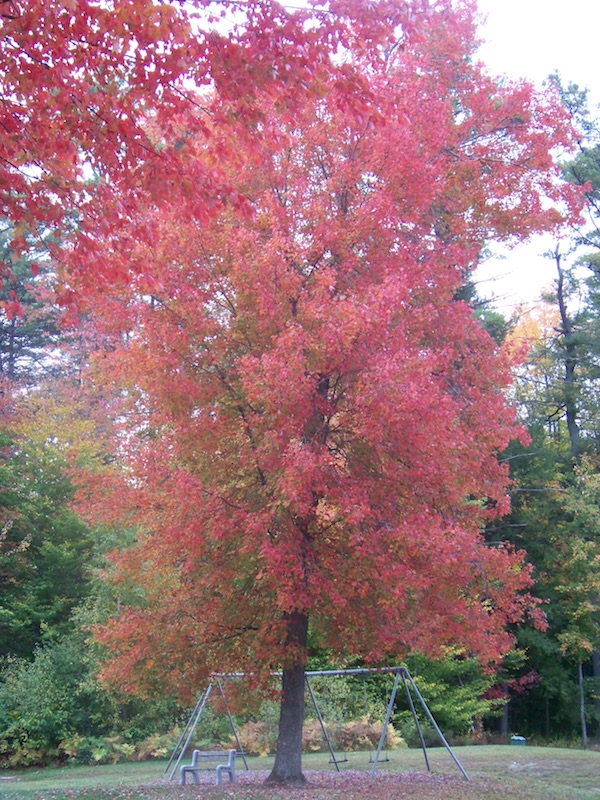 Fall foliage! And I wish I were out playing on that swingset. Or sitting on that bench….
Talk amongst yourselves!