By Lambert Strether of Corrente.
This is Naked Capitalism fundraising week. 461 donors have already invested in our efforts to shed light on the dark and seamy corners of finance. Join us and participate via our Tip Jar. Read about why we're doing this fundraiser, what we've accomplished in the last year, and our current target.
Hong Kong
Government offices, including C.Y. Leung's office, surrounded by protesters [BBC].
Leung says he will not step down, delegates Carrie Lam, his second-in-command, to talk with protesters [ChannelNewsAsia]. This after Hong Kong Federation of Students leader says they're open to talks, mentioning Lam [Bloomberg].
Former White House advisor: "Beijing is not going to lose." Democracy advocates should focus on the makeup of the panel that vets candidates [WaPo].
Mainlander reactions mixed; some notice not only the protests, but also the lack of litter. Others say Hong Kong has a good life, so why make trouble, or democracy is chaotic [NPR]. Or that protesters are spoiled and gullible, and should fold their umbrellas and go home [Foreign Policy]. There's also a #FirstWorldProblems response — What have you got to worry about? — at least from some shoppers [Quartz]. Tour groups to Hong Kong have been cancelled [Telegraph].
PRC also worried about protests over labor conditions, the environment, land grabs, ethnic tensions [Businessweek]. Counter-strategies include censorship and "cutting the head off the serpent" (jailing the leaders). I can't help but think that reactions to the protests by mainland Chinese might vary by, er, class.
Fracking
Readers, do you need explainers on this? I've been watching this story since 2010, and the issues are a lot like landfills, to me, so I assume how the pieces fit together is clear. But I could be wrong!
In shocker, chemical companies don't want to disclose the composition of fracking fluids [Scientific American]. Because what could go wrong?
In second shocker, study claiming that PA fracking did not contaminate landowner's well "might have used incomplete and inaccurate test information" [Post-Gazette].
Driest headline in the world, ever: "Ohio fracking waste issues go beyond chemical disclosure" [Midwest Energy News]. Indeed they do. Read the whole thing and be appalled. Fortunately, it's not like Ohio is at the head of a major watershed. Oh, wait….
MIT grad creates online exchange for used fracking water [Xconomy]. If only they could figure out how to make more of it!
Fracking boom could lead — cough, cough — to frack sand operations in 12 more states; handy map [International Business Times].
Exxon to activists and the state of New York: "Hydraulic fracturing has been responsibly and safely used by the oil and gas industry for more than 60 years, but the process isn't without risks" [AP]. Alrighty then.
And fracking is a pure play in guar [WSJ].
Ebola
Up to 100 may have been exposed to Ebola virus in Dallas [Reuters]. The patients contacts are being traced [Times].
Texas Health Commissioner: "We have tried and true protocols to protect the public and stop the spread of this disease" [USA Today]. Well, let's hope the CDC does better than the Secret Service, or the HHS, and better than… Well, just about any other of our "jalopy institutions" I can think of right now, with the possible exceptions of the US Post Office, which delivers my mail, come what may, and the Social Security administration (hat tip to well-known communists Ben Franklin and FDR, respectively).
Stats Watch
Gallup US Payroll to Population, September 2014: Workforce participation has risen slowly, from 66.6 percent in July to 67.2 percent in September. Gallup's measure of underemployment has remained flat through September. Workforce participation continues to be lower in 2014 than in prior years, but has continued to increase steadily since July [Bloomberg].
Jobless Claims, week of 9/27: Steady decrease of workers drawing unemployment benefits, pointing "solidly at improvement underway in the labor market" [Bloomberg]. Feh. Commit this chart to memory, because that is the operational definition of "improvement" for these guys.
Factory orders, August 2014: "flat order growth for the nation's manufacturing sector" [Bloomberg].
News of the Wired
* * *
Readers, feel free to contact me with (a) links, and even better (b) sources I should curate regularly, and (c) to find out how to send me images of plants. Vegetables are fine! Fungi are deemed to be honorary plants! See the previous Water Cooler (with plant) here. And here's today's plant, from the Missouri Botanical Gardens: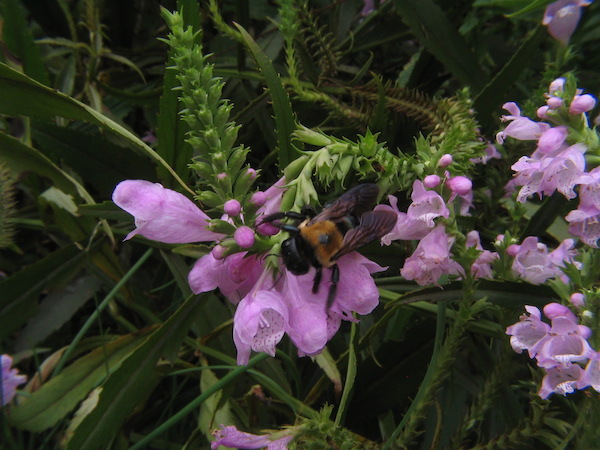 I had such an excellent time this summer at the Coastal Maine Botanical Gardens, so I'm wondering if readers have photos of plants in the botanical gardens of their own states? (Of plants I mean, and not of gift shops or fountains, I am compelled to add out of due diligence).
Talk amongst yourselves!