Lambert here: Readers, that thermometer over there? It's still rising, but sl-o-o-w-ly. Join 526 others, and support the guest writers (disclosure: includes moi) who write this page, and backstop Yves on Links, and posts, and do much else behind the scenes developing stories: David Dayen, Richard Smith, Philip Pilkington, among many others.
Yves cannot do it all, and the Naked Capitalism guest writers, besides being strong voices themselves, take the load off her. The PayPal button is to your right. Here's why we're doing this fundraiser, what we've accomplished in the last year, and our current goal.
By Lambert Strether of Corrente.
Hong Kong
Hong Kong Federation of Students calls off talks after pro-Beijing crowds assault camps in Mongkok and Causeway Bay [Sidney Morning Herald]. The two biggest occupations remain in place [Times].
Some strongly oppose the protests, as one would expect (pictures) [HuffPo]. Protesters in Mongkok shopping district urged to retreat to Admiralty [The Standard]. Pro-Beijing anti-protesters: "I am a Hong Kong person too," "We're losing money" [International Business Times]. And if you owe money to the Triads, that could be bad.
"Any concessions to Hong Kong would embolden the self-rule movements there and spark democracy movements elsewhere in China. That's why Beijing will never bow to our demands" [SCMP].
Hong Kong may represent "the true, rebellious" nature of China better than the Mainland [Spectator].
On Occupy Central and the NED, from [Common Dreams]:
[Some have claimed that] the protests "masquerade as a "pro-democracy" movement seeking "universal suffrage" and "full democracy," but are really backed by "a deep and insidious network of foreign financial, political, and media support". This assessment doesn't do Hong Kong justice for two reasons: firstly, it portrays Hong Kongers' grievances at the status quo as fictional and illegitimate, when they are in fact real, and it treats the protesters as pawns, when many in fact are taking to the streets of their own accord. Secondly, by treating the US as the sole independent actor in the movement and focusing entirely on analyzing and criticizing its actions in other countries, it only strengthens a United States-centered worldview that the mainstream media likewise seeks to disseminate.
Yep.
Fracking
Houston drilling company Baker Hughes to disclose frack fluid components [CBS]. Sounds like another "self regulation" plan to me. Here's the PR:
"Introducing greater transparency about the chemicals used in the hydraulic fracturing process and protecting the ability to innovate are not conflicting goals," said Derek Mathieson, Baker Hughes chief strategy officer, in a statement.
Ugh. "Innovation" is always a tell. And "transparency" is another kind of tell: It always conceals power relations. Here the assumption is that voluntary disclosure will be truthful. Pas si bête. The deeper assumption is that policies to just leave to stuff in the ground are off the table.
And here's another story about "transparency": Our favorite state AG, Eric Schneiderman, has cut a deal with Anadarko and EOG Resources Inc. to disclose to investors the financial and environmental risks of fracking "as the state contemplates lifting a moratorium on gas drilling" [Bloomberg]. Translation: Cuomo will open New York state to fracking after the election.
2014 and 2016
Leon Panetta throws Obama under the bus on Iraq [Daily Mail].
Biden in 2012: Vote for Romney and he'll take us to war in Syria [RARE]. Attaboy.
Hillary plans mid-term blitz [Politico] despite or perhaps because of "grandmother glow" [CBS]. My Facebook feed says that glow works for people I wouldn't expect to be vulnerable.
Stats Watch
Employment Situation, August 2014: [U]nemployment rate declined to 5.9 percent from 6.1 percent. Expectations were for 6.1 percent. Nonfarm payroll jobs gained 248,000 [Bloomberg]. "Better" [Eschaton]. Work force participation rate remains unchanged. The biggest gains in employment were in job sectors typically paying median income or less. Retail was up by 35,000, but much of that was DeMoula's workers ending their job action. Health care up 23,000 (typical). Construction up 16,000 [Phoenix Business Journal].
Average weekly earnings stood at $848.74, which is up $2.11 from last month, and up $18.67 from last year. The numbers are rising with management included in the mix. U.S. Department of Labor says to a weekly average of $696.58. down $2.07 from last month, but up $17.52 from last year.
In other words, averages conceal, so still see this chart. And pundits wonder why "we're not feeling the recovery." Meanwhile, Fed still trying to figure out how much "slack" there is in the labor market [Bloomberg]. Sheesh, who's running the Fed? J.R. "Bob" Dobbs?
Greed and Fear Index: Fear still extreme, down 3 [CNN (hat tip, Jim Haygood)].
Rapture Index: Unchanged [Rapture Ready].
News of the Wired
* * *
Readers, feel free to contact me with (a) links, and even better (b) sources I should curate regularly, and (c) to find out how to send me images of plants. Vegetables are fine! Fungi are deemed to be honorary plants! See the previous Water Cooler (with plant) here. And here's today's plant (wendy davis):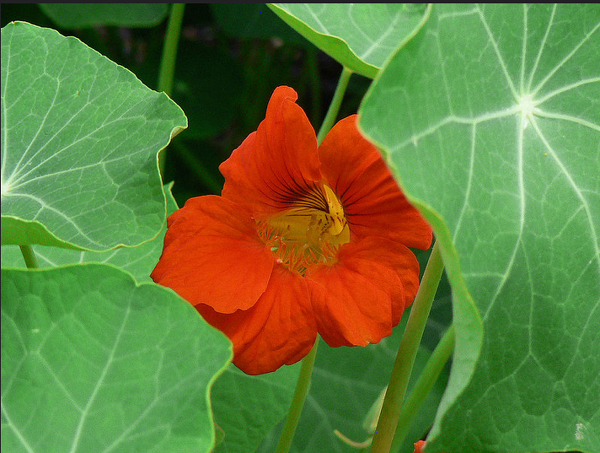 Talk amongst yourselves!