This is Naked Capitalism fundraising week. 838 donors have already invested in our efforts to shed light on the dark and seamy corners of finance. Please join us and participate via our Tip Jar, which shows how to give via credit card, debit card, PayPal, or check. Read about why we're doing this fundraiser, what we've accomplished in the last year, and our current target.
Lambert here: Readers, Yves says we're not meeting our current goal. Those of you who have not joined us: Do you want less Naked Capitalism? Or more?
By Lambert Strether of Corrente.
America the petrostate
Pennsylvania pursues a record $4.5 million fine against a gas driller with a "leaky waste pit" [AP]. We can't drink the fine, unfortunately.
Railroad trade groups have asked the U.S. DOT to drop its requirement that rail carriers transporting large volumes of Bakken crude oil notify state emergency officials [McClatchy]. What could go wrong?
The headline: "More efficient fracking means more oil and natural gas" [McClatchy]. But now read the body:
The new techniques are more expensive but worth it to the drillers because they can make money faster, [Energy Information Administration] analyst Sam Gorgen] said.

The growth in the drilling boom has environmental downsides, with complaints about industrial sand mining and the huge amounts of water used in fracking. Fracking wastewater disposal wells have been linked to earthquakes, and university researchers last month found drinking water contamination from badly constructed natural gas wells.

It's also .

"The engineering isn't certain because we don't have any wells that are 20 years old yet, and few that are even five years old yet," Gorgen said. "So it's hard to say what the long term effect is going to be."
Bubble? Well, it's complicated.
Annals of Financial Probity
Two directors of HSBC's UK arm are poised to quit in protest at new Bank of England rules that pave the way for lengthy jail sentences to be imposed on senior managers of failed lenders [Sky News]. "In protest." My. Will they lose their pensions or homes?
San Francisco's pension fund may rely on the counsel of its consulting firm, Angeles, and shift investments into hedge funds, when Angeles itself runs a fund that invests in hedge funds [International Business Times]. How cozy.
Kevin Drum: "I think we might all have an easier time from now on if we wrote stories explaining which areas of banking aren't under investigation for collusion and gobsmacking levels of fraud and corruption'" [Mother Jones]. Drum shows the limits of irony in career "progressive" circles. Surely the more appropriate reaction is blistering outrage at the lack of criminal prosecutions?
Marc Andreesen, bald-headed tech shill: "Financial transactions are just numbers; it's just information" [Bloomberg]. Yeah, like MERS. I mean, what's accounting control fraud? A Boolean value?
An interesting long form psychological study of an insider trader's sociopathic career at Steven A. Cohen's shop in Stamford, CT [New Yorker]. Read it for the insight into the cultural mores and business practices of the people who, through their decisions on how to allocate capital, are in effect running the country.
The New Yorker, sadly, being no longer the New Yorker of Hiroshima, stacks several distracting functions in this well-written and atmospheric piece: (1) It produces a narrative that focuses on a small network of "bad applies," along with a Svengali figure (Cohen), and while it throws out coy hints of systemic collusion and corruption, it takes those hints no further; (2) it implies by omission that the real problem in finance today is insider trading, and not accounting control fraud, reinforcing the self-serving conventional wisdom of financial elites; (3) it's coy about the ludicrous inadequacy of Preet Bharara's settlement with Cohen on other matters; Cohen is limited to investing only his personal fortune of $9 billion dollars (!!). So does this mean Cuomo will skate?
Now, I realize I'm putting myself in the position of the reviewer who pans a book about penguins on the grounds that seagulls are the more interesting bird, but if the New Yorker is going to invest a ton of editorial time in a long-form piece like this, surely there should be a better outcome than a damp squib? From a magazine named after the world center of finance?
2014 and 2016
Panetta, a Democrat, says Obama's "red line" comment on Syria was "damaging," staking out Hillary's position job security of the national security factions in the political class for 2014 [The Hill]. Poor Obama. FWIW, I think he was trying to thread the needle between nutball natsec schemers  like Panetta (and Nuland (etc.)) and a noticeable lack of enthusiasm for war in those pesky voters, and then Putin simultaneously handed him a lifeline and deked him on Assad's chemical weapons. The natsec schemers found that unforgivable, because they will have their war, are outraged that they couldn't have it when they wanted it, and here we are. No doubt "Who lost Iraq?" will be a big theme in 2016. What fun.
Buffet bets in Hillary to win [Business Insider].
The UK's NHS
I've been remiss in not following this story closely; the neoliberal infestation is of course global, and assaulting the public delivery of health care globally.
TTIP would lead to the privatization of the NHS [Independent]. We might remember that Obama gave Serco, a corrupt UK firm, a big ObamaCare contract, one might imagine to prepare them for this purpose.
"Live counter: Watch how much NHS money is going into private hands" [Daily Mirror]. "And how much is being pocketed by Conservative supporters. "That's the ticket. Fleet Street doesn't mess around.
Experts say a funding crisis threatens the principle of free healthcare [Daily Mail]. Elites keep pulling "Shock Doctrine" out of the playbook because it works.
The Great Game
Panetta prepares the way for more war under a Clinton administration [The Intercept]. Obama rationalized and consolidated everything Bush did. Now Clinton will put Obama's apparatus to use.
Stats Watch
Gallup's Economic Confidence Index, September 2014: 39% of Americans said the economy is getting better. 55 percent said it is getting worse. "This resulted in an economic outlook score of minus 16 — the best outlook score since May, when it was minus 14" [Bloomberg]. Boom times. Check this quote, which shows again how averages conceal:
Upper-income Americans had an index score of minus 6 in September, down four points from August. Lower- and middle-income Americans, meanwhile, averaged minus 18 — the same as in August.
The differential suggests that "economic inequality" (i.e., class warfare) is getting no better, exactly what we would expect from Obama's track record. One might also wonder what a decrease in the "animal spirits" of upper income Americans portends.
Redbook, week of October 4: Retail sales strong on apparel. Winter is coming [Bloomberg].
Greed and Fear Index: Fear still extreme, down 2 to 3 [CNN].
Rapture Index: Steady [Rapture Ready].
News of the Wired
* * *
Readers, feel free to contact me with (a) links, and even better (b) sources I should curate regularly, and (c) to find out how to send me images of plants. Vegetables are fine! Fungi are deemed to be honorary plants! See the previous Water Cooler (with plant) here. And here's today's plant: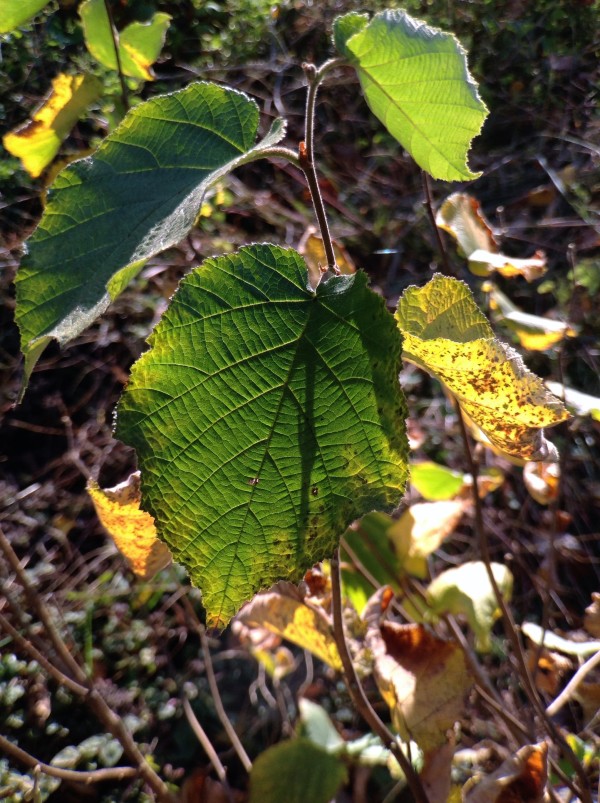 The moral is winter is coming… But also the incredible complexity of the natural world.
Talk amongst yourselves!