In a moment, we offer the latest sightings of the wake left by Cathy Odgers, including two brief, but searing, personal appearances by the lady herself.
First, though, here are some running repairs to my post of 22nd August, which set out Cathy Odgers' role in a network of shell companies strongly associated with $multibillion moneylaundering activities in the former Soviet Union, and also, her very unfortunate, very close connection with Jack Flader, the CEO of GCSL, where Odgers was legal counsel. Flader was fingered by an Australian parliamentary enquiry as the 'mastermind' of an AUD200Mn superannuation fraud. Flader's name crops up in connection with a $1Bn US Ponzi, too.
In that August post, I described Cathy Odgers as:
an expatriate New Zealand lawyer specializing in the offshore trust business, for instance in Hong Kong and Samoa.
That's out of date now. Back in August, the "Samoa" link took me to this page, with Cathy Odgers, in her professional rig, resembling nothing so much as a dome-headed alien wearing a precarious toupee of uncertain tint: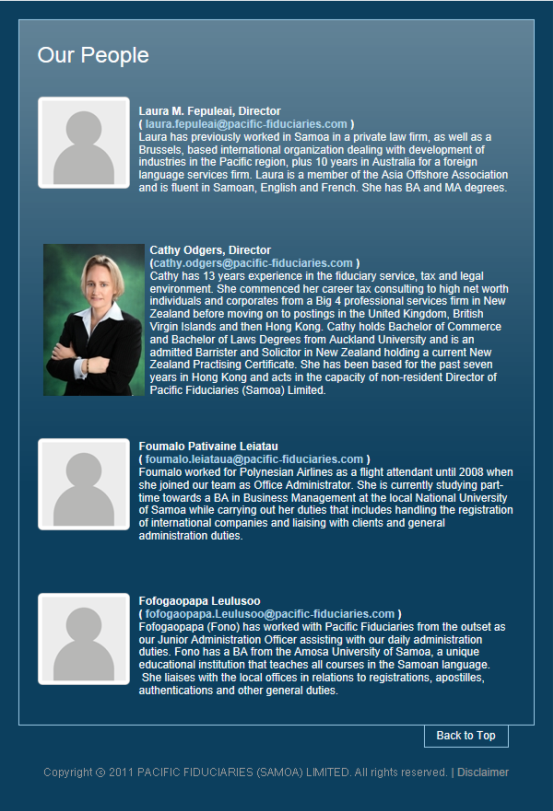 Today, the page looks like this: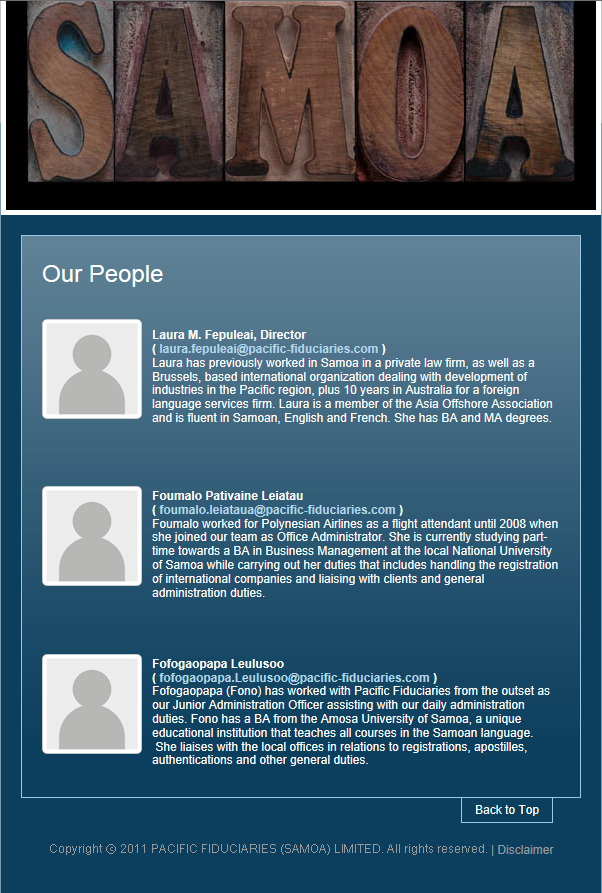 It appears that the space formerly required for Ms Odgers' image is now occupied by pictures of lumps of wood, carved into letters. Hurried web page redesign can deliver striking results like that. I quite like the contrast with the rest of the site's style: bonkers.
Within days of that August blog post, Ms Odgers had turned in her directorship at Jeeves Group of Hong Kong (some time around 25th August) and her New Zealand lawyer's practicing certificate (early September, as near as I can make out). So, though I can't be terribly precise, nor accurate, I would guess that her disappearance from Pacific Fiduciaries fits into the same sort of timeframe.  By 'disappearance' I don't actually mean 'resignation', though. As of 11th October, Odgers was still a director of Pacific Fiduciaries (Samoa), according to the Samoa Companies Registry (look up company number 0530).
While all that resigning and disappearing was going on, another story was breaking: of Odgers' involvement in two successful paid-for media campaigns to smear the head of the Serious Fraud Office, Adam Feeley, and then the head of the Financial Markets Authority, Sean Hughes. The gentleman paying for the campaign was apparently  Mark Hotchin, who was under investigation, first (ahem) by the Serious Fraud Office, and then (ahem) by the Financial Markets Authority, in connection with the $500Mn implosion of his company Hanover Finance, a New Zealand shadow bank. The story broke when Odgers leaked 'smoking gun' emails to the Prime Minister's office, emails in which Justice Minister Collins appeared to be conniving at Feeley's demise. That leak precipitated the resignation of Judith Collins, who, via her entanglement with the "Dirty Politics" scandal, was already something of an embarrassment to the National party in the late stages of an election campaign. Collins' resignation pretty much contained the "Dirty Politics" fallout for Key. Thus boosted, Key and party retained power, quite comfortably, in the ensuing election.
After the Collins email leak, and with the sense, one imagines, of a difficult job well done, and with a yen for pastures new, Ms Odgers set off for a spot of globetrotting.
The Quest For Odgers now offers a spot of light relief. While Odgers went walkabout, actress Lucy Lawless speculated briefly, in a mostly serious NZ Herald piece, about portraying Odgers in a film of the Odgers-Collins-Whaleoil political scandal. Lucy Lawless, by the  way, is an NZ Green Party activist, when she gets the time, but is better known internationally for her late-90s TV portrayal of teenager-and-gay-icon Xena, Warrior Princess. If you are not a former late-90s teenager, nor gay, nor the right kind of middle-aged lecher to have found her already, you can get some of the idea of Xena from a publicity pose: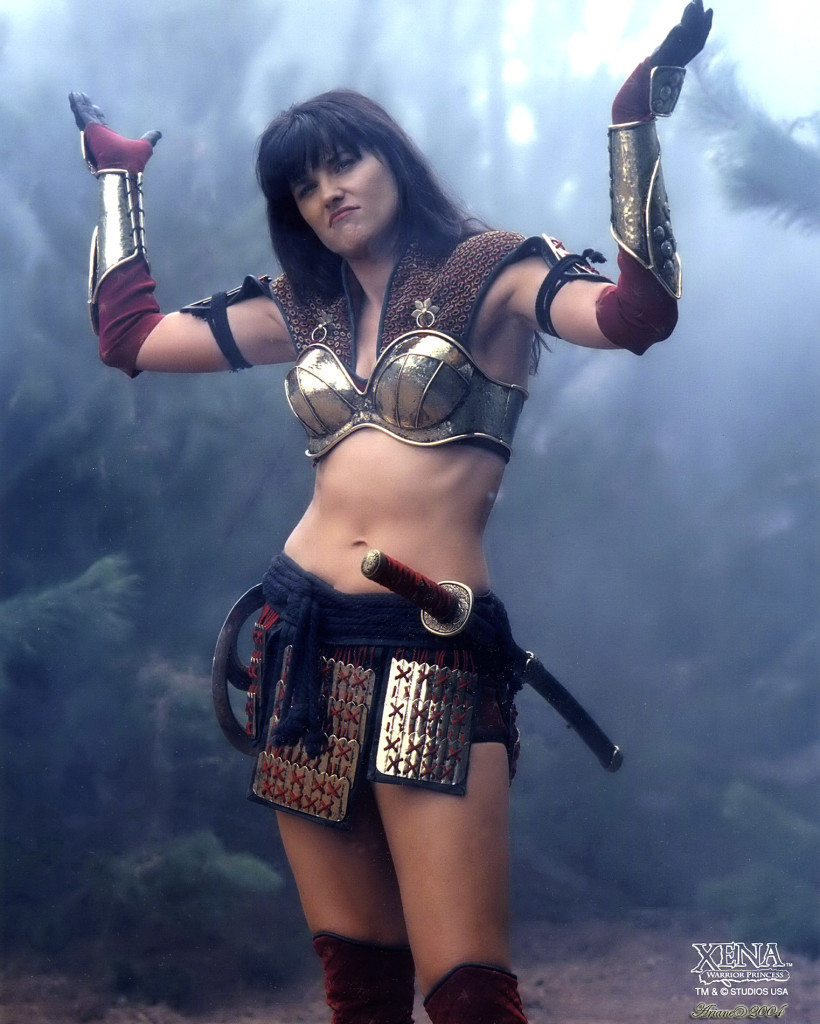 In her Herald piece, Lawless concluded that Odgers would not be the juiciest role.
This putdown by the impressive Lawless briefly goaded the less-impressive Odgers out of globetrotting radio silence, which she is anyway constitutionally incapable of maintaining for long. Via the Whaleoil blog, Odgers popped up in a Manhattan Halloween fancy dress shop with a counter-offer: she, Odgers, would portray Xena, Warrior Princess, thus (in another wig, non-professional, this time):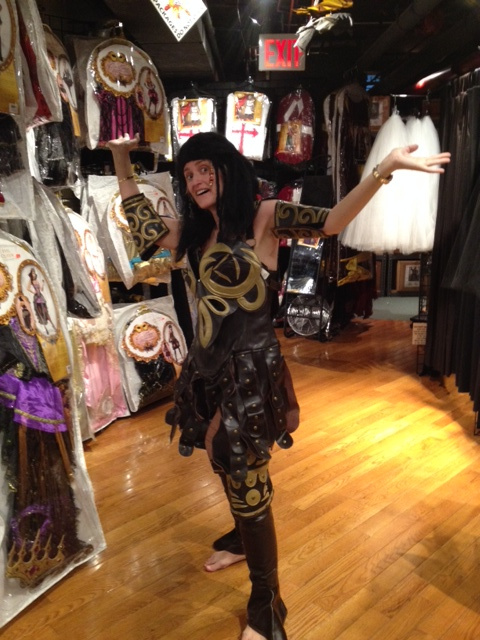 Faced with this apparition, surely the best, honest advice one could offer Ms Odgers would be to stick with the day job; except, of course, that she doesn't seem to have one, at the moment. But I think Ms Odgers was merely being a little waggish, in that pic, and indulging her fondness for attention, which had gone unsatisfied for a long couple of weeks. I don't think that she is out of a job, either.
So much for the running repairs, recap and light relief; let's get serious, and revert to savouring the heady aroma that hits the nostrils whenever one starts to sniff at any of Ms Odgers' recent professional berths. There's a new example, the aforementioned Pacific Fiduciaries (Samoa), and the going is about to get a little tougher, so pay attention.
Pacific Fiduciaries (Samoa) was formerly part of dodgy Jack Flader's GCSL empire. Since it's in the offshore trust business, it is a low profile sort of an entity, but oddly enough, its name cropped up just a few days ago, in connection with an announcement on the European microcap stock exchange, GXG Markets:
Apia, Samoa October 8 2014 (Globe Newswire) — HCI Hamilton Inc., (the "Company") a company trading on the GXG Markets under symbol HCI1, is pleased to announce a corporate update. Following the approval of shareholders of the Company at a special meeting held on July 28, 2014, the Company has changed its name from HCI Hamilton Capital Inc to HCI Hamilton Inc and on September 2, 2014 has been re-domiciled to Samoa.

…

The Company intends to diversify into Resort Properties with special emphasis on the pacific islands, and decided that it would be advantageous to be incorporated in an appropriate pacific island jurisdiction. "We continue to seek to add shareholder value by strategic acquisitions." said Barbara Farr, CEO of the Company.

For further information, please contact the company at info@hcihamilton.com
Pacific Fiduciaries (Samoa) duly appears on the contacts page for HCI Hamilton Inc at GXG Markets (click for a huge but legible screen dump, if your viewing device has the resolution):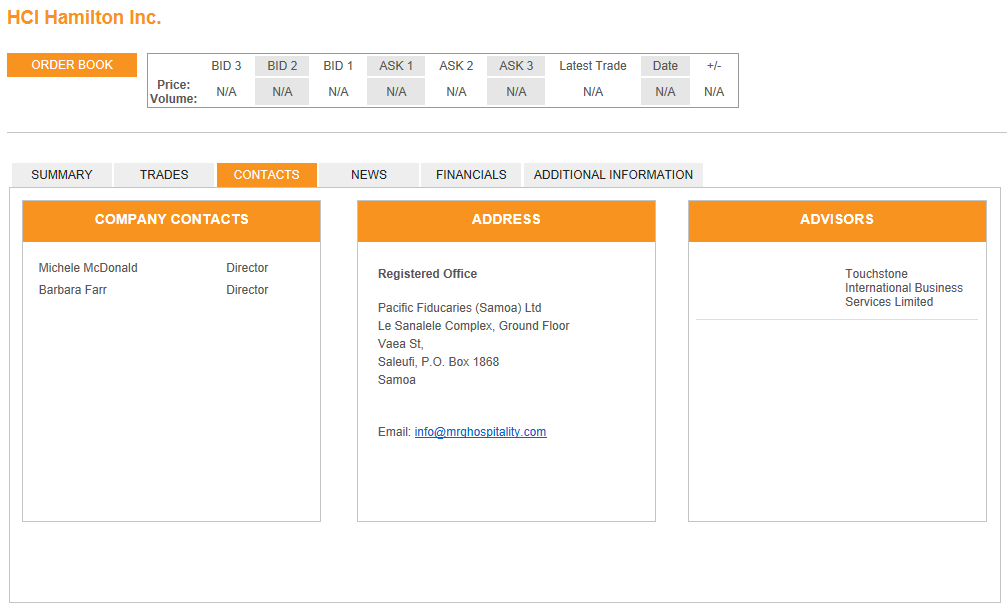 As if the Odgers connection wasn't enough, you will see that the contact email address given there for HCI, info@mrghospitality.com, is quite different from the one given in the contemporaneous redomiciling announcement. This might sound like nitpicking, but it's never a comforting sign when a microcap stock isn't totally clear about its own corporate identity, and a deeper delve into this one's public self-description will muddy the picture, much much more.
For instance, despite the claim that HCI is now domiciled in Samoa, by Oct 11th you still won't actually find anything called HCI on the Samoa Companies Registry, nor Hamilton, nor anything directed by anyone called Farr or McDonald. But still, if Pacific Fiduciaries (Samoa) are providing their contact address for HCI, they must be happy to vouch for HCI. Of course, Pacific Fiduciaries could equally easily deny all knowledge of HCI, if someone asked them about it. One would be none the wiser about Pacific Fiduciaries nor HCI.
It's all rather confusing, which is a big red flag, all by itself.
Let's try another route to the bottom of HCI. The first stop is those two elusive HCI directors, Michele McDonald and Barbara Farr. McDonald is a former director of Nevada company The Good One Inc. As for Farr, out there on the Internet there is an unsupported assertion that she was once an officer of Nevada company Kaleidoscope Real Estate, and involved in what looks like an elaborate small-cap fraud in the US.
The author of that assertion does seem to be pretty reliable, though, since a lot of what he says is reaffirmed when Kaleidoscope Real Estate and The Good One Inc. later crop up together in an SEC release from 2012, SEC Charges U.S. Perpetrators in $35 Million International Boiler Room Scheme. The defendants are Nicholas Louis Geranio, and two corporations, Barbara Farr's possible Kaleidoscope Real Estate and Michele McDonald's definite The Good One Inc. You can read about the verdict (guilty) in another SEC release, SEC Obtains Final Judgment Against Defendants Charged with Perpetrating $35 Million International Boiler Room Scheme.
Confirmation that we are on the right track comes from the many GXG news releases by HCI that refer to another entity, MRG, also connected to Farr and McDonald; there are examples here and here. MRG's website, which I have archived, because I don't necessarily think MRG will be around for terribly long, gives the following details, among others:
There's a dubious serviced office "company HQ" address  for "MRG Marina Real Estate Group, Ltd", in Hong Kong, of all places: odd, that, for a British Columbia-registered company.
Along with Barbara Farr, there's another director, Josef Obermaier. A person of that name is also the director of Mundus Group, another company mentioned in the SEC judgment where The Good One and Kaleidoscope crop up. That coincidence tends to strengthen the idea that Hamilton, Farr, and Obermaier are up to no good again, in MRG and HCI. Perhaps Nicholas Louis Geranio is in the background too. This fraud case from 2000 suggests he's not a quitter.
There's no sign whatsoever of the Bermuda entity MRG Hospitality Ltd, which first announced a reverse merger with HCI Hamilton Capital Inc, and then didn't reverse merge after all.
There's an MRG address in Vancouver, which turns out to be one of the addresses of HCI Hamilton's GXG Advisor, Touchstone International Business Services.
There are the contact details of a Canadian transfer agent, Integral Transfer Agency, based in Toronto.
Finally, MRG show HCI Hamilton Inc's GXG stock code, HCI1, and ISIN, as if they were actually MRG's stock codes, which they aren't, since, as we know from HCI's May announcement, HCI and MRG aren't the same corporate entity at all.
None of this fiesta of dodginess, fraud and further leads seems to have caught the eye of Pacific Fiduciaries' directors, Cathy Odgers and Laura Fepuleai. So again, either their KYC is quite terrible, or Pacific Fiduciaries have never heard of HCI Hamilton nor MRG, and are oblivious to HCI's use of Pacific Fiduciaries' contact details; or Pacific Fiduciaries just don't care.
This, from December 2013, also appears to have escaped Pacific Fiduciaries' due diligence, somehow, and gives another clue that there is something terribly wrong with HCI Hamilton. From the Ontario Securities Commission's PDF:
I. OVERVIEW

1. This proceeding relates to A25 Gold Producers Corp. ("A25"), David Amar, James Stuart Adams ("Adams") and Avi Amar (collectively, the "Respondents") selling securities of A25 through fraudulent means, unregistered trading, and illegal distributions.

2. Between March 1, 2007 and December 31, 2012, (the "Relevant Period"), the Respondents raised from Ontario in excess of €1 million from investors in Canada and Europe and, in addition, the Respondent David Amar profited in excess of €770,000 from the sale of A25 shares on the Frankfurt Stock Exchange.

3. By this conduct, the Respondents breached sections 25, 53, 126.1, and 129.2 of the Securities Act, R.S.O. 1990, c. S.5 (the "Act"), and acted in a manner that was contrary to the public interest.

II. THE RESPONDENTS

4. A25 is a corporation incorporated in the province of British Columbia on March 1, 2007. It is operated out of David Amar's condominium in Toronto, Ontario.

5. David Amar is a resident of Toronto, Ontario. David Amar is the directing mind of and a de facto director of A25. He controls A25. David Amar is the directing mind of and is an officer and a director of Worldwide Graphite Producers Ltd. ("Worldwide Graphite") and Western Fortune Graphite Ltd. ("Western Fortune"), which are the companies that sold mining claims to A25.

6. Adams is a resident of Toronto, Ontario. He is a director of A25 and carried the title of President of A25 during the Relevant Period. Adams is the sole director of and controls Integral Transfer Agency Inc., which is A25's share transfer agent.

7. Avi Amar is a resident of Toronto, Ontario. He is the son of David Amar. He is a director of A25 and carried the titles of Secretary and Treasurer of A25 during the Relevant Period. He is also an officer and director of Western Fortune and Worldwide Graphite.
On it goes; peruse at your leisure, dear readers. Upshot: Integral Transfer Agency, MRG's Transfer Agent, crops up in the Ontario investigation too. This time it is connected with one James Adams, who is one of several subjects of very detailed fraud allegations, made by the Ontario Securities Commission's own investigators. In what can hardly be a coincidence, the GXG contact details for Touchstone International Business Services also show Jim Adams as the Touchstone contact person. The GXG details are archived here, for, subject to the outcome of the Ontario Securities Commission's A25 fraud hearing, Touchstone may not last any longer than HCI Hamilton. Maybe that ongoing fraud hearing (now scheduled for 2015, after many delays) also has something to do with why HCI Hamilton has been hopping about so much with name and domicile changes during 2014.
Whatever, off we go to GXG Markets again, on the quest for yet more dirt, and find the following stock offerings advised by Touchstone, in addition to HCI Hamilton:
What next with these stocks? GXG, wisely, run a sort of brutally slow filter system for their listed stocks. For instance, UK retail investors can only get their hands on Main Quote or Official List stocks, which are guaranteed to have been through a year or more as First Quote stocks, usually enough time for thorough bedding in, or behind the scenes investigation, or for a dodgy promoter to get bored with the whole thing and pack it in. The Touchstone stocks are still First Quote, so they have yet to traverse the filter system.
What if they do make it through? Well, it's been a while since I was a registered professional investment advisor, but here's a word to the wise: in my strictly amateur opinion, those stocks don't really look set to be stellar long term performers. Full disclosure: I am, perforce, flat of all of them, but now, given the Odgers connection, I am certainly a keen spectator.
Summing up: we had already found Odgers in close proximity to post-Soviet moneylaundering, US ponzis, Australian superannuation frauds and imploding New Zealand shadow banks.  Now the HCI Hamilton US microcap boiler room dodginess, and the GXG ramifications, extend an already sprawling picture. Pull at the string named 'Odgers' and all manner of nasty stuff keeps turning up at the other end. That's business as usual when you dig into scams, and now, evidently, when you dig into Odgers, too.
On top of all that normal scam stuff, there are, by way of exotic intensifiers, Odgers' direct connections to media manipulation, including, FFS, national-press-level op-ed gigs at the NZ Herald and NBR,  and to successful smear jobs on regulators and on enforcers.
And lastly, there are Odgers' strong connections to government ministers, and to the PM himself, via his Office. Those connections are unique, for someone with Odgers' burgeoning track record of proximity to major financial crime after major financial crime. More precisely, they are connections that are unique in Western democracies, as far as I know. The whole thing builds up into quite a nice generic case study of what sufficiently uninhibited, or incompetent, but anyway well-connected offshore lawyers can get embroiled in.
Clearly, both politicians and journalists should be wary of being beholden to Odgers in any way, but equally clearly, that's a warning that is far too late.
Around Odgers herself, there is the usual lingering ambiguity. If HCI Hamilton really is a client of Pacific Fiduciaries , it's really hard to see why Pacific Fiduciaries ever took them on. At worst, it would imply Pacific Fiduciaries are in on a scam. At best, their due diligence and KYC would rank, for quality and conviction, right down there with Odgers' cod portrayal of Xena, Warrior Princess.
But is HCI a client of Pacific Fiduciaries at all? It seems to be easily deniable. If there is no client relationship, Odgers has simply been mugged by some scammer, who, one might athletically assume, simply picked Pacific Fiduciaries' name out of a hat containing the names of all the offshore law firms in the world.
That would be one more coincidence, in a professional history in which such coincidences just keep proliferating. This blogger remains intrigued.