Yves here. This post on Uber raises a sobering point about activism and human cognition. How do you opposed a cause you regard as dubious without unwittingly legitimating it? For instance, remember when one of the many justifications offered for the Iraq War was that Saddam Hussein was in cahoots with Osama bin Laden? Even though that idea was patently false, efforts to debunk it actually reinforced the connection between Hussein and Bin Laden simply by featuring their names in close proximity.
If readers, particularly activists, have ideas for how to steer clear of effectively promoting ideas and causes you are challenging, please let us know in comments.
By Diogo Machado, Research Assistant at Bruegel in the economics of innovation and competition policy. Originally published at Bruegel
Last month we published a blog post examining the economics behind, and the challenges for, the Uber ridesharing company. We now want to consider how Uber might have been affected by opposition from vested interests – in Uber's case, taxi drivers – and by regulation to restrict Uber. We take into account major events involving the company, and use Germany as a case study.
Uber arrived in Germany in February 2013. In April 2014 the first regulation imposing restrictions on its activity was passed, prohibiting the company from offering its services in Berlin.
In June 2014 there was a pan-European demonstration by taxi drivers against the company, possibly contributing to its ban in Germany later in August. The ban was revoked in September.
The following graph shows the individual index of Google searches for "Uber" (orange line) and the index of searches for "Taxi" (blue line), both in Germany [The chart is interactive, so visit Bruegel if you'd like to see the data associated with each bar on the chart].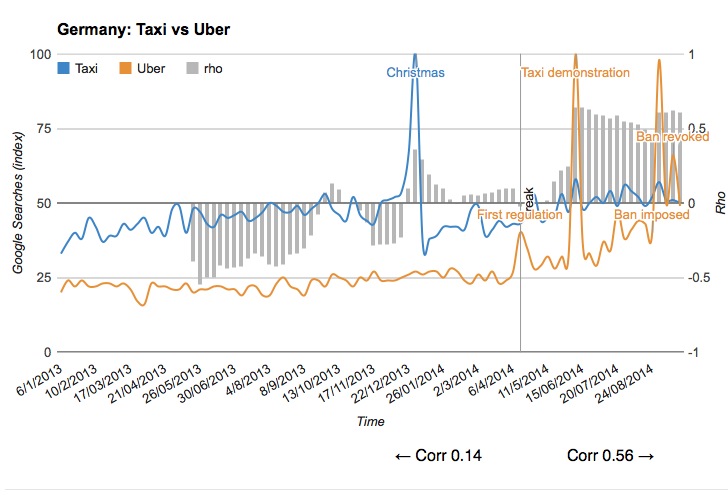 Source: Bruegel based on Google trends. Note: The indexes are not in relative terms of each other, thus are not comparable in absolute terms.
Here we see two points of interest: Increasing volume of searches (increased curiosity) and greater correlation between the two indicators (potential greater usage).
The three main events affecting Uber in Germany (regulation, demonstration then ban/lifting of ban) are clearly identifiable along the orange line. As people became curious about what drove these events, Google searches for "Uber" sky-rocketed.
The lines show that after the first event the correlation between the Uber and taxi indexes became stronger. This could mean that, instead of simply googling it to have more information, people are increasingly searching for Uber in the same situations as they search for taxis. This could be evidence of an increase in Uber's prominence in terms of the actual service that it provides.
Further supporting evidence comes from our computation of a 20 period window correlation (in bars), showing a low or even negative correlation in the early periods, and its explosion after the main Uber-related events.
If this is the case, public authorities and taxi drivers have done a great marketing job for Uber, and have underlined again that there is no such thing as bad publicity.