Yves here. I must confess to not being anywhere near as on top of Australian politics as I'd like to be, and I have a great deal of difficulty understanding the ascendancy of Liberal leader and now Prime Minister Tony Abbott, save that in a parliamentary system, who winds up on top often has more to do with infighting skills than real leadership. This post shows that the latest Abbot scheme for addressing youth un and under employment is a serious contender for Worst Neoliberal Post-Crisis Policy Evah. And recall it has QE as a competitor. So this post serves to launch a watch for Really Horrid Neoliberal Policies so we can start creating a taxonomy, which helps in making fun of them.
For starters, how smart is it to throw young people under the bus in an economy that has become almost entirely a real estate one trick pony? Where is household formation going to come from, exactly? Chinese investors and Chinese-driven extraction boom have both provided a big lift to Oz over most of the last decade. Deflation across non-agricultural commodities is a strong tell that that game is past its sell-by date.
One of the things I noticed briefly about Australian policies when I lived there is that they were weirdly bimodal, as in either really well thought out or terrible. This was confirmed by some Canadian policy wonks I met who said when they were looking for policy ideas from other countries, they'd look at Australia first because they were most likely to have gotten it right. The new Abbott policy suggests that capability is being destroyed.
By Leith van Onselen who has previously worked at the Australian Treasury, Victorian Treasury and Goldman Sachs. You can follow him on Twitter at twitter.com/leithvo. Originally published at MacroBusiness
As reported today in Farfax, the Abbott Government has cited cuts to unemployment benefits, particularly for those aged under-30, as one of the key structural reforms that will increase economic activity by 2%:
"Employment welfare reforms" is ranked as the No 2 commitment, and notes that the changes will "strengthen participation and activation strategies".

By cutting payments entirely to some unemployed and requiring jobseekers to search for more jobs to qualify for payments, the government argues it will spur the unemployed to look for work rather than live on welfare, thereby boosting economic activity..
The fundamental problem with the Government's approach is that it does absolutely nothing to solve the demand-side of job equation. That is, unemployment is high because the domestic economy is weak and labour demand is low, particularly for Australia's youth, where underutilisation is running at a whopping 30% and jobs have been lost since the GFC (see below graphics).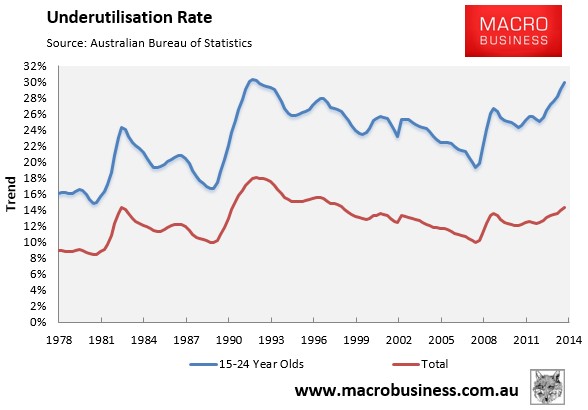 Amazingly, the Coalition still seems to believe that if Australia's youth simply ask for work, the jobs will magically appear, as articulated earlier this year by employment minister, Eric Abetz:
"When jobs are sparse, it means that you've got to apply for more jobs to get a job… What it actually means is that you've got to double and redouble your efforts to be able to attract the attention of an employer to obtain the job that is so beneficial to the job seeker."
Moreover, not only has the one detailed study into the Coalition's Work-for-the-Dole scheme found it to be highly ineffective, but it was also revealed in June that the Government announced the scheme without undertaking any modelling or analysis of its impact:
In senate estimates in June, Job Services Australia general manager Moya Drayton was asked by Greens senator Rachel Siewert if the government had any estimates of the proportion of unemployed participants that could expect to find a job within three months after finishing the Abbott government's new work-for-the-dole program.

"The department does not have estimates on the number of job seekers for the under-30 measure expected to be in full or part-time employment three months after participation in work for the dole," the department said.

The department also said it had no idea how many people it expected would move off income support as a consequence of being referred to the government's work-for-the-dole program.
About the only boost to economic activity arising from the Coalition's employment welfare changes would be the extra bureaucrats required in Centrelink offices to oversee compliance. So much for reducing red tape!
What we are witnessing here from the Abbott Government is a complete and utter absence of evidence-based policy making, whereby its welfare reforms have been devised for political purposes and/or based on ideology, increasing risks of adverse outcomes for taxpayers and the community in the process.
If the Coalition was truly interested in supporting growth it would look to unwind the highly distorting taxation regime that mis-allocates national savings into mortgages, along with the myriad of other tax concessions – which represent 8% of GDP, the highest of their kind in the OECD – that drive the politico-housing complex economic model.
While they are at it, why not argue to unwind the public guarantees for the nation's banks that have prevented markets from-restoring balance to the system; the state government restrictions on housing supply; the record high immigration levels (including unfettered use of 457 visas) and un-policed foreign buying activity of existing real estate. Together, these policies explicitly degrade our national political economy and future standards of living for the expressed purpose of boosting baby-boomer dominated property-owner wealth.
In the Budget we had no attempt to address these failings of the economic model for young Australians. Instead, all we have received is draconian cuts to unemployment benefits and a radical overhaul of education funding that will dramatically increase the cost of higher education for future students.
It is generational war writ large, which the Coalition is now seeking to export to other G20 nations.