By Lambert Strether of Corrente
2014 post mortems
Pelosi: "I know where the money is. I know where to get it" [The Hill].
And Pelosi also knows how to set $400 million dollars on fire! [Roll Call]
Or a lot worse. Read this important post from our friend Gaius Publius [Down With Tyranny].
The House analysis is going to take more time, but if all current leads hold, Steve Israel turned a 35-seat deficit into a 61-seat deficit. You can talk "wave election" and "gerrymandering" all day, but when Dems don't even compete in 21 winnable seats, your problem starts closer to home — …

21 low-PVI [Partisan Voter Index] Republican-held seats where Israel has either blocked progressives or protected Republican incumbents. – See more at: http://downwithtyranny.blogspot.com/2014/11/bipartisan-corporate-establishment.html#sthash.gRpTEpUx.dpuf
(Emphasis mine.) As the saying goes: You don't bat zero for the season without a plan.
Jared Bernstein: "The midterms were a big, dystopic groan from an electorate that knows something fundamental is broken and nobody's trying to fix it" [WaPo]. It's only a groan if nobody's listening closely enough to make out the words. Neo-liberalism: The ideology that dares not speak its name.
Maine D: "Loss adds dimension to people" [Bangor Daily News]. One hopes. A very Maine thought, however; that's the Marden's business model: Turning damaged goods into profit.
2014 debacle wipes out D Triple-A pipeline to the majors [Politico]. But did "Democratic strategists" really think colorless apparatchik Mike Michaud was going to be a "star," as the nation's first openly gay governor? I bet they even told him "kid, we're gonna make you a star," the poor bastard; this is identity politics at its bankrupt, vacuous worst, akin to the PCCC guys who parachuted in and lost the gay marriage referendum when they acted like they thought Bangor was a big city, because it's got a big dot on Route 95 when you look at a map, and so they never needed go north of the Boston suburbs in Portland.
D leaders knew a week before the election that the tide had turned against them [Roll Call].
2016
Rs immediately go to work on Clinton [The Hill]. One reason Rs win is that they want it more.
"Four reasons Elizabeth Warren should run for president in 2016" [CBS]. Oddly, or not, none of the reasons are performance-based.
"The math" is even worse for Rs in 2016 than it was for Ds in 2014 [NBC]. It really is kayfabe, isn't it? The good guy is gonna come off the canvas, I just know it! (For some definition of "good guy," of course.)
49 brands placed on a political spectrum based on the percentage of their brick-and-mortar stores that are located in D or R districts [Time]. Of course, the single dimension chosen can't account for either geography or class. If you choose a linear scale, you optimize for polarization!
Thumbsucker on bipartisan co-operation [Pew Research]. Personally, with this crowd, I'm all for gridlock. It's always possible to make things worse.
ObamaCare
Supreme Court to hear Burwell challenge to ObamaCare subsidies [Modern Health]. And they watch the election returns….
Big Brother Is Watching You Watch
FBI agent impersonates a reporter [Talking Points Memo]. Well, last time I talk to a reporter!
In a letter to the Justice Department last week, the AP requested Holder's word that the DOJ would never again misrepresent itself as the AP and asked for policies to ensure the DOJ does not further impersonate news organizations.
They asked for Holder's word?
Stats Watch
Employment situation, October 2014: "[M]ixed. Payroll jobs advanced but below expectations. The unemployment rate ticked down again. But wages remained soft. The data will let the Fed remain loose" [Bloomberg]. No rate increase. Labor force participation steady year-on-year, lowerst since mid-70s [WSJ]. But why you should stop talking about the labor force participation rate [Quartz]. One reason: Conservatives will.
America the Petrostate
Pressure builds for Cuomo fracking decision [Capital New York].
"Fracking looks set to be an issue that exposes political fault lines for years to come" [Scientific American].
Big new pipeline for Marcellus Shale gas through Philly [Philadelphia Inquirer]. What could go wrong?
Imperial Collapse Watch
Obama even worse than Bush on executive war-making powers [The Atlantic]. And — this will surprise you — he flat-out lied about it.
Hong Kong
Students no longer planning to visit APEC, ask for talks with Hong Kong government [Bloomberg].
"Durable" Occupy Central still revealing splits between Hong Kong and mainland, and within Mainland factions [Asian Correspondent].
One country, less than two systems? [The Diplomat]. Mainland anchor babies (!).
Green Party
Hawkins grabs 5% of the vote, moves from sixth place on the ballot to fourth [New York Post].
Hawkins: "We want to organize county organizations in every county" [New York Observer].
Hawkins would like to be the campaign manager next race, not the candidate [Albany TWC News]. Hmm. Ursula Rozum?
Resources
Green Party Watch and Green candidates.
Note that the iron law of institutions applies to Greens, too. There are times when this observer looks at the Greens and sees a dysfunctional non-profit. Then again, dysfunctional non-profits don't get 5% of the votes in New York State with no budget and Cuomo for an opponent.
Ferguson
City of Ferguson agrees to Federal Court consent judgment not to ban sidewalk protesters [St Louis Today].
Ferguson poll workers request photo ID, although that's not mandated in Missouri [Think Progress].
ACLU follows up on FAA's "press only" no-fly zone over Ferguson [ACLU]. Nice precedent! Just like Occupy, Ferguson is a lab for experiments in extra-constitutional authority.
Digital archive of Ferguson material from Washington University-based consortium [Documenting Ferguson].
Astronomy Domine
A cosmic confrontation between a huge gas cloud and the black hole at the centre of our galaxy [BBC]. No, this is not about the mid-terms.
Perhaps half the stars in our local universe are outside galaxies [RealClearScience]. INTJ stars!
News of the Wired
* * *
Readers, feel free to contact me with (a) links, and even better (b) sources I should curate regularly, and (c) to find out how to send me images of plants. Vegetables are fine! Fungi are deemed to be honorary plants! See the previous Water Cooler (with plant) here. And here's today's plant (tia):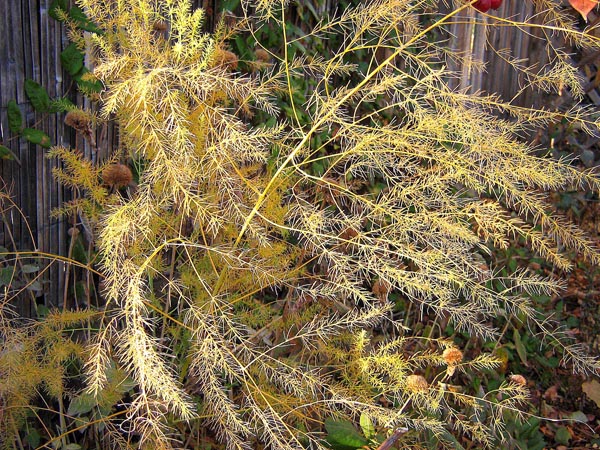 Asparagus and honeysuckle
Talk amongst yourselves!