By Lambert Strether of Corrente
Immigration
Major networks to skip Obama's address [Politico].
Tom Coburn: "The country's going to go nuts" [USA Today].
Reid to Obama: "Go big" [Latin Post]. As many as 4 of 11 million could be covered by Obama's executive order.
"None of those affected by Obama's actions would have a direct path to citizenship, and his actions could be reversed by a new president after he leaves office." [San Antonio Express News].
Republican panel: U.S. Citizenship and Immigration Services is funded by fees, and so Congress can't defund it to stop Obama's executive order [The Hill]. The biters bitten.
Economists divided on effects on the labor market [WSJ, "Obama's Immigration Plan Seen Impacting Wages, Job Moves"]
Chris Cilizza on Obama's political calculations [WaPo]. "What Obama thinks he knows":
1. Republicans were never going to work with him.
2. Republicans will overreach.
3. He can and will sell it.
4. The legal argument is too convoluted to matter politically.
5. It will energize and unite increasingly fractious Democrats in Congress.
6. This will cement the Latino community as Democrats for a very long time.
That Cilizza presents #1 and #2 as insightful or something Obama just realized is mind-boggling to me. This is the same party that impeached Clinton in 1998 (indeed, "overreach") and stole a Presidential election ("never work with") in 2000. The Democrats — and official Washington — must have known both points were true in 2008; heck, in 2006, and yet they behaved and still behave as if they aren't. It's like the never-ending quest for Syrian (or Iranian) moderates. Na ga happen. Therefore, kayfabe, kayfabe, kayfabe.
It is true that Mark Zuckerberg spent $50 million on immigration reform and will get some cheap tech workers in return [WaPo].
Big Brother Is Watching You Watch
Bush holdover, torture advocate, and CIA head Brennan mulling CIA re-org to enhance collaboration [WaPo]. Key paragraph:
Such collaboration proved critical in the search for Osama bin Laden and has given rise to an expanding career category [good jobs at good wages] for analysts known as "targeters" who help identify individuals for the clandestine service to recruit, apprehend or, in extreme cases, kill.
Anybody remember the kill list disposition matrix? Anybody remember that the administration can now whack U.S. citizens without due process, solely on the say-so of the executive branch? Good.
It can't happen here [OpEd News]. Putting the "chilling" in "chilling effect."
Obama administration considered internal dissent by "senior CIA officers" on mass surveillance, then rejected it [ABC]. So there should be more whistleblowers, right?
Judge denies Glomar state secrets request in freedom of information case seeking records of Muslim surveillance [Capital New York].
Ferguson
National Guard drills at gas station "startle" and "unsettle" locals [KMOV]. A cultural moment: Talking ourselves into panic.
Washington University installing webcams so parents can check their children's safety [Washington University Political Review]. The same cultural moment.
Gun sales surge in St Louis suburbs [NBC]. Ammosexuality a continuing theme.
Off-duty officer who shot civilian, post-Mike Brown, inadvertantly identified [St Louis Post-Dispatch]. Read the detail; the cop was a ticking bomb.
Ferguson responds to reporter's sunlight request for email search on "MIke Brown" with a $1,200 bill, and no search for deleted email [USA Today]. Oddly, or not.
Ferguson police will not be part of post-grand jury decision "unfied command" [New York Times]. Oddly, or not.
Turning boarded up buildings into "wall art" [NBC]. NOTE: My impression, though I want to dig deeper, is that this is a "tight framing" issue driven by visual from the national media; and that in fact, not many buildings are boarded up, that most of the businesses are open, and that most of the businesses are local and black-owned, and can't afford window damage from any source, including out-of-control paramilitaries.
Open letter from Ferguson protesters [St Louis Today]. Not sure what to make of the "Teach for America" confluence here; check the author bios at the end.
The CATO Institute's take [Washington Times]. "The way you address a crowd in Fallujah should be very different than the way you address a crowd in Ferguson. But that's not necessarily the case." Well, depending on your point of view, of course.
Mexico
Slogans: "¡Ya me cansé del miedo!" ("I am fed up with fear!"); "Fue el Estado" ("It was the state") [International Crisis Group].
Hong Kong
Diversity of tactics in Hong Kong [Wall Street Journal].
2016
Jim Webb forms exploratory committee [Bloomberg]; YouTube; transcript.
Elizabeth Warren goes for the capillaries [New York Times].
Scott Walker mulls run [Politico].
South seeks to strengthen clout (!) with regional primary [National Journal].
Republican leadership to ban "the 'I' word"? [Politico]. Plenty of reasons to impeach Obama; Benghazi just isn't one of them.
56% of Americans believe the system is "stacked against me" (actual poll wording) [WSJ]. "Most striking is how widely shared this sense of alienation now is." Then there's the headline for the actual poll: "Poll Finds Americans Want Parties to Work Together." So, 56% is just a start and we're gunning for 80%?
Imperial Collapse Watch
Samantha Power warns against "intervention fatigue" [Defense One]. Wait, wait. This is the Obama administration?
Interview with George Packer on The Unwinding [Street Roots]:
(The) institutional glue was dissolving. The things that held together important institutions — blue-collar work or newspapers or small-town life — everywhere I went, I just saw things coming undone. In many cases, they seemed to go back to the same period of time — the '70s — that at the time, might not have been so obvious. But now we can see them.
And given the voter turnout figures, the unwinding may have reached the electoral system.
Stats Watch
Leading indicators, October 2014: Up "very strong" 0.9 percent "pointing to near term acceleration in economic growth" [Bloomberg]. "The largest positive is once again in interest rates which reflects the Fed's near zero rate policy." Well, that's certainly worked in the past. Anyhow, what do I care? I won't see any of it.
Consumer Price Index, October 2014: Flat month-on-month, up 1.7% year-on-year [Bloomberg]. "[T]he year-ago rate is still below the Fed's target of 2 percent."
Jobless claims, week of November 15, 2014: Steady at low levels but "not pointing to improvement" [Bloomberg].
Mosler on industrial production and housing: "Again, seems nothing is growing faster this year vs last year, which as a point of logic means overall growth is less than last year" [Center of the Universe].
News of the Wired
* * *
Readers, feel free to contact me with (a) links, and even better (b) sources I should curate regularly, and (c) to find out how to send me images of plants. Vegetables are fine! Fungi are deemed to be honorary plants! See the previous Water Cooler (with plant) here. And here's today's plant (craazyman):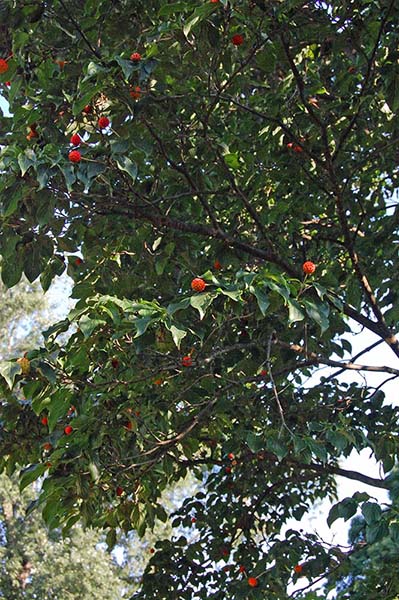 Talk amongst yourselves!