By Lambert Strether of Corrente
2014
"The Democratic Party may invite us into the maze to get lost, but we don't have to enter" [Kevin Gosztola, FDL].
"History shows the wreckage of democracies killed from within. And yet America has rallied in the past…" [Jeffrey Sachs, FDL].
BloombergPolitics: "The Cognitive Dissonance Election" [Bloomberg]. Not really; we addressed the seeming contradictions this morning.
All the Senate polls drastically overstated Democratic support, and how they ranked [The New York Times].
This story on Democrats, demographics, and turnout only uses the word "strategist" three times [New York Times]. Now that's news!
How Wendy Davis lost [WaPo]. Sure, not enough votes, but also no ground game and no message, despite her leap onto the national stage with the filibuster against yet another Texas Republican pregnancy conscription bill. Lots of fundraising and consultants though, so ka-ching!
2016
And so the Republicans fell to fighting among themselves …. [Bloomberg].
Republicans already start to blame frontrunner Clinton for midterms [Bloomberg]. This article, too, meets the "three uses of the word 'strategist'" baseline. And I've got to say, this is the bestest justification for anonymous sourcing I've seen in some time:
Clinton should draw two main conclusions from the results, according to a Democratic strategist who spoke on the condition of anonymity to avoid angering the former secretary of state at a time when she is laying low.
Eesh. Help me.
Nobody could have predicted this, but after their midterms debacle, Democrats might kick the left [Salon].
It could be fun if the Republicans impeached Obama, but it's a million to one they'd do it on red meat issues like ZOMG!!! Benghazi or Fast & Furious, as opposed to (say) Obama whacking U.S. citizens without due process, shredding the Fourth Amendment through mass surveillance of (digital) "papers and effects," or dereliction of duty for not prosecuting any banksters for accounting control fraud in the Great Financial Crash. Oh well [Salon].
ObamaCare
How "skin in the game" works in the Magnolia State [Kaiser Health News].
"It said, $6,000 deductible and 40 percent co-pay," [waitress Wylene Gary, 54,] told me at the check-out counter, her timid drawl giving way to strident dismay. Confused, she called to speak to a representative for the insurer Magnolia Health. "'You tellin' me if I get a hospital bill for $100,000, I gotta pay $40,000?' And she said, 'Yes, ma'am.'"

Never mind that the Magnolia worker was wrong — her out-of-pocket costs were legally capped at $6,350. Gary figured with a hospital bill that high, she would have to file for bankruptcy anyway. So really, she thought, what was the point?
The tips on those $6.95 lunchtime specials don't add up to $6,350 any more than they add up to $40,000. That's what Acela types like Kruggers don't get, because they don't experience it, or know anybody who does; a person can drown in six inches of water just as well as six feet.
Cuomodammerüng
Great headline: "Republican Takeover of New York Senate May Aid Cuomo's Centrist Brand" [New York Times]. So if Hillary stumbles…
Great headline: "N.Y. Senate Takeover by Republicans Seen Thwarting De Blasio" [Businessweek]. That's not a bug. It's a feature.
How corrupt Democratic thug Cuomo played the Working Families Party [New York Times]. The WFP leadership should do that Yakuza thing with the little finger or, better, ritual immolation.
Stats Watch
Jobless claims, week of November 1, 2014: Layoffs are down right now, report is "certain to build confidence" [Bloomberg]. Confidence in our permanently shrunken, deskilled, and crapified workface. Because markets.
Challenger Job-Cut Report, October 2014: Rose sharply from a 14-year low. Layoff announcements were heavy across retail, computer, pharmaceutical, and telecom.  [Bloomberg]. Use with caution, since data does not distinguish between short and long-term.
Gallup payroll to population, October 2014: Workforce participation down slightly to 66.6 percent in October, from 67.2 percent in September [Bloomberg]. Everything's going according to plan.
Big Brother Is Watching You Watch
Atlanta police operating "Stingray" fake cellphone towers to secretly intercept calls [11Alive]. Ferguson take note!
Harvard secretly photographed thousands of students as part of attendance study [Talking Point Memo]. Well, I'm sure slaughterhouses photograph cattle going down the chute, so why can't Deans photograph students? What's wrong with these people?
European Austerity
100,000 march against austerity after month-old "free market" Belgian government proposes austerity measures [Deutchshe Welle], with sporadic violence [Reuters], the largest since WWII [NBC].
More marches planned every Monday [Straits Times].
Central bank governor Luc Coene: "The people who go on strike against these savings measures, are actually saying to their children: get lost. I find that really bad" [Reuters].
Railroads sold cheap tickets to encourage marchers to attend [Agence France Presse].
The Walloon union of enterprises, UWE argues that the government was trying to preserve a social model, not destroy it [Europe Online]. Belgian domestic politics are complex….
Hong Kong
Four-hour skirmish in Mong Kok, reportedly triggered by protester shining cellphone like into cops' eyes [Asian Correspondent]. Is that even possible?
News of the Wired
* * *
Readers, feel free to contact me with (a) links, and even better (b) sources I should curate regularly, and (c) to find out how to send me images of plants. Vegetables are fine! Fungi are deemed to be honorary plants! See the previous Water Cooler (with plant) here. And here's today's plant (tia):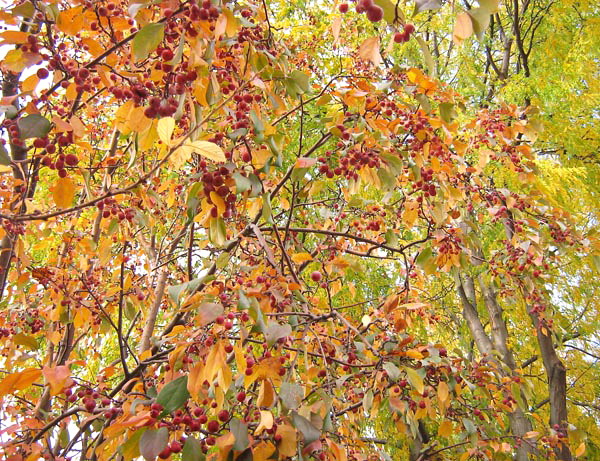 Crabapple and locust. I should be smarter about planting trees.
Talk amongst yourselves!