By Lambert Strether of Corrente.
The Red Wedding is a massacre during the 2014 midterms arranged by Lord Mitch McConnell as revenge against King Barack Obama for breaking the pact of bipartisanship between House Democrat and House Republican. During the massacre, signalled when the band begins to play "Happy Days Are Here Again," King Obama, his wife, Queen Nancy, his mother, Lady Clinton, and most of his elected officials and operatives are murdered following the ceremonial signing of the Affordable Care Act.
* * *
Well, not exactly. But the midterms were indeed a massacre, weren't they? Even if nobody sewed a wolf's head onto King Obama's decapitated corpse or heaved Lady Clinton into the river. But what happened? And why?
The Scope Of The Massacre
The signs of a bad night began to manifest themselves early:
Democrats knew they were in trouble on election night Tuesday when a Virginia Senate seat that was expected to be a blowout victory began to come in much closer than expected.
And then things got worse, as the Democrats lost the Senate. Chris Cilizza:
Democrats lost virtually every close Senate race — New Hampshire being the lone exception — and, in many cases, it wasn't close at all. Mark Udall lost by seven points in Colorado. Republicans won the Iowa open seat by eight. Tom Cotton beat Mark Pryor by 17 points in Arkansas.
And even worse, look at what happened with governors; for governors, there's just no excuse. Josh Marshall:
[T]he Democrats were fighting for the Senate on a merciless, largely red-state terrain. They had some key retirements on top of that.

The governors' races are quite a different matter.

Scott Walker wins – three election victories in four years, an undeniable credential for national office. Sam Brownback holds on in Kansas, a state which he's basically run straight into the ground and torn apart the state GOP. That can only be explained by a tide bringing him over. Illinois, Florida, Connecticut (possible), Colorado (possible), Maryland. These results aren't about terrain or candidates. They're about the national political climate.
We'll have more to say about that vague term "climate" (think instead "political economy") below.
What the Massacre Was Not
First, the midterms were not a "wave" election, despite initial bouts of triumphalism or panic for Republicans and Democrats respectively. The American Conservative:
We've seen this movie before. Remember the "permanent majority" of 2004? How about the "thumping" of 2006? Then there was the "new majority" of 2008. Of course, that was followed by the "Tea Party wave" of 2010. Which didn't stop Obama from becoming the first president since Eisenhower to win a majority of the vote for a second time in 2012.
Second, the midterms were not a rejection of left[1] policies, and in fact supported them. Reader Larry commented:
Annnnnnnd while we in the great Commonwealth elected Charlie "Pension Scandal" Baker to be our executive, we also voted in paid sick time for most workers. You can't tell me that has nothing to do with punishing Democrats.
And there are many more examples, as we saw in yesterday's Water Cooler:
Minimum wage ballot initiatives win in Arkansas, Alaska, Nebraska and South Dakota [Politico]. All red states.

Phoenix, Arizona voters reject forcing municipal worker into 401(k)s [Arizona Republic]. Another red state.

Denton, Texas, home of fracking, bans it [Dallas Business Journal]. Another red state.
Hence the urgings of some for "aggressive centrism" seem unmotivated, to say the least. Why not go hard left? 'Tis better to be vile [Socialist!] than vile esteemed…."
Theories of Why the Massacre Happened
There are at least three accounts of why the Democrats lost the 2014 midterms so badly.
1. The Electoral Map Theory
This theory is Obama's favorite. Reuters:
[OBAMA:] In this election cycle, this is probably the worst possible group of states for Democrats since Dwight Eisenhower. There are a lot of states that are being contested where they just tend to tilt Republican.
However, this alibi theory doesn't account for the losses by governors (see above), nor can it account for the Democrats who withstood the Republican assault, as we shall see. It is, however, a useful illustration that Democrats never, ever accept any responsibility.
2. The Democratic Coalition Theory
In primitive form, this is the "turnout" theory. John Judis:
If there is a silver lining in the awful results of this year's election, it lies in the fact that if the turnout had been similar to 2012 or 2008, the Democrats would have done much better.
2012 and 2008 are, of course, Presidential years, and Ron Brownstein explains how the structural characteristics of the Democratic "coalition" make off years like 2014 different:
The modern Democratic coalition is a boom-and-bust coalition that depends heavily on minorities and young people who turn out much less regularly in midterm than presidential elections. Older voters, who are trending steadily toward the GOP, vote much more reliably. Beyond any short-term factors, this is creating a structural disadvantage for Democrats in off-year elections: an electorate that is consistently older and whiter than it is in presidential races.
And Ed Kilgore argues that the Democrats tried to overcome these structural disadvantages, and failed, for reasons we do not yet understand:
On a more mechanical level, the apparent failure of the DSCC's Bannock Street Project to significantly change the shape of the midterm electorate in key Senate states will require an honest post-mortem for Democrats. Were the targeting and mobilization techniques wrong, or was the landscape and the atmosphere of this midterm just too difficult? Does it take a presidential candidate to build this particular village? We'll know soon enough.
However, this account has the same weaknesses as the electoral map theory: It cannot account for massacred governors, nor can it account for Democratic winners. And there are two additional problems:
First, why has turnout fallen so much more in 2014 than in 2010? US News:
The differences were especially stark in some states that . Turnout numbers in Washington, Delaware, Missouri, South Dakota, California and Indiana all dropped by more than 10 percentage points between 2010 and 2014. And although some states made gains in voter turnout (Nebraska, Wisconsin, Louisiana, Maine, to name several), most states dropped. Only 12 states turned out a higher percentage of eligible voters this year than in the last midterms.
Second, voter turnout in North Carolina refutes both the "Democratic Coalition" and the "Electoral Map" theories (since nobody can argue that North Carolina is a blue state). WRAL:
"We are pleased that more than 2.7 million voters made such a strong statement for the democratic process, increasing early participation by over 20 percent and besting the state's prior midterm record," Board of Elections Director Kim Strach said in a statement. "We commend the counties for their hard work and commitment on behalf of voters in our state.
What's distinctive about North Carolina? Moral Mondays.That suggests strongly that technical factors like "turnout," "the ground game," not to mention the identity politics continually pushed by "Democratic" [cough] "strategists," are far less important than — work with me, here — organizing people around social justice issues they strongly believe in.
3. The "Emo-dem" Theory
Finally, there's what I call, for lack of a better word, the "Emo-dem" theory, which can be summed up in two words: "We suck." Mark Morford provides a fine example in the San Francisco Chronicle:
See, the party's most fatal flaw is also its most appealing trait: It lacks the murderous cruelty and savage bloodlust of the Republicans.

Let us emphasize this point fully and clear: Hate won. Ideas lost.

Nevertheless, everyone [Oh?] seems to agree: Democrats were destroyed, once again, by the party's own infamous, downright astonishing ineptitude at executing (mostly) very good [Oh?] ideas.

A failure of nerve. A lack of ideological spine. A toothless mismanagement of a largely admirable [Oh?] agenda that, despite some terrific successes [Oh?], never fully made it off the runway.
Whatever "made it off the runway" might mean. David Corn in Mother Jones takes a somewhat calmer view, but the logic ("we suck") is the same:
Forty-eight percent of Republicans reported they were enthusiastic about voting this year. No doubt, angry Republicans were looking forward to taking a poke at Obama and the Ds. Yet only 30 percent of Democratic voters said they were eager to cast a ballot. This suggested that Obama and his fellow Dems had, to a degree, lost their own base.

Why don't Democratic voters have their heads in the game? [Make up your own jokes….] Where's that we?

Uncertain messaging, complex policy wins, compromise, and mess—it's not a surprise that members of the Democratic coalition with tenuous ties to the political process dropped out….

But Democrats ought not to blame [Obama] alone. When it comes to saying who is at fault, they need to say, "We are."
"If only we didn't suck, people would reward us for our brilliant ideas and stellar performance!"  This account, while it has a certain ring of truth — I mean, the Democrats really do suck, in so many ways — can't account for the Democrats who did not get massacred. Let's look at who they are. Down with Tyranny:
So, every single PVI [Partisan Voting Index] neutral district with the exception of [DCCC Chair Steve] Israel's own (which, honor among thieves, the NRCC doesn't contest) and that of fellow Wall Street whore Sean Patrick Maloney (NY-18, which was extremely close) is now in the hands of the Republicans. The Blue Dogs were effectively wiped out and this was a very bad cycle for the Republican wing of the Democratic Party. More analysis for the rest of the week.

One trend that was interesting last night is that clear, strong progressives like Jeff Merkley (OR), Tom Udall (NM), Brian Schatz (HI) and Al Franken (MN)– who had massive right-wing money thrown at them– won, while conservative Democrats like Mark Warner, Mary Landrieu, Mark Udall, and Kay Hagan stumbled and the most conservative Democrat of all, Mark Pryor, lost badly. In the House, conservative Democrats– Blue Dogs and New Dems– lost everywhere, even in Democratic districts. Almost all of Israel's Red-to-Blue recruits lost, as did many of his Frontline incumbents. This is what Steve Israel did to the House Democrats, first among incumbents (along with the PVIs)
So, in other words, it's the DINOs — the Democrats in Name Only — who got massacred in the House races, not all Democrats. (It would be fair to say that all Democratic Senate candidates were DINOs; Obama himself is, as Bruce Bartlett point out, an Eisenhower Republican, and if the voters could have massacred him, they would have.) So, what could it be about the DINOs that so vexed the voters?
It's The Political Economy, Stupid
Let me begin by once again posting Pavlina's famous chart; compare its clarity to the verbiage below.
Figure 1:  Changing Distribution of Income Growth During Economic Expansion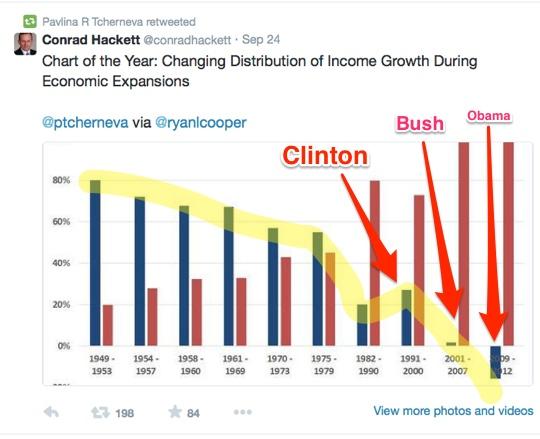 LEGEND: The blue bars are the bottom 90% of the population by income; the red bars are the top 10%.
The bottom line is that in the Bush "recovery," nearly all the gains were creamed off by the top 10%; and in the Obama "recovery," the bottom 90% actually lost ground. That's "the wrong track" you keep hearing about. Chris Cilizza:
Lost in the coverage of the elation of Republicans was the fact that the electorate is deeply pessimistic about the future of the country. Almost half of all the people who voted Tuesday said life for the next generation of Americans would be "worse than life today." Nearly eight in 10 people said they were "very" (37 percent) or "somewhat" (40 percent) worried about the direction of the nation's economy. Two-thirds said the country is "seriously off on the wrong track." [3]
In essence, voters are voting against Figure 1, and against Obama, and the DINOs, because Figure 1 happened on their watch. The odious[3] Celinda Lake, quoted by Greg Sargent, gets it wrong, unwittingly or not:
[LAKE:] We [Who?] have a huge problem: People do not think the recovery has affected them, and this is particularly true of blue collar white voters. What is the Democratic economic platform for guaranteeing a chance at prosperity for everyone? Voters can't articulate it. In the absence of that, you vote for change.
No. People do think the recovery has affected them, but often for the worse, and certainly in a way that's not equitable. Collectively, those who have work are working harder for less money, and they can't "articulate" what isn't and won't be there; see Figure 1 and the next section.
Summarizing, the massacre was a protest vote. John Cassidy in The New Yorker, summarizing the exit polls we've seen above, concludes:
How dissatisfied was the electorate? According to the national exit poll, fifty-nine per cent of voters said that they were angry or disappointed with the Obama Administration… In short, this was a big protest vote, and a big defeat for President Obama.[5]
But what exactly were voters protesting?
Obama and the DINOs Lost Because They Fought For What They Believed In
The Stone Kettle (before veering off into "Support the President" riffing) points out the seeming contradiction between voters choosing left policy prescriptions like a higher minimum wage and marijuana legalization and then massacring Democrats:
Democrats have been working on losing for two years. They were determined to lose this election, and lose they did, right on schedule.
(There are some who believe that the DCCC's Steve Israel sabotages non-DINOs deliberately, rather than through fecklessness. I'm not sure.)
The Irony is staggering. Last night Alaskans voted to raise the minimum wage, impose a restrictive law on mining, and legalize pot – and then they voted for the conservative big business Republican. And you've got ask yourself, in a state that just legalized weed, that dealt a blow to business and stood up for the little guy and the environment, how in the hell could the Democrat lose?
In reality, there is no contradiction, and there is no irony. I invite you to consider Figure 1 not as part of the "climate," or as an outcome left under a cabbage leaf by elves, but as a policy goal successfully achieved; the bailouts were the largest upward transfer of wealth in world history; what other than Figure 1 would be the result? That Democrats worked hard to achieve their goals, and paid at the polls for standing up for principle, as they conceived of principle, is the irony. Arun Gupta writes for Telesur:
[I]t's time to rethink this notion that Democrats lack principles [the Emo-dem theory]. They have a clear agenda and are actually more ideological than Republicans. Democrats like Obama are willing to lose power to carry out the neoliberal agenda.
Which they have!
Since the Clinton era, Democrats have been the most effective architects of policies that increase the wealth and power of those on the top of the economic pyramid. Now, neoliberalism is often thought of as synonymous with privatization, deregulation, and trade and capital liberalization, but the state will discard these policies for corporate handouts the instant elites get into a self-inflicted mess, as with the Wall Street crash.

This has left the Democratic Party in a bind. It relies on votes from social groups like women, union members, Blacks, Latinos, and environmentalists who favor redistributive policies like gender equity in income, a higher minimum wage, lower healthcare costs, more environmental protection, and stronger immigrant rights. At the same time, Democrats need billions of dollars to run elections and their party machinery. They go hat in hand to corporations and promise more tax breaks and corporate welfare in return. But Democrats can never be as committed to the free-market ideology as Republicans. Democrats need to satisfy some needs of their social base while Republicans can move the goalposts further right and wait for the Democrats to play catch up./p>
And in 2014, the DINOs and Obama were no longer able to play this double game and were massacred; the dangling baubles of identity politics no longer sufficed to distract from the cold realities of political economy, although the non-Blue Dogs and non-"Third Way" types who did not play that game, were, as I've argued, exempt from the massacre. We can see this in voting patterns:
Among those who voted for a Democrat, only one out of eight expressed an unfavorable opinion of the Democratic Party. Republican voters were more conflicted; among those who voted Republican, one of four viewed the party unfavorably.
That's the protest vote, right there. (I'd also speculate that the turnout "nosedives of crazy proportions" happened in 2014, and not 2010, because only now has the idea that we are in the "new normal" sunk in. Note also that in North Carolina, organizers have transformed the tendency to a protest vote into outright oppositional behavior.)
But we can also see this in an another seeming contradiction:
In places where the uninsured rate plummeted this year, Republicans still scored big electoral victories.

Arkansas, Kentucky and West Virginia — states that saw substantial drops in the proportion of their residents without insurance — all elected Republican Senate candidates who oppose the Affordable Care Act. Control of the West Virginia state House of Delegates flipped from Democrats to Republicans. And Arkansas elected Republican supermajorities to both houses of its legislature along with a Republican governor, a situation that could imperil the Medicaid expansion that helped more than 200,000 of its poorest residents get health insurance.
I'd argue that's because ObamaCare is, like everything else neoliberal, crapified. Via The Confluence:
My best guess is that despite the NYTimes and the entire Democratic party being in denial about this, voters really HATE Obamacare.  It's the cheap airlines special of healthcare where you have no idea what the guy sitting next to you paid for the same seat but you're pretty sure he got a better deal than you did. Oh sure, there are always going to be a few people who scored the deal of a lifetime, but that only means that the rest of the poor slobs in economy subsidized their ticket. Meanwhile, business class is enjoying extra legroom because their employers used CliqBook to negotiate better deals. And first class doesn't know or care about the people in steerage.

Then there is the problem of being forced to buy a ticket in economy where there is zero legroom and you could swear the airline shrank your personal space by another 25%, and there are no snacks but some grumbling flight attendant who just lost her pension is walking up and down the aisle with pony bottles of water that sell for 5 times what you would pay on Air France. Then you realize that this flight is 14 hours long and you have to pee but YOU had to buy the cheapest seat you could find so you're crammed in to the window seat and have to climb over other people to get out.

Did I mention that you have to pay full price tickets for a long time before you can use your frequent flyer miles?  In fact, you may never get a chance to use them.

I take back that extended metaphor because some of us are not on that plane.  Noooo, we're the ones whose careers were ended by the financial catastrophe and haven't been able to afford a ticket and can't get a subsidy because we make too little money.  So, we're stuck there on the tarmac, paying a penalty for being deadbeats, except we're not deadbeats.
If the essence of neo-liberalism is transforming public social relations into transactions — ideally involving rental extraction[6] — because markets, then ObamaCare is the quintessential neoliberal program. And — nobody could have predicted — ObamaCare was not a vote-getter. But Democrats went ahead with it anyhow[7]. Out of principle!
Conclusion
The midterms were not a "wave election" for Republicans, and in fact left policies were adopted by voters. The Democrats did not lose because of technical factors like the electoral map, structural issues with their "coalition," or even for the reasons put forward by emo-dems. Rather, the midterms were a protest against neo-liberal principles and policy outcomes successfully achieved by Obama and the dominant factions of the Democratic Party: An active protest against Obama's redistribution of income to the rich, and a sullen refusal to take ObamaCare as the positive good that the political class, refusing to look out the windows as they talk on their cellphones on the Acela, are sure that it is. Finally, Republicans are no less despised than Democrats, and in 2016 it may well be their turn to be subject to the cycle of massacre. Only a cat of a different coat….
NOTES
[1] I realize "left" is contested, and could be considered by some to include "progressives" (whoever they are) and "liberals" (whoever they are), and by others not. And perhaps "left," being sinister, as opposed to "right," being correct, is not the ideal term. Nevertheless, what is clear is that "Democrat" is not a synonym for "left," and that Obama isn't on the left, however defined. Perhaps a common thread between people who should self-identify as left is that reluctance to transform all public social relation into transactions because markets, and to roll back many, most, or even all such transformations as have taken place since the neo-liberal ascendancy took hold in the mid-70s. The buck stops here, as they say.
[2] Following "emoprog"; see here, here, here, and here; that is, not "electronic modem," but "emo Democrat," from "emo," a style of rock music characterized by melodic musicianship and expressive, often confessional, lyrics; Morford's "lack of ideological spine," and so forth, is a fine example. Most narratives of Democratic weakness fall into the "emo-dem" category, including the idea that Democrats are incompetent. In fact, the Democrats are quite competent; see figure 1.
[3] Cilizza adds: "On Tuesday, that pessimism was aimed at Democrats. But it's not party-specific. Our dourness is bipartisan — and politicians running for president in 2016 had better start thinking now about policy prescriptions to convince Americans that a brighter future lies ahead." That's one more reason this was no "wave" election.
[4] Lake was hired by the Herndon Alliance to "manufacture" the polling data to help career "progressives" persuade Democrats to support the so-called public option instead of single payer. Lake also did polling during the "town meetings" that led to Maine's Dirigo health care program, and left single payer off the list of questions until forced to include it by participants, who then chose it.
[5] Cassidy adds: "The same exit poll that showed fifty-nine per cent of respondents were dissatisfied or angry with the Obama Administration found that sixty-one per cent of respondents were angry or disappointed with Republican leaders in Congress. It found that fifty-three per cent of Americans have an unfavorable opinion of the Democratic Party and that fifty-six per cent have an unfavorable opinion of the Republican Party." Again, not a "wave" election.
[6] What Obama calls "skin in the game," but we call co-pays, deductibles, narrow networks, narrow formularies, and an utterly opaque "Marketplace" that obscures both product and pricing, while still forcing people to shop.
[7] I would guess the same argument could be made for charters and Common Core.