It is difficult to get a man to understand something, when his salary depends upon his not understanding it! –Upton Sinclair
Schadenfreude is a dish best served, and MIT Professor and Larry Summers student Jonathan Gruber, who played a key (though conflicted) role in legislating both ObamaCare and ObamaCare's precursor, RomneyCare, certainly had it coming. Here's the YouTube where he calls the American voter stupid. I can't even.
(There are other tapes[1], but this is the one that made the splash.) And here's the transcript:
JONATHAN GRUBER, OBAMACARE ARCHITECT: This bill was written in a tortured way to make sure that the CBO (Congressional Budget Office) did not score the mandate as taxes. If CBO scored the mandate as taxes, the bill dies. Okay. So it was written to do that. In terms of risk-rated subsidies, if you had a law that said healthy people are going to pay in — if you made it explicit that healthy people pay in sick people get money it would not have passed. Okay.

Lack of transparency is a huge political advantage. And basically call it the stupidity of the American voter, or whatever, but basically that was really, really critical in getting the thing to pass, and, you know, it's the second best argument. And I wish Mark was right, we could make it all transparent, but I'd rather have this law than not.
Predictably, Republicans clutched their pearls and headed for the fainting couch. I think this is the best, or at least the most orortund, quote:
"The strategy was to hide the truth from the American people," [Senator Jeff] Sessions said. "I'm not into this post-modern world where you can say whatever you want to in order to achieve your agenda [indeed not]. That is a threat to the American republic… This is far deeper and more significant than the fact that he just spoke."
Chris Cilizza summarizes the flap and questions how smart Gruber was to say what he said while the camera was on. (We'll have more to say about the CBO part of Gruber's quote below.) But Sarah Kliff gets to the heart of why the Republicans might be seeking anger outlet for more than purely instrumental reasons:
The broader context of Gruber's arguments is that they seem to confirm a lot of what conservatives already believe about Obamacare: that it was sloppily drafted by out-of-touch technocrats who view the American people with contempt. And so, if nothing else, this controversy is reenergizing their war against the law at a time when Democrats hoped it would finally be quieting down.
"Out-of-touch technocrats?" Check. But I think the real zinger is "stupid," because Gruber's words tap into something real about Democrats. If you go out onto Salon, or Kos, or Mother Jones, or any other Democratic tribalist site, you'll see creative class types calling Republicans a million shades of stupid, all the time[2]. And from "the left" (granted, for some definition of "left") you'll hear terms like "sheeple." So you can see why Gruber's casual contempt might not be seen as aberrational, but quintessentially Democrat. After all, Gruber can only have thought his views so unexceptional that he could express them while the tape was running, right?
However, if we place Gruber's gaffe in the context of the health care battles of the last few years, we can use his words as a lens to see how misdirective and disinformational this whole mini-controversy really is. I'd like to look at the issue of transparency from the standpoint of Gruber's own practice, at the way "political advantage" played out in the thoroughly bipartisan policy-making process that culminated with ObamaCare, and finally at Gruber's very real, and very interested, role in keeping single payer "off the table."
(1) Jonathan Gruber, ObamaCare, and Transparency
What Gruber had going for him was software that he owned; a "micro-simulation model":
As [HHS] put it, "Dr. Gruber developed a proprietary statistically sophisticated micro-simulation model that has the flexibility to ascertain the distribution of changes in health care spending and public and private sector health care costs due to a large variety of changes in health insurance benefit design, public program eligibility criteria, and tax policy."
The CBO used a similar model, and so the administration could run Gruber's model to predict how CBO would score its legislation (part of the "tortured way" in which ObamaCare legislation was written). HHS paid Gruber $392,600 for the use of the model.
[Gruber] was hired by at least eight states to provide advice or assist in creating the health-insurance exchanges that are at the heart of the Affordable Care Act: Colorado, Connecticut, Maine, Michigan, Minnesota, Vermont, West Virginia and Wisconsin.
We have the prices for four of the eight states:
Michigan: $481,050
Minnesota: $329,000
Vermont: $400,000
Wisconsin: $400,000
So, $392,600 + $481,050 + $329,000 + $400,000 + $400,000 = $2,002,650 and if you figure $400,000 a pop for the four remaining states (that we know of) that totals up to $3,602,650. Ka-ching! I know, not much by the standards of a bankster or a criminal CEO, but still, for an academic, a tidy sum.
Now, we all have to eat, and surely nobody would begrudge Professor Gruber his millions had he been "transparent" about what he was doing to earn them. He wasn't. Glenn Greenwald:
[T]he indisputable fact is that Gruber was running around publicly and favorably commenting on the President's health care plan — while the White House and its allies were centrally relying on him and characterizing him as an "objective" analyst — at exactly the same time that the administration, unbeknownst to virtually everyone, was paying Gruber many hundreds of thousands of dollars. The DNC alone sent out 71 emails touting Gruber's analysis without even once mentioning the payments.
Gruber's behavior was too much even for The Times. The Public Editor of that time, Clark Hoyt, wrote:
"[Gruber] did not tell Op-Ed editors, nor was the contract mentioned on at least 12 other occasions when he was quoted in The Times after he was consulting for the administration…. [R]eaders are entitled to disclosure so they can decide if there is a conflict that would affect the credibility of the information.
And emptywheel wrote:
MIT health economist Jonathan Gruber has been the go-to source that all the health care bill apologists point to to defend otherwise dubious arguments. But he has consistently failed to disclose that he has had a sole-source contract with the Department of Health and Human Services since June 19, 2009 to consult on the "President's health reform proposal."

Even assuming that Gruber is the only one in the world who can run these simulations, don't you think it's rather, um, dubious that the guy evaluating the heath care reform is also the package's single biggest champion?
Gruber responded to Politico:
I asked Gruber about the reports, and he responded by stressing that the contract was not for public relations, but for analysis, and that he's long advocated for a consistent set of policies.
Oh, puh-leeze. (And we'll get to "long advocated" below.) All this came out during the legislative sausage-making that led to ObamaCare. (None of it stopped Vermont Governor Shumlin from hiring Gruber to run simulations for the Vermont single payer project, which Shumlin presumably regrets, unless he's seeking national leadership and hence wanted to sink single payer.)
But we might look at Gruber's attitude toward transparency — both as a political advantage and in his personal practice — as foreshadowing ObamaCare's lack of transparency generally: The uncollected or late-arriving enrollment figures, the administration's refusal to provide budgetary information on marketing spending, the lack of accountability for the executive figures who screwed the pooch on the website, lack of data gathering on quality of the plans, Covered California's exemptions from freedom of access laws, not to mention the complexity and obfuscation of the product sold. In short, on transparency, ObamaCare and Gruber deserve each other.
(2) Jonathan Gruber, ObamaCare, and Political Advantage
I think one of the purposes of the Gruber flap, from the Republican perspective, is to separate themselves from it, as a preliminary step to altering or abolishing it, through the usual process of othering: They call us stupid; and they are the ones who passed ObamaCare. This narrative is completely at odds with the Democratic narrative, equally othered, which goes something like: They are the ones who oppose ObamaCare, and they are evil. In reality, neither narrative is correct; ObamaCare is completely bipartisan.
In fact, Gruber published a comic book — Health Care Reform: What It Is, Why It's Necessary, How It Works — in 2011, which shows the bipartisan nature of RomneyCare -> ObamaCare in visual terms: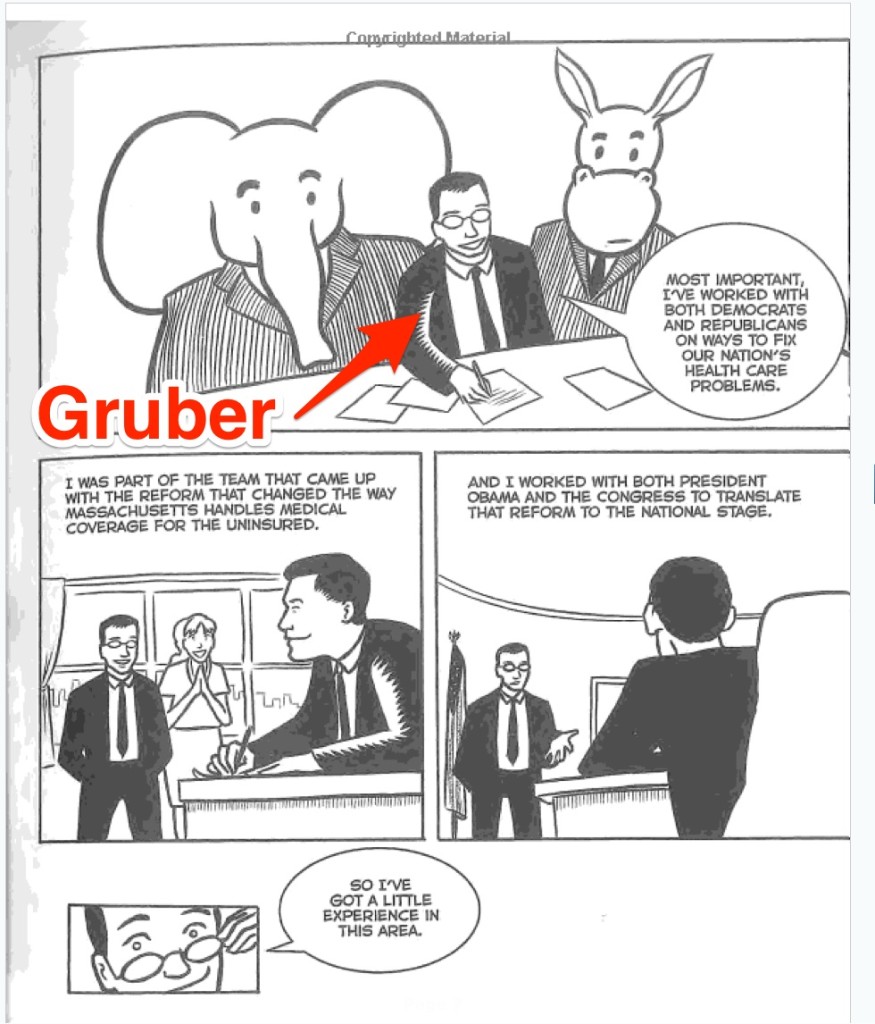 Here's some Democratic oppo from 2012 on how Gruber helped get RomneyCare up and running:
Make no doubt. Romneycare was the model for Obamacare.
And Brad DeLong writes in 2010:
The conservative DNA of ObamaCare is hardly a secret. "The Obama plan has a broad family resemblance to Mitt Romney's Massachusetts plan," Frum wrote. "It builds on ideas developed at the Heritage Foundation in the early 1990s that formed the basis for Republican counter-proposals to ClintonCare in 1993-1994."
Now let's consider those Heritage "ideas," because they ended up setting the boundaries for acceptable discourse in the policy debates that followed. In a 1989 Heritage Foundation brief, Assuring Affordable Health Care for All Americans, Heritage Foundation's director of domestic policy strategies, Stuart M. Butler, Peter J. Ferrara (George Mason), Edmund F. Haislmaier (Heritage), and Terree P. Wasley (U.S. Chamber of Commerce) proposed the essence of ObamaCare: "[E]very resident of the U.S. must, by law, be enrolled in an adequate health care plan to cover major health care costs." However, from the "political advantage" standpoint, the key goal of the Heritage plan was to fend off single payer. From the conclusion: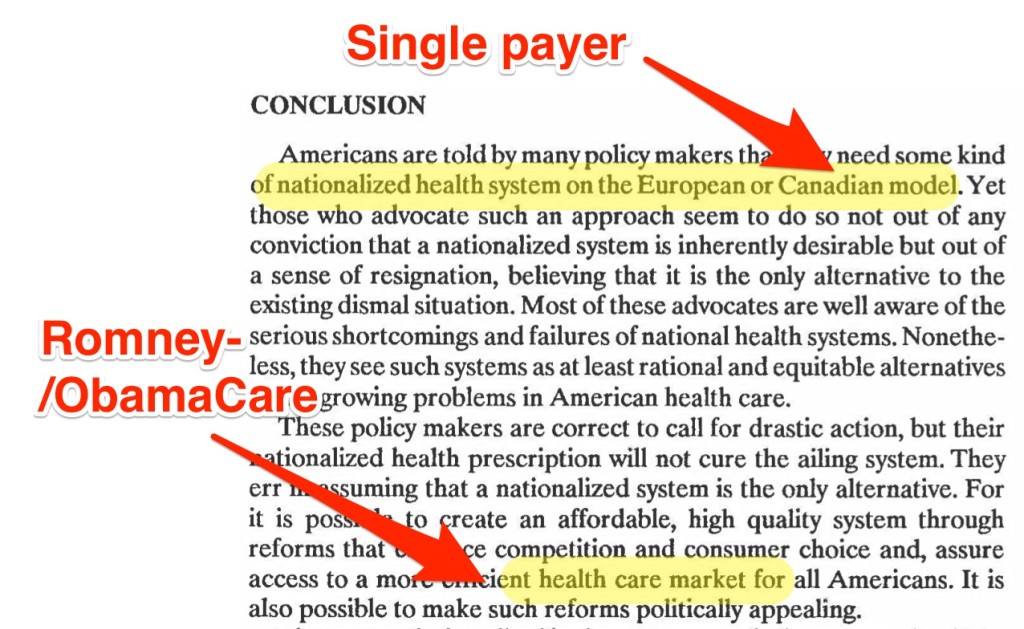 The mandate made its political début in a 1989 Heritage Foundation brief titled "Assuring Affordable Health Care for All Americans," as and the employer mandate, which were favored in Democratic circles.
So, reminding ourselves of Jeff Sessions' strictures on "anything goes" post-modernism, we have Democrats (Obama + Gruber) adopting a Heritage-inspired plan pioneered by Republicans (Romney + Gruber), whereupon the Republicans turn around and fight their own plan tooth and nail, while the Democrats, fighting back furiously, never mention they adopted the Republican plan. However, we also find Democrats, Republicans, Heritage, and Gruber in simultaneous agreement that "single payer" is verboten, taboo, unmentionable, "off the table," and not politically feasible. So all parties noisily and venomously seek "political advantage" at a level of mind-boggling illogic and contradiction, but the real policy conflict — the policy both parties and the political class seek to avoid — is buried, and never mentioned at all.
(3) Jonathan Gruber, ObamaCare, and Single Payer
And so we come to Jonathan Gruber and single payer. As it happens, Gruber did a reading from his comic book at a bookstore on Claremont in Berkeley, and Brad DeLong went to see him:
[T]hink of, among others, poor Jon Gruber — whose objections yesterday to demands for Single Payer Health Care or FEHBP [Federal Employees Health Benefits]-for-all were all ones of political practicality — standing there in Escapist Comics on Claremont giving the Heritage-Romney intellectual argument for the Affordable Care Act as optimal policy…
Well, now. One always does wonder why people who say single payer isn't "politically practical" or "politically feasible" never lift a finger to make it practical. Gruber, of course — admittedly, this is pure speculation — has 3,602,650 reasons why. Upton Sinclair would be proud.
Because think for a minute about what Gruber's magic box is really doing; far from being a "statistically sophisticated" "micro-simulation model," it's really got exactly one output, and it emits that output every single run when der Blinkenlights stop flashing: "Not single payer." That's by design; and Gruber's software is quite performant. That's why the the "long advocated" point that Krugman makes defending Gruber against Greenwald is irrelevant:
And one more thing: what Gruber has had to say about health reform in the current debate is entirely consistent with his previous academic work. There's not a hint that he has changed views, or altered his model, to accommodate the Obama administration.
That's at best silly and at worse disingenous; the single output of Gruber's model ("not single payer") never changes by design, and the basic parameters of the model were set by the Heritage Foundation in 1989, and all Gruber's clients accept them; indeed, they hire them to validate their assumptions, not for simulation. Krugman is treating Gruber as if he were a scholar, when in fact Gruber is a consultant doing work-for-hire; his clients' requirements have not changed, so naturally his deliverables have not changed. I wrote:
Worse, Krugman's ignoring the intellectual corruption that's at the heart of the matter. Given the death toll [see here] from our health insurance system, it's as if Krugman was lauding Gruber for not having "changed his model" of how some tobacco carcinogens are more or less lethal than others.
Gruber's role was, in the final analysis, public relations, exactly as he denied it was:
His role, however, was not to set policy. It was to explain the effect that a policy choice would have and to to the entire endeavor. That [is] why he is on the hot seat now.
I'm not certain what combination of Republican oppo and hubris took Gruber down; what is certain is that he's damaged goods. It's hard to see how he could add "credibility" to any venture now. No more $400K walking around money for Professor Gruber!
Conclusion
I said "intellectual corruption" and I meant it. Think back to Gruber's statement at the beginning:
This bill was written in a tortured way to make sure that the CBO (Congressional Budget Office) did not score the mandate as taxes.
Never mind that the Supreme Court added to the torture by deciding that the mandate was a tax. Here's the deal: HHS paid Gruber $392,600 to simulate CBO scoring, so they could reverse engineer the legislation. But why is CBO scoring even the metric? Single payer, by removing the tapeworm of health insurance from the body politic, saves society and the economy $400 billion a year in administrative costs and rent, but those figures can only be partially reflected in the government's budget and hence CBO scoring, and so Gruber's magic box rules out single payer a priori; it can't measure the total effect.[3] So Gruber isn't about "micro-simulation" at all, but "macro-constraint." What kind of logic is it that makes public policy without taking account of benefits to the public as a whole? And what kind of scholar accepts work-for-hire under those conditions?
Gruber's fall is banal; his work leaves a legacy of bad policy, missed opportunity, and human suffering. So, please permit me my schadenfreude.
NOTES
[1] Another tape, where Gruber seems to undercut the central argument in King v. Burwell, that Congress intended for all state exchanges to be subsidized, may ultimately prove more serious, if less conducive to pearl-clutching. See the level-headed Sarah Kliff.
[2] I could be wrong on this, but I think that, aggregated, Blue States subsidize Red States. So who's stupid?
[3] To be fair, I'm working from everything I've ever read about Gruber's software has been used; of course, since his software is proprietary, there's really no way to be sure what it does or does not do.