After a testy meeting, OPEC agreed to maintain current production targets. The failure to support oil prices via reducing production led to a sharp fall in prices on Thursday, with West Texas Intermediate crude dropping by over 6% and Brent plunging over 8% before rebounding to finish the day 6.7% lower, at $72.55 a barrel. Many analysts believe that oil could continue its slide to $60 a barrel.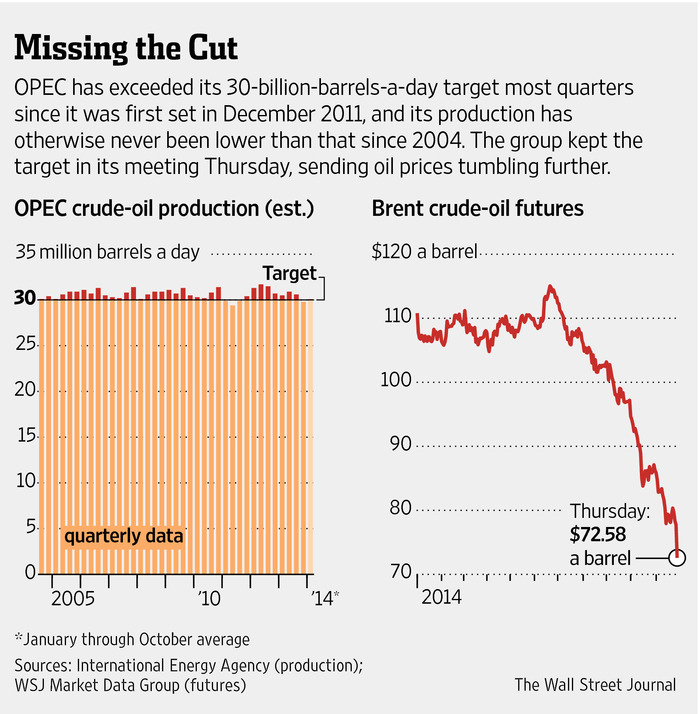 The ripple effects hit currency markets and, of course, energy stocks. The Wall Street Journal emphasized the potential upside for the US economy, with lower energy prices giving consumers more money to spend elsewhere. Energy importing countries will also benefit. In keeping with our reaction to Saudi's earlier decision to let oil prices slide, more and more commentators are seeing the OPEC refusal to support the market as at least in part designed to target the US shale gas industry. despite official denials. From the From the Financial Times:
"I wouldn't call it a price war, but it's a very aggressive test for US shale," said Jamie Webster, oil analyst at IHS Energy, a consultancy. "It's a new gambit for Opec to try."…

Amrita Sen, oil analyst at Energy Aspects said: "This is becoming a battle of [who has] the deep pockets and survival of the fittest."…

Although some analysts had thought the cartel may surprise observers with an output cut, others argued that driving prices higher would only encourage US shale drillers and other high-cost producers. All the while, Opec would only continue to lose market share, they said.

"Those producers that have been hardest hit by the oil price drop have been persuaded [ . . .] that the only way to counter the surge in US shale oil production is to allow lower prices to pare back supply over time," said Bill Farren-Price, head of Petroleum Policy Intelligence.
But it isn't clear how many North American producers will blink first in this game of chicken. From the Journal:
While some, including ConocoPhillips Co., have already announced plans to spend less in 2015, many more won't unveil next year's budget for several more weeks.

In Canada, industry officials said the slide in prices wouldn't likely lead to immediate production costs. Suncor Energy Inc., Canada's largest oil sands producer, still expects crude to recover to "the $90 to $100 range," chief executive Steve Williams said.
In a separate story, the pink paper points out that this de facto price cut is shellacking prices of bonds issued by energy companies:
Since the start of the year, the average yield for junk-rated energy debt has risen from 5.67 per cent to 7.31 per cent, while total returns for the year hover at 0.13 per cent. In contrast, the overall junk bond market has a total return for 2014 at 4.17 per cent, after a price loss of some 2 per cent.

Martin Fridson, chief investment officer at Lehmann Livian Fridson Advisors, said the drop in energy debt prices this year has effectively wiped out the 6 per cent coupon paid by the paper and adds "energy is heavily over-represented in the distressed segment" of the junk market.

Currently, 180 junk debt issues in Bank of America Merrill Lynch high-yield index are trading at very low prices, representing 7.9 per cent of the overall market, said Mr Fridson. Within the current distressed sector of the market, energy accounts for 52 issues, a share of 28.89 per cent.

The pressure on the junk market has come as the broad US equity market has continued rallying into record territory. During the near six-year bull market for risk assets, prices for both low-rated debt and equities have risen largely together, with the current divergence becoming a major talking point among investors.

While the US default rate remains low, such a measure is backward looking and was also moribund in 2007 ahead of the financial crisis. Deutsche Bank credit analysts recently said that if oil drops to $60 a barrel it could be the catalyst that pushes some energy companies into trouble and sparks a rise in the US corporate default rate.
An open question is how many banks have high exposures to energy companies. Keep in mind, as many banks learned to their woe in the early 1980s oil rout, that it isn't just the direct exposures that wind up counting. Being a lender to real estate developments in oil boom towns also puts one at risk.
In the 1970s, the Saudis inflicted pain on the global economy via price hikes that kicked rising inflation into a higher gear. Riyadh is again amplifying a broad international trend, this time towards deflation. But in the first use of the oil weapon, central bankers were eventually able to strangle inflation by engineering a deep recession. By contrast, monetary authorities's creative efforts to beat incipient and actual deflation has looked like the cliched pushing on a string. This OPEC-induced energy rout is unlikely to be as damaging near-term as the 1970s oil shock, but the impact it does have may prove to be harder to remedy.