By Lambert Strether of Corrente.
Here is my desk, out in the garden, after the first snow, and after the first melt:
Figure 1: My Desk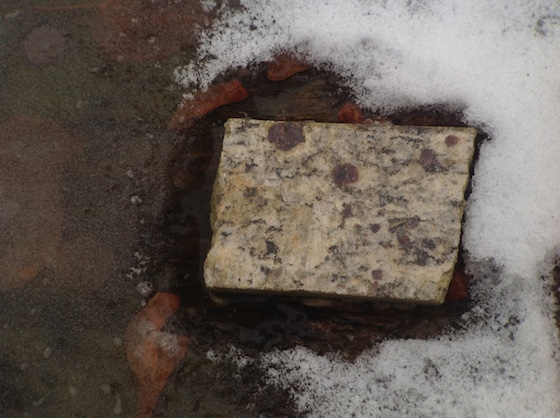 I left my desk out all last winter, no doubt causing talk in the town, and the cheesy particle board warped and lost its finish and rotted at the edges, and so in the spring the rotten wood attracted wasps seeking cellulose to build their nests; I could hear them chewing away, the faint scraping of chitinous mandibles as I clicked at my keys. So, I discovered a novel strategy to attract pollinators, and I'm anxious to see if it works again the coming year.
The scrap marble stone is a paperweight, or a power cord-weight, although here as thermal mass it's melted itself through the ice and snow to rest on the desk, brownish-red leaves trapped under the ice to the left, rotting more and more slowly the colder it gets, snow at the right, rotting to coarseness as water vapor sublimates from it.
And I seem — for whatever reason — to have had rot on my mind rather a lot lately. Perhaps it's the season:
Figure 2: Rotting Plants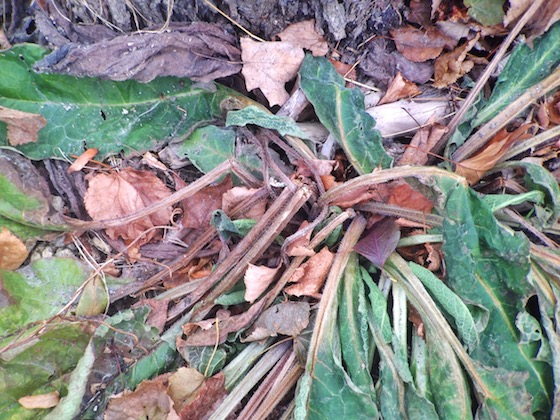 Dull, I suppose, if one's spectrum is over-broad and not subtle enough. Many, many subtle shades of green even now, and brown, as plant matter cycles into the soil; and many lovely shapes as stems and leaves bow to the ground and then collapse flat. (As a very amateur photographer, I keep seeing these images as tapestries, but maybe what I'm seeing really is there, organic: The plants are flattening onto a plane, from three — and four, taking wind and sun into account — dimensions into two; and the colors really are more sober, in the way that color dyed into fabric can never be as vivid as a jewel or a blossom, which reflect light, or allow light to pass through them. )
Anyhow, we might look in horror at the grotesquely blighted brown leaf at the top of the image, near the stump; but then again, it's "doing its job" by returning itself to the soil, as all the green leaves must at some point do. So where is the horror? (Or is my aesthetic detachment a case of privilege? After all, I'm not a peasant, to whom blight must imply crop failure, and the horror of famine if the blight is general; I can contemplate the palette of rot, like a tenth-rate Monet in a mini-Giverny.)
In Measure for Measure, Claudio, awaiting execution, speaks as plants, we think, do not:
CLAUDIO: Ay, but to die, and go we know not where;

To lie in cold obstruction and to ;

This sensible warm motion to become

A kneaded clod; and the delighted spirit

To bathe in fiery floods, or to reside

In thrilling region of thick-ribbed ice;
A believer, as Hamlet, in the graveyard scene, apparently, is not:
HAMLET How long will a man lie i' the earth ere he ?
And after discussion:
HAMLET Dost thou think Alexander looked o' this fashion i' the earth?

HORATIO E'en so.

HAMLET And smelt so? pah! [Puts down the skull].

HORATIO E'en so, my lord.

HAMLET To what base uses we may return, Horatio! Why may not imagination trace the noble dust of Alexander, till he find it stopping a bung-hole?

HORATIO 'Twere to consider too curiously, to consider so.

HAMLET No, faith, not a jot; but to follow him thither with modesty enough, and likelihood to lead it: as thus: Alexander died, Alexander was buried, Alexander returneth into dust; the dust is earth; of earth we make loam; and why of that loam, whereto he was converted, might they not stop a beer-barrel? Imperious Caesar, dead and turn'd to clay, Might stop a hole to keep the wind away: O, that that earth, which kept the world in awe, Should patch a wall to expel the winter flaw!
To me, of course, as with the plants, the "sensible warm motion" and the "kneaded clod" are all phases of the same cycle (and if Claudio knew of the complex life of the soil, he might not dismiss it in favor of works of fancy). And Hamlet, despite the grim "And smelt so," seems to take the same cyclical view. And stopping "a hole to keep the wind away" keeps my "warm motion" sensible in the Maine winter, thank you very much!
Contemporary political discourse in English, worldwide, identifies "rot" with "corruption." A random sampling:
[T]he [Nigerian] Jonathan administration had succeeded in completely eradicating the rot and corruption met in the distribution of fertilisers in the agriculture sector (Sahara Reporter).

With those words from chief commissioner France Charbonneau, Quebec's momentous 2½-year corruption hearings came to a close. They had exposed a venal rot (CBC).

But the corruption in Nilambur village panchayat has exposed the rot in rural areas also (The Times of India).

Is the situation we face at the national level also true at the state level? Not so much though the rot of constitutional corruption has crept in as well in several places (Green Party).

"Certainly there are issues of more long-term fiscal importance, but [there are] few issues that reveal the rot and corruption of Washington more clearly than this," DeMint says. (Time)

To win war against corruption, Xi Jinping must tackle the rot within the system (South China Morning Post).

Bribery and corruption – Stopping the rot (The Institute of Chartered Accountants in England and Wales)

Rot, corruption at Thai rice warehouses (news.com)[1]

Obama warns of 'rot of corruption' in Africa (Sidney Morning Herald)
So let's think about this trope, this identification of corruption and rot, just a little. From a really splendid, magisterial article by Zephyr Teachout [PDF]:
Corruption derives from the Latin corrumpero: to break up, to spoil. Rumpo means "to break, to shatter, to burst open, destroy, violate," and co means "with,"-instead of two things breaking apart (dirumpo), or one thing breaking open (derumpo), is when something breaks within itself: the apple on the shelf; narcissism corrodes the soul; government internally disintegrates. The integrity of the object of corruption is threatened by internal decay. In this Article, I argue that the same is true of the concept of corruption in our constitutional system, and that this is a bad thing.
I hope Teachout runs again; there are few figures in American public life I would like to see "burst open" more than that modern Alexander, Andrew Cuomo, the epitome of "cold obstruction." That said, I am not entirely sure an "apple on the shelf" is the best possible trope to use to think about corruption. With Claudio, Teachout conceives of rot in the object of corruption, isolated (literally so). But I am with Hamlet: I think of rot as cyclical and part of a system, and although a freely admit I cannot replace Teachout's object trope with a systems[2] trope, I think the effort should be made by somebody more insightful than I am.
We have seen two tropes — "Government is like a household," and "Government should be run like a business" — exert massive destructive power over the discourse of the political class; and never mind that they are antithetical. The classic trope for corruption in this country is "the fish rots from the head." But I think the government is as much like a fish as it is like an apple, or even like a body in "the body politic." Perhaps wishfully, I think that useful, functional tropes on corruption might be drawn from horticulture, which deals with complex and resilient systems, and never considers any "object" in isolation.[3]
NOTES
[1] It's worth noting that one middle class notion of corruption is politicians making promises to constituents, and then delivering on them; it's equated with bribery.
[2] See here on "honest graft."
[3] Did Teachout throw her apple in the compost? Well then!
Appendix I
When I started this post, I thought I was going to write about permaculture, although in a way I suppose I did. Anyhow, here are two useful YouTubes to contemplate during the upward pull to spring:
This one shows how a permaculture "Yooper" sows seeds on top of the snow a couple of weeks before he anticipates it melting; the freeze/thaw cycle cracks them open and they germinate, then hit the soil as the show disappears.
This is the follow-up; the technique worked. That might be a good way for me to get clover going, or wildflowers. My general idea is to get rid of grass where found, and if I gave the clover a head start using this trick, I might work more toward that goal.