By Lambert Strether of Corrente
Lots of people, including most of the political class, are bored with the midterms, the "Seinfeld of elections" ("a show about nothing"). This from John Cassidy in The New Yorker is representative, if a bit more vivid in its wordsmithing:
The Empty Elections of 2014

At this late stage in the prostitution, cretinization, and putrefaction of the American political system, it's hard to get worked up about anything, and that, doubtless, explains why most voters aren't paying much attention to the midterm elections. Or, rather, they are trying to pay no attention.
In fact, I feel rather the same way — and if I feel the same as political class feels — or says they feel — that's a bad sign, because almost by definition I'm in a mindset that's bad for me, that has the social function of doing me harm. Fortunately, David Sirota provides an antidote in this very useful article:
In the final days of his campaign to become governor of Illinois, cites his experience as a financial executive as an asset for dealing with his state's formidable budget troubles. Yet that very experience presents what opponents describe as a substantial conflict of interest: Rauner's firm earns fees by managing a slice of the state's pension money. If he wins the election, his appointees would control the entire multi-billion-dollar pension system and they would be in a position to place more of that money into the hands of private financial firms.

No political candidate has deeper connections to pension management than Rauner. He was a longtime principal of GTCR — a firm that has managed the money of state pension systems for decades. That includes the $39 billion Illinois Teachers Retirement System and $13 billion Illinois State Board of Investment, both of which are run by gubernatorial appointees.

Rauner, a Republican, is not alone. In three other gubernatorial races — Rhode Island, California and Massachusetts — candidates with ties to firms that manage state pension money now stand to gain authority over those pension systems. ….

In Massachusetts, venture capital executive served on the board of funds run by Natixis and its subsidiary Loomis Sayles until 2013. His tax records show he made $500,000 from Loomis Sayles. That firm is currently listed as managing the assets of the Massachusetts pension system that Baker's appointees would oversee, should he win next week.

California candidate was an executive at Goldman Sachs and PIMCO, the enormous bond firm. The former company manages money for the California State Teachers Retirement System, and the latter manages money for the California Public Employees Retirement System.

[The gubernatorial candidate in Rhode Island, Democrat ], not only worked for a financial firm, Point Judith, that manages state pension cash, she also still periodically earns income from her stake in the firm. As the state's General Treasurer, she has blocked the release of state documents about pension fees, issuing a letter backing financial executives who want to "keep this information confidential to help preserve the productivity of their staff and to minimize attention around their own compensation."
In other words, these candidates have a direct personal interest in the outcome of their elections, because they will be in a position to direct public funds to entities in which they have an interest. Sirota writes:
But government ethics experts express concern that governors drawn from the ranks of companies that manage pension money could bring an inherent conflict of interest: Their duty to do right by taxpayers and retirees could be pitted against their personal financial interests and their loyalties to longtime Wall Street associates. …

Beyond any specific conflicts of interest, having financial executives take control of state pension operations may influence the ongoing debate about proper investment strategies. In many states, pension overseers have been shifting growing slices of money into hedge funds, private equity funds and other so-called alternative investments, incurring larger fees in pursuit of greater returns. Financial executives may be less likely to raise questions about the merits of this strategy.
If the United States were some kinda third world country, we'd call what's going on here outright corruption.
Anyhow, one thing we know about these candidates: They won't be bored by the midterms, because ka-ching! And we can find out something else about these candidates and the midterms. Let me put one aspect of Sirota's prose in the form of a simple table (and I'll add the election status from RealClearPolitics):
Figure 1: Corruption is Bipartisan
| | | | |
| --- | --- | --- | --- |
| Candidate | State | Party | Status |
| Bruce Rauner | Illinois | Republican | Tossup |
| Charlie Baker | Massachusetts | Republican | Tossup |
| Neel Kashkari | California | Republican | Safe Democrat |
| Gina Raimondo | Rhode Island | Democrat | Tossup |
Now, to be fair, Democrats are only 25% of this list, although Baker's opponent, Coakley, isn't making an issue of Baker's conflicted ties to finance, which is what we would expect; she took $20 million in fines off Goldman Sachs as Attorney General, and didn't make an issue of it in 2010, losing. If we expand our field of vision outward from pension funds and gubernatorial races, we come immediately to the Kansas Senate race of Greg Orman (Independent), private equity investor and known associate of Goldman Sachs felon Rajiv Gupta; Orman sat on the board of a Cayman Islands private equity firm that Gupta founded. And if we dolly back to financial regulation as a whole, we see Holder (Democrat) and Obama (Democrat) refusing to prosecute FIRE sector executives as a class, despite evidence of massive accounting control fraud. We also see no hearings from the Republicans on this matter, although we see plenty of red meat for the base (Benghazi; Fast & Furious). So, corruption and complicity in corruption from both legacy parties.
* * *
I have often wished for a return to "honest graft" in American politics. George Washington Plunkitt of Tammany Hall in New York, Boss Tweed's political machine:
There's an honest graft, and I'm an example of how it works. I might sum up the whole thing by sayin': "I seen my opportunities and I took 'em."

Just let me explain by examples. My party's in power in the city, and it's goin' to undertake a lot of public improvements. Well, I'm tipped off, say, that they're going to lay out a new park at a certain place.

I see my opportunity and I take it. I go to that place and I buy up all the land I can in the neighborhood. Then the board of this or that makes its plan public, and there is a rush to get my land, which nobody cared particular for before.

Ain't it perfectly honest to charge a good price and make a profit on my investment and foresight? Of course, it is. Well, that's honest graft. Or supposin' it's a new bridge they're goin' to build. I get tipped off and I buy as much property as I can that has to be taken for approaches. I sell at my own price later on and drop some more money in the bank.

Wouldn't you? It's just like lookin' ahead in Wall Street or in the coffee or cotton market. It's honest graft, and I'm lookin' for it every day in the year.
The key point, however, is that the park gets built; the bridge gets built. For example, this bridge was built in Plunkett and Tweed's day: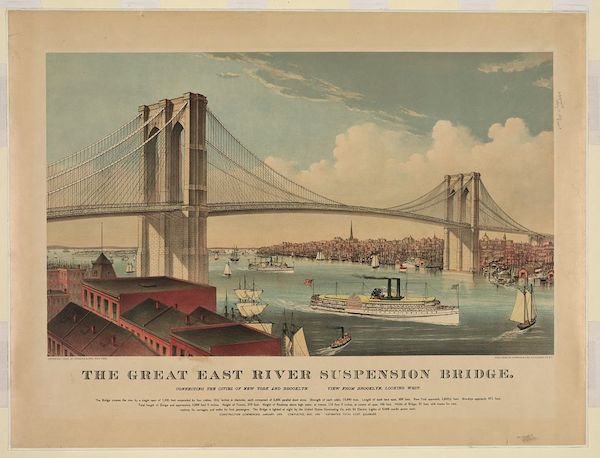 Now, to circle back to Rauner, Baker, Kashkari, and Raimondo: All, if elected, will be in a position to influence state pension funds to invest in financial vehicles[1] like private equities which, as Yves has exhaustively shown, do not deliver promised returns and extract exorbitant fees.[2] If they do, Rauner, Baker, Kashkari, and Raimondo will be engaged in dishonest graft. They'll be trying to sell me a bridge, for sure; but there is no bridge, and never will be.
NOTES
[1] They call it a vehicle because it's designed to drive off with your money.
[2] And that's before we get to the social evils that private equity creates: The asset stripping, the transfer income from workers to investors, breaches of trust, and rent extraction generally.