By Lambert Strether of Corrente
Ferguson
Hundreds East High School in Denver walk out of class and march on capitol [CBS Denver]; pictures.
Ethical Society of Police of St. Louis: "Hands up" gesture by Rams players "commendable" [CNN].
"Perhaps real justice requires overhauling the whole American system" [Talking Points Memo]. But check the last paragraph:
It remains to be seen whether we—especially American progressives—will use [Ferguson] as a spark for moving the United States closer to the country we believe ourselves to be.
Well, whenever I hear the word "we," I always check to see who's being talked about. And then along comes the word "use," as in "being used," "user"… I dunno. Anyhow, I think one answer to "Why now?" — Yves mentioned a "tipping point" — that the article does not mention, and should, is Fergusonian leadership on the ground, from wherever (don't know) and from whoever (don't know). The persistent and steady deployment of thoughful non-violent tactics like die-ins at opposite ends of the Acela, and other major transportation nexuses, is impressive and no accident. We're not looking at what Glen Ford calls the black misleadership class in action. Al Sharpton ("King Rat") didn't build this.
Rookie cop who shot Tamir Rice "distracted," "weepy," "could not follow simple directions" in gun training [Plain Dealer].
Obama: "I am absolutely committed as president of the United States to making sure that we have a country in which everybody believes in the core principle that we are equal under the law" [Politico]. He forgot "Let me be clear".
Mexico
43 demonstrations nationwide over 43 missing student [FOX News]. Coincident with Garner protests but not co-ordinated. Demonstrations protest U.S. militarization funding in "War on Drugs" [International Business Times].
Democracy Now interview with Robert Lovato, organizer of the protests, and father of disappeared student [Democracy Now].
Mexico racks up impressive, Dirty War-level numbers on disappeareds: 26,000, which is why the 43 missing Ayotzinapa students resonates [BBC].
Mexican Federal government is complicit with the provincial government in Guerrero, and the United States is complicit with the Mexican Federal government [The Week]. Besides funding the fusion centers, drones, weapons, training, and so forth.
Incredibly, the contractor who built a mansion for the President's wife has other contracts [WSJ, "Mexico Digs Into Ties Between Leader, Builder"]. One big happy!
Explainer on insurgents, players, and local notables in the Ayotzinapa oligarchy in Guerrero [Guardian].
Troops sent into towns plagued by drug lords and police corruption [Reuters].
Mexican President introduces bill to replace municipal police with state police, on grounds of corruption [Minneapolis Tribune]. We could help: Turn off the money spigot to Mexican cops and shut down the Drug War.
2016
Hillary Clinton has met with campaign manager prospects [Politico]. So which Clinton will we get? Pre-caucus February / pre-Mark Penn, or post?
"The ride and handling were stable. The acceleration and braking were adequate. But this car was not new" [WaPo]. Obama did Clinton no favors by introducing, in a superb display of passive aggression, the "new car smell" meme. I wonder who crafted it?
Warren keynotes at AFL-CIO [Politico]. Say, how's card check coming?
Jebbie contacts potential staff in New Hampshire [RealClearPolitics].
Republicans: No more Mr. Nice Guy [Bloomberg].
Chart shows collapse of trust in government. Up with Clinton, down with Bush, down with Bush II Obama, at just the same slope [WaPo]. Mission accomplished.
ObamaCare
Hospitals now less likely to be death traps: 50,000 lives, $12 billion saved from 2011 to 2013 [McClatchy]. If the HHS numbers are to be believed.
Explainer on King v Burwell [Los Angeles Times].
Harkin: Democrats at the votes to pass single payer or "at least" the public option in 2009. "We blew it" [PNHP]. So much for all the excuses and blame-shifting to those mean Republicans, then.
Stats Watch
Jobless Claims, week of November 29, 2014: Fall 17,000 to expected 297,000. Prior week's spike a fluke [Bloomberg]. Confirms "confidence in the health of the labor market."
Consumer Comfort Index, week of November 30, 2014: Close to an almost seven-year high on falling gasoline prices [Bloomberg].
Rapture Index, December 1, 2014: Up one on oil supply/price [Rapture Index].
Class Warfare
Walmart targets Our Walmart Black Friday activists with fake protesters. Photo [The Ethical Adman].
Congress could soon allow pension plans to cut defined benefits for current retirees [WaPo]. Hey, remember when a contract was a contract? What a laugh.
In satisfying mini-moral panic, House passes bill to deny Social Security to former Nazis [New York Times]. Universal applause, including Stephen Colbert. If the price of stripping benefits from a few "few dozen" nonagenarians is stripping benefits from other "undeserving" recipients, now that the precedent has been set, the price is too high. And the Nazis got the benefits because of deals the U.S. government's "Office of Special Investigations," so now we see that a deal with the U.S. government can always be retraded. So who's next?
Immigration
Headline: "Will Silicon Valley Abandon Its Fight to Help Poor Immigrants?" [National Journal]. My guess: In a heartbeat. They can get all the servants and Uber drivers they need from failed Founders.
Read this story, and when you hear "illegal," think of it [Wired]. The follow-up to "How 4 Mexican Immigrant Kids and Their Cheap Robot Beat MIT." I bet the MIT losers all have better jobs today, though.
News of the Wired
* * *
Readers, feel free to contact me with (a) links, and even better (b) sources I should curate regularly, and (c) to find out how to send me images of plants. Vegetables are fine! Fungi are deemed to be honorary plants! See the previous Water Cooler (with plant) here. And here's today's plant (PQS):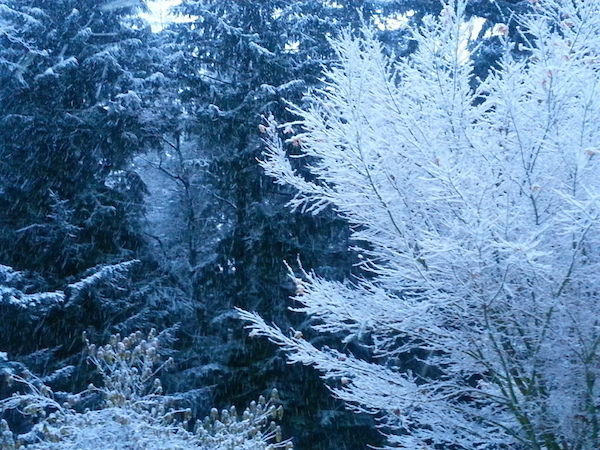 Seattle's peninsula. Icier than Maine!
Talk amongst yourselves!