Cat gorges on $1,000 of fish in Russian airport BBC
Cape Cod Mystery: A Surge of Stranded Turtles New York Times
Time capsule buried by Paul Revere, Samuel Adams sees light of day Christian Science Monitor (furzy mouse)
Beads Found In Ancient Danish Graves Match Glass Made For King Tut io9 (furzy mouse)
A New Physics Theory of Life Quanta
Delhi Cops May Get a Squadron of Night-Vision Spy Drones Wired (martha r)
Dark social traffic in the mobile app era Fusion
Middle-class sexism: who cares? Financial Times
Why Japan's Abe wants an election CNN
Greek Reminder Of Sovereign-Bank Doom Loop WSJ Moneybeat
Mexico Faces Growing Gap Between Political Class and Calls for Change New York Times
Uruguay Takes on London Bankers, Marlboro Mad Men and the TPP Truthout (fury mouse)
Ukraine/Russia
Syraqistan
'Shami Witness': Twitter's top Islamic State 'jihadi' outed as a fake Christian Science Monitor

Shamed in Afghanistan London Review of Books
Big Brother is Watching You Watch
The Inside Story of How British Spies Hacked Belgium's Largest Telecom Intercept

Verizon's New, Encrypted Calling App Plays Nice With the NSA Businessweek

Documents Shed New Light on Legal Wrangling Over Spying in U.S. New York Times
CIA Torture Report
Justice Department 'won't force' journalist James Risen to reveal source Guardian
Black Injustice Tipping Point
U.S. congressional staffers stage walkout in latest police protests Reuters (EM)

"Teach For America" Trojan Horse Among Ferguson Activists? Bruce Dixon

Did a Group of NYPD Cops Plant Guns on Innocent People to Make Arrests? Gawker
Homes slip into sea as storm hits west US coast BBC (EM)
U.S. corporations winning fight over human rights lawsuits Reuters (EM)
The Gift of Inside Information New York Times. Even Dealbook has a problem with the Second Circuit ruling.
Convicted money manager to stars avoids repeat trip to U.S. prison Reuters (EM)
Citigroup Will Be Broken Up Simon Johnson. Sheila Bair actually did force the bank to downsize a fair bit, but that didn't do enough to chop down its hubris.
CRomnibus Disaster Signals a Sad New Normal in D.C. Dave Dayen, Fiscal Times. Important.
Mr. Market Has a Sad
Oil price fall sparks market turmoil Financial Times

All of 18 western European markets and US indices decline as oil prices slip Irish Times

Why investors' view of falling oil prices has just pivoted Financial Times
Data Supportive of Fed Plans Tim Duy
Class Warfare
Again, the Hospital CEO as Scrooge – Erlanger CEO and Other Top Hired Managers Get Bonuses Months After They Froze Employees' Paid Time Off Health Care Renewal

Hackers reveal how New York Times' Maureen Dowd promised to make her friend and Sony chairman Amy Pascal 'look great' in article that 'impressed' staff back at Sony Daily Mail. Chuck L: "The New York Times, a bastion of media ethics."
Antidote du jour. Proud members of the Indian dog squad (Lambert):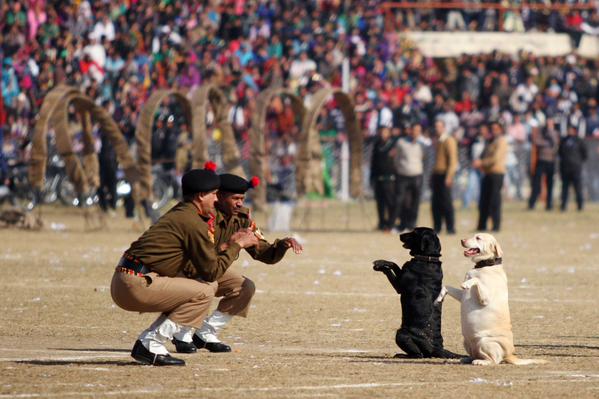 And a bonus video, by special request, the famed green Bulgarian cat. Backstory.
See yesterday's Links and Antidote du Jour here.