By Lambert Strether of Corrente
Torture Report
No weasel wording here: "I was an interrogator at Abu Ghraib. I tortured" [New York Times].
Weasel wording: "[V]eterans of the Latin American counterinsurgency wars were key players in the questionable post-9/11 interrogation practices" [Newsweek]. That is, torture.
A tour de force of weasel wording: The opposite of "ordinary interrogation," "harsh interrogation," "the measures," the opposite of "conventional questioning," "[harsh tactics]," and "severe interrogation techniques." That's the, er, reporting. CIA torturer Brennan goes the extra mile and invents an acronym: EITs ("Enhanced Interrogation Techniques"). And then there's this, paragraph five: "[W]hile [Brennan] said some of the tactics were harsh, he refrained from calling them torture." As does the Washington Post! [Washington Post]. And we have many additional bonus points: The ticking bomb scenario ("the 'right' response at a time when the agency believed al-Qaeda was intent on preparing another wave of terrorism"); and a classic "mistakes were made" non-apology apology ("acknowledged that the agency made mistakes"). Somebody should take this up with Jeff Bezos, owner: If Obama can say "we tortured some folks," why can't Pravda on the Potomac?
Weasel wording in a minor key: "With comparatively little commentary, lots of ongoing shows — such as 'Homeland,' 'The Blacklist' and 'Chicago P.D.' — continue to lean heavily on violent coercion [Catherine Rampell, Washington Post]. Oh, another euphemism! Somebody should ask WaPo's Ombudsman "Reader Representative" if the Post's Style Guide actually prohibits the use of the word "torture," and, if so, whether it supplies a list of euphemisms.
More weasel wording: [Bloomberg]. For shame, Michael Bloomberg. Can we not limit obfuscatory verbiage to financial matters, and not torture?
One more document we should have: The Panetta Review [Salon]. Interesting, even with the long wind-up from a Democratic loyalist on what Udall didn't have to do, given that the heavily redacted executive summary of the full report we most definitely are not seeing came out. Unmentioned is how Udall airbrushed Obama's role as President and President-elect, speaking of his "tough, principled talk" in January 2009. However, in November 2008, Obama had appointed pro-torture Bush holdover John Brennam to his transition team on intelligence policy. Which turns out to have said exactly what it seemed to say: No accountability, exactly like Obama's July 2008 vote to grant retroactive immunity to the telcos for Bush's program of warrantless surveillance.
Ferguson
Dozens of Congressional staffers walk out in Brown/Garner protest [McClatchy].
Suits filed against seven St. Louis County municipalities, alleging they charge illegal fees in their municipal courts [St Louis Post-Dispatch]. One hand grasps, the other manipulates. This is the grasping hand.
St Louis Post-Dispatch turns off comments for editorials, columns and letters in the opinion section [St Louis Post-Dispatch].
University of Pennsylvania President participates in die-in, outrages campus cops [Inquirer, Paul Tioxin].
Lewiston principal reverses course, allows Ferguson poster to go up [Sun Herald]. Note the conflict was on #alllivesmatter vs. #blacklivesmatter. (Would you crash a funeral shouting "I too have suffered!"?)
2016
"In a big win for House Republicans and President Barack Obama, the House passed a $1 trillion-plus funding bill Thursday night" [Politico]. 'Nuff said?
Headline: "GOP, Obama stop liberal revolt, push through budget to narrowly avert shutdown" [McClatchy]. "Revolt" on Dodd-Frank and campaign finance (though not, apparently, gutting pensions, which affects working people directly).
Steve Israel: "I do not share the White House's view" as "liberals" "revolt" against White House sponsorship of budget deal [Politico]. Israel also makes Taegan Goddard's "Quote of the Day" [Political Wire]. I'm tempted to say "When you've lost Steve Israel…" except whatever the election-throwing, Blue Dog-lovin' Israel says is a lead pipe cinch to be kayfabe. I mean, now that the Democrats are out of power, it's easy for them to play the rotating hero collectively. So if there is in fact a serious Warren-led insurgency, the clever minds involved will need to rule that scenario out very, very decisively.
Explainer on Warren v. Weiss: Very narrowly focused on Wiess's role doing tax inversion at Lazard [WaPo]. The real issue is how come Wall Street dudes like Weiss think Treasury owes them a job and a $21 million reach-around just because.
More of the usual suspects come out in favor of Weiss [Business Insider]. Warren's press secretary responds:
Senator Warren has been pointedly questioning the Wall Street-centric culture that has existed at Treasury and understands that various insiders find that threatening.
Indeed. Maybe somebody should ask Weiss what he would do if, in the course of his duties, he encountered criminal behavior by bankers, given that he has little regulatory experience. Would he even recognize it?
In today's Senate, if no more Democrats come out in opposition to Weiss, that will allow his nomination to pass with 50 votes and a tiebreaker from Vice President Biden [The Hill]. But "Warren's campaign is turning [Weiss] from the White House's pick to the first nominee of the new Republican Senate" [Bloomberg].
Hmm. Is the Weiss fight a proxy for the TPP fight? [HuffPo]. Triangulation:
Obama, meanwhile, has signaled his willingness to defy his Democratic base and partner with Republicans in the coming month on international trade and approval of the Trans-Pacific Partnership.
Hong Kong
Explainer on the short- and long-term effects of the Hong Kong Occupations [Quartz].
Jimmy Lai quits as publisher of Apple Daily, pro-Occupy Hong Kong paper, having been arrested [Marketing].
The 420
How Representative Andy Harris ruined legalizing recreational marijuana for DC, even though 70% of voters are for it [attn:].
Justice won't try to prevent the tribes from growing marijuana on their land [Los Angeles Times].
Class Warfare
"Once you have been poor, you always fear it" [Guardian].
News of the Wired
* * *
Readers, feel free to contact me with (a) links, and even better (b) sources I should curate regularly, and (c) to find out how to send me images of plants. Vegetables are fine! Fungi are deemed to be honorary plants! See the previous Water Cooler (with plant) here. And here's today's plant: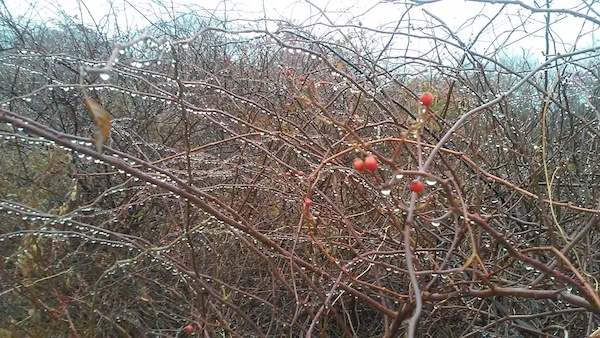 Talk amongst yourselves!