By Lambert Strether of Corrente
2016
Josh Marshall's demographic: "[M]any readers saying 2014 was a year they lost hope" [Talking Points Memo]. Six! Years! Obama really is one of the great con men!
Hillary Clinton campaign hires strategist Joel Benenson and media advisor Jim Margolis, both of the Obama 2008 and 2012 campaigns [WaPo]. Expected to work closely with éminence grise Podesta and campaign manager Robby Mook. Well, that's interesting. I'm guessing, then, that the Clinton campaign won't be building on the post-caucus, post-Penn 2008 primary campaign, which in fact offered a populist model. Oh well.
Hillary Clinton is in favor of TPP in her memoir, and supported TPP as part of Obama's "pivot" to Asia [KSPR].
Aw, come on. A trial balloon for Hillary Clinton's VP?! [The Hill]. This is like Xmas music in the stores on Halloween (Julian Castro).
There's no "obvious logic" behind another Romney campaign [Chris Cilizza, WaPo].
Christie to set up leadership PAC [New York Times].
The Hill
Sanders to introduce amendment to Keystone bill saying that climate change is real; McConnell will permit a vote [The Hill].
28 House Democrats join Republicans to pass Keystone bill [Roll Call]. Blue Dogs being Blue Dogs.
The problem with sucking up to the Blue Dogs [News-Observer]. No loyalty whatever.
Herd on the Street
Treasury 30-year bonds yields fall to a record-low 2.39 percent [Bloomberg]. Deflation fears.
Copper falls most in six years [Bloomberg]. Demand weakness and worse-than-expected data from China.
Stats Watch
Retail sales, December 2014: "The December decrease is the largest negative since January 2014," and November and October were revised down [Bloomberg]. Weirdly, food services and drinking places are up, "suggesting a positive mood." Or eat, drink, and be merry? Stocks fall on growth concerns. Stock futures "whacked." The dollar dives.
Business inventories, November 2014: Modest growth. Inventories at factories little changed, inventories at wholesalers rose sharply. Inventory imbalance is not a major risk right now, except for oil [Bloomberg].
Charlie Hebdo
Times public editor: Image of latest Charlie Hebdo cover was the story, should have been published [New York Times].
Opinion piece from Le Monde in 2013: "'Charlie Hebdo', not racist? If you say so…" [Posthypnotic].
Notorious French comedian Dieudonné arrested after suggesting on Facebook that he sympathised with one of the Paris gunmen [Guardian]. Wait, what?
Will there be a European PATRIOT Act? [The Verge].
"Radicalization" is a social issue, not a religious one [Guardian]. I'd quarrel with the term "radicalization," since that shades over into declaring anybody to the left of Elizabeth Warren an "extremist," and hence a candidate for doubleplusgood surveillance.
"After World War Two, nationalism went into remission in Europe. Until recently, nationalist parties were largely regarded as a noisy but fringe phenomenon. The notion that they would gain public respectability — let alone wield power — seemed outlandish. No longer" [Reuters]. And the EU has been working so well!
Leslie Gelb: Obama's failure to have a US representative at the Paris march was a "horrendous gaffe" and scalps should be collected [Daily Beast]. Sure, sure, and then you read Gelb's recommendations for the wise men Obama should consult: "Henry Kissinger, Brent Scowcroft, Zbigniew Brzezinski, and James Baker." The definition of insanity, though at this point I grant there's more than one way to go insane.
Black Injustice Tipping Point
Good discussion of the physical evidence for "Hands up, don't shoot," and, of more interest, the symbolism [CNN].
Non-partisan coalition of 40 congregations and 20,000 people to take role in reforming Cuyohoga's criminal justice system [Plain Dealer].
A reasonable wrap-up "the new social justice movement" that emerged in Ferguson, especially on differences between "the Civil RIghts" movement, and this movement [Politico].
NYPD "work slowdown" ending [Reuters]. Scratching my head on this. Why is it such a bad thing to arrest people only when it's "absolutely necessary"?
Big Brother Is Watching You Watch
Headline: "Convicted 'eco-terrorist' freed amid claims FBI hid evidence" [Sacramento Bee (PT)]. Well, that and the FBI agent provocateur "who later prodded him to take violent action against government targets with promises that they would later consummate a romantic relationship" (yet another example of the rule that the first one to propose violence is always the cop).
The Bureau of Prisons never urged the CIA to make the Afghan Salt Pit detention site "less like a medieval torture chamber. Instead, the BOP inspectors gave the prison their blessind" [ACLU].
Corruption
CBC (!!) story on insurance suppressed after powerful reporter with financial ties to the insurance industry intervened [Canadaland].
"The very term 'corruption' is so inclusive as to be almost meaningless" [New Yorker].
Class Warfare
Current version of Janet Yellen's dashboard: Only 3 of 9 indicators back to pre-crash levels [Bloomberg].
Former USTR Zoellick and economist Matthew Slaughter (!) argue for innovation for long-term unemployed: Subsized wages, other "modest measures" like better job matching, and "the elimination of regulations that discourage retraining or flexible work arrangements" (crapification) [The Hill]. Why not a Jobs Guarantee?
News of the Wired
* * *
Readers, feel free to contact me with (a) links, and even better (b) sources I should curate regularly, and (c) to find out how to send me images of plants. Vegetables are fine! Fungi are deemed to be honorary plants! See the previous Water Cooler (with plant) here. And here's today's plant: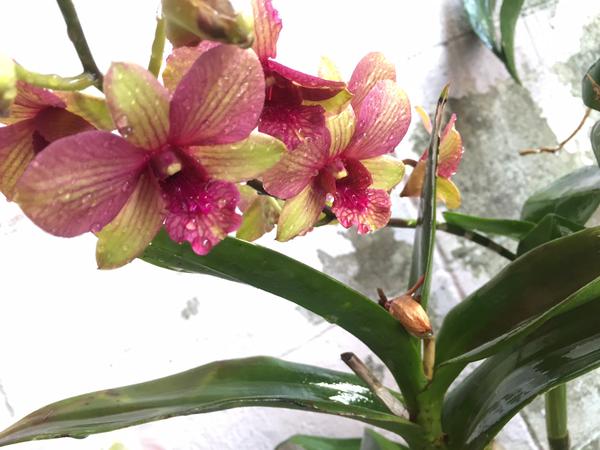 If you enjoy Water Cooler, please consider tipping and click the hat:
Talk amongst yourselves!