By Lambert Strether of Corrente
2016
"When half a dozen voters in a conversation say they would back a law that would ban any Bush or Clinton from running, it makes you sit up and take notice" [Charles Cook, National Journal].
Handy chart of the Republican five-ring circus [FiveThirtyEight]. Seems like an awfully crowded, and not especially distinguished, field. For my money, which is practically non-existent, Walker is the one to watch. He brutally whipped Democrats in Wisconsin, and presumably that's what Republicans want to do; I'm looking at the whole field, and so as I can tell, Walker is the only one who took on a reasonably successful Democratic establishment, and destroyed it. And a corruption scandal and a lousy track record didn't stop him. And how big is that "Republican establishment," really?
Cruz: Jebbie and The Mittster part of "the mushy middle" [Bloomberg]. Like the chart shows!
The Mittster to make his decision in "weeks, not months" [Politico]. I really don't know which I'm looking forward to more: Clinton v. Bush, or Clinton v. Romney!
Jay Leno: "Because I say to people, 'how much younger is Elizabeth Warren than Hillary?' And people go, 'oh, 15 years.' No! 18 months." [The Hill]. Ouch.
Coca-Cola Co. North American Marketing Chief Wendy Clark took leave of absence for "passion project": advising Hillary Clinton campaign [Advertising Age]. Probably. Haven't heard anything more for a couple of days, though. Super optics!
The Hill
Cass Sunstein: Regulators actually take public comments seriously [Bill Moyers]. Amazing, and could even be true; this was our experience in fighting the landfills, although it took some time to build credibility.
Herd on the Street
"Some traders have begun to place bets on oil prices slumping to as low as $20 a barrel" [Financial Times, "Oil rout takes Brent to near 6-year low"].
"[Oil] futures fell as much as 4.1 percent in New York, declining for a third day" [Bloomberg].
"Market participants estimate that crude supply is overshooting demand by as much as 2 million barrels a day" [Wall Street Journal, "Oil Extends Selloff As OPEC Seen Standing Firm on Output "]. Wheeeeeee!!!
Charlie Hebdo
Charlie Hebdo: first cover since terror attack depicts prophet Muhammad [Guardian].
"Voices say that what Western developed societies have gone through is payback as it is their historical acts of slavery and colonialism which led to their current demographic structures" [People's Daily]. But wait! Those darn Communists then go on to adopt Huntington's "clash of civilizations" as an analytical tool! Hilarity ensues.
French intelligence agencies "lacked resources" to track Kouachi brothers, because of "flood of citizens" traveling or planning to travel to Syria and Iraq starting in 2013 [Wall Street Journal, "Overburdened French Dropped Surveillance of Brothers"]. Gee, that's odd. What was happening over there in 2013?
Exegesis of Charlie Hebdo cartoons [Understanding Charlie Hebdo]. Fair enough. But in a way, this whole discussion reminds me of the discussion of The New Republic after it blew up. "Sure, The Bell Curve, and the Iraq War, but what about all that other great stuff?"
Netanyahu visits French synagogue, tells congregation to emigrate to Israel [Reuters]. Crowd responds to Netanyahu's classy gesture by breaking into La Marseillaise.
Southeast Asian leaders condem attacks, silent on press freedom [Rappler].
America the Petrostate
Ibsen's An Enemy of The People plays out in Utah [Los Angeles Times]. You'd think even the most vehement hydrocarbon boosters would be concerned about birth defects, but n-o-o-o-o.
Two months since Illinois enacted rules for high-volume oil and gas drilling, no company has applied for a state permit to put hydraulic fracturing to use [Seattle Post-Intelligencer].
The Mysterious East
"If public opinion differs from the Party on any matters, the media are responsible for sufficiently guiding the public so as to bring their opinions in line with the Party spirit" [China Media Project]. Seems reasonable. I mean, that's what we do.
Highly pathogenic strains of H5N2 and H5N8 avian flu virus have led to the culling of about 16,500 geese and ducks across Taiwan [Channel News Asia].
"We": photographic collages by Beijing artist Zhang Bojun [The Next Web].
Big Brother Is Watching You Watch
"What David Cameron just proposed would endanger every Briton and destroy the IT industry" [Boing Boing]. Shaking my head. Cory Doctorow is right.
Prosecutors in Post Falls, Idaho had police arrest a 9-year-old-boy who failed to appear in court to answer charges that he stole some gum [USA Today]. That's "gum" with an "m."
Grexit?
SYRIZA leader accuses Greece's lenders of "fiscal waterboarding" [ProtoThema]. That's the stuff to give the troops!
SYRIZA has stable lead [Reuters].
Class Warfare
In 19 out of 20 counties, unemployment has yet to recover [WaPo]. Check out the handy map. I'm in a "did not recover on any indicator" county. How about you? Averages conceal, don't they?
Corruption
Howard S. Dvorkin of Consolidated Credit Counseling Services also owns interests in businesses that provide services to payday lenders [Wall Street Journal]. One hand washes the other…
Rahm Emanuels red light cameras provide no safety benefits at low crash intersections, where half of them are placed, but do net $140 million in fines [Chicago Tribune]. Law enforcement as a profit center. Again.
Stats Watch
NFIB Small Business Optimism Index, December 2014: "[A]t its highest point of the recovery, since October 2006" [Bloomberg]. "[N]otable evidence of economic strength."
Redbook, week of January 10, 2015: Chain-store sales slow, but up year-on-year 3.8% [Bloomberg]. "[P]ositive effects of gift-card redemptions."
News of the Wired
* * *
Readers, feel free to contact me with (a) links, and even better (b) sources I should curate regularly, and (c) to find out how to send me images of plants. Vegetables are fine! Fungi are deemed to be honorary plants! See the previous Water Cooler (with plant) here. And here's today's plant: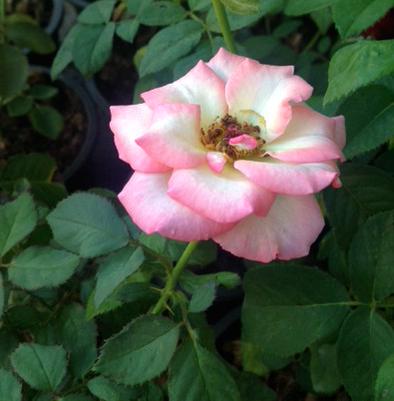 If you enjoy Water Cooler, please consider tipping and click the hat:
Talk amongst yourselves!