By Lambert Strether of Corrente
SOTU
Explainer on Obama's tax and budget proposals [Politico].
"While likely dead on arrival in Congress, Obama's plan could serve as a platform for Democrats in 2016 elections" [McClatchy]. "Look, Charlie Brown! A football!"
"[A] fee of 7 basis points, or 0.07 per cent, on the liabilities of 100 or so financial groups with more than $50bn in assets" [FT, "Banks and Congress blast Obama plan to tax Wall St and wealthy"]. The cop wants a bigger cut from the three-card monte pot. Players whine. Film at 11.
"The White House on Sunday sought to put Republicans on the defensive over tax policy by highlighting comparisons between President Barack Obama's latest tax proposal and a 2014 Republican bill" [Politico]. So it's a Republican plan. Wowsers. To be fair, that worked out great with ObamaCare.
Herd on the Street
European quantitative easing to start this week? [Wall Street Journal, "Hollande: ECB Will Decide to Buy Government Debt Thursday"].
Economists: Mario Draghi is likely to announce free money for rich people a 550 billion-euro ($640 billion) bond-purchase program this week [Bloomberg].
ECB Executive Board member: QE discussion is one "that will take place next Thursday" [Reuters].
Denmark moves to quash speculation it will abandon its Euro peg [Bloomberg].
Shanghai Composite suffers steepest loss for more than six years [FT, "China stocks hit by margin lending curbs"].
"In addition to the margin-trading clampdown, the banking regulator issued draft rules on the control of entrusted loans, a fast growing part of China's shadow-banking industry" [Wall Street Journal, "China Shares Fall Most in Six Years on Regulatory Crackdown"].
2016
Poll: Romney vs. Clinton [CBS]. That's what the majority of Republicans and Democrats, respectively, would prefer. Help me.
Clinton no longer looks like such a juggernaut, and the Democratic brand is in its weakest state in a decade [FiveThirtyEight].
New "moderate" Clinton policy road map produced at the Center for American Progress [PBS]. Banks stay big, minimum wage stays at $10.10. And in the very middle is the "middle class," so there you are!
Sheila Bair on Elizabeth Warren: "I just hate this typecasting of her as this sort of far-left Massachusetts liberal. She was basically making a conservative, market-oriented argument" [WaPo]. Why career "progressives" love her, I guess.
Scott Walker beat sweetener, and about time, too, say I [WaPo]. "[L]eadership by a firm hand," eh?
Oh no, not another one "considering" [Bloomberg]. Lindsey Graham looked in the mirror and saw a President? Please kill me now.
The 2016 map is the Democrats friend [WaPo]. Super. So we can pass a grand bargain and TPP with Republican votes in 2014 – 2015, and then campaign as populists in 2016. It's GENIUS!
"House Democrats represent an American population mix as it is projected to look about 30 years from now–more heavily Hispanic and Asian American–while House Republicans represent America as it looked about 20 years ago" [Wall Street Journal, "How Democratic, GOP Districts Are Separated by 50 Years"]. So all Democrats have to do is wait, and wait, and wait… Because ultimately demographics will turn the tide.
"The myth of the 'Asian vote'" [The Hill]. If you're a believer in, or a practitioner of, identity politics, this article should give you pause.
Oil
Texas fracking supplier: "It's going to get ugly" [Reuters].
US management advisor: "Half of the energy companies in the high-yield market will default" [FT, "Energy bondholders at risk as bank loans ebb"].
As oil companies embark on their semi-annual discussions with bank lenders — a process known as the "redetermination of the borrowing base" — they are faced with a major difficulty coinciding with the slumping price of crude.
Only 11 new fracking wells planned in the UK [Guardian]. Cameron says government is going "all out for shale." Thanks, Hillary!
Iran says its oil industry could ride out a price slump to $25 a barrel (!) [Reuters].
Big Brother Is Watching You Watch
From the Der Spiegel trove: NSA compromises all iPhones by compromising the servers that store all Apple's identity and synchronization information [International Business Times].
From the Der Spiegel trove: China stole F-35 blueprints from Lockheed [Japan Times]. Well, so much for the Chinese Air Force. Now, if only we could get J.P. Morgan to relocate to Shanghai….
Black Injustice Tipping Point
"In St. Louis protesters 'hijack' march" [WaPo]. Reading between the lines, the black misleadership class got ouththought, outmaneuvered, and outclassed by #BlackLivesMatter. See the new website, "We the Protesters."
Bill Moyers on Selma [Bill Moyers].
"Friendship Nine," who did first jail time for a lunch counter sit-in, "exonerated of their crimes" [Reuters]. Granted, 54 years later.
How the prehensile Ronald Reagan appropriated MLK [Will Bunch, Philadelphia Inquirer].
"The [Sentinel, OK] police chief here survived being shot in the chest Thursday while responding to a reported bomb threat, and the man who authorities say shot him was allowed to walk free later in the day" [Oklahoman]. That's odd. They didn't whack the guy and leave his body lying in the street? Why not?
"Boko Haram Struggles To Find Victims People Give A Shit About" [Duffel Blog]. If only I didn't have this nagging feeling AFRICOM is just itching for something to do….
Impending Neoliberal Implosion
"Boy, 5, given £15.95 invoice for missing friend's birthday party" [Telegraph]. Well, why not?
"[I]n a truly free market mercenary armies might be encouraged to seek profits by starting new wars" [Economist]. Might as well remove the layer of indirection provided by the state, I suppose, as in Snow Crash: General Jim's Defense System, Admiral Bob's Navy…. And we bootstrapped it all, with the Iraq and Afghanistan wars. Mission accomplished?
Fear-Industrial Complex
"I let my 9-year-old ride the subway alone" [WaPo]. Quelle horreur! Snugglis at age 21? Why not?
Class Warfare
80 people have as much wealth as the world's poorest 3.6 billion people [FiveThirtyEight]. Shows the pathetic triviality of Democratic populism, no?
The kind of sentence you hate to see: "Over 14 tonnes of ammonia were reportedly released from the poultry plant" [Cooling Post (CL)]. No workers killed, by good luck. Read the whole thing to see the pathways to failure.
News of the Wired
* * *
Readers, feel free to contact me with (a) links, and even better (b) sources I should curate regularly, and (c) to find out how to send me images of plants. Vegetables are fine! Fungi are deemed to be honorary plants! See the previous Water Cooler (with plant) here. And here's today's plant (via):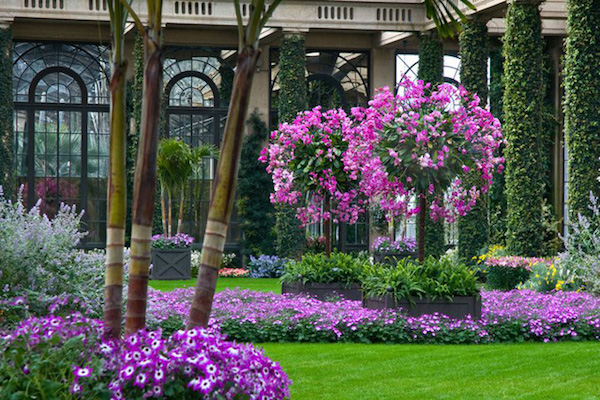 Longwood Gardens annual orchid extravaganza, Philly. Wish I could go!
If you enjoy Water Cooler, please consider tipping and click the hat:
Talk amongst yourselves!