By Lambert Strether of Corrente.
SOTU
From the Department of How Stupid Do They Think We Are? As Matt Stoller has shown, the growth of income inequality under Obama is greater than that under Bush. And only now, when there's not a snowball's chance in hell of their "proposals" passing — very unlike 2008-2009, when the Democrats had the House, the Senate, the greatest orator of our time in the White House, a mandate for "hope and change," and their boot on the thoroughly discredited Republican neck — the Democrats are closing the barn door after the horse is gone coming all over populist, while simultaneously trying to fast track TPP with Republican help. Help me.
Four historic SOTUs: FDR, "Four Freedoms"; George Bush, "Axis of Evil"; LBJ, "War on Poverty"; Bill Clinton, "The era of big government is over" [Bloomberg]. Common thread: FDR, Bush, LBJ, and even Clinton had the power to back up their words with policy. Except maybe on trade, Obama can't deliver.
Texts of the Speech
Remarks by the President in State of the Union Address | January 20, 2015 [Whitehouse.gov].

Barack Obama's 2015 State of the Union address: annotated [Rap Genius]. Could be fun!
Shorter Obama
The 44th president's address, edited down to 335 words [National Journal].

Video: Obama's State of the Union in Two Minutes [Wall Street Journal].
Theatre Reviews
Chris Cilizza: "From start to finish, Obama was supremely confident, challenging" [WaPo]. Based on what? Losing the Senate?

Mark Halperin: "[F]ired up and ready to go, unlike he's been in a long time" [WaPo]. Memories… It's been a long time since I heard Obots chirping "Fired up! Ready to go!" How'd that hope and change thing work out for ya? I mean, unless you're a banker, a drone manufacturer, or in surveillance.
The Zinger
Via [Slate]:

[After Obama said] "I have no more campaigns to run" Republicans started clapping derisively. And Obama responded with an ad-lib that will likely go down in State of the Union history: "I know, because I won both of them [wink]."

When stupid meets arrogant….

Twitter explodes [Raw Story].
Turning the page
Ezra Klein: "The most striking sentence in President Obama's 2015 State of the Union came near the start: 'Tonight, we turn the page'" [Vox]. The crisis is over! Well, not exactly:

If there is a deeper crisis that the Obama administration is responding to, it's the crisis of labor-force participation. One reason unemployment is down to 5.6 percent is that millions of people have dropped out of the labor force — they've stopped looking for work, at least so far as the government can tell. That may be because they can't find it, or it may be because the work they can find simply doesn't pay enough.

If the crisis is over, we're in the new normal: Permanently higher disemployment, crapified jobs, and making ends meet with System D or in the precariat. Mission accomplished!

"The nation is ready to 'turn the page' from years of financial hardship, President Obama said Tuesday" [USA Today]. No doubt they are, given that median income for "middle income" Americans decreased 5% in the 2000s, and median weath (assets minus debt) by 28%. So, does "turning the page" mean accepting the new normal? I'd say it does, given Obama's weak tea proposals.
The Hill
Take a gander at the vaguely obscene and oddly colored "No Labels" logo [Roll Call].
Herd on the Street
Hong Kong's house property conglomerates trade at discounts of 23% to 57% to their net asset values [Wall Street Journal, "Asian Tycoons Take Note of Li Ka-shing's Property Move].
PointState hedgies collect $1 billion on oil bet [Bloomberg].
Fed may trim US growth outlook on global slowdown [Bloomberg].
"After much internal debate, the S.E.C. declined to penalize S.&P. for its role in rating crisis-era mortgage deals" [New York Times]. More impunity. Film at 11.
Davos
"The world appears on the verge of a nervous breakdown" [USA Today].
Today's leaders congratulate themselves on having avoided another Great Depression [Economist].
Bank of America CEO Brian Moynihan says public anger at banks is "understandable" and that he'd like to see Dodd-Frank fully implemented [International Business Times].
Reputational collapse for tech could be on the same scale as for banks [FT, "Tech giants at risk of reputation collapse, warn business leaders"].
Grexit?
Alexis Tsipras: "Unless the forces of progress and democracy change Europe, it will be Marine Le Pen and her far-right allies that change it for us" [FT, "End austerity before fear kills Greek democracy"]. Le Pen got an Op-Ed in the Times. Maybe I missed the one from Tsipras?
SYRIZA still pulling ahead [Reuters].
TPP/TTIP
Strange bedfellows on fast track [Politico]. Crossed fingers.
"[T]he president says he is ready to defy his fellow Democrats to push through the TPP. In a case of odd bedfellows, Obama has found new Republican allies in pursuing the deal" [Guardian]. "Fellow Democrats."
If Obama really want to help the middle class, he wouldn't be pushing for fast track, given the record of past trade deals [Lori Wallach, HuffPo].
"'The first thing we ought to do is pass trade promotion authority,' new House Ways and Means Committee Chairman Paul Ryan said [The New American]. Factions on the right are not at all happy with fast track.
Political scientists when polled think Republican control of the Senate makes TTIP more likely [WaPo].
Mexico
Unanswered questions about the 43 murdered students [Vice]. Hard to believe the Mexican political class hasn't been able to come up with even a fake solution.
Black Injustice Tipping Point
Gordon Parks photography at the Boston's MFA [WBUR]. The photos Life decided not to print.
Stats Watch
Housing starts, December 2014: Housing starts rebound slightly above expecations on single family homes. Housing permits decline. "Housing is still much on a flat trajectory on average" [Bloomberg].
Redbook, week of January 17, 2015: Chain stores slow. Cold weather seasonal merchandise moves well. January is traditionally a volatile month as retailers wor through holiday inventory [Bloomberg].
News of the Wired
* * *
Readers, feel free to contact me with (a) links, and even better (b) sources I should curate regularly, and (c) to find out how to send me images of plants. Vegetables are fine! Fungi are deemed to be honorary plants! See the previous Water Cooler (with plant) here. And here's today's plant: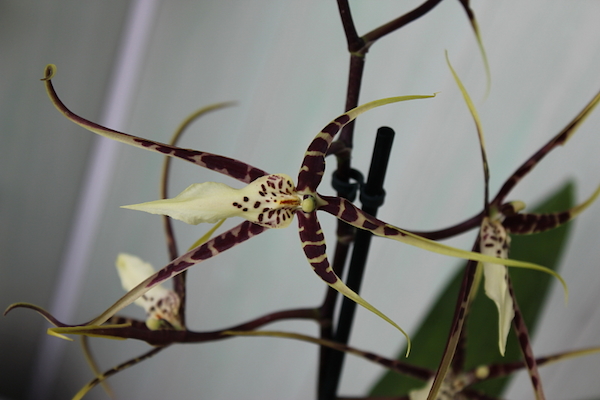 If you enjoy Water Cooler, please consider tipping and click the hat:
Talk amongst yourselves!