By Lambert Strether of Corrente
SOTU
"Seriously, Everything is Pretty Awesome" [Politico].
"45% of Americans say they're satisfied with the state of the economy — the highest number in 11 years" [NBC]. Oh, okay.
Richard Edelman, head of world's largest PR consultancy: "[A] sense that things are out of control" [FT, "Public trust slumps to financial crisis levels"]. Can't imagine why.
White House uses social media to appeal to youth on SOTU initiatives [Bloomberg].
The White House used Facebook to announce Obama's plan to make the first two years of community college free for many students, breaking its own record for video views on the site with more than 8 million. Upworthy became the vehicle for news about Obama's broadband plans. LinkedIn was how senior adviser Valerie Jarrett announced the paid-family leave plan. Medium was where senior adviser Dan Pfeiffer previewed Obama's State of the Union strategy. And the White House announced a call for input to put together a citizen memo to the president.
As a substitute for the delivery of concrete material benefits, of course. I mean, come on. Some community college, when Germany has real university for free?
"He will invite us all to seize this moment to begin again, and we should. We still can" [Boston Globe].
Herd on the Street
Christine Lagarde: Global growth outlook "too low, too brittle and too lopsided," even though cheaper oil represents a "shot in the arm" [FT, "IMF cuts forecasts for global economic growth"].
IMF China growth forecasts weakest in 25 years [Economist].
Metal (and copper) prices firm after better-than-expected China growth report [FT].
Shenzhen property developers Kaisa Group "can't repay a 2.5 billion yuan ($402 million) trust due tomorrow and the product will be transfered to a third party so investors can get their money back" [Bloomberg].
Revenues at Morgan Stanley's fixed income, currencies and commodities business fell to $599m from $694m a year ago [FT, "Morgan Stanley hit by weak trading revenues"].
A top U.S. Honda executive says competitors are doing "stupid things" to boost auto sales, including making seven-year-long car loans that harm buyers [Bloomberg].
2016
Hillary Clinton presiding over daily strategy sessions in her Chappaqua, NY home [WaPo].
Beauty contest with the Koch Brothers in Palm Springs, CA offers entree to 300 donors [New York Times]. Cruz, Paul, Rubio to attend, Walker invited, Jebbie has scheduling conflict (!).
Texas makes a Texas-sized contribution to Republican coffers [Bloomberg].
Jebbie to meet Tuesday with "some of the Beltway's most prominent lobbyists, CEOs, and thought leaders" [National Journal]. I don't think I've ever seen "thought leader" used without irony before.
The Mittster shows a softer side: "Our principles will bring opportunity to every American" [Bradenton Herald]. Sorry about the coffee, should have warned you about "principles."
Adlai Stevenson III reminds the The Mittster that third time isn't necessarily the charm [Bloomberg]. Ouch!
Christie uses tollbooth EZ Pass data against political opponent [ACLU]. Classy move!
Santorum blames himself for opening his mouth in 2012 and saying "dumb things" [NBC]. Moving up on the leaderboard!
No other way to say it: Bobby Jindal is a wanker. Doubles down on no-go zones, cites Daily Mail (!) as authoritative, when even FOX has backed off on this [CNN]. Along with the initial propagator of the meme.
The Hill
"GOP lawmakers plan to employ the seldom-used Congressional Review Act (CRA), which gives lawmakers the power to formally disapprove of major agency rules" [The Hill]. Now that they hold both houses.
McConnell: Republicans won't touch Social Security without Democratic support [Talking Points Memo].
Corruption
The firm owned by DiFi's husband, Richard Blum, stands to make $1 billion in commissions from selling U.S. Postal Service buildings [Alternet]. Disgusting. And we can't turn post offices into banks if we sell them.
Big Brother Is Watching You Watchs
At least 50 U.S. law enforcement agencies quietly deployed radars that let them effectively see inside homes, with little notice to the courts or the public [USA Today]. Yikes!
Syraqistan
McCain on ISIS: "The reality is, we need more boots on the ground" [AFP].
Reduced wheat crop feared in Iraq ISIS areas, as farmers planted less [Reuters].
AQAP is really a media company [Bloomberg].
Stats Watch
Housing market index, January 2015: "Solid conditions." Present sales steady, traffic down, future sales down [Bloomberg].
Class Warfare
International Labor Organization predicts global rising unemployment for next five years [ILO].
"[A] positive correlation between the amount of effort the workers said they put into building contacts—inside and outside their offices—and their pay rises and career satisfaction" [Economist]. Hence the creation of the precariat, arbitrary shifts, etc.
American households increasingly multigenerational [Pew].
"Beyond the Non Profit Industrial Complex" [Incite].
News of the Wired
* * *
Readers, feel free to contact me with (a) links, and even better (b) sources I should curate regularly, and (c) to find out how to send me images of plants. Vegetables are fine! Fungi are deemed to be honorary plants! See the previous Water Cooler (with plant) here. And here's today's plant: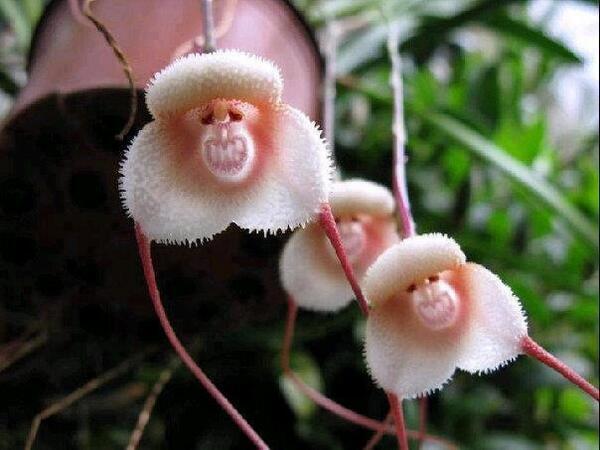 A Monkey Orchid….
If you enjoy Water Cooler, please consider tipping and click the hat:
Talk amongst yourselves!