By Lambert Strether of Corrente.
ECB QE
Stocks soar, bonds tumble [WSJ, "European Markets Rally Day After ECB Move"].
Euro tanks [FT, "ECB action sends euro on sharpest fall for 3 years"].
"The critical aim must be to weaken the euro" [FT, "Draghi's pledge gives credible hope"].
ECB's QE program builds in the condition that Greece will only benefit from asset purchases if the new government that the nation votes for on Jan. 25 continues the agreed path of reform [Bloomberg].
Syriza candidate Yanis Varoufakis: "Doing something is not always better than doing nothing, especially when there are alternatives better than either" [Economist].
2016
HBO documentary about Bill Clinton stalled after director Martin Scorsese refused to give The Big Dog more control [Talking Points Memo].
Obama's tax proposal fills Warren's sails and challenges Hillary [Gaius Publius, Down with Tyranny].
Obama's SOTU: What do Democrats mean by "middle class," anyhow? [Corrente].
Washington Post-ABC poll: Clinton beats Romney by 17 points. Romney also performs worse than 2012 in every single demographic [WaPo].
90 of the Mittster's top 2012 fundraisers on the fence, hesitating between him and Jebbie [HuffPo].
Lisa Wagner, top Romney 2012 Illinois fundraiser, throws in with Jebbie [Chicago Business].
"Invisible primary" algorithm selects Michael Dukakis as the closest historical analogue to The Mittster [New York Times]. Ouch!
Jebbie on 60 event fundraising blitz [Wall Street Journal]. Everybody says there has to be a reason for Romney to run. But I don't see a reason for Bush to run, either. What's the platform? "I'm not W?" "No more Iraq invasions"? "He's the dry drunk, not me"?
The Mittster shuns the Koch Brothers beauty contest because he's not going to win anyhow [Mother Jones].
Cordial, "gentlemanly" Utah meeting between Bush and Romney was a non-story [Boston Globe].
Greens and Libertarians join forces to challenge Commission on Presidential Debates limit of participants to the two legacy parties [Green Party Watch].
How Republicans can appeal to the "aspirational class," "the people for whom the possibility of achieving the American dream is fading" [WaPo].
Davos
Andrei Kostin, head of leading Kremlin-owned bank VTB: "If there is no banking relationship, it means the countries are on the verge of war, or definitely in the cold war" [Buzzfeed]. Mission accomplished!
Three camps at loggerheads over Europe's depression: The German establishment, which wants "structural reforms"; the IMF, which wants structural reforms, but also monetary and fiscal policies; and the camp "promoted" by Larry Summers, which wants structural reforms but also wants aggregate demand addressed [New York Times].
"Prince Andrew breaks cover in Davos to publicly deny 'sex slave' allegations" [Independent]. The sort of headline your PR person never likes to see….
Corruption
So will Sheldon Silver sing like a canary? [New York Times].
The events this week have shaken that sense of security and raised the possibility that Mr. Silver, the quintessential capital insider, could reveal his own colleagues' misdeeds to federal prosecutors in exchange for leniency.
"My conclusion is this: what we're looking at is not a run-of-the-mill case of graft or envelopes stuffed with money, but a far more serious matter: State Capture" [Albany Project]. Important!
Of particular interest is the 421-a program, "under which substantial real estate tax abatements are provided for certain new residential real estate developments." The intent of the legislation is to increase affordable housing, especially in the Five Boroughs; affordable housing such as, say, One57, nicknamed the billionaire's tower currently under construction in Midtown Manhattan. A condo there recently went into contract for a cool $47 million, but hey, no reason not to give the fine folks who bought it a 94% break on their real estate taxes.
One57 is Extell Development, but the "poor door" is at another Extell project. Apparently Extell gets its tax break on One57 by paying into some sort of very special but vaguely defined fund….
Assembly Democrats back Silver saying as Speaker [New York State Politics]. Shaking my head.
The most dangerous man in American politics [Buzzfeed]. Preet Bharara, one-time aide to Chuck Schumer.
Wells Fargo and Jippy Mo get cost-of-doing-business fine for fraud [CNN]. Film at 11:
Federal and state authorities have ordered Wells Fargo and JPMorgan Chase to pay a combined $35.7 million for taking part in a mortgage kickback scheme. The Consumer Financial Protection Bureau and the Maryland Attorney General said Thursday that loan officers at both banks took cash payments from a now-defunct title company in exchange for business referrals.
Has a familiar ring, somehow…
Black Injustice Tipping Point
Ferguson fueled by razing of Kinlocha, historic black town [Al Jazeera English].
Cop who choked Eric Garner to death was the subject of at least three civil rights lawsuits [Mother Jones].
Newly released dashcam recording shows New Jersey police officer fatally shooting a black man whose hands were raised in the air [Mother Jones]. Second verse, same as the first…
America the Petrostate
Three million gallons of fracking brine leak into the North Dakota headwaters of the Missouri River [Reuters]. Thanks, Summit Midstream Partners LP!
Stats Watch
Existing home sales, December 2014: Up 2.4 percent, as expected, led by single family home [Bloomberg].
Leading indicators, December 2014: Rises a solid 0.5% but a "shallow gain" reflecting ZIRP, which will probably shift higher, and a credit index that keeps signalling strength in lending activity unconfirmed by other factors [Bloomberg]. "This report is ambitious by its definition and, in December's case at least, unconvincing." "Ambitious"?!
PMI Manufacturing index flash, January 2015: Soft [Bloomberg].
ObamaCare
King v. Burwell: "The people who could lose their health insurance as a result of a Supreme Court decision this year are predominantly white, Southern, employed and middle-aged" [New York Times]. IOW, a huge chunk of the Republican base [snicker].
John Kasich on Medicaid expansion in Ohio: "There's no money in Washington, it's my money. I brought my money back to Ohio" [WaPo]. Smart framing!
Syraqistan
The Grey Lady's toe-curlingly sycophantic obituary [New York Times]. "Abdullah spoke as plainly as the Bedouin tribesmen with whom he had been sent to live in his youth."
King Abdullah was a nasty piece of work [Guardian].
Brit flags at half-mast for Abdullah [International Business Times]. Arms deal not finalized, then?
Fighters seize Libyan central bank and its $100 billion in foreign reserves [New York Times]. Qadaffi looking pretty good here, from a pure stabilty perspective, just like Saddam. If you found it plausible, if a bit post-modern, that Obama's policy in the Mediterranean basis and the Black Sea was to sow as much chaos, blood, and pain as possible, and then profit from the churn, incidents like this one would dovetail neatly with your worldview.
Big Brother Is Watching You Watch
Barrett Brown sentenced to five years [The Intercept].
News of the Wired
* * *
Readers, feel free to contact me with (a) links, and even better (b) sources I should curate regularly, and (c) to find out how to send me images of plants. Vegetables are fine! Fungi are deemed to be honorary plants! See the previous Water Cooler (with plant) here. And here's today's plant: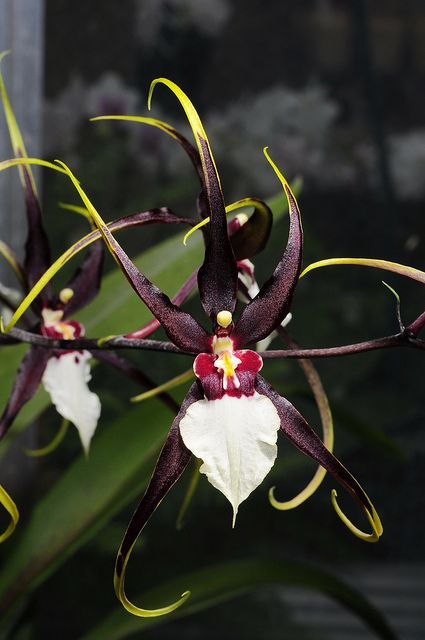 If you enjoy Water Cooler, please consider tipping and click the hat:
Talk amongst yourselves!