By Lambert Strether of Corrente.
2016
Detailed report of Democracy for America conference call with Sanders [In These Times]. If he does run, it will not be as an Independent. Very interesting.
Hillary Clinton considers delaying start of her campaign 'til July [Politico]. On the one hand, what a blessed relief. Like no more Xmas music in the stores on Halloween. On the other hand, one more move to suck all the oxygen out of the room. On the third hand, maybe she's just… tired?
Conservative movement infested with scam artists (not just cheap grifters like Gingrich) [Media Matters]. I hope the Koch Brothers get taken but good; that $889 million is a big honey pot.
Republicans hoping for Clinton-Warren dust-up [New York Times].
Establishment
Home Depot's Ken Langone lining up funders for Christie [Wall Street Journal].

Romney in Mississippi: "The great days of America have not ended" [Bloomberg]. "They're ahead with the right leadership."
Principled Insurgents
On Walker: "The judgments were virtually unanimous: The big winner of the first major 'winnowing' event of the 2016 Republican presidential contest, the Iowa Freedom Summit, was Wisconsin Gov. Scott Walker" [Talking Points Memo]. Of course, the "talking points" are Democrat, but the story quotes Republican pundits. So, told ya so.

Walker forms exploratory commitee [WaPo]. "If you're not afraid to go big and go bold, you can actually get results." Wotta concept. Maybe Democrats could try it.

Walker seeks $300 million in cuts at the University of Wisconsin, and $220 million for a new Bucks arena [Journal-Sentinel]. Agnotology in action!
Clown Car
Sean Hannity of FOX, to Sarah Palin: "Did the Teleprompter go down, did you have trouble with the copy, was there any moment in the speech where you had any difficulty because people had been so critical?" [WaPo]. Hannity's show is, of course, a meta-Clown Car.

Huckabee would like to abolish Marbury v. Madison [The Federalist]. Over gay marriage, too.

Huckabee's problem is that a lot of other Republicans stole his act [Philadelphia Inquirer]. And then there's the dog thing.
Third and fourth tier (non-)candidates — Carly Fiorinia, John Bolton (!), George Pataki (!!) — heading for New Hampshire, along with Christie and Perry [McClatchy].
The Hill
Obama nomineee for AG, Loretta Lynch, says "waterboarding is torture… and thus illegal" [Talking Points Memo]. So, any prosecutions in the offing?
"Exclusive: Spending- why 'red' states shoulder the deepest cuts under Obama" [Reuters]. Too bad it hurts the locals, instead of the local oligarchies.
Herd on the Street
Honeymoon for Microsoft's Nadella's over as earnings come in low [Wall Street Journal]. All the easy pickings are gone…
"[I]nvestors infer that the US Federal Reserve remains on course to start raising interest rates around the middle of this year" [FT, "Stocks mixed as traders ponder Fed runes"].
"U.S. stock futures rose Thursday, boosted by upbeat labor-market data and a batch of better-than-expected corporate earnings" [Wall Street Journal, "U.S. Stocks Waver Amid Data, Earnings"].
German inflation rate negative for the first time since 2009 [Bloomberg].
Stats Watch
Jobless claims, week of January 24, 2015: "[D]own a shocking 43,000 to 265,000. This is the lowest reading since April 2000" [Bloomberg]. But volatile!
Davos
Felix Salmon to The Moustache of Understanding: "Suck. On. This."
Tom Friedman, in #Davos, proves once again he is the emperor of the idiots. This got spontaneous applause! pic.twitter.com/S9TTB3hVIZ

— Felix Salmon (@felixsalmon) January 23, 2015
More on Davos [Felix Salmon, Fusion]. And more on Freidman [Felix Salmon, Fusion].
Black Injustice Tipping Point
Apparently it's not OK to "stand your ground" if you're a black woman, even when nobody dies [News One]. Marissa Alexander released in plea deal for time served, but has to wear an ankle monitor for two years. The beauty part? She's got to pay for the monitor. Ferguson should try this sweet revenue-raising deal.
American the Petrostate
Massive fireball from pipeline explosion near Colliers, West Virginia [WTRF]. But don't worry; it's only right on the headwaters of the Ohio River.
Booker (NJ), Markey (MA), Menendez (NJ), and Ben Cardin (MD) come out against Obama's plan to open up the Atlantic to oil drilling [Grist].
Big Brother Is Watching You Watch
Snowden and Schneier: the West has far more to gain from well-wrought online security, and strong encryption, than it has to lose [TechDirt].
Barrrett Brown jailed, in part, because he shared a link to a stolen document that he did not steal, and despite the fact that this is not a crime [Boing Boing].
After Albuquerque prosecutor considers investigating cops for whacking a homeless man, Albuquerque cops start investigating her [Think Progess]. Here's the long form reporting [The New Yorker].
Corruption
Assembly Democrats: Silver won't be speaker as of Monday [Ithaca Journal]. The worms twitch.
Class Warfare
New NBER working paper posits that economic factors—such as the cost of food and the type of jobs in your state—explain 37 percent of the increase in Body Mass Index in the U.S. from 1990 to 2010, as well as 59 percent of the rise in severe obesity, controlled for demographics [Bloomberg]. Yikes!
News of the Wired
* * *
Readers, feel free to contact me with (a) links, and even better (b) sources I should curate regularly, and (c) to find out how to send me images of plants. Vegetables are fine! Fungi are deemed to be honorary plants! See the previous Water Cooler (with plant) here. And here's today's plant (MM):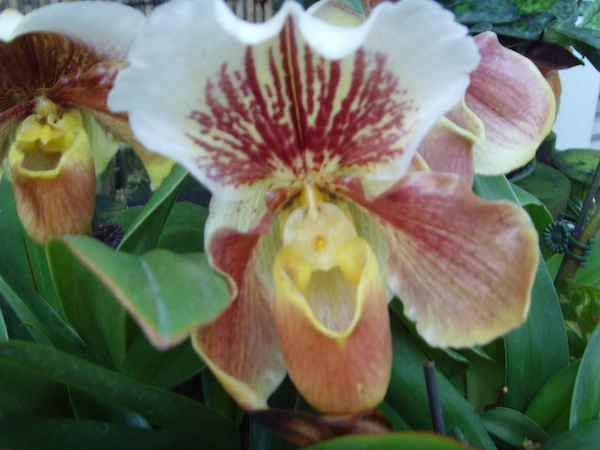 MM sent me a whole batch of orchid pictures, so we could have an "Orchid Week"! Would an other readers care to do the same? I mean, with other plants, although more orchids would be great, too! (I feel like that great fictional Manhattanite, Nero Wolf!)
If you enjoy Water Cooler, please consider tipping and click the hat. It's the heating season!
Talk amongst yourselves!