By Lambert Strether of Corrente
2016
Once, just once, I'd like to see a pundit write plain "working class" instead of "white working class" [WaPo] (a propos Jim Webb).
Warren: Asks what percentage of wage growth 90 percent of Americans got from 1980 to 2012, and answers: "Zero. None. In fact they end up a little behind. … 100 percent of the growth in income went to the top 10 percent" [Worcester Star-Telegram].
Warren: Pushing for lower interest on student debt [Mass Live]. Meh. Why not tuition free public education K-16? The Germans do, why can't we? Warren points to the cancer, proffers band-aid.
Santorum summons former aides to 2016 "private briefing" [CNN].
Jebbie holds fundraiser in Greenwich, CT [CT News].
The host committee also includes Richard Breeden, chairman of the U.S. Securities and Exchange Commission during the first Bush presidency, and David McCormick, a former Treasury under secretary during the second Bush presidency who is president of Bridgewater Associates, the world's largest hedge fund.
Isn't that special.
Chris Cilizza: "Marco Rubio is right. People don't trust the government to do much of anything" [WaPo]. The article is a bit of a mess, because the headline speaks of "people," but the text considers only the Republican electorate. Nevertheless, and leaving the fact that Cilizza taking Rubio seriously aside, "lack of trust in government" is conventional wisdom in the Beltway. (We sometimes see allied ideas in comments, too, where the idea that people can use politics, however defined as a non-market force, for collectively achievable ends, as opposed to divine agency, the automatic operation of the perfect theory, etc.) Making this recent fun and interactive chart from Pew interesting; the annotations are mine: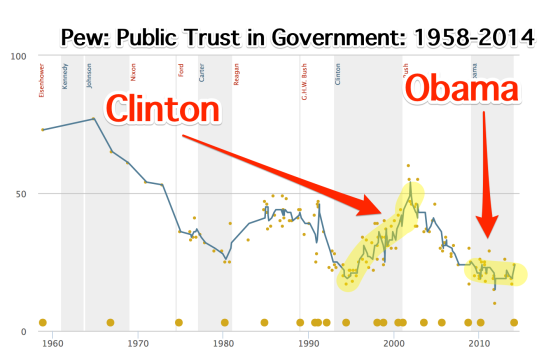 So, as you can see, it's not a natural, immutable law that trust in government must always decrease; it increased during the Clinton era. So it would behoove any Democrat worthy of the name — I know, I know, assuming facts not in evidence — to look at whatever it was Clinton did to create that perception, and emulate it. (To pre-empt a typical permathread, I'm not arguing that Clinton was worthy of trust: NAFTA, Glass-Steagall, and on and on and on. But if the perception that government can be trusted to "do much of anything" is a key part of actually getting government to do anything, then whatever it was that Clinton did is worth looking into.)
Rand Paul could run for President and to keep his Senate seat at the same time, doubling his take campaign contribututions [National Journal].
Republicans have every incentive for gridlock, since voters blame Presidents for it [Talking Points Memo].
Herd on the Street
Best headline ever: "Wall Street Strategists Forecast More Stock Gains in 2015" [Wall Street Journal].
Forecasts for 2015 are a "silly waste of time" [Barry Ritholz, Bloomberg].
2015 forecasts [The World Bank]. "The US economy will strengthen far above predictions."
2015 European growth: 1%, 1.2%, 0.8%, 1%, >1%, 0.8%, 0.8%, 1.2%, 1.2%, "flat," 1.2%, 1%, 1.2%, 0.5%, 1%, 1.1%, 0.9%, 1.7%, 1.%, 1%, 1.3%, 1.5%, 0.5-1%, 1.5%, 0.9%, 1%, "treading water," 1%, 1.3%, [FT, "FT economists' survey 2015: Economic outlook"]. Average: 1.08%. Median: 1.0.
Oil selloff accelerates [Online WSJ]; energy has the worst "analyst sentiment" [Reuters]. Garçon, more Adderall!
Black Injustice Tipping Point
End-of-year round-up for Ferguson protests: More than 600 arrests, at least 18 still in jail with serious charges [MORE].
Grand juror says St. Louis County Prosecutor McCulloch "mischaracterized" the Darren Wilson case, sues to speak out on the proceedings [St Louis Public Radio]. This is huge. See here for posts on the games McCulloch played. Here's a post with a copy of the lawsuit [Talking Points Memo].
Bar complaint filed against Prosecuting Attorney Bob McCulloch and Assistant Prosecuting Attorneys Kathi Alizadeh and Sheila Whirley for violations of at least 15 Rules of Professional Conduct [CBS].
New York judge agrees to consider release of Garner grand jury records [HuffPo]. Seems like a parallel effort?
#BlackBrunch peaceful protests in Oakland restaurants [Los Angeles Times]. The reaction by patrons was positive. This strikes me as tactically tricky; people are funny and possessive about food….
Oklahoma legislator proposes $500 fine for wearing a hoodie [KFOR].
Corruption
Deleware North, which has the contract to run the concessions at Yosemite National Park, actually trademarked "Yosemite National Park" (!) [McClatchy].
Christie gives NFL big subsidies, cashes in with free luxury box seats [David Sirota, International Business Times]. America's team!
Rahm Emmanuel plans to "play a very active role" in transferring public park land to the Obama Presidential Library [Bloomberg], so it doesn't end up in Hawaii or, heaven forfend, New York. I'm filing this under corruption because Rahm.
Stats Watch
Factory orders, November 2014: Contracted for the fourth straight month, and weak across the board. Makes the jump in the manufacturing component of the industrial production report "look like an outlier" [Bloomberg].
PMI services index, December 2014: Slowed noticeably for third straight month, "its softest rate since September 2012" [Bloomberg]. However, expectations are strong.
ISM non-manufacturing index, December 2014: Slowed substantially, but still "healthy." Employment and consumer spending for holidays are strong [Bloomberg].
Class Warfare
Senate welcomes six new millionaires [Bloomberg]. Of course, a million isn't even real money, these days.
41% of Americans didn't take any vacation days in 2014 [Quartz].
The Black Dog
Smart phones using voice analysis to "detect" depression algorithmically [Online WSJ]. Without informed consent, naturellement.
Depression as a (literal) allergy to modern life [Guardian].
Depression in adult life signalled by extreme feelings of guilt in children [The Atlantic].
News of the Wired
"Links are doomed. Teens hate links!" [The Awl]. 2015 internet predictions.
Library of Congress to retire THOMAS after twenty years [Library of Congress]; it has been replaced by Congress.gov (at least that's where thomas.loc.gov redirects to). THOMAS was perhaps the one good idea Newt Gingrich ever had.
Travels on the container ship Ever Cthulu [The Disorder of Things].
French government seeks to adopt NHS "free at the point of care" model [New Zealand Herald]. While on the other side of the Channel, the Tories are trying to gut it.
Saudi Crown Prince gives speech on behalf of King Abdullah, assures ministers of King's health [AP]. And then there's this.
Five 2015 stories of conflict that got no coverage because they weren't violent [Political Violence at a Glance].
"The Tahrir Square Defeat of Foreign Agents Youth Club" [Inanities]. Names, dates, and monuments in Egyptian political speech, and that which is not named, dated, or given a monument.
"Time to End the North Korean Threat" [Council on Foreign Relations]. From Richard Haas, CFR President (!).
The antidote to malaise about government is to deliver on projects: For example, California HSR [David Dayen, Salon].
* * *
Readers, feel free to contact me with (a) links, and even better (b) sources I should curate regularly, and (c) to find out how to send me images of plants. Vegetables are fine! Fungi are deemed to be honorary plants! See the previous Water Cooler (with plant) here. And here's today's plant (craazyman):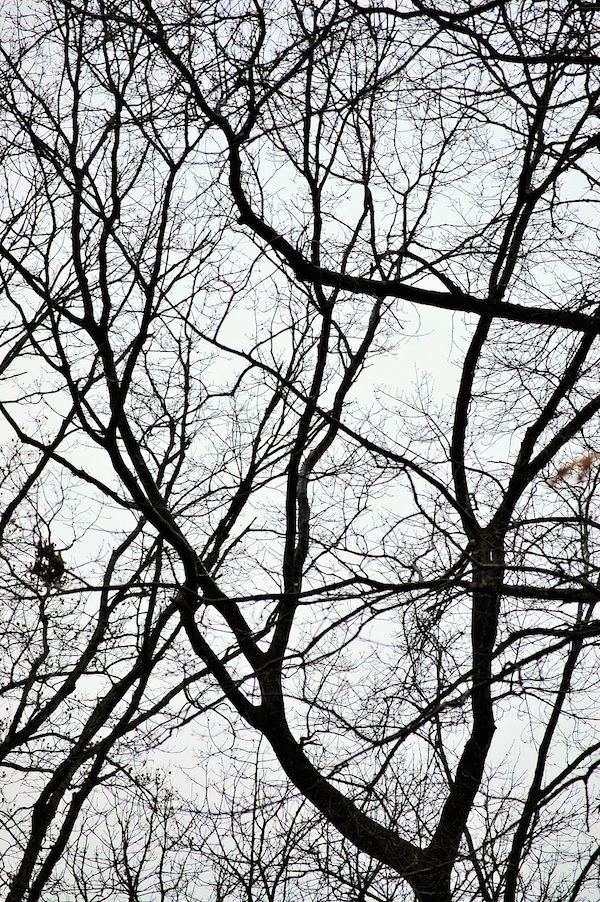 I'm a sucker for this kind of "tapestry" image because it speaks to the overwhelming complexity of even the smallest garden patch
And I bet those trees look a lot different now that there's snow! Readers?
If you enjoy Water Cooler, please consider tipping and click the hat:
Talk amongst yourselves!