By Lambert Strether of Corrente
Welcome to the first full week of 2015!
2016
An Elizabeth Warren miscellany [Roger Hickey, HuffPo]. The coveted CAF endorsement.
Sanders: Let the oppo begin! [Counterpunch].
Iowa party chiefs decry possibility of "coronation," view Clinton as second choice [Wall Street Journal].
Headline: "A Millennial's Guide to the Nineties: From Whitewater to Troopergate, here's everything you don't remember about the Clintons" [Politico]. I think this is the worst article I've ever read in The Beltway Shopper Politico, and that's saying something. Imagine writing an article on Whitewater without mentioning the squillionaire — Richard Mellon Scaife — who funded Clinton's opponents! Remember those colorful characters from the Arkansas bait shop? I wouldn't have thought it possible to combine froth and tripe, but author Schreckinger has done the trick. Here's the relentlessly trivial conclusion:
I'll leave you with Klein's compressed summary of the whole thing for the tl;dr crowd: "There was a shady real estate deal, that was just a stupid real estate deal. And then there was a blowjob, and that's it."
In fact, IMNSHO, Clinton scandals are best viewed as a conservative-driven, media-fueled, slow-motion legitimacy crisis that culminated with Fat Tony Scalia's selection of George Bush as President in Bush v. Gore. And Joke Line's Joe Klein's vacuous formulation airbrushes the ferocity, the ferality of the assault. When you understand that, you also understand that Obama's professed strategy, or vague hope, or whatever it was, of co-operating with the Republicans in 2008 and onward was either a strategic blunder of the first order, or an outright con (and either way, one in which all his supporters of that time are implicated). Co-operate with the same party — and the same operatives — who impeached a sitting President over a blowjob? How was that ever going to work? But then what can you expect of an author who takes "millennial" seriously as a political identity?
Will Al Sharpton be Hillary's Sister Souljah? [Buffalo News]. Couldn't happen to a nicer member of the black misleadership class…
Huckabee quits Fox show, mulls Presidential run [CNN], tours with Iowa "pastors" and activists [Bloomberg].
Christie to visit Illinois, Florida, and Maryland in January. Oh, and Iowa [Philadelphia Inquirer].
Jebbie resigns all his board positions [Spokesman-Review].
Romney didn't lose in 2012 because he moved right in the primaries [New York Times]. That's because he didn't move right. He won by convincing party insiders he had the best chance to win the general, which Jebbie can also do.
Perry might decide to run by mid-year, but he'd like to make some money first [The Hill]. Oh-kaaay….
"2016 should feature two familiar election issues: the size of government and the economy" [Los Angeles Times]. Why can't it be the functions of government, and not its size? Can't I shrink the F35 part, and grow the single payer part?
NYPD Soft Coup
The very model of a Democratic strategist…. [Buzzfeed].
"We reached a dangerous point in this city a couple of weeks ago," said Nathan Smith, a Democratic consultant in New York. "Folks believe that we were brought [note lack of agency] to the brink of a very dangerous and explosive situation, and folks want a much more productive path to find a solution in the future."
Translation: Give the NYPD whatever they want, including acting like parastate within a state, but do it nicely. "Folks" (twice repeated!) is always a tell of Beltway contamination. I mean, what New Yorker would ever say "folks" unironically?
So far as I know, the only other organized group that's into politicizing funerals is the Westboro Baptist church. So, the NPYD — turning their backs again — is in good company [WaPo]. After DeBlasio politely asked them not too, as well [New York Times].
Black Injustice Tipping Point
The only member of the Ferguson Commission with a Ferguson connection is a veteranarian whose business is there, but who doesn't live there [News-Observer].
Civilian member of Ferguson Commission resigns, so (Democrat) Governor Nixon replaces them with an ex-cop [CBS].
"Ferguson movement drafts its own blueprint." Several local, not parachuted in, figures are quoted [St. Louis Post-Dispatch]. At last.
Rich, dense vignettes of the Ferguson protests in year-end wrap-up [St Louis Post-Dispatch], with several sparking examples of tactical brilliance by protesters. Well worth a read.
Missouri State Highway Patrol Captain Ron Johnson and St. Louis County Police Chief Jon Belmar, both of arson on West Florrissant after the grand jury declined to indict Wilson: "We didn't expect this" [St Louis American]. After Prosecutor McCulloch inexplicably delayed the announcement and his presser until well after dark? Not credible.
Milwaukee's police culture could be more egregious than St Louis's [Capital Times].
Corruption
Rahm Emanuel's appointed school board member, Deborah Quazzo, invests in firms that do business with the Chicago Public Schools [HuffPo]. Crapified "educational" software. For test prep. Naturally.
Class Warfare
Cuomo and Christie plan to end overnight PATH service [New York Times].Well, it's only working people that use it. So.
America the Petrostate
Obama's Interior secretary says local fracking bans "create confusion" for oil and gas industry [The Hill]. And the oil and gas industry continue to attack the locals [Houston Chronicle].
Giant methane cloud from gas flaring over New Mexico [Guardian].
ObamaCare
The Vermont universal health care debacle [Real News Network]. Democrats, DC consultants deep six single payer. Film at 11.
First, ObamaCare sends you Form 1095-A: the "Health Insurance Marketplace Statement," which lists who in the household had policies, and their subsidies, if any. [USA Today]. (The IRS says that since Form 1095-A is supplied by "a third party," it won't be able to answer questions about it.) Then you take the subsidies from Form 1095-A and transfer them to Form 8962: This is the part where if you underestimated your income and hence claimed too large a subsidy, the IRS claws back the difference. For your reference: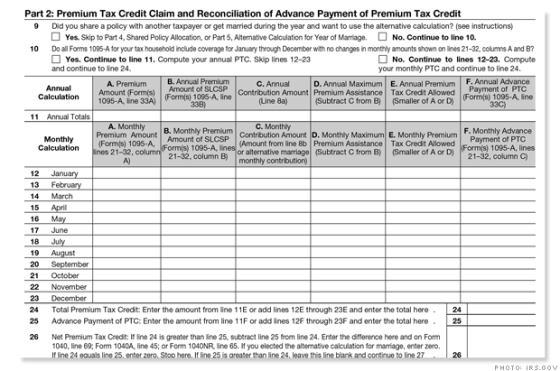 What could go wrong?
ObamaCare employer mandate to go into effect in 2015 [The Hill]. Part of ObamaCare from the start, the administration decided not to enforce the law.
HHS issues RFP for "National Data Warehouse," a database for "capturing, aggregating, and analyzing information" related to beneficiary and customer experiences with Medicare and the federal Obamacare marketplaces [Weekly Standard]. Wait, so measuring customer satisfaction was never part of the original functional requirements?!
News of the Wired
* * *
Readers, feel free to contact me with (a) links, and even better (b) sources I should curate regularly, and (c) to find out how to send me images of plants. Vegetables are fine! Fungi are deemed to be honorary plants! See the previous Water Cooler (with plant) here. And here's today's plant (MC):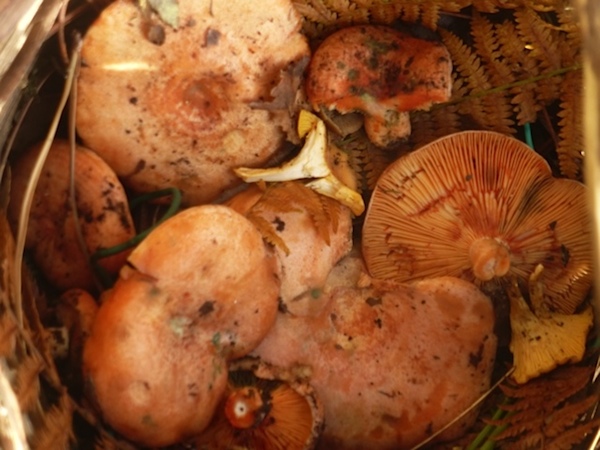 Yum! Still looking for more images of wintry plants….
If you enjoy Water Cooler, please consider tipping and click the hat:
Talk amongst yourselves!