You get extra Links today because Lambert is traveling and so his Water Cooler will be a variant from his usual formula.
Mario Cuomo, Governor and Galvanizing Orator, Dies at 82 Bloomberg. Nikki singles out this 1984 speech, which she remembered and located int the New York Review of Books archives: Religious Belief and Public Morality
Penny for her thoughts: Puppy heads home after 2,400-mile U.S. road trip Reuters (EM)
Hens, Unbound New York Times (furzy mouse)
Wolf killed in Utah may have been famed Grand Canyon wanderer Reuters (EM)
The Anti-Tolkien New Yorker
Scientists Alter Crops With Techniques Outside Regulators' Scope New York Times. Charming. More Frankenfood.
Epidemic of Violence against Health-Care Workers Plagues Hospitals – Scientific American (martha r)
Year of birth significantly changes impact of obesity-associated gene variant. ScienceDaily. This points strongly to environmental factors…
Ebola
Ebola outbreak: 1st case with 2-year-old boy linked to bats CBC (Chuck L)

Exclusive: CDC to hire lab safety chief after Ebola, bird flu mishaps Reuters. EM: "A mere "chief"? When it comes to governmental deck-chair-rearranging, I'm not sure I can take anything less than "czar" seriously anymore."
In Foiling Gmail, China Foils Itself New York Times (furzy mouse). Editorial. Read with a fistful of salt.
Say Goodbye to 'Made in China' Bloomberg
Singapore Home Prices Post Longest Losing Streak in Decade Bloomberg
Japan birth rates slumps to new low BBC
New Year Brings Eurozone Closer to a Lost Decade Wall Street Journal
Merkel attacks rightwing populism Financial Times
Piketty Refuses France's Highest Honour, Slams Government RT (Margarita)
Ukraine/Russia
Syraqistan
U.S. sends five Guantanamo prisoners to Kazakhstan for resettlement Reuters (EM)
Imperial Collapse Watch
Beyond the foreign policy lies: Our compliant media and the truth about American exceptionalism Salon. Verbose. but makes some good observations towards the end.

Google generation US Army cyber warriors may be excused combat training Telegraph (furzy mouse)

North Korea/Sony Story Shows How Eagerly US Media Still Regurgitate Government Claims Glenn Greenwald, Intercept
Big Brother is Watching You Watch
Democracy and Its Discontents Truthout (furzy mouse). The assumptions in this piece are questionable, verging on blaming the victims.
Obamacare
Health Plan Enrollment Numbers Show Importance of Coming Supreme Court Case New York Times
Affordable Care Act Creates a Trickier Tax Season Wall Street Journal
State prison populations down to lowest point in a decade Washington Post (furzy mouse)
Deadly winter storms batter California, chill New Year's Eve Reuters (EM)
NYPE Soft Coup
De Blasio and the Men in the N.Y.P.D. Who Turn Their Backs New Yorker

The NYPD Is an Embarrassment to the City of New York Gawker

The NYPD's 'Work Stoppage' Is Surreal Matt Taibbi, Rolling Stone (Michael C). So why are no protestors taking advantage of this wonderful opportunity? Will the police crack down only on "I can't breathe/Black Lives Matter" protests? If someone were smart, you'd have a day of coordinated protests of different types, large enough scale to be the type that the city would try to stop (experts can correct me, but if you want media attention too, I think you need 1000 each minimum). So how about 5 protests, say two on police brutality in different locations, Occupy Wall Street seeing how long it can occupy Zucotti Park again, and pick your favorite other two crowd-worthy issues (say anti war and anti surveillance, but I'm just making suggestions). Then the NYPD will look like super idiots if they crack down only on the police-related ones, and the protestors win if they make a point by continuing to stand aside.
Civil Disobedience
Anti-brutality activists aim to 'evict' St. Louis police from headquarters Aljazeera (martha r)

Fed Up: Florida Crowd Forms Human Shield to Protect Man Police Try to Arrest for Smoking Marijuana Alternet (Nikki, furzy mouse)
The Economist leaves Janet Yellen off its list of most influential economists Guardian. I try hard not to look for sexism as the main explanation for stuff like this, but it's hard not to see it as the culprit, particularly since economics manages to be even more sexist than mathematics. But one possible sorta justification is that Yellen has a long history of being a classic two-handed economist.
Problems stack up at US Pacific ports Financial Times
Low Oil Prices Drive US Rig Count Down OilPrice. Quelle surprise!
Housing Market Faces Affordability Pressures Wall Street Journal. As Wolf Richter has been saying for a while…
Class Warfare
Antidote du jour (Robert M). This is NOT Photoshopped! And a day late, but evokes Janus. From Science Daily:
No, this bird didn't dye its feathers. The half-red, half-white plumage of this northern cardinal (Cardinalis cardinalis) is the result of gynandromorphy. In other words its sex chromosomes did not segregate properly after fertilisation, so the bird is half-male, half-female. Males are usually bright red all over while females are a more subdued white, but due to the developmental quirk, the bird's colours are split down the middle.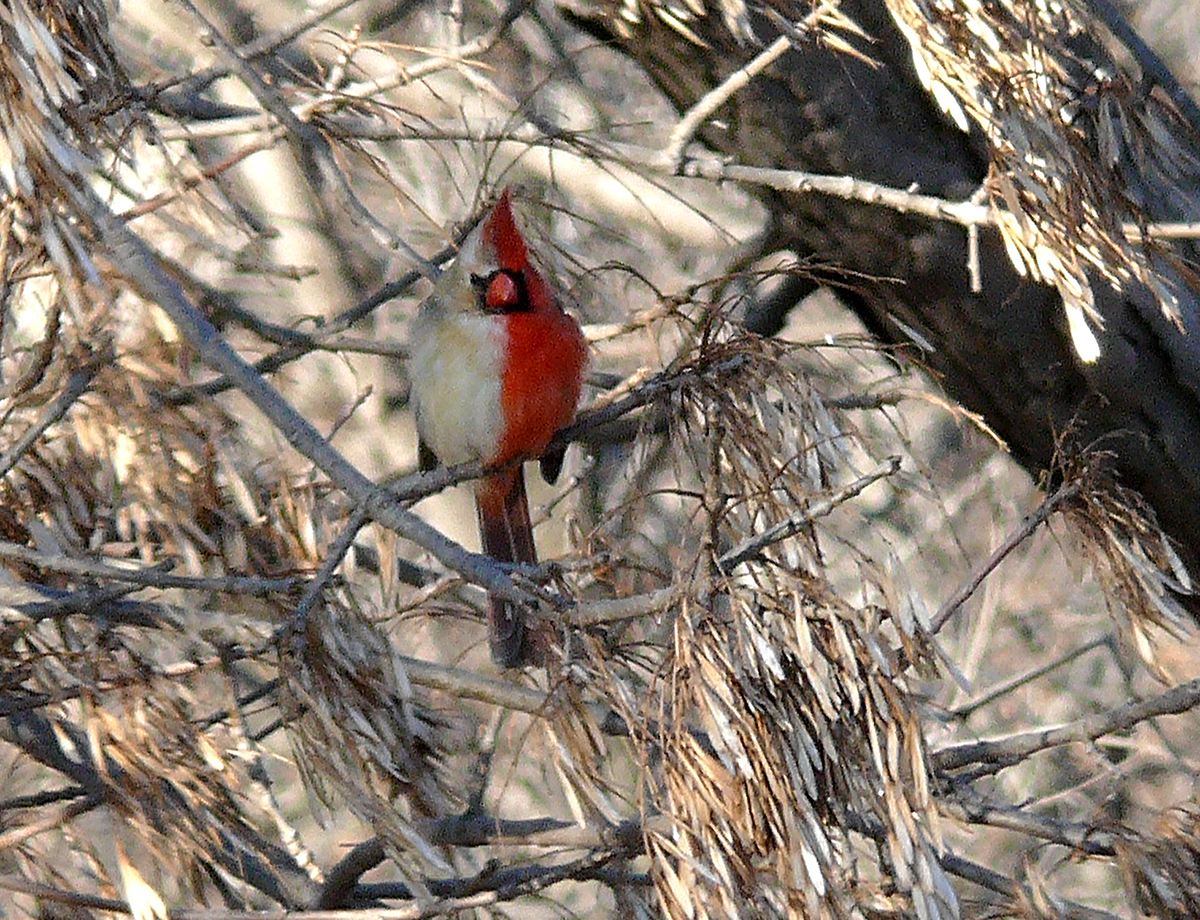 See yesterday's Links and Antidote du Jour here.