Yves here. Ed Walker's post below, on how mainstream economics tries to explain how wages are set, reveals that making them look market-determined is ideology that bears no relationship to facts. But that's precisely why economics is so attached to theory and so leery of data.
In a bit of synchonicity, Ed's post dovetails with our piece on Polanyi's The Great Transformation last week. By e-mail, he quoted Polanyi:
Such precisely was the arrangement under a market system. Man under the name of labor, nature under the name of land, were made available for sale; the use of labor power could universally be bought at a price called wages, and the use of land could be negotiated by a price called rent…
Ed added:
The idea of buying people under the name of wages is exactly what Samuelson means when he talks about labor as a factor of production, like coal.
By Ed Walker, who writes as masaccio at Firedoglake. You can follow him at Twitter at @MasaccioFDL, and here's his author page at Firedoglake.
Even as more low paid workers take to the streets to demand an increase in the minimum wage, there are plenty of people ready to tell you that labor markets pay you what you are worth, so if you get $9.35 per hour for 30 random hours a week, that's what you are worth. I hear this from lots of people who should know better, college-educated people holding well-paying jobs in the corporate world, even women who must know that on average women are paid less than men doing the same job. One reason people believe this obviously false idea must be the theory of marginal productivity of labor taught for decades in colleges and high schools.
I wrote about the theory of marginal productivity as an explanation for compensation here, based on the analysis of Thomas Piketty in Capital in the Twenty-First Century. Piketty's focus is on the enormous compensation paid to top managers, which is so obviously unrelated to marginal productivity as to make that theory laughable, and my post looks at payments to the top dogs at PIMCO as an example of the giggles.
Turning to compensation for the rest of us, here's a short refresher. I have a copy of the 2005 edition of Economics by Paul Samuelson and William Nordhaus, partly because I'm too cheap to spring for the most recent edition, $255 at Amazon, and partly because I imagine a lot of people studied introductory economics from this textbook or an even older version. Chapter 12, titled How Markets Determine Incomes, is based on the theory of marginal productivity. The authors assert that labor is a factor of production, just like land and machines and plant and electricity. Wages are determined by the marginal product of labor, just like those other factors of production.
The authors define two types of demand, direct demand, which is the demand for finished products and services by direct consumers, and derived demand, which is the demand for products and services to be used in the production of other goods and services. Thus, the rental price for farmland to grow corn is derived from the consumer demand for corn.
Then they define Marginal Revenue Product as the additional revenue produced by a unit of input of something (labor, steel, electricity, cash loans) while all other things are held constant. It is equal to the marginal revenue the firm gets from the sale of the additional output, if any, created by the additional unit. Hands are waved, and the authors tell us that the firm should add inputs of all kinds to the point that the marginal revenue product of the input is less than or equal to the cost of the input. Here's a chart, Samuelson/Nordhaus at 238.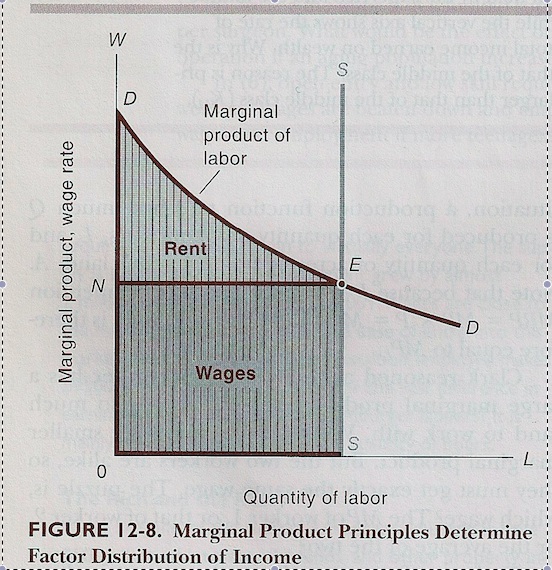 The authors explain that the rent triangle is equal to about 1/4 of wages, which "… reflects the fact that labor earnings constitute about three-quarters of national income." Nice and simple. So then we calculate the supply and demand for the entire economy by adding up all the supply and demand curves of every firm. Then we have equilibrium at the point where the supply equals the demand. From here, it's a short step to determining the distribution of money to wages. Samuelson and Nordhaus give us the model of John Bates Clark from 1900.
Clark reasoned as follows: A first worker has a large marginal product because there is so much land to work with. Worker 2 has a slightly smaller marginal product. But the two workers are alike, so they must get exactly the same wage. The puzzle is, which wage? The MP (marginal production) of worker 1, or that of worker 2, or the average of the two?

Under perfect competition, the answer is clear: Landlords will not hire a worker if the market wage exceeds that worker's marginal product. So competition will ensure that all the workers receive a wage rate equal to the marginal product of the lat worker.

But now there is a surplus of total output over the wage bill because earlier workers have higher MPs than the last worker. What happens to the excess MPs…? The rest stays with the landlords as their residual earnings, which we will later call rent. Why…? The reason is that each landlord is a participant in the competitive market for land and rents the land for its best price. 237-8, emphasis in original.
John Bates Clark was one of the important neoclassical economists. This is from a recent paper.
Clark is best known for his marginal productivity theory of distribution, which famously says that "the distribution of the income of society is controlled by a natural law, and that this law, if it worked without friction, would give to every agent of production the amount of wealth which that agent creates". Labor's wage, which Clark interchangeably calls "standard," "normal," "natural," and "competitive," is thus determined by the value of its marginal product (what Clark ordinarily terms "specific product"). Fn and refs. omitted.
Samuelson and Nordhaus are teaching neoclassical economics based on Natural Law thinking a century old. Here's how they explain themselves:
In reality, competitive markets do not guarantee that income and consumption will go to the neediest or the most deserving. Laissez-faire competition might lead to great inequality, to malnourished children who grow up to raise more malnourished children, and to the perpetuation of inequality of incomes and wealth for generations…. In a market economy, the distribution of income and consumption reflects not only hard work, ingenuity and cunning, but also factors such as race, gender, location, health, and luck. 239.
Here's a version from Gregory Mankiw from 2006, offering some detail on what might be taught in an advanced economics class. He claims the model works well. He concedes that the data available on declining wage share is "not well understood", but we shouldn't be concerned, he claims.
Piketty says we should look at data, so let's. Samuelson/Nordhaus offer this chart; take a look at the caption: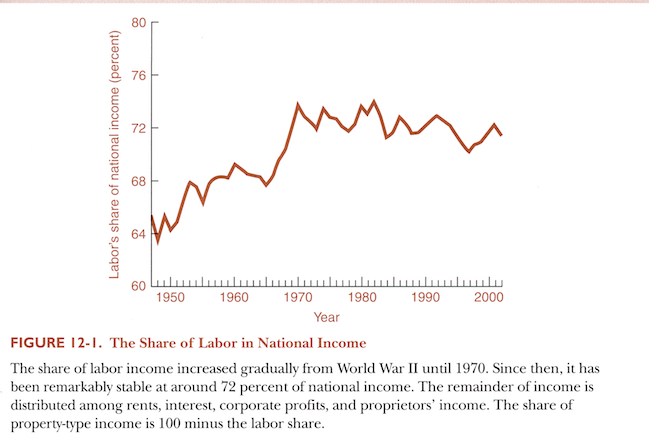 Here's another version of that data in chart form, this one covering the period ending 2010, prepared by the Cleveland Fed.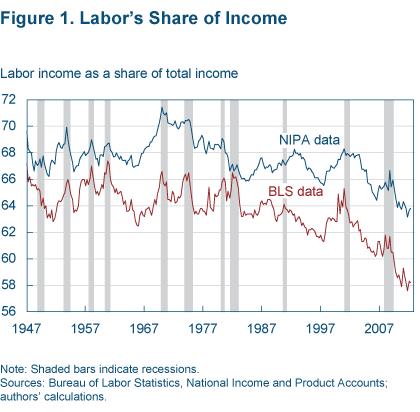 Here's how that paper describes the data:
These three data sources measure slightly different labor share concepts, which is why their estimated levels are different. But they agree in indicating a significant drop of 3 to 8 percentage points in labor's share of income since the early 1980s, with the trend accelerating during the 2000s.
As best I can tell, the NIPA data, in blue in the second chart, is fairly close to Samuelson's data. Many people today look at a third chart, the one from FRED: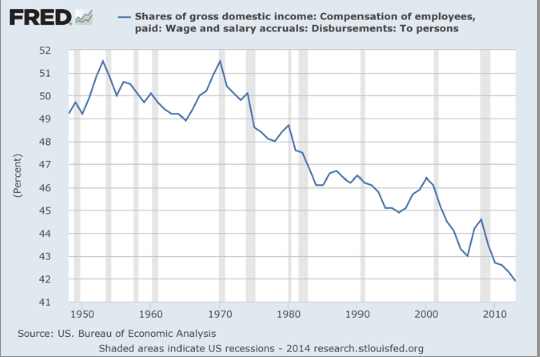 The technical description of this chart is here. It differs from Samuelson's chart in that the denominator is gross domestic income instead of national income. There may be other differences because the source of the Samuelson/Nordhaus data is the detailed NIPA tables, and what you get depends on which elements you decide to count. For yet another take, here's Jared Bernstein, whose views are worth a read.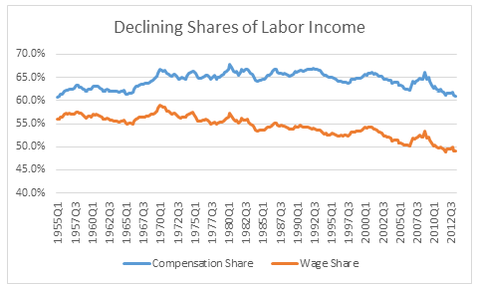 By all these accounts, labor's share of gross income is falling.
At the same time, productivity is increasing. Here's a productivity chart from FRED.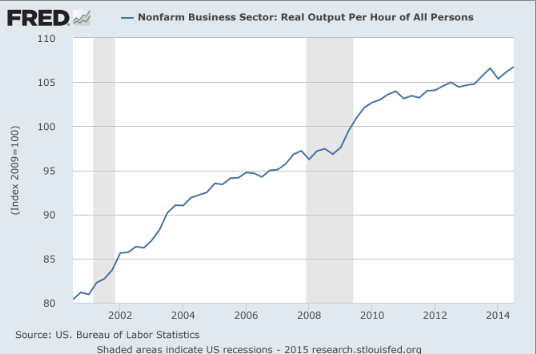 For the marginal productivity theory to make sense, you have to assume that labor compared to other factors of production is less productive than it was before. It's hard to see how this could be true in an economy dominated by the service sector, as in the US. So, not surprisingly, the data doesn't support marginal productivity as an explanation of income distribution. To see why, here's a relatively short but detailed criticism of this armchair theory through reality checking.
As the same writer points out, the theory is quietly being removed from most textbooks because it's useless, except to dead-enders like Mankiw, who continues to teach it from his perch at Harvard. So if most economists think so little of it, why does it survive?
Maybe it's because the distribution it describes is supposed to arise from the operation of Natural Law. As such, it fits neatly with Invisible Hand mumbo-jumbo. Natural Law isn't a testable or usable theory. Instead, it is a normative theory. It tells you what the writer thinks is the moral and righteous position. People who tell you marginal productivity theory is true want you to think that current distribution of income is natural and just, and that any other distribution would be unjust, unfair to someone.
That's what that Natural Law stuff means: the income you get from the labor market is what it Should Be, and if you get more, you're taking it away from someone. Maybe that someone is another worker, but more likely, you're stealing from the owners of the things used in production: the return to which the capital owner and the land owner are entitled by virtue of the Natural Law. Samuelson and Nordhaus teach their students that the economy as currently constructed is natural and fair.
Add to that a desire to believe that the economic system is fair, and a constant media and political drumbeat about the wonders of capitalism, and you have the perfect setting for uncritical belief in a false and stupid idea. You are worth more than the "market" says.