The iconic Maine lobster finds its way to Beijing, Shanghai, Tokyo, Seoul, Hong Kong….are Bangkok & Singapore next? Portland Press Herald
Lumbersexual? Forest Journal: The fine art of distinguishing NH's real men New Hampshire (Scott)
God is on the ropes: The brilliant new science that has creationists and the Christian right terrified Salon (margarita)
Find love tonight: The first Sunday after New Year's Day is the busiest night of the year for online dating PsyPost (Chuck L)
Let this be the year when we put a proper price on carbon Larry Summers, Financial Times (David L). The pink paper had an editorial in 2007 on this topic (and we posted on it). So Summers is a bit late to this idea. And the FT editorial was better argued too.
Limiting Rest Is Found to Help Young Concussion Patients New York Times. Two days versus five of rest??? I had a concussion at 16 (as in passed out and still can't remember what happened immediately prior) and all I got was overnight observation and was back to a very competitive summer camp the next day (looking woozy…).
Innate behaviour determines how we steer our car PsyPost (Chuck L)
If Greece turns left, will Europe follow? Aljazeera (Nikki)
Greece Is About To Dance A Wild Sirtaki Ilargi
Ukraine/Russia
Ukraine: "From the spirits that I called …" – Part II Moon of Alabama (Chuck L)

Thousands of ultra-nationalists march in Kiev honoring Stepan Bandera YouTube (Chuck L)
Syraqistan
Rouhani threatens to hold referendum Financial Times

Lebanon tightens flow of Syrians BBC

Children, Extremist Ideas And The British Establishment Moon of Alabama. Chuck L "Churchill and Roosevelt must be spinning in their graves at this fear-mongering on both sides of the pond."
Big Brother is Watching You Watch
The Future of Getting Arrested Atlantic (Nikki)

Jaguar Demos a Car That Keeps an Eye on Its Driver MIT Technology Review (David L)
Murdoch, Scaife and CIA Propaganda Robert Parry, Consortium News (Chuck L)
Top Iowa Democrats Slow to Rally Around Clinton Wall Street Journal. From the summary: "…they would prefer a more liberal candidate or at least a robust debate over policy."
Adviser Guides Obama Into the Google Age New York Times. Chuck L: "Like you I have mixed feelings about cutting edge IT. But still using floppy disks?"
Republicans Say They'll Act Fast to Push Agenda New York Times. "Act fast"???
The Koch Brothers Launch A Surrogate War Against Pope Francis PoliticusUSA (Glenn)
West Virginia school board alters climate change education standards ars technica (Chuck L)
NYPD Soft Coup
New York City Police Turn Backs on Mayor at Second Funeral Bloomberg

Pittsburgh Police Chief Under Fire For Controversial Photo, Union Says Calls Department Racists CBS Pittsburgh. Martha r: "Another big city police chief trying to show he gets it, meeting protesters halfway, and getting heavy backlash from his troops."
A Record Year for Auto Recalls New York Times. Crapification.
Plunging Oil Prices Test Texas Boom Economy Wall Street Journal
Why New Credit Cards May Fall Short on Fraud Control Wall Street Journal. This is appalling, particularly as far as debit cards are concerned. Someone who gets your wallet can drain your account and you have no recourse. My bank (TD Bank) offers PIN cards only on ATM cards that are not debit cards. And you cannot get a business account PIN card of any kind.
A handy tool — but not the only one in the box Martin Wolf, Financial Times (David L). Reviews, and takes some issue with Richard Koo on balance sheet recessions.
Princeton graduate, 30, 'who shot dead his $200m hedge fund founder father, 70, in NYC apartment' arrested after he 'went on the run' and barricaded himself in his Manhattan home' Daily Mail
Permanent capital: Perpetual cash machines Financial Times. This is insane. Private equity and hedge fund returns are faltering, and these clowns want a BETTER deal?
Class Warfare
Coca-Cola's anti-American outsourcing scheme: How Big Soda gets the public to shoulder its costs Salon (margarita)

Minimum Wage Increases in the Wake of WW II Menzie Chinn, Econbrowser
Antidote du jour. Andrew S: Here are a few pics of my family playing scrabble with our cat, "Phydeaux". As you can see we are all geeky nerds chez nous (and proud!). Phydeaux insists on having tiles and rack when we play. Otherwise he'll sit in the middle of the board and destroy the game. With his tiles, however, he patiently waits his turn, occasionally showing us his very cute belly.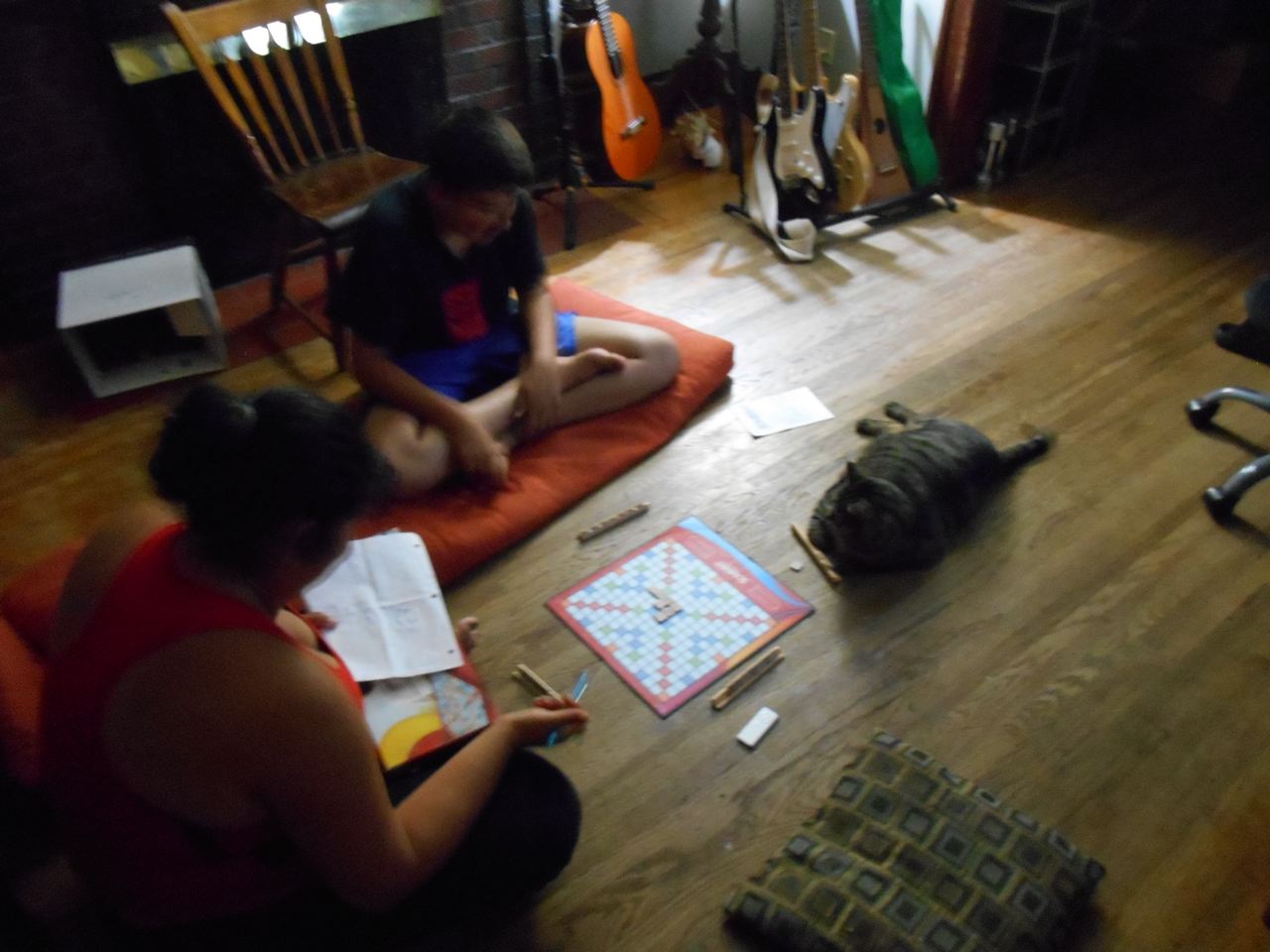 See yesterday's Links and Antidote du Jour here.