By Lambert Strether of Corrente.
Pete Peterson publishes a book [Steering Clear]. The Big Dog writes a blurb:
As an outstanding leader in the public, private, and philanthropic sectors — and a proud grandfather of nine — Pete Peterson cares deeply about America's future."– President Bill Clinton
Of course, Peterson and Clinton share many interests. But does anybody but me think the pre-2016 Clintons are trowelling on this grandparents thing just a little too thickly?
Clinton supporter fracas of over "donor advisors" and talking to the press [WaPo].
Run Warren Run organizer Adam Beaves in Iowa to meeting: "If you look back to when she was drafted to run for Senate in Massachusetts, her answers were really similar to what she's saying now" [WaPo].
Establishment
Something you never want to hear from a campaign staffer: "He closed with the hashtags: "#learning #maturing"' [McClatchy]. Having a hard time seeing how Ethan Czahor's inappropriateness is different from this inappropriateness, except that Jon Favreau is a Democrat.
Principled Insurgents
Rubio hires former Romney aide Jim Merrill, who has "deep organizing knowledge" of New Hampshire [New York Times].

"[Walker's] acceptable to all factions of the Republican Party, which can't be said of everyone who is likely to run for president" [Bloomberg]. All factions? Tall order.

Second "John Doe" probe of Walker administration on life support [Journal-Sentinel]. A good scorecard with all the players.

The first John Doe investigation, begun in 2010, led to convictions of six Walker aides, associates or appointees on charges ranging from theft from a veteran's group to misconduct in office. The second Doe probe, launched in 2012, looked into coordination between conservative political organizations and Walker and other candidates during recall elections.

I don't think the Republicans base cares about convictions, theft, or misconduct as long as Walker stomps Democrats. Independents might. What's interesting is that Democrats are silent on Walker and corruption (I know, pot, meet kettle. But when did that ever stop anybody?) Perhaps they're keeping their powder dry.
Clown Car
Ed Rollins, of Christie: "He'll be the Tim Pawlenty of this election cycle" [Newark Star-Ledger]. Ouch!

Iowa evangelicals worried that Huckabee doesn't have that new car smell [National Journal]. The last time Huckabee won an election was 2002,
The Hill
Robert Reich's two-and-a-half minute lecture on TPP [Bill Moyers].
Strange bedfellows on TPP [New York Times]. Louie Gohmert and Dana Rohrabacher [heart] Rosa DeLauro and Louise Slaughter (!).
Obama on the filibuster, interviewed by [Vox].
[OBAMA: ] Probably the one thing that we could change without a constitutional amendment that would make a difference here would be the elimination of the routine use of the filibuster in the Senate.
Nice get for Vox, but for whatever reason, neither Young Ezra not Matty ask President Mushmouth the obvious question: Why didn't you get rid of the filibuster in 2009, when it might have made a policy difference?
Obama stiffed Larry Summers twice on Fed nomination [HuffPo]. I'm not crying for Larry, but remember what they said about Clinton? He can shake hands with you while p*ssing down your leg? Seems the Big Dog wasn't the only one….
"Don't vilify the wealthy, just make them pay some taxes for the state apparatus which devotes itself to preserving their wealth" [Eschaton]. Laudable sentiments, but Federal taxes don't "pay" "for" the state apparatus.
Herd on the Street
As Yahoo prepares to sell its Ali Baba stake, Wall Street hates their story and wants to sell Yahoo for parts [FT, "Yahoo: Identity crisis"]. Probably means Yahoo is doing the right thing.
Coca-Cola beats profit expectations in North American market [Reuters].
"Counterparty Risk in Material Supply Contracts" [Liberty Street Economics]. Another example of what Yves calls "tight coupling."
Stats Watch
Redbook, week of February 7, 2015: Slowed substantially due to the Superbowl but should pick up for Valentine's Day [Bloomberg]. Bounceback on government retail sales report Thursday expected.
NFIB Small Business Optimism Index, January 2015: Fallen on 7 of 10 indicators, but still "respectable" [Bloomberg]. Inventories (too low) and job openings were positive.
JOLTS (Job Openings and Labor Turnover), December 2014: Little changed and in consensus range [Bloomberg].
Wholesale trade, December 2014: "Weak sales made for unwanted inventory builds in metals, chemicals, lumber, machinery and farm products [Bloomberg].
Police State Watch
San Francisco police believe  anti-terrorism enforcement should include patrolling public transit for fare evaders [San Francisco]. What next? Littering?
Indiana woman denied contact with her jailed brother after Facebook posting supporting him [Indianapolis Star]. And fascinated to learn of "JPay, a company that allows prisoners to receive money and send emails and videos to relatives."  The carceral state provides so many business opportunities!
Why are so many Americans in jail? Not drug laws, but DAs seeking more felony convictions [Salon].
Black Injustice Tipping Point
"We started talking to [residents] about the nature of the jails, and they would casually mention things that were out of a 17th century novel" [Los Angeles Times]. Of the lawsuit on the Ferguson jail system. And that's not a bug….
Dean Smith, bleeding heart liberal [Salon]. "As a teenager in Topeka, Kansas, he'd persuaded his high school principal—five years before the Supreme Court decided Brown v. Board of Education—to integrate the school's basketball team."
"Lynching in America" [Equal Justice Initiative (PDF)]. The Times has compiled a handy map; "The authors of the report compiled an inventory of 3,959 victims of "racial terror lynchings" in 12 Southern states from 1877 to 1950."
Corruption
Silver's straw? replacement, Speaker Carl Heastie: "I'm not a dictator. I really like to build consensus" [Politics on the Hudson]. Which would be fine, I suppose, if corruption weren't part of the consensus.
"Assembly Speaker Carl Heastie steered more than $600,000 to a Bronx nonprofit that had no official board, filed no tax forms for years while receiving taxpayer funding and ultimately went bankrupt" [New York Daily News]. Still, $600K is chicken feed compared to real estate money. Do better, Daily News!
And speaking of New York real estate: "Leonard Litwin is a major New York political donor who amplifies his political speech by making large donations through his network of LLCs" [Gotham Gazette]. Click through for methodology and a brilliant graphic. The top five donors:
1. NYS SENATE REPUBLICAN CAMPAIGN COMMITTEE $1,131,000

2. ANDREW CUOMO 2014, INC. $1,089,200

3. NEIGHBORHOOD PRESERVATION PAF $768,550

4. JOBS FOR NEW YORK, INC. $587,600

5. NYS SENATE REPUBLICAN CAMPAIGN COMMITTEE – HOUSEKEEPING $550,000
Gee, that's odd. Could it be that Litwin is trying to buy off both parties? That is, the entire political system, modulo a few nuts like Howie Hudson and Teachout/Wu? Oh, and if you're wondering about the "Neighborhood Preservation Political Action Fund," here's some background:
But the [Rent Stabilization Association's] directors include the biggest names in real estate: Jeffrey Litwin, Samuel J. Lefrak, Donald J. Trump and Jeffrey Manocherian, each the owner of thousands of apartments.

The Neighborhood Preservation fund's board is made up mostly of Rent Stabilization Association board members, although the Neighborhood Preservation group's money comes primarily from large contributions, often $10,000 or more.
Well, so long as none of them are Malaysian, I suppose… And hat tip to ginnie nyc for the links. More like this, please!
And as long as we're looking around for other sacks of pus that are about to burst, another Democratic (!) governor is in trouble. Well, to be fair, his significant other [Oregon Live].
A new batch of emails released Friday show [Oregon First Lady] Cylvia Hayes directed state employees how to implement a new policy while she was being paid $25,000 by an advocacy group to promote it.

The emails appear to erase any doubt that, as first lady, Hayes was taking money in her private role and pushing the same policy in her public one.
Governor Kitzhaber has asked Oregon AG Ellen Rosenblum to conduct a '"full and independent factual review" of issues surrounding his office's handling of Cylvia Hayes' contracts,' but that could be a could also block access to public records that Hayes and Kitzhaber have refused to release [Willamette Week].
C'mon, Democrats! This is third-world stuff. WTF?
Class Warfare
Robots to perform 25 percent of "automatable" manufacturing tasks that can be done by machines by 2025, according to the Boston Consulting Group [Reuters].
News of the Wired
* * *
Readers, feel free to contact me with (a) links, and even better (b) sources I should curate regularly, and (c) to find out how to send me images of plants. Vegetables are fine! Fungi are deemed to be honorary plants! See the previous Water Cooler (with plant) here. And here's today's plant (JJ):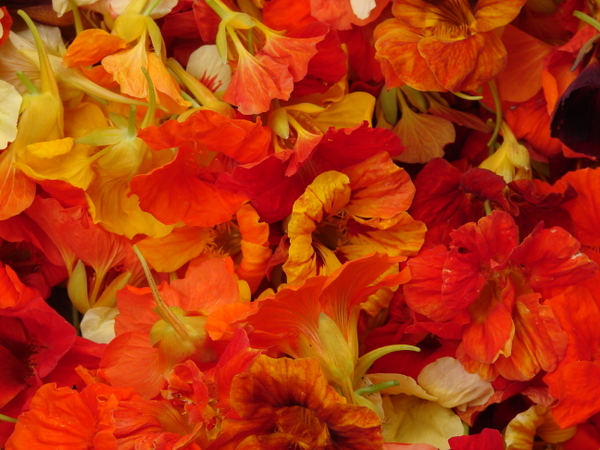 Another nasturshalum! And I am spacing out on who sent this to me. Whoever you are, take a bow!
If you enjoy Water Cooler, please consider tipping and click the hat. It's the heating season!
Talk amongst yourselves!