Based on the review, nothing has come to my attention that causes me to believe that these financial statements are not, in all material repects, in accordance with Canadian generally accepted accounting principles.

However, readers of these financial statements are cautioned that the information contained in these statements may not be appropriate for their purposes.

– George Passelias
By Richard Smith
Updates 23/08/2015:
1. After GXG Markets' demise, this post's  links to GXG's web site are, for the moment at least, broken.
2. The original version of this post wasn't quite sure about where the "Malaysian billionaire" and his company Vasseti PLC fitted into the picture. It is now looking more likely that Vasseti PLC is another scam, but I still can't work out how to classify its shareholder Ranjeet S. Sidhu: perp or victim? I've revised the post to bring it into line with what I now think was really going on with Vasseti and indicated where I changed my take.
To this pallid Northerner, Italy is an exotic place, exhilarating but threatening. For instance, it has eyecatching volcanoes. In a mildly sinister fashion, some of those scenic craters turn out to be merely minor manifestations of an inconspicuous, but mind-bogglingly immense supervolcano.
There are other geological surprises. One volcano, of the eyecatching type, contains not only fumaroles and hot springs, but, incongruously, a tidy wooded campsite and dozens of cats. Meanwhile its hot springs and volcanic steam, formerly touted as good for your health, turn out to be laden with arsenic salts.
So Italy can be unsettling: the objects that are right in front of your nose may turn out to be merely  a sign of something much bigger, or they may evolve unexpectedly, or they may simply turn out to be the very reverse of what they look like.
For another instance, let us start in the Italian town of Frosinone, at the foot of the Apennines, not far from Monte Cassino, where, in 2011, an eagle-eyed policeman spotted a parallel universe of deception:
Diplomatic passports, certificates, diplomas (at good prices), uniforms and badges: to obtain accreditation, in milieux that matter, in Italy and abroad, to make useful friendships, and to obtain contracts and favours. But they were all forgeries. This was the discovery made by agents of the Division of General Investigations and Special Operations (DIGOS) of the Frosinone police.  Prosecutors in Cassino started an investigation into conspiracy to commit forgeries. Yesterday searches were carried out all over Italy, but especially in Rome, Lazio and Verona.

The investigation started almost by accident, about a year ago, during a roadside check in Cassino. The officers stopped a motorist of Egyptian origin who, as proof of identity, showed the ID card of a "Brigadier" of the Associazione Croce Rossa Garibaldina (Red Cross Garibaldi Association), a document that looked very similar to police ID. "They were only a few small details, a stamp wrong and little else," explained DIGOS manager Cristiano Bertolotti and  chief of staff Stefania Marrazzo yesterday. But there was enough to awaken suspicions.

A whole hierarchical paramilitary association, active on the Internet across Italy (mostly in Lazio and Veneto), sprang into view. It was headed by a self-styled general corps who countersigned members' identity documents or passports diplomats, very similar to genuine ones.

The association, active for more than a decade and with a name that has changed over the years (from Red Cross Garibaldi to Cosint to CSI) also issued diplomas, degrees, certificates, (some of which, along with a toy gun and knives, were confiscated by DIGOS in ten locations between Lazio and Veneto).

All of these items had different prices of course. A degree, for example, cost a thousand Euros or more, an ID card from 90 to 250 Euros.

…<couldn't translate this bit properly but it doesn't look very important>

What is the point of all this? That is still under investigation, but the objectives are not believed to be humanitarian. Four forgery complaints have arrived: one is against a retired native of Aquino, another against the Egyptian citizen spot-checked in Cassino; the other two are against citizens of Rome. All have a history of fraud, forgery and receiving stolen property.
That burst of investigative activity was in late 2012, after which it all went quiet for a couple of years.  In a manner that would be surprising in many other countries, the Red Cross Garibaldi or Cosint or CSI ploughed on largely unperturbed.
We pick up the story in November 2014. A dull-looking international crime fighting convention is taking place in Rome. It has keynote speeches, PowerPoint presentations by Serious People, a comatose audience: all the apparatus that signifies a proper conference. The highlights, professionally filmed, are on Youtube. Here's a shot of the conference organiser, Antonio Morrone, doing his piece to camera.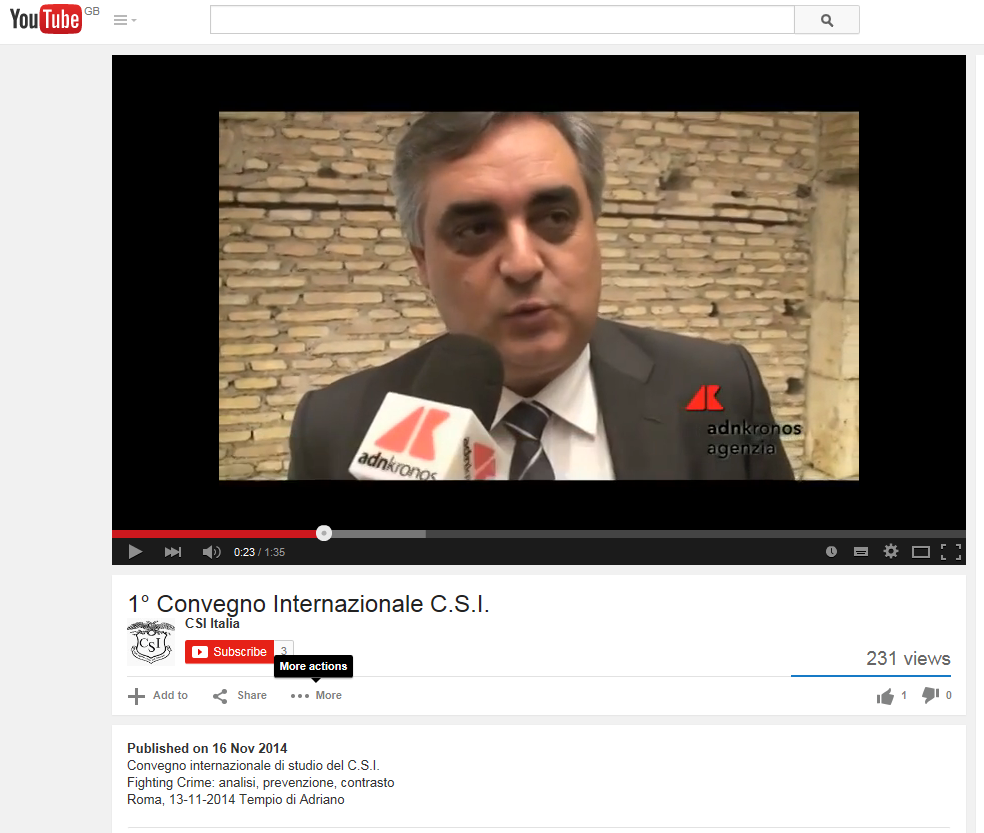 Morrone is indeed what he appears to be, a major criminal expert. But this is Italy: six weeks after he  did his piece to camera, the police picked up Morrone for a large scale international fraud, and lo, the Red Cross Garibaldi is right back in the spotlight too:
[Morrone] is the deputy commanding general of the "Red Cross Garibaldi". In Switzerland, he established the CSI, (Criminal Investigations Service), and before that, even the CIA, (International Anti-terrorism Cooperation). His main business, however, was the bank UVB Banco ZRT, of Budapest, with offices in Southeast Asia. Via this vehicle, Antonio Morrone allegedly carried out a series of international frauds. He was arrested in Rome, at his villa in the district of Infernetto, and then taken to Regina Coeli. Officers of the Financial Police also seized a white Ferrari 599 GTB, a Range Rover and three gold watches. Three others were detained in prison, while four more are under house arrest. However, the most significant results of the investigation may still be to come.

The tax police in Turin, coordinated by deputy prosecutor Vittorio Nessi and his right-hand-man Alberto Benso, carried out operation "GoldenBank". Officers also went to Hungary and Switzerland where, in cooperation with local investigators, they obtained documents useful in the investigation, which began a year ago after a report by the Bank of Italy's Financial Intelligence Unit. The police were alerted to withdrawals totalling one hundred thousand Euros in cash in a week, made by a Turin businessman. The police questioned him, discovering that he had made a funding request made to UVB Budapest in exchange for money. Through this bank – with offices in Jakarta, Singapore and Malaysia – Morrone and his accomplices (two more were arrested: commercial director Antonio De Angelis and vice-president of UVB Indonesia, Giuseppe Pasini) promised high-interest loans to Italian businessmen and foreigners. So far there are thirty victims, who have handed over about six million euro in the hope of obtaining funds for 200 million. The number could grow: nearly two hundred requests for very large loans were found during searches of the Hungarian offices .
So is that it, then? Just EUR6Mn collected in a variant of the hoary old Prime Bank fraud? Even if every single one of the other 200 applicants fell for the same threadbare pitch and coughed up the same sort of advance fees, you are only looking at EUR50Mn, tops. Not small potatoes, but not huge, either.
But this is still Italy, and so we should suspect that Morrone's eye-catching scheme is nested inside something much, much bigger. To understand the landscape better, we must zoom right out, with "UVB Banco ZRT" and "Red Cross Garibaldi" in mind.
Zooming out (well, Googling) takes us first to an anonymous American blogger who, in a post on UVB Banco, has some pretty rowdy commenters. Here's one:
you are a frustrated and jealous of our ability 'hahahaha miserable that you do not have the balls to put your face jerk, you do not know what you write and fat a thief and you know what I mean true ……. he give back the money you have stolen before speaking.

I salute you

Serval
That commenter doesn't have the polish of a finance type. Nevertheless, and rather pleasingly, if you like comeuppances, he appears to be none other than the vice-president of UVB Banco Indonesia, Giuseppe Pasini, due to be arrested two months later by the Turin police.
Our anonymous blogger's primary interest is not UVB Banco, however, but an outfit called Questus
We have good reason to believe that Questus Global Capital Markets, listed on the GXG Exchange is more than likely a complete fraud.

We are adding to our list of names of people to steer clear of, or at the very least do some in depth Due Diligence and soul searching before trusting them with a dime.

Alireza Assemi Brian Staples Neil Walsh – Broker While we put together our own thing on these guys – check out. LCD Complaint at WordPress and Questus Global Capital Markets

BIG WARNING HERE – STAY AWAY.
More Questus from the same anonymous guy sketches a nasty pedigree for the Questus CEO, who goes by at least two slightly different names, Alireza Assemi and Alain Alireza Assemi  :
As I mentioned in the front page post We have good reason to believe that Questus Global Capital Markets, listed on the GXG Exchange is more than likely a complete fraud. We'll get in to more later, but for now, how about a little bit of the past on:

Alireza Assemi – he's a real nice guy, he used to swindle little old ladies out of their retirement money, well, maybe… check out his past with the SEC & Seaforth Meridian:

SEC Notice One Alireza Assemi – it's the same guy

SEC Notice Two Alireza Assemi – it's the same guy

He left the US after these, that's why he's working in Europe now (UK / France) although his company (Questus) is in Canada.
Let us  summarize Anonymous Guy's observations, at his various blogs. The Questus fraud, as conducted Stateside, seems to consist of two elements: a fake funding proposition to small businesses (like the UVB Banco advance fee scam), and boiler room stock sales to retail investors in the States. There have been arrests in the States, and Anonymous Guy, who must have a score to settle, is tracking them. One can make a lousy ballpark estimate that the Questus fraud in the US will have taken anything from a few million dollars, to maybe $50Mn at the most.
We must turn to GXG for the latest on Questus. It was delisted in September 2014, having long since broken its promise to deliver annual accounts by June. Its broker is none other than London Capital NZ (aka Asia Finance Corporation), star of previous posts in our series covering a $2Bn pyramid fraud, Virgin Gold Mining Corporation. What's more, the Questus registered office, at 96 Norwood Ave, Suite 214, Moncton, Canada, E1C 6L9, is also used by Asia Pacific Gold Mining Investments, another star of the Virgin Gold Mining Corporation show.
The London Capital connections are proliferating, but this whole deal, $50-100Mn, tops, seems strangely small-time for the mighty London Capital, whose other known coup looks more like $2Bn-worth. If you just take alleged numbers, instead of conjectural high-balls, you are back to a few million bucks, even more unlikely for the likes of London Capital, dealers in billions.
There ought to be more, and the splendid Anonymous Guy has the key info, in his delvings into another entity connected to Questus, GoldBank SAC, and its director, Martin Bucher:
Here's GoldBank's Whois registry information – and here's the info on Red Cross Garibaldi some sort of aid organization that Martin appears to have founded – interesting to note, although it probably means nothing GoldBank & Red Cross Garibaldi were registered really close to one another, time-wise. Los Cisnes appears to be a nice gated community where Martin lives. I don't know, maybe it's Martin Bucher's apartment  – Martin lists himself as the CEO of GoldBank – here's his linkedin profile and his wayn profile his youtube channel – I don't know who Martin is and I'm sure he's a really nice guy – but it's interesting that he's 41 years old – there's a giant 10 year gap between UBS and Goldbank in his linkedin profile… also if he's 41 that means he started at UBS when he was 17? Did he go to University? While his story has a couple of gaps in there and it's quite possible he could be lying about his age. In the overall context of all the other questions surrounding Questus I would have really liked to have seen GoldBank being squeaky clean.
Aha: there is ID-faking Italian paramilitary organisation Red Cross Garibaldi again, provider of status-enhancing regalia to con men, whose deputy commanding general Morrone has now been  arrested for the UVB Banco fraud in Italy.
Is Martin Bucher another impostor, then, like crime conference organiser Morrone? Could be. In fact, when it comes to bluffing his way into exalted circles, Colonel Bucher may have surpassed his superior officer, General Morrone, by a handsome margin. It turns out that GoldBank SAC is a subsidiary of Gold Holding, a mining investment company owned by members of the Kuwaiti and Abu Dhabi royal families.
Click the screen shot below for a huge but just about legible listing of the board of GoldBank SAC and its officers, at the official site www.goldholding.com, noting the biographical details of now-corroborated board member Martin Bucher: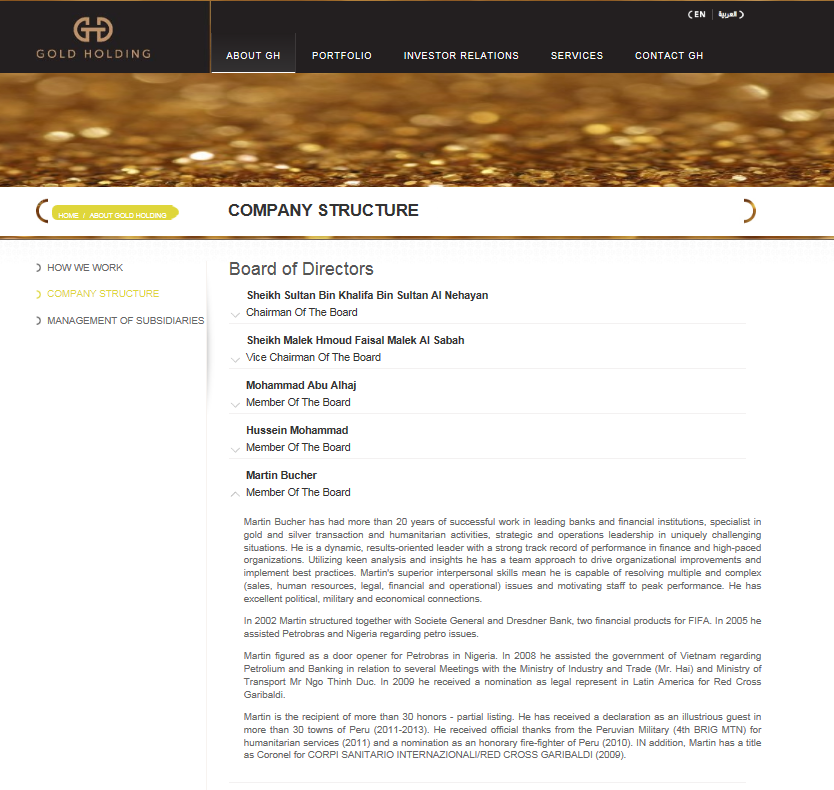 If you still can't quite read it, the final paragraph says this about Bucher (my bolding):
Martin is the recipient of more than 30 honors – partial listing. He has received a declaration as an illustrious guest in more than 30 towns of Peru (2011-2013). He received official thanks from the Peruvian Military (4th BRIG MTN) for humanitarian services (2011) and a nomination as an honorary fire-fighter of Peru (2010). IN addition, Martin has a title as Coronel for CORPI SANITARIO INTERNAZIONALI/RED CROSS GARIBALDI (2009).
Mmm, Martin Bucher, a bloke with a gappy resumé, from document-faker Red Cross Garibaldi, really does appear to be running the Peruvian subsidiary of a gold mining company funded by members of two Royal families from the Gulf seeking to reinvest their prodigious oil revenues. That might not end well.
We return to GXG Markets to confirm suspicions and discover the possible damage. Has Goldbank SAC bought an awful lot of Questus shares, by any chance? You see, listed or not, with an alias-using fraudster CEO, Assemi, and a balance sheet consisting of $500 and a load of never-audited insurance policies, Questus really isn't massively likely to be worth anything at all.
Just to rub it in, there's a January 2013 investor warning about Questus and related boiler room stocks, from the Ontario Securities Commission. It's a warning that many, including Martin Bucher, GXG Markets and the regulators in New Brunswick, where Questus is incorporated, appear to have ignored or overlooked.
Following paras updated 23/8/2015
Crunching the GXG trading history of Questus in a spreadsheet we find nothing but a continuing dribble of share issuance, reported not only in the  usual GXG trade reports, but also in the GXG news. The very first reported buyer is Morrone's scam bank, UVB Banco ZRT , and of course that stock price sets expectations for all the subsequent sales. This must be a pump.
Over months, impressive total considerations accumulate; I've rounded them to the nearest million. There are two groups of Questus share purchasers. If one can trust the GXG trade reports (a stretch), these guys look like mugs.
Goldbank S.A.C  (Kuwait and Abu Dhabi Royal families) $129,000,000
I am not sure what kind of dollars these are,  USD or CAD, but at an exchange rate of CAD1 for each 0.8USD, it hardly matters for the ballpark estimate of what, according to the public records, the mugs handed over for the worthless Questus shares.
This next group of Questus buyers looks like the muggers, because the buyers, led by Morrone's scam bank, UVB Banco ZRT,  are all dubious or downright bogus.
UVB Banco ZRT $134,000,000
Ranjeet S. Sidhu  $200,000,000
Papier AG $183,000,000
Stealth Emerging Treasuries & Asset Backed Equities, Ltd. $51,000,000
Ranjeet S. Sidhu is or was a major shareholder in the purportedly very large Vasseti and Vascory group of companies, which purportedly operate in Malaysia and elsewhere, and purportedly had a $5Bn deal with the scam stock Questus (Reuters; feel free to scoff at the spelling). But Sidhu's Vasseti (UK) PLC, now known as  Zavarco, looks deeply dodgy: the Frankfurt exchange suspended Zavarco's quotation indefinitely in April 2015, because of disorderly trading. Zavarco promptly headed for the shadows,  spinning its suspension as "delisting"  (PDF) in May 2015, and announcing inter alia that
4. The company has not generated any meaningful income to sustain its operations

5. Annual listing costs amounting to Euro 38,000 are burdensome and disproportionate to the benefits accruing to the company
That shortage of income sits (ahem) oddly with the $5Bn deal and EUR2.5Bn capitalisation (PDF) that Vasseti reportedly rejoiced in just two years earlier. It sits equally oddly with the Vasseti accounts available here, which show substantial revenues: unless, of course, Vasseti (UK) PLC is just a scam, and was either recently denuded of its revenue-generating operations, or never had any in the first place.
If so, Chinese investors may have been among the targets, via the hard-to-trace China Finance Limited, who claimed, in some 2013 PR, to have invested many millions, in a company that unmasked itself, two years later, as a worthless shell.
Papier AG is a Swiss company directed by Domenico Salvi Danieli, who also just happens to be a director of Morrone's CSI Investigations, another Swiss company.
Stealth Emerging Treasuries & Asset Backed Equities is a UK company controlled by Questus figures Brian Staples and "Alireza Assemi", one of Questus CEO Alain Assemi's aliases.
So this group of trades, apparently booked electronically by Questus broker London Capital (NZ), and reported in the GXG news, are most likely deceptions, intended to reassure either Goldbank SAC (if they are the scam targets) or other, unknown investors duped by the Questus scam.
At worst, this group of trades are in fact pump and dump trades fleecing another $560,000,000 from investors. That would make the whole thing a $700Mn scam, but until I see a huge number of retail investor complaints, I tend to think these trades are mere fakes – part of the scam scenery.
(end of updated paras)
There are two more connections to our previous series and to many more forthcoming posts.
Integral Transfer Agency, whose boss, James Stuart Adams, is under investigation by the Ontario Securities Commission for a share pump and dump in Malta, has put in many appearances already in our series on Virgin Gold. The transfer agent of Questus Global Capital Market Ltd is Integral Transfer Agency. One naturally wonders whether Integral Transfer Agency's records of transactions in Questus shares tick back to what GXG shows. That would clear up the fog around who really bought what, once and for all.
The second connection is an underlying theme: the extraordinary role of New Zealand Financial Services Providers in large scale international fraud.  Just one of them, Asia Finance Corporation, trading as London Capital (NZ), which booked all these dodgy trades in Questus, now turns out to be intimately connected to a series of frauds in which a sum of money between $2Billion and $2.5Billion appears to have gone for a walk. That is just one GXG broker and three stocks, yet London Capital alone has been broker to more than a dozen GXG stocks, and many more in Berlin, Stuttgart and Frankfurt.
London Capital isn't the end of it either.  Despite one massive panicky official cull in New Zealand (150 FSPs deregistered en masse), there are still plenty of other offshore FSPs, on GXG and elsewhere.
In a parallel universe, squeaking John Key, oil-poor New Zealand's Prime Minister, is getting ready to explain, to polite but indignant emissaries of oil-rich Kuwait and Abu Dhabi, exactly why New Zealand is still happy to dole out FSP numbers to unsupervised offshore entities.  Sweating Rob Everett, head of New Zealand's FMA, has an equally fun-filled assignment: explaining to the same emissaries why FMA and its supervisory predecessor MBIE followed up the initial duff registration by ignoring or rejecting multiple specific tipoffs and warnings, from multiple sources on multiple occasions, about the very offshore FSP involved in the Questus scam, London Capital NZ. I'd pay to watch those conversations. So would Virgin Gold's tens of thousands of distraught Asian investors; the ones who still have cash to burn, anyway.
In this universe, however, the Questus rip-off, even if it is real, may be more likely to be glossed over or denied by status-conscious Arab princes. Maybe they even still think Questus' non-existent insurance policies will mature, one day. The New Zealand authorities don't mind much, either way.
Although New Zealand's meaningless FSP numbers have exactly the same effect on the unwary as Red Cross Garibaldi's imperfect forgeries, New Zealand has a marketing  edge: its bogus FSP numbers really are totally official. Meanwhile, in every other jurisdiction on the planet, official registration, with the regulator, does imply supervision. New Zealand is miles out of line. Over time, it's clearly been causing chaos.
Just like Red Cross Garibaldi 2012-2014, the New Zealand state can continue distributing misleading regalia to all comers, at good prices, for a while longer.  It takes more than a sharp-eyed cop in Frosinone, or a no-life Anglophone blogger or two, or for that matter sporadic NZ press coverage of flagrant FSP abuses, running from 2012 to 2014, to put a stop to this kind of nonsense. But it does need to stop.
Luckily, the much-delayed new NZ Companies Act finally comes into effect in May 2015. However, if I understand the process correctly, there is a  further 180-day grace period for companies caught by provisions that require at least one NZ resident director. Those would be exactly the companies that become offshore FSPs. So there still won't be any automatic striking of companies and deregistration of "offshore FSPs" until November 2015. From now, mid-February, there is still a handy nine-month window in which New Zealand's "offshore FSPs" can rip off a few more hundreds of millions of dollars.
As to why FMA haven't tracked down more offshore FSPs and deregistered them already, well, FMA knows, but I have no idea.