By Lambert Strether of Corrente.
2016
From the Department of Square Circles [New York Times].
With advice from more than 200 (!) policy experts, Hillary Rodham Clinton is trying to answer what has emerged as a central question of her early presidential campaign strategy: how to address the anger about income inequality without overly vilifying the wealthy.
"Overly"? And "the" anger. Whose, exactly?
"It's clear from Hillary's memoir that she feels sadness, even anger, about the absence of more caring, competent grandmothers from her own life" [The Atlantic]. Let the psychologizing begin!
Mandy Grunwald beat sweetener [Bloomberg]. Although I have to say I like Primary Colors (the book) where Grunwald appears as Daisy Green, and I know I live in a world where strange and wonderful things can happen when I see John Travolta play Bill Clinton in a movie.
Establishment
Jebbie leads New Hampshire poll [Bloomberg]. At 16%. Rand Paul, 13%, Scott Walker, 12% [groans].
Principled Insurgents
Walker's story on removing "search for truth" from the University of Wisconsin's mission statement is, well, a lie [Econbrowser]. This stings — for those who already know Walker — because if Walker were describing his relationship to The Truth on Facebook, it would be "It's complicated." More than usual for an American politician.
Clown Car
Huckabee: "Everything [Obama] does is against what Christians stand for, and he's against the Jews in Israel. The one group of people that can know they have his undying, unfailing support would be the Muslim community. And it doesn't matter if it's the radical Muslim community" [Business Insider]. Wowsers. Suppose Huckabee gets nominated. Imagine the Presidential debates!

CPAC plans to "vet" candidates [CNN]. "Here's what they look like without a teleprompter."
"Each of Obama's six years in office rank among the 10 most polarized in the last 60 years, with George W. Bush holding the other four spots" [Gallup]. The big sort…
The Hill
Ryan and Obama co-operating on fast track [Wall Street Journal, "Obama and Ryan: Cordial Collaborators on Trade Policy"].
White House clampdown on government travel after GSA Vegas scandal means Federal workers can't travel for training or to present scientific papers [WaPo]. It's like they clamped down on DHS after the Secret Service Cartagena eruption. No sense to it.
Herd on the Street
Tiny Massachusetts lender, Salus Capital Partners, triggered Radio Shack bankruptcy [Bloomberg].
Why expats leave China: "Rising costs of living, a desire to reengage with the home office and the apocalyptic pollution" [Wall Street Journal, "Twice As Many Expatriates Leaving China Than Arriving, Moving Company Says"].
HSBC's Federal structure a legacy of colonialism; so one bad baron can spoil the whole bunch [FT, "HSBC's colonial curse"]. Could be more excitement to come!
Comcast-Time Warner deal still not done [New York Times].
Police State Watch
Ohio cop turns off dash cam, makes death threats against couple, now back on the job, no charges pressed [WKBN].
Black Injustice Tipping Point
Lawsuit on Ferguson's reliance on law enforcement to raise revenue characterizes city as "debtor's prison" [New York Times].
Silicon Valley investor gives back to Ferguson with technical training plus laptops [Hands Up United]. Roy L. Clay, Sr. on growing up in Ferguson [Mercury News].
Astounding and appalling story on Al Sharpton characterizes him as "the leader of the civil rights movement." MLK must be rolling in his grave [Washington Post]. Check out this exchange with his own youth leader, Mary-Pat Hector:
"The issue with my generation is we're more about the Occupy organizing model," [Hector] told Sharpton now. "You know, everyone can be a leader, that kind of thing."

"I hear them saying that," Sharpton said. " 'We don't want Al Sharpton taking over our movement.' But my question is: What movement? Y'all ain't got nothing to take over."

"They want everything to rise from the ground up," Hector said.

"Fine, okay, but then tell me your strategy," Sharpton said. "You burned the building down. Great. Now what?"

Sharpton had met in private with youth organizers in Ferguson and tried to understand their model, but he couldn't imagine a successful civil rights movement without a leader like the ones he had been studying since childhood.
Heaven knows the Occupy organizing model has its issues, but Sharpton needs to do a little homework. "Y'all ain't nothing to take over" is, first, probably a good thing, since otherwise the black misleadership class would do just that, but also misses the the idea that some things are harder to take over than institutions: Relationships, for one thing, and its evident many of those were built in Ferguson. I mean, when you see #BlackLivesMatter in demonstrations everywhere, and people doing die-ins, that comes from somewhere, right? Worse is this statement: "You burned the building down. Great." First, that conflates the Fergusion rioters with the organizers and demonstrators. The St Louis Police Department would surely like to do that, but Sharpton shouldn't help them in their work. Second, Sharpton's crude metaphor suggests that the Ferguson activists did nothing constructive: Not so. I know for a fact, leaving aside demonstrations, court cases, fundraising for bail, and a trip to Geneva to protest human rights violations, of organizing for non-violence training, logistics for demonstrations, Sunday afternoon meals (one in NYC, serving IIRC 5,000), safe houses for activists, and improvised solutions to help out activists of all sorts. Sharpton is either ignorant, or dishonest; I'm not sure which. It's hard to see why Obama and DeBlasio would pick him as their representative. Not.
Corruption
500 NH Rebellion members to Concord for campaign finance reform [CNN]. In this weather; that's dedication. Lessig, too!
Steve Schwarzman, the billionaire co-founder of Blackstone, collects more than $500 million in dividends, now the richest man in private equity [Bloomberg]. Filing this under corruption because private equity.
Cuomo tells The New Yorker's Jeffrey Toobin that he engineered Sheldon Silver's downfall by shutting down the Moreland Commission [Albany Project]. That's awesome.
"Meet the new staff . . . same as the old staff" [New York Daily News]. Carl Heastie, Sheldon Silver's replacement, retains Silver's staff. Odd. Or not!
Streetsblog founder also ran Sheldon Silver parody account [The New Yorker].
Christie's privatized state lottery comes in $28 million under budget [Courier-Post]. Don't worry. It only funds the schools.
News of the Wired
Bonus image:
Saturday brought a spectacular sunrise and sunset to D.C. Here are some incredible photos: http://t.co/HB4Ml84cBV pic.twitter.com/i4XL4Yo1v5

— Washington Post (@washingtonpost) February 8, 2015
There will be blood….
* * *
Readers, feel free to contact me with (a) links, and even better (b) sources I should curate regularly, and (c) to find out how to send me images of plants. Vegetables are fine! Fungi are deemed to be honorary plants! See the previous Water Cooler (with plant) here. And here's today's plant (JJ):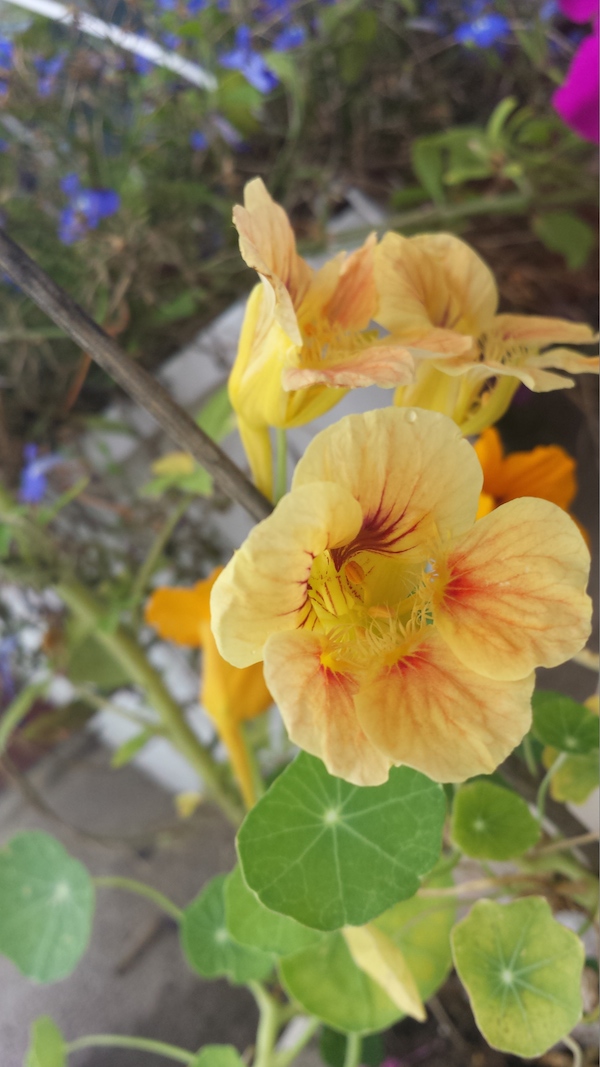 A Nasturshalum!
If you enjoy Water Cooler, please consider tipping and click the hat. It's the heating season!
Talk amongst yourselves!