By Lambert Strether of Corrente.
2016
Sanders at Brookings: "[W]e are moving rapidly away from our democratic heritage into an oligarchic form of society" [Common Dreams]. Moving?
The Clinton Foundation has collected as much as $81m from wealthy international donors who were clients of HSBC's controversial Swiss bank [Guardian]. Ka-ching.
Hillary Clinton has made two public appearances since Christmas [WaPo]. Both were in Canada. She's scheduled to headline the $295-a-head Lead On conference for women at the Santa Clara Convention Center on Feb. 24 [San Francisco Chronicle].
Potential Democratic candidate Martin O'Malley's grandmother an influential figure on Capitol Hill [Wall Street Journal]. What's all this with the grandparents lately?
Establishment
Jebbies tech problems (1): Ethan Czahor resigns as Bush CTO after "slut" tweets surface [NBC]. So nobody checked his social media presence before the hire?

Jebbie's tech problems (2): That big email dump was poorly redacted or not at all; contains Social Security numbers (!), and much other personally identifying information [The Verge]. So who let that happen? (John Cassidy's think piece on Bush misses the story, then, too [The New Yorker].)
Principled Insurgents
Scott Walker first candidate to open an Iowa office [Des Moines Register].

"During his political career, Walker has taken in more than 595,000 contributions totaling more than $77 million" [USA Today].

Wisconsin Now waves madly at Walker oppo researchers everywhere. "Me! Me!" [Bloomberg].
Clown Car
Rubio says his legislative experience is deeper than Obama's when Obama ran [National Journal]. Deeper than a shallow puddle?

Jindal says LSU cost is "certainly well under $10,000." LSU estimate: $̌̌20,564 [The Advocate].

Larry Sabato on Jindal: "Louisiana's finances are a bloody mess and Jindal has been running things for seven years. He can't simply blame it all on the price of oil" [NOLA].
The Vox Obama interview: "Klein and Yglesias haven't gathered enough protein to make a decent news bouillon" [Politico]. Politico. Oh, okay.
The Buzzfeed Obama interview: Here's a quick summary of the material on CDOs, the foreclosure crisis, the financial collapse, and the bailouts: ____________ [Buzzfeed]. Ben Smith makes Matty and Young Ezra look like Woodward and Bernstein before the rot set in. "A disorienting new media conversation" my sweet Aunt Fanny.
Ten now-forgotten primary flame-outs [FiveThirtyEight]. Donna Rice. And who can forget "Joementum"? Some candidates (Santorum, 2012; Huckabee, 2008) just fizzle! [Alternet].
Explainer on how money flows to campaigns, with handy diagrams [National Journal].
Herd on the Street
Times New York real-estate serial exposé moves on from Malaysian oligarchs to Mexican ones [New York Times]. The swag the 0.01% buy with their loot winnings wealth.
EU antitrust regulators will open a full-scale investigation into Siemens, Dresser-Rand deal [Reuters]. Dresser-Rand makes oil patch equipment.
Microsoft in 1999 was bigger than Apple today [FT, "Apple: not so big after all"].
Interview with Cisco CEO on digital disruption [Wall Street Journal]. Oddly, or not, the acronym "NSA" does not appear.
Stats Watch
U.S. farm income set to drop 22 Percent [Agweb].
MBA Purchase Applications, week of February 6, 2014: "The purchase index fell 7.0 percent in the February 6 week for the 4th straight fall but still remains in the plus column on a year-on-year basis, but only by plus 1.0 percent" [Bloomberg]. Bloomberg seems to have taken away the URL for this individual stat, though not for others. If they take away all URLs for Economic Calendar pages as part of the redesign, I guess I'll just have to add them to my glass bowl collection.
Big Brother Is Watching You Watch
Globe survey of Massahchusetts residents: "The alarming results suggest that the public is consuming information about surveillance and security that bears very little relation to existing empirical evidence" [Medium]. He said/she said journalism hasn't served them well….
Florida lawyer hands out cards at DUI checkpoints: "I remain silent. No searches. I want my lawyer." [The Tribune].
Guardian hires Chelsea Manning as a contributing opinion writer [Mediate]. Good for them!
Black Injustice Tipping Point
Ferguson Alternative Spring Break [Riverfront Times].
Corruption
Oregon Governor Kitzhaber quietly looking to shut down inquiries, after promising ethics review [Oregon Live]. The inquiries: The Attorney General, the Ethics Commission, the public records fight, a reported FBI investigation, and two potential recall campaigns [Oregon Live]. That's a lot of fronts to fight on at once. The essence of the scandal, from yesterday's Water Cooler:
A new batch of emails released Friday show [Oregon First Lady] Cylvia Hayes directed state employees how to implement a new policy while she was being paid $25,000 by an advocacy group to promote it.

The emails appear to erase any doubt that, as first lady, Hayes was taking money in her private role and pushing the same policy in her public one.
Interestingly the Oregon stories linked to today don't give this background, suggesting that they think their readers already know it. That's not good for Kitzhaber.
Class Warfare
Lancet Psychiatry Journal: Around 45,000 suicides each year are attributable to unemployment, according to a survey of 63 countries published Wednesday [Japan Times].
Hey, remember when a contract counted for something, even if was for a pension? [WaPo]. Good times. Note the deceptive headline: WaPo calls contracts "promises." Not the same.
Real weekly earnings are up [Jared Bernstein, WaPo]. Because of longer hours and falling prices.
News of the Wired
* * *
Readers, feel free to contact me with (a) links, and even better (b) sources I should curate regularly, and (c) to find out how to send me images of plants. Vegetables are fine! Fungi are deemed to be honorary plants! See the previous Water Cooler (with plant) here. And here's today's plant (via):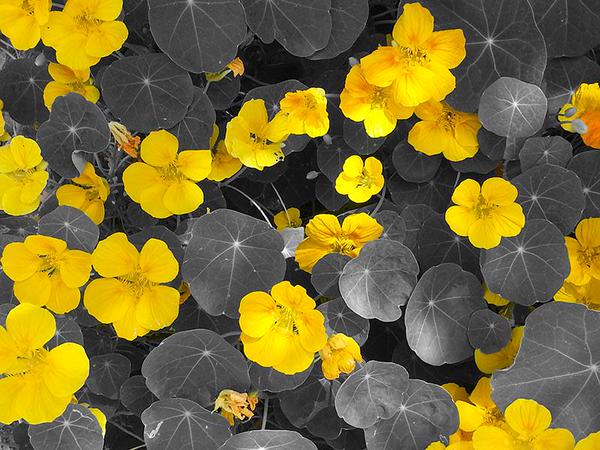 I hasn't known that nasturtiums were edible flowers. But they are!
If you enjoy Water Cooler, please consider tipping and click the hat. It's the heating season!
Talk amongst yourselves!