By Lambert Strether of Corrente.
2016
Biden fading, despite Iowa visit [AP]. There's good news tonight!
Axelrove: "I know Elizabeth Warren well, and my strong feeling is she's not going to run" [HuffPo]. Nor would she win. "Look at the polling. Hillary is probably as well-positioned within her own party as any open seat candidate has been in our lifetime."
"Shocking poll" shows Warren leading Clinton in New Hampshire and Iowa [Washington Examiner], but pay no attention: "In this case, the Run Warren Run poll includes a string of ten leading questions that paint Warren in an exceedingly favorable light" [National Journal]. Warren should rein these clowns in. Fake polls aren't what the Warren brand is about. I assume. Or puffery. The Nation (wouldn't you just know it) tries to put lipstick on this pig.
Hillary Clinton physically appears in Manhattan, takes a meeting with London Mayor Boris Johnson [Express]. Johnson: "Secretary Clinton was very, very clear that she thinks there should be more engagement, more support from the West, from the UK, in backing the Kurds, backing the Peshmerga against Isis." Fun to watch Hillary making sure there's no daylight between her and Lindsey Graham on blowing faraway brown people to pink mist.
"Tensions in the Clinton team" [New York Times]. The problem here is that this narrative is so shopworn it's hard to tell if the story is true.
Democratic National Convention to be held in Philly [Inquirer]. In The Wells Fargo Center. Well, at least that's a change from Bank of America!
Establishment
"Jeb's rocky tech debut" [Politico]. 2/11/15 7:53 PM. NC, 2/11/15 at 2:00 pm.

Jebbie to hold "eye-popping $100,000 per-ticket Park Avenue event hosted by private equity mogul Henry Kravis and his wife" [Politico].

Bush's purchasers donors love a dynasty, but that doesn't mean the base does [The Hill]. Bloomberg/St. Anselm poll of Republican primary voters:

8. Asked this question: When it comes to Jeb Bush, do you think the strength of his potential candidacy is based more on his unique qualities and achievements, or his family connections to politics? — a whopping 58 percent answered that it was his family connections.

"Bush video touts visit to Shinola" [Detroit News]. Make up your own jokes! Oh, wait, the Shinola brand was bought by luxury watch makers. So make up some other jokes!
Principled Insurgents
"'Marco Rubio makes me cry for joy,' Bush said" [WaPo]. But now Bush and Rubio are no longer BFFs [wipes tear].

Walker goes to London, fails to impress. Asked whether he believes in evolution: "I'm going to punt on that one as well" [WaPo]. "Punt? Some sort of small boat, what?"
Clown Car
Huckabee and Paul slated to appear in "Light Wins: How To Overcome The Criminalization Of Christianity" [HuffPo].

"If homosexual activists get everything they want, it will be nothing less than the criminalization of Christianity," argues an unidentified man featured in the "Light Wins" trailer. A second trailer, also posted by Right Wing Watch, argues that the Boy Scouts of America "needlessly caved to a dark sexual agenda that violates the safety [and] innocence of our children" perpetrated by the "homosexual lobby."

Wowsers.
Historical survery of split ticket voting [Smart Politics].
The Hill
"Loretta Lynch is Condoleeza Rice With A Law Degree" [Black Agenda Report]. Serious, must-read massive takedown from Bruce Dixon, about much more than Lynch.
Democrats start to form a united front against Republican-led efforts to open the Fed's internal discussions of interest rate and other policy matters to the public [Reuters]. After Elizabeth Warren gave them all cover, one might add.
Obama's actions on war powers don't match his stated aspirations [New York Times]. Film at 11.
Herd on the Street
Times New York real-estate serial exposé moves on from Mexican oligarchs to Russian ones [New York Times]. At the Time-Warner Center.
Goldman: Oil price crash caused by over-supply, not lack of demand, and here to stay [Bloomberg].
Cheap gas boosts restaurant stocks: Wendy's, Papa John's, Sonic Corp. and Bob Evans Farms [Bloomberg]. "Farms," forsooth.
Twitter buys Niche, a startup that acts as a "talent agency" online video celebrities with advertisers [AFP]. As long as I can block them…
Google the next AOL? [New York Times]. "The future of online advertising looks increasingly like the business of television." Heaven help us.
Stats Watch
Bill Mitchell takes a deep dive into the JOLTS data [Bill Mitchell].
Jobless claims, week of February 7, 2015: "Initial claims rose 25,000 in the February 7 week to a higher-than-expected 304,000 but the 4-week average actually fell" [Bloomberg]. Continuing claims also fell.
Retail sales for January, 2015: Down, below consensus. "[C]onsumers are not yet putting higher discretionary income into spending on non-gasoline categories of retail sales even as confidence has improved" [Bloomberg]. "The latest retail sales numbers are not consistent with increased discretionary income and higher confidence."
Business inventories, December 2014: "Business inventories growth was modest in November" [Bloomberg].
Police State
Miami cops flood Waze with bogus speed trap data [Techdirt].
Black Injustice Tipping Point
Office of the Controller of the currency order closes last bank in Somalia handling money transfers; remittances from the Somali diaspora supply about half the country's GNP. This shuts off Hawala as well [Guardian].
Our Famously Free Press
Intense debate at NBC over firing Brian Williams for Iraq disinformation (they didn't) [WaPo]. So finally somebody pays a professional price for lying about Iraq! And to think cynics and naysayers said this would never happen.
Corruption
Time-Warner holds "educational forum" on municipal broadband in Maine, which has some of the lowest broadband speeds in the country [Daily Dot].
The nation's second-largest cable and Internet provider paid for the hotels and lavish meals of the politicians who attended the conference, which was held in Cape Elizabeth. These lawmakers "were served steak dinners," according to the Maine Center for Public Interest Reporting (MCPIR), "and some were put up for the night in rooms that retail for $205 to $355 per night."

Rep. Mark Dion, a Democrat who attended the conference and ate two meals on TWC's dime, told MCPIR, "I think this idea of meals and conversations is how Augusta [the state capitol] functions on some level."
Some level?
UK Home Secretary Theresa May picks New Zealand judge to investigate "claims that senior figures in British public life participated in a violent pedophile ring, and that they were protected by an establishment cover-up spanning more than three decades" [Vice].
Tory government gives Tory Council to sell public housing estate worth £2 million for £0 (!) [Adam Langleben].
Oregon Governor Kitzhaber decided to quit but changed his mind [AP].
Money politics and Keystone XL [Informed Comment]. Nothing we didn't know, but with numbers.
Class Warfare
Posh actors said damaging to society [Hollywood Reporter].
Labor short Singapore replaces waiters with tableside tablets and drones [Bloomberg].
News of the Wired
* * *
Readers, feel free to contact me with (a) links, and even better (b) sources I should curate regularly, and (c) to find out how to send me images of plants. Vegetables are fine! Fungi are deemed to be honorary plants! See the previous Water Cooler (with plant) here. And here's today's plant (via):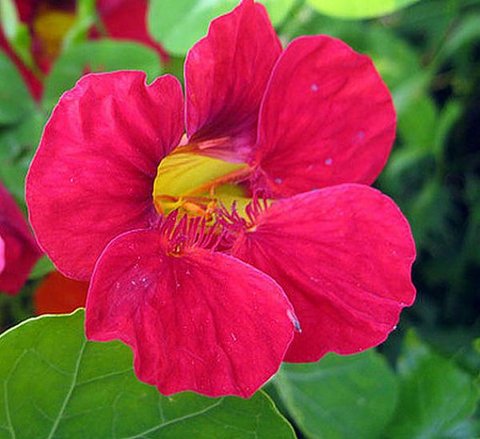 If you enjoy Water Cooler, please consider tipping and click the hat. It's the heating season!
Talk amongst yourselves!