By Lambert Strether of Corrente.
2016
Hillary Clinton meets with (200? [snicker]) foreign policy experts. "The major takeaway from these private talks is that she wants a strategy more suited to shaping conditions overseas, as opposed to reacting to events as they arise, people familiar with the meetings said" [Wall Street Journal]. Great.
Establishment
"Jeb Bush's team has hurriedly redacted the social security numbers and other identity details of 12,000 people from emails released online covering the putative presidential candidate's eight years as Florida governor" [Guardian]. Of course, whoever sucked down the files already has an unredacted version. And my question remains: So who let that happen? Sure, they threw the tech dude under the bus for it, but nobody else on the Bush campaign thought to ask what was in the data? Sure hope they don't treat donor email like that!

"If Bush's well-known last name did not provide him with such epic fundraising capacity, in fact, he'd be George Pataki" [Atlantic]. Ouch!
Principled Insurgents
Walker drawing on his donor network, New York hedgies and real estate interests, the Kochs, and Stanley Hubbard, a Minnesota billionaire in the broadcasting industry [Wall Street Journal]. Yes, that Hubbard.

"An Open Letter to Scott Walker" [The Marquette Educator]. Another example of Walker's relationship status with Truth: "It's complicated". At least Reagan had the good sense to tell his fibs about made-up characters, not actual, living citizens who could stand up and call him out.
Clown Car
53% of New Jersey voters view Christie unfavorably [Bloomberg].

"Fact Check: Did Mike Huckabee's son kill a dog?" [Florida Times-Union]. Yes, says Snopes.

"Huckabee's False Witnessing" [FactCheck.org]. Ouch! On Obama's speech to the so-called National Prayer Breakfast.

Huckabee, Cruz, and Walker are all the sons of Baptist ministers [WaPo]. Which is why Walker can dog-whistle so well.
Wall Street's top 16 political donors [Business Insider].
The Hill
TPP would send users to prison for non-commerical copyright infringment; for example, viral memes [EFF].
Herd on the Street
"Apple Bans 'Bonded Servitude' at Supplier Factories Worldwide" [Bloomberg].
Prada: Too many shops, too little fresh product [The Fashion Law].
Political Economy
Krugman utters phrase "modern money" [New York Times]. And there's this:
[L]et's simply note that the Fed's "liabilities" consist of cash, and those who hold that cash have the option of converting it into, well, cash. No, the Fed can't fall victim to a bank run.
So, the currency issuer can never go bankrupt…
Stats Watch
Consumer sentiment, February 2015: "Very solid," but down below expectations. Current and expecations both down [Bloomberg].
Black Injustice Tipping Point
"FBI director acknowledges racial bias in policing" [Toronto Star]. A fine Twitter stream from Dan Froomkin.
Chapel Hill shooter "appears to have functioned as a self-appointed watchman in the complex" [New York Times]. Gee, that sounds familiar. And some thoughts on the media ecology that drove (or not) the story [News-Observer].
"I said: 'Mrs. Baker, I'm a Holocaust survivor. I lost 46 members of my family, what can I do for you?' " [Inquirer]. Picking out the goodness in a horrid story.
Theory that decrease in children's exposure to lead decreased crime given some mainstream criminological traction [Kevin Drum, Mother Jones].
ObamaCare
Key question in King v. Burwell: Do the plaintiffs have standing? Arguably not [Bloomberg]. Could be an attractive option for the court, if they want to throw the case out without ruling on the merits.
The problem with the ObamaCare marketplace is that it's a marketplace, as even [Bloomberg] now understands:
[Y]ou could argue that the exchanges are called "marketplaces" for a reason — people who choose to buy anything less than platinum-level plans can see beforehand the copayments and deductibles they'll face, and make their decision accordingly.

But that assumes that insurance shoppers will take the time to read the details and understand them. It also assumes that people can do a good job of predicting the health-care services they'll need. [It also assumes the insurance companies won't obfuscate and game the system.]

Even if those things hold true, cost sharing on the exchanges is still typically far higher than for the employer-based coverage that about half of Americans still have. Maybe that's a necessary price to pay for extending government-subsidized health care. But it also means that when people complain about the high cost of care, they're not wrong.
And that's before we get to the shopping and the account maintenance, which is a tax on time.
Corruption
"Gov. John Kitzhaber's office last week requested state officials destroy thousands of records in the governor's personal email accounts, according to records obtained by WW and 101.9 KINK/FM News 101 KXL" [Willamette Week]. This at a time when Fitzhaber was promising to be open! State officials, to their credit, refused. "Kitzhaber spokeswoman Amy Wojcicki said the request to delete emails was routine." So that's alright, then.
Oregon Democratic leader meet with Fitzhaber, tell him he should resign [Oregon Live].
Computers and servers wiped out at 1MDB, a "strategic development company," wholly owned by the Government of Malaysia. [Sarawak Times].
It is generally acknowledged that 1MDB has become the single biggest threat facing the Malaysian economy, according to observers with borrowings now standing at over $USD40billion and a number of assets widely believed to have been highly inflated in value.

There is also a mysterious black hole at the centre of the fund, which its managers have found impossible to account for. This is an alleged billion dollars, which it is claimed is resting in a redeemable Cayman Islands account, having been allegedly repaid to the fund by the company PetroSaudi, which originally received the loan.
But wait! "Malaysia's debt-heavy strategic investor 1Malaysia Development Bhd (1MDB) settled a RM2 billion loan yesterday with money from billionaire T. Ananda Krishnan, six days before bankers triggered a default, say sources" [Malaysian Insider]. Wonder if any 1MDB Nßew York real estate was collateral for the loan? Gloriously seamy! And do we have any Asia hands who can expand on this?
Militias form in Guerrero province of Mexico as the locals lose faith in the State [New York Times]. The story of the 43 students who were killed and burnt isn't going away; here's long-form reporting from Francisco Goldman's series on this topic [New Yorker]. Any NC readers who are familiar with Mexico, please chime in!
Class Warfare
"Agreeable, conscientious" personalities more likely to deliver shocks to the innocent than "more contrarian, less agreeable personalities", Milgram-like experiment finds [MIC]. Here's why this link is under "Class Warfare":
The study also found that people holding left-wing political views were less willing to hurt others. One particular group held steady and refused destructive orders: "women who had previously participated in rebellious political activism such as strikes or occupying a factory."
"Temp Hides Fun, Fulfilling Life From Rest Of Office" [The Onion].
News of the Wired
* * *
Readers, feel free to contact me with (a) links, and even better (b) sources I should curate regularly, and (c) to find out how to send me images of plants. Vegetables are fine! Fungi are deemed to be honorary plants! See the previous Water Cooler (with plant) here. And here's today's plant: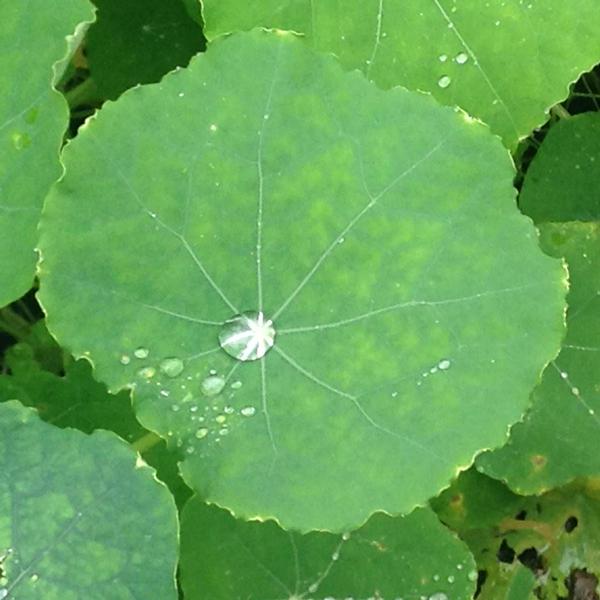 The end of nasturtium week. I think I'll do cactus next.
If you enjoy Water Cooler, please consider tipping and click the hat. It's the heating season!
Talk amongst yourselves!