By Lambert Strether of Corrente.
2016
Hillary Clinton on Libya, of Qaddaffi: "We came, we saw, he died." [The Intercept]. But now we can see how that moment of Democratic triumphalism netted out: "There is no overstating the chaos of post-Qaddafi Libya" [New Yorker]. Of course, if we had an actual, functioning opposition party, from right or left, there would be questions raised about our imperial mission in Libya. Instead, we'll get yammering from the Republican clown car about Benghazi ZOMG. Then again, now the Eqyptians are bombing ISIS in Libya [Informed Comment], so maybe it's all good!
Political scientists with statistical models, as opposed to "Democratic strategists" (ugh), think Hillary's chances are 50/50 at best [National Journal]. Good read.
Establishment
Perry to KTIV photographer Leah Schwartz: "Good try, girl" [Des Moines Register]. Better than "sweetie," I suppose…

Barbara Bush: "[O]ur problems are so big that it doesn't matter what your last name is in America" [ABC9].

I should really put Jebbie in the clown car over the Schiavo case [AP]. If I'm ever that brain-damaged, I want my feeding tube pulled, even if the hospital loses a few bucks.
Principled Insurgents
Walker "shaping his political brand around the idea that he does not shy away from a fight" [WaPo]. Hence proposing to poke the eyes of those pointy-headed intellectuals at the University of Wisconsin with a sharp stick.

Gail Collins blows detail on Walker column [Politico]. Nice work, Gail, especially since now you're the story, not Walker.

Amash rightly trashes Rubio for proposing to permanently extend the so-called Patriot Act [Rare].

Rubio "book tour" hits Iowa, New Hampshire, Nevada [Las Vegas Journal].
Philly's "super voters" and "power wards" [Inquirer (Paul Tioxin)]. If Americans followed politics the way they follow sports….
The Hill
Judge Andrew Hanen of the U.S. District Court in Texas rules Obama's executive action on immigration must be suspended until a lawsuit against it by 26 states is resolved [International Business Times].
Herd on the Street
Court reporting on Apple's Jony Ive [The New Yorker]. Two takeaways: The elite are so polite to each other, at least when it's in their interest to be so, that it makes your skin crawl; and both Ive and Jobs had fathers who shaped materials in manufacturing, and that informed their aesthetics. Too bad we don't do manufacturing any more. Presumably the interview is part of the PR build-up for the April rollout of the Apple watch, even if nobody knows what it's good for, yet [Wall Street Journal]:
Apple plans a range of watches at different prices, starting at $349. The high-end models, with 18-karat gold casing, are expected to be among the most expensive products Apple has ever made, likely surpassing the $4,000 high-end Mac Pro.
So I guess the Apple Stores will have separate showroom for the high rollers? I mean, the better class of customer would expect that, right?
Huge jury verdicts against companies over fatal flaws in their products made a comeback in a year of constant recalls, which may foretell more bad news for carmakers with defective parts [Bloomberg].
Stats Watch
Empire State Manufacturing Survey, February 2015: On the low end of consensus, but "tangible falloff in confidence for the outlook" [Bloomberg]. "[G]rowth in new orders is nearly dead flat."
Housing Market Index, February 2015: In consensus, but traffic is weak, "reflecting a significant lack of first-time buyers" [Bloomberg].
America the Petrostate
CSX Bakken oil train derails, causes a "massive explosion" and fire. Governor declares a state of emergency [Charleston Gazette], [CNN], [Al Jazeera], [Guardian]. One of the tank cars runs into a house, and another ends up in a creek that runs into the Kanawha, a tributary of the Ohio. This is the second derailment on the same route, the other one being in Lynchburg, VA last year. Somebody needs to write a book titled The Detritovores's Dilemma….
Black Injustice Tipping Point
Justice files statement of interest in Clayton, Alabama "debtors' prison" case [DOJ].
Legal Aid Society creates nationwide database of "bad cops" [Slate].
ObamaCare
Letters to the editor on Rosenthal's "Insured, but Not Covered" [New York Times]. The headline, "The Health Law, in the Real World," is doubly obfuscatory. First, the "law" is either the PPACA (or ACA) or, informally, "ObamaCare." So why not use the name? Second, ObamaCare is not a "health law." It's not even a "health care law." It is, in fact, a "health insurance law" (and Rosenthal's title draws attention to that.)
HHS extends Obama enrollment glitches one week [Politico]. The glitches are "intermittent issues" with income verification; that is, the back end [Reuters]. "The department did not say how many people were affected." No, that would be giving out information. (See Naked Capitalism, October 7, 2013 on intermittend back-end issues.)
Bob Laszewski takes the Republican ObamaCare replacement bill seriously enough to summarize and critque it [Health Care Policy and Marketplace Review].
ObamaCare's horrible system design screws over poor and working class in the Red States [Washington Post]. For those below the poverty limit, Medicaid coverage was put at the mercy of the local oligarchies. For those above the poverty level, there's King v. Burwell to knock out their subsidies:
Like Meredith, many of the people who receive subsidies through the federal exchange are white and live in the South, according to a recent Urban Institute analysis. Half have full-time jobs. Many live in states such as Florida, Georgia, Louisiana, North Carolina and Texas — states led by Republican officials who oppose the health-care law and have balked at setting up their own exchanges. Another big group lives in the Midwest, in states such as Illinois, Indiana, Ohio and Wisconsin.
And there's no point blaming those mean Republicans, given that the Democrats adopted a Republican plan.
Police State Watch
Former Seattle police chief on how to roll back the tide of militarization [Common Dreams]. Step 1: "Residents of cities across the country must rise up and reclaim their police departments."
Class Warfare
As it turns out, so-called Millenials who are wealthy are far more likely not to be working than those who are not wealthy [Inc.]. But we get the generational narrative anyhow!
News of the Wired
Bonus video: Solar Dynamics Observatory: Year 5:
* * *
Readers, feel free to contact me with (a) links, and even better (b) sources I should curate regularly, and (c) to find out how to send me images of plants. Vegetables are fine! Fungi are deemed to be honorary plants! See the previous Water Cooler (with plant) here. And here's today's plant (Morak):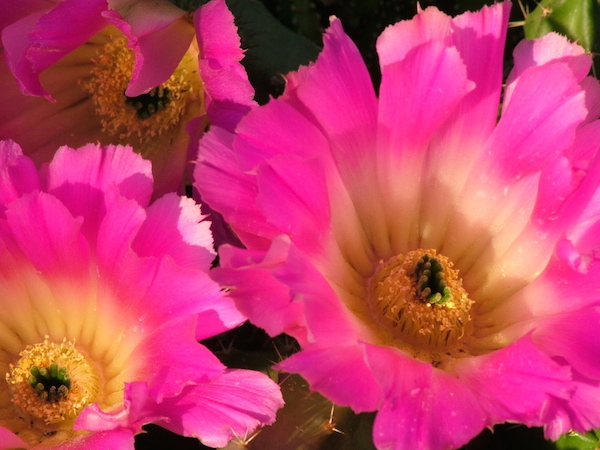 A Lady Finger Cactus (Echinocereus pentalophus). Thanks, readers, for the cacti. I could use a few more, for Cactus Week!
If you enjoy Water Cooler, please consider tipping and click the hat. It's the heating season!
Talk amongst yourselves!