Michael: Well, when Johnny was first starting out, he was signed to a personal services contract with this big-band leader. And as his career got better and better, he wanted to get out of it. But the band leader wouldn't let him. Now, Johnny is my father's godson. So my father went to see this bandleader and offered him $10,000 to let Johnny go, but the bandleader said no. So the next day, my father went back, only this time with Luca Brasi. Within an hour, he had a signed release for a certified check of $1000.

Kay Adams: How did he do that?

Michael: My father made him an offer he couldn't refuse.

Kay Adams: What was that?

Michael: Luca Brasi held a gun to his head, and my father assured him that either his brains or his signature would be on the contract.
As negotiations between Greece and the various members of the Troika continue, one of the things that has been striking is how, virtually without exception, media stories, financial commentators, and interested and reasonably well informed observers continue to maintain that a deal will get done by the 28th (which is allegedly now by this Friday at the absolute outside given the need for parliamentary approvals. As we'll discuss, that confidence flies in the face of available evidence, in terms of the trajectory of the talks and the manner in which the latest Eurogroup session fell apart on Monday.
Mind you, I am not saying a "deal" of some sort will not eventually get done. But looks increasingly improbable that an agreement to finesse an extension of the current Eurozone bailout will come together. That does not mean that other options to throw Greece a financial lifeline are foreclosed. But let's understand where things stand now: based on the current, clear positions of both sides, there is no negotiating solution space. Their bargaining positions do not overlap.
And not only has neither side moved much, the German actions yesterday were tantamount, Mafia-style, to making a less attractive offer than the one tabled by the Eurogroup and rejected by Greece last week. Greece was supposed to get the message that this was an offer that they were in no position to refuse. So while external forces might lead the principals to modify their stances, there is no reason to see the odds favoring getting a deal done.
For a longer-form recap of the events of yesterday, see Paul Mason of Channel 4, Ambrose Evans-Pritchard of the Telegraph, and our posts yesterday (here and here).
The short version is that the Greek side was presented with a memo by EU Commissioner Pierre Moscovici prior to the Eurogroup meeting that it was prepared to sign. Paul Mason explains why:
…the document…said: "The above forms a basis for an extension of the current loan agreement, which could take the form of a (four-month) intermediate programme, as a transitional stage to a new contract for growth for Greece, that will be deliberated and concluded during this period."

As this is exactly what the Greeks wanted, it explains the shock, and the urgent nature of their briefings to journalists Monday afternoon when it was replaced by a much harder form of words.
The not-trivial problem was that Moscovici was not an authorized emissary of the Eurozone. When the session began, Eurogroup chief Jeroen Dijsselbloem presented a significantly different document that the German press reported was handed to him a mere 15 minutes before the meeting. Ambrose Evans-Pritchard describes why this proposal was unworkable for the Greeks:
The Eurogroup text said "the Greek authorities have indicated that they intend to successfully conclude the programme taking into account the new government's plans". A leaked copy showed these words crossed out by Mr Varoufakis, who peppered the paper with angry annotations.

Part of the dispute appears semantic but has political implications. The Greeks want a new arrangement, but that would require a vote in the German, Dutch, Finnish and Slovak parliaments, where patience with Athens is exhausted. The Eurogroup is insisting on an "extension" of the programme, which does not require parliamentary assent.

Yet the clash runs deeper. The text said the Greeks must toe the line on "tax policy, privatisation, labour market reforms, financial sector and pensions". It said Greece must continue with "fiscal surpluses" imposed by the troika, meaning that Athens would have to raise the primary budget surplus from 1.5pc of GDP in 2014, to 3pc this year and 4.5pc next year.
To put that in context, Dean Baker points out that a 4.0% primary surplus for the US would be $720 billion.
In fairness, the Eurogroup did offer the Greeks a few bones. Ambrose Evans-Pritchard again:
For all the bluster, the Eurogroup text did say the creditors would look "favourably" on a request for a six-month technical extension to Greece's bail-out, even suggesting that Athens could draw on €11bn set aside for bank recapitalisation.
Swedish Lex, via e-mail, explains who is driving this train:
Until proven differently, I believe Dijsselbloem does exactly what Berlin tells him to do.

Breaking the current deadlock with a compromise like the Moscovici paper would mean changing the way business has been done ever since the crisis started. And Merkel is not for turning.

German officials all along have been saying that they are most Europeans of all and that they are 100% committed to the project. However only on their conditions. Others will have to comply. They do not do nuance. I hope U.S. officials know this.
Because the Twittersphere was fixated on trying to determine whether Varoufakis' charge, that he'd been baited and switched, was valid or not, a much more serious issue seems to have been ignored: that the terms of last week's memo were more favorable to Greece than this week's. That means that the two sides which never had good odds of reaching an agreement, are moving further apart.
For instance, last week's document was at the 50,00 foot level, with Greece committing to meet its financial obligations but no mention of the primary surplus issue. Virtually all commentators assumed that there would be a compromise on that issue, with the Germans and the other northern bloc countries willing to go to a 3%, perhaps lower. Similarly, that draft finessed the most contentious issue, that of structural reforms, where the Eurogroup wants Greece to stick to the agreed program, while Greece wants to cancel fire-sale privatizations and spend more on social programs and improving employment. This week's version made clear that Greece will get no breaks on that front.
This recap from the Greek side (hat tip Swedish Lex) is consistent with Varoufakis' press conference: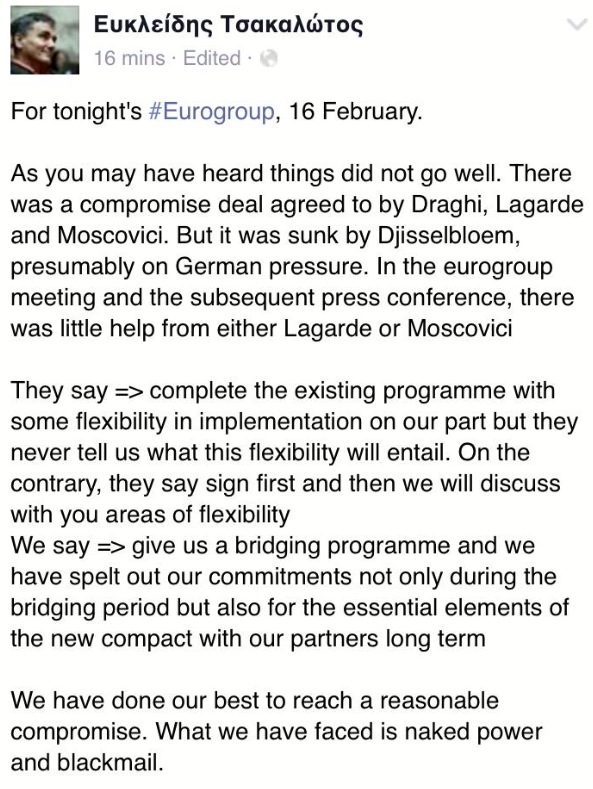 So why the undue optimism that a deal will eventually get done? See for instance, a noonish-in-Europe update at the Financial Times:
European financial markets have largely shrugged off a breakdown in talks between the Greek government and its eurozone creditors that has increased the likelihood of the country losing EU financial backing at the end of next week…

Beyond Greece, however, the reaction was muted, with analysts expressing some optimism that Greece's government would yet find a way of working with its international creditors.
Perhaps they assume, mob-style, that Greece will have to relent in the face of the German show of force. But Syriza is now boxed in. Its approval ratings are at 81%. What are the other reasons for these sunny readings?
First, it is in the nature of negotiations, particularly ones that get media play, to maintain the appearance that they are gaining momentum until they fall completely apart. Recall that our reader Jim Haygood had to go to 1991 to find an example of talks where one of the principals effectively said in a press conference right afterwards that they had failed. A recent example of insistently upbeat messaging in the face of reality was the TransPacific Partnership negotiations last year, when the Obama Administration kept insisting that, no, really, all the countries were going to agree by year end, even in the face of leaks that showed significant opposition on many critical sections of treaty language.
Second, we have an added feature with these negotiations which we'll call negative reflexivity. Remember this section of insightful FT Alpahville post from economist and former IMF staffer Peter Doyle:
On the one hand, in an incredible reversal of practice during the global financial crisis—when central banks were at pains to conceal which institutions were receiving their emergency assistance for fear of compounding the adverse signals and therefore the crisis—the ECB has brazenly publicized exactly which Greek banks depend on its help and how much. And it has overtly warned it would withdraw that help. In this way, the central bank is overtly threatening to blow up the Greek banking system, in order to make the euro work. Walter Bagehot, the nineteenth-century father of lenders of last resorts, would be dumbfounded.

On the other hand, Syriza would like nothing better now than to see the yields on Spanish, Portuguese, or Italian sovereign debt relative to Germany jump, signalling broader market disquiet—that Grexit may be imminent and that the rump eurozone would be badly destabilized by it—so forcing ECB retreat. So Syriza, in league with Podemos in Spain and prevailing anti-euro Italian political forces, is openly threatening to blow up its own exchange rate regime, the euro, in order to make it work. The many fathers of exchange regime credibility would be as dumbfounded as Bagehot.
What does this mean in practical terms? Any hint of bond market contagion will strengthen Syriza's hand. One of Germany's key assumptions, which Germany officials have stated explicitly, is that they think Greece no longer poses any contagion risk. In a narrow financial sense, they might be right in the short term, but many observers, including the Obama and the US Treasury, believe that one Eurozone exit would pave the way for others, and thus an eventual breakup.
But the importance of containing contagion risk and offsetting Yanis Varoufakis' pounding on the message that austerity is a death trap for all periphery countries greatly ups the ante for Troika officials to keep reassuring their contacts, particularly those in the financial services business, that Greece will be brought to heel, whether they believe that or not. This is indirectly confirmed by my contacts who are in the loop with Treasury. Treasury was convinced that the Germans were going to be reasonable, as in moderate their demands. As events transpired, they did the reverse. If the Germans feel no compunction to be within hailing distance of truthful with the US government,* they most certainly don't with mere private sector contacts.
Peter Spiegel of the Financial Times, who despite a big miscue on Twitter Monday where he suggested the Moscovici memo never existed, has been one of the most accurate media tea leaf readers on the state of play in Brussels. His assessment as of last weekend, meaning before the Monday rupture, was that the odds of a bailout extension (even if prettied up) were declining, and the more likely source for financial relief for Greece was the IMF.
The updates on the Guardian live blog are tending to the upbeat, with the French (who have been useless so far) saying that the differences are really semantic, and the Greeks saying a deal is possible. But Sky News reports that George Osborne asked what Greece would do if a deal fell through.
But there are signs on other fronts that are much less encouraging. For instance, German Finance Minister Wolfgang Schäuble just had a press conference and it confirmed that Germany is not inclined to cut Greece any slack:
My conclusion after Schäuble's press conference: Germany isn't going to move one inch and already said goodbye to Greece as €-zone member

— Erik Wesselius (@erikwesselius) February 17, 2015
Similarly, Rob Parenteau sent this sighting in ekathimerini from Jan Kregel, titled ECB can veto bank appointments:
The European Central Bank (ECB) has issued a terse warning to Greek banks, and particularly to the government in Athens, via its Single Supervisory Mechanism (SSM), over plans to overhaul lenders' management. In a letter to Greek banks, the SSM stressed that any changes to their management can be implemented only after receiving the SSM's approval.

The letter emphasized that all candidates for the top position in each bank would have to go through an interview before the SSM can give its approval.

The letter reached the banks a few hours before a scheduled board meeting at National Bank, which was expected to address the issue of management changes. The meeting did not take place after all, with National Bank sources attributing the postponement to technical reasons rather than to the letter.

Sources, however, said that it was the government's insistence to move ahead with changes in National's administration – though it does not have the right to do so according to recapitalization rules and the bank's current share structure – that provoked the ECB's reaction.

One of the names said to be slated for the top spot at National is former Economy Minister Louka Katseli, with Giorgos Michelis as chief executive. The ECB is said to have certain objections toward Katseli.
This incident suggests that a far more basic struggle is underway, that is not reflected in a straightforward manner in Greece's talks with the Troika. The Greek government and its creditors appear to have fundamentally different views of what Greece's powers are. In effect, the position of its various lenders is that Greece has traded away significant, if not most, of its sovereignity in return for bailout money. And its creditors have set up a debtcropper system in which Greece can never free itself of its obligations. Put it another way, Greece has been reduced to a subject of various largely unaccountable Eurozone level authorities, with none of the benefits of being a member of a true federal union, the most important being the recipient of fiscal transfers. Greece, by contrast, takes the view that it is still a state and has rights that cannot be taken away.
If this is the underlying nature of the disagreement, with the negotiation spats a mere symptom, there is not much reason for hope for an agreement, save a capitulation by Syriza. Greece is effectively demanding a change in the shadow constitutional order, that of the various terms imposed by the rescue agreements that the other periphery states treat as binding and irrevocable. Changes in constitutional orders are messy at best and generally come about via coups or wars.
So how does this play out if Greece does not relent? We'll discuss that more in future posts, but the short form is that Greece will go past February 28 with no bailout. Despite the bludgeoning of the Greek government by the ECB two weeks ago, even the pessimistically-inclined Ambrose Evans-Pritchard does not think it likely that the ECB will pull the ELA and crater Greece's banking system. That would be a move too far for an unelected body. But they could escalate the pressure on Greek banks by imposing conditions on the ELA in their upcoming meeting this Wednesday. That would take a 2/3 vote of the governing board, which rotates and at this upcoming session has a particularly Greece-hostile mix.
So if Greece still has the ELA but no tarted-up extension of its current program, it will run out of money in the absence of a new rescue or a debt haircut. That means a default. Evans-Pritchard outlines the parameters:
Greece must repay €22.5bn this year, starting with €4bn owed to the International Monetary Fund over the next six weeks. The crunch comes in June, July and August, when it has to pay back €11.4bn, mostly to the European Central Bank.
The longer Greece can hold on, the more it can use its access to media and particularly Varoufakis' new found celebrity status, to rally anti-austerity parties to pressure incumbent governments. We've said from virtually the outset that Greece could never win this fight on its own, that it needed the support of allies that could pressure the Troika to take a more just and sustainable course of action.
What might change things between now and Friday? The ECB could impose some nasty conditions to force Syriza to knuckle under. Mr. Market could in theory apply pressure, which seems highly unlikely unless the US were to uncharteristically talk up the risk. And the US could amp up the pressure in a big way on Germany. Even though Greece is unlikely to get help from Russia any time soon, Germany seems perfectly willing to turn Greece into a failed state to make a point. Indeed, that might be a preferred outcome, pour decourager les autres. That would also mean Germany would be indifferent to how it came about, Grexit or no Grexit (which as we will also discuss is less likely than most observers assume for legal and a ton of practical reasons) as long as Greece is visibly worse off for having continued to defy the Troika.
But a failed state creates the perfect circumstances for Russia to intervene. First, Turkey, a more important ally than Greece would be, would normally be hugely unhappy with Russia cozying up to Greece but might feel differently if Russia would stabilize a neighbor that was falling apart. Second, it would be far cheaper to help Greece post default than now, and oil prices are almost certain to be higher later, making the relative cost lower too. Third, Russia could legitimately present itself as playing a constructive, humanitarian role after the Eurozone, abetted by the US, allowed a crisis to compound.
Treasury and Obama are supposedly concerned about these risks, but their actions to date fall well short of what is necessary to force the Germans out of their vengeful, reckless posture.
Oh and as of this hour, #Grexit is second on the Trends list on Twitter.
___
* Since the German press has reported that the new memo was presented to Djisselbloem 15 minutes before the Eurogroup meeting, it appears this was intended as a gambit to increase pressure on Varoufakis, since Monday was presented at the last day for him to reach an agreement. The Germans may have been concerned that Treasury was also communicating with the Greeks, and had made clear they favored the Greek position. Thus the Germans may have felt the need to mislead the US to have their feint work.