By Lambert Strether of Corrente.
2016
Gifts by foreign governments to Clinton Foundation rise [Wall Street Journal]. As long as there's no cash in the envelope…
Hillary Clinton and Elizabeth Warren have "cordial" meeting [New York Times]. Smiling despite the grinding teeth! (Cordial means "civil, but can't stand each other.")
"[Clinton is] relying on the old-boy network — in large part by taking over President Obama's heavily male campaign apparatus [WaPo]. Broperatives? In the post-caucus-debacle 2008 Clinton campaign the organizing medium (throw-away cellphones) was the organizing message (people who couldn't afford iPhones, and were at one of their jobs, not in an Internet café or some loft). But Clinton's chosen 2008's iPhone crowd. So I think the chances of Clinton running anything like a populist campaign are already vanishingly small; that's not a message these guys know how to deliver, or care to deliver. So looking forward to 2016….
Bill Clinton to "Correct the Record," pro-Hillary anti-oppo group: "Leave Chris Christie a-l-o-o-o-n-e!" [The Hill]. Thing is, so much of the Clinton "coverage" is putting 2008 or 1998 or even 1992 narratives and tropes back in play. Here, we have a "Bill Clinton is a loose cannon" story. Never forget that lazy thinking and lazy writing are, with very rare exceptions, distinguishing features of our famously free press. It's much easier to recycle on old story than write a new one.
Clinton camp irritated by Axelrove's quips as he shills for his book [The Hill]. Another recycled narrative. "Those Clintons are so touchy." Remember Axelrove said Clinton would beat Warren. What does a quip weigh against that? Especially compared to Obama's quip that Hillary doesn't have "that new car smell"?
"At the 2012 Republican National Convention, more than half the delegates came from states that Obama later carried" [Reuters]. So Blue State Republicans, amazingly enough, have a strong presence in the nomination process (though nowhere else, and not in Congress). Handy charts at the Upshot.
Conservative media swings into action to pummel Gail Collins on her Walker howler (she got the date of Walker's election wrong) [Bloomberg]. Interestingly, they don't do that for Jebbie.
Establishment
Jebbie to emit foreign policy address. From the advanced excerpts: "The great irony of the Obama presidency is this: Someone who came to office promising greater engagement with the world has left America less influential in the world." [CNN]. Imagine that.

| | |
| --- | --- |
| | |
| That was then… | This is now… |
Principled Insurgents
Walker has no college degree, so Dean calls him "unknowledgeable," and Walker calls him "elitist" back [CNN]. Hoho plays to credentialled meritocrats in the Democratic base; Walker's base could care less.

Walker and the Kochs [Bloomberg]. "Walker's alliance with his benefactors was embarrassingly satirized when a liberal blogger posing as David Koch (whom at that point Walker had never met) kept him on the line for 20 minutes, making the governor look like a lapdog to the powerful industrialist." "Look like"? But Bloomberg misses the key point. NC readers know (2015-02-05), from the transcript of the call, that Walker had no compunction about planting agent provocateurs among the Wisconsin protesters during the Capitol occupations That's not to say that he did — that would be a little Machiavellian for a P.K. — but bear this in mind if Walker ever makes protest into an issue. More centrally, Walker seems to regard the truth as something to be manufactured.

Check the photo. Marco Rubio looks like he's running for Student Council President [Wall Street Journal, "The Case for, and Against, Marco Rubio as Republican Presidential Candidate"]. In a High School for short people.

Ohio Governor Kasich tests the waters, says "boots on the ground" needed to combat ISIS [WaPo].
Clown Car
Christie to arrange town halls in New Hampshire [Wall Street Journal].
Crowdpac's methodology for placing candidates in the Overton Window: Check the funders, and not votes or speeches [Vox]. Here's where Clinton is [New York Times].
The Hill
Thanks to the Federal judge who put Obama's immigration executive order on hold, the Republicans might not have to carry out their threat to shut down DHS, which secretly relieves them [Political Wire].
Let's abolish the DHS; it duplicates existing functions and is heavily politicized [Vox]. And we have Joe Lieberman, Al Gore's running mate, to thank.
Herd on the Street
Apple Watch Launch: "What the tech world doesn't understand about fashion" [The Fashion Law].
"Apple Watch notifications take on a whole new feel because they discreetly come right to your wrist," Apple boasts. … Selling function isn't something the fashion industry typically does. It sells a story, an identity, a new look.
So, the Apple Watch is going to be a very small and discreet cattle prod. That's the story I hear and an identity I don't want. Who would?
Union pension fund adviser CtW Investment Group demands McDonalds board shakeup [Reuters]. Then this happened.
West Coast port slowdown could cost retailers billions [WaPo]. I guess those workers are important, then. Why not pay them accordingly?
Stats Watch
Industrial Production, January 2015: "[M]odestly positive" on lower end of consensus range [Bloomberg].
Housing Starts, January 2015: Slipped, though in consensus range. "Housing is not adding to economic momentum" [Bloomberg]. Single family starts dip, permits dip. "This means the Fed likely will continue to reinvest mortgage-backed securities to keep rates low."
MBA Purchase Applications, week of February 13: "Down for a 5th straight week, 7.0 percent lower for the 2nd consecutive week" [Bloomberg].
Redbook, week of February 14: "Valentine's Day helped boost demand for cosmetics, candy as well as jewelry while the related traffic helped sales of other goods including winter merchandise" [Bloomberg].
Syraqistan
3rd Brigade Combat Team leaves Fort Carson, Colorado for Kuwait, "and soon will serve as U.S. Central Command's Reserve force in the Middle East – the first soldiers into battle if a major combat force is used to battle Islamic State fighters" [Colorado Spings Gazette].
"Today's Top 7 Myths about Daesh/ISIL" [Informed Comment]. (This is a response to Graeme Wood's recent piece in the Atlantic, featured in Links, though Cole doesn't mention it.)
Black Injustice Tipping Point
Chelsea condemn fans who pushed black man off Paris Métro [Guardian]. I was caught up in one of those crowds of British soccer fans in the Métro once. Genuinely frightening.
ObamaCare
"House-calls, top-notch facilities, the best surgeons… and the best follow-up care, physical therapy, nutritional guidance" [Fred on Everything]. Mexico. Not the United States. I mean, are you kidding?
Administration butchers initial step toward gutting and privatizing the VA, the "Choice Card" [WaPo]. Not that this makes me unhappy, and of course a debacle was to be expected, but nobody will be held accountable for it, just as nobody was held accountable for the healthcare.gov rollout debacle.
Corruption
Obama to parachute in and rescue Rahm, who's still struggling to avoid a runoff [Bloomberg]. Filed under corruption because Rahm.
The "conservative scam machine," Jonah Goldberg (!) calls it [WaPo]. Yes, some PACs spend all their money on themselves, not electing candidates. Note however, that although the story is in Plum Line, the report that sparked it is from Right Wing News (!). Has anybody done a similar study for Democratic PACs?
In this years's World Press Photo Competition, 20 percent of the photos were disqualified for significant addition or subtraction to the image content [New York Times]. More problems with digital "evidence."
Debt
Younger Americans with student loans are less likely to take out mortgages than those without student debt. That's a reversal from the pre-recession pattern [AP]. Before the recession, they thought their credentials would lead to higher incomes, justifying the debt load. Now, they don't.
Biggest law firm in privatized government debt collection is Linebarger Goggan Blair & Sampson. Check out the horror stories [CNN Money]. Hmm. Tax farming. What could go wrong?
News of the Wired
* * *
Readers, feel free to contact me with (a) links, and even better (b) sources I should curate regularly, and (c) to find out how to send me images of plants. Vegetables are fine! Fungi are deemed to be honorary plants! See the previous Water Cooler (with plant) here. And here's today's plant (Morak). Cactus week continues!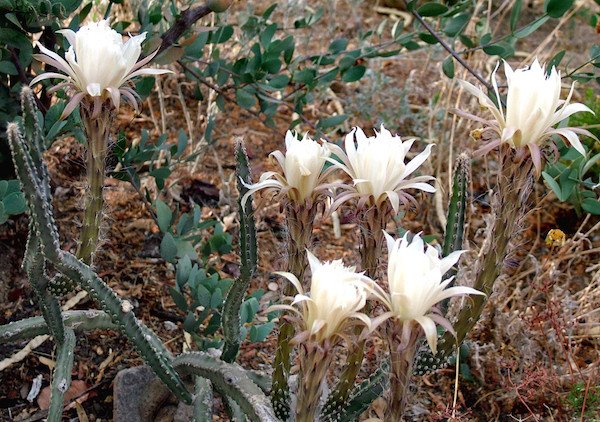 Arizona Queen of the Night (Peniocereus greggii). I could still use another cactus or two!
If you enjoy Water Cooler, please consider tipping and click the hat. It's the heating season!
Talk amongst yourselves!