By Lambert Strether of Corrente.
2016
Hit piece on Warren from White House on TPP [Whitehouse.gov]. Jeffrey Zeints:
Senator Warren raises some important questions about an element of the Trans-Pacific Partnership (TPP) called Investor-State Dispute settlement, or ISDS. There are good answers.
Hopefully, we can go more deeply into this, so I'll just hit a few of the lowlights, and maybe readers with more expertise than I have will supply a critique of the whole:
ISDS does not undermine U.S. sovereignty
So, when a foreign corporation can sue the United States "outside of national court systems, unconstrained by the rights and obligations of countries' constitutions, laws and domestic court procedures" (Public Citizen) that doesn't affect our sovereignty. Oh, OK. (I hit the loss of sovereignty argument hard because that looks like the basis of a strange bedfellows alliance between left and right.)
And then there's this:
But when government takes its citizen's property from them – be it a person's home or their business – the government is required to provide compensation
Leave aside the assumption that corporations are, and of right ought to be, persons. TPP allows corporations to sue for future "lost profits" (see Public Citizen again). So, for example, suppose there's Canadian money (Irving) behind the East-West Corridor across our watershed in Maine. Suppose a Federal regulation on oil pollution or wildlife stopped them. Irving could sue the United States for "lost profits" even though the highway was never built (see here for examples under existing trade deals).
And then there's this:
[1]The reality is that ISDS does not and cannot require countries to change any law or regulation. Looking more broadly, [2]TPP will result in higher levels of labor and environmental protections in most TPP countries than they have today.
How can both [1] and [2] be true? Zeinst concludes:
But through TPP, we can set a new, higher set of standards, stronger safeguards and provisions. That's exactly what we're doing.
If this is true, then there's a very simple way to prove it. Release the text of the TPP, and stop Fast Track so the American people, who presumably are the ones who will benefit from it, can determine whether Zeinst is telling the truth. I'm guessing he isn't.
On the Clinton Foundation: "Lately, the whole family seems to be gathering up as much as it can before she declares her candidacy and the family really does have to stop" [Amy Davidson, The New Yorker]. Of course, the New Yorker is a place where people who took Obama seriously in 2008 can feel very, very comfortable. So part of the context here is that they're stirring a rapidly congealing narrative. But then it's the job of a winning Presidential campaign to stop that sort of thing from happening.
Cruz on Clinton: "Call me crazy, [but] I don't think the secretary of State, or, for that matter the president, should be on the payroll of foreign nations" [National Review]. Well, not crazy. Just untruthful and a guy who can't pass a pudding without overegging it, since "on the payroll" (as Davidson, supra, shows) isn't remotely in evidence. Anyhow, this whole discourse is deeply ironic, since our trans- or post-national elites in the 0.1% have been stripping the country of its manufacturing assets and shipping them to China since the neo-liberal ascendancy began in the mid-70s, and the Cruzes and Clintons of this world both helped them do it.
Establishment
Joe Klein feels this thrill going up his leg: "And after giving his speeches a close read, I find Bush's disposition far more important than his position on any given issue" [Time]. Everything but "comfortable in his own skin." Dear Lord.
Principled Insurgents
Walker said: "If I can take on 100,000 protesters, I can do the same across the world". How Rick Perry framed it [MSNBC]: "These are Americans. To try to make the relationship between them and the unions is inappropriate." The thing is, on pure numbers, Walker's in the ballpark: The State Department estimates there are 184,000 terrorists worldwide. So what's Perry's beef? Not that Walker hates unions; Perry does too (and he'd better). No, what Perry's worried about is, more or less, "not in front of the children" ("I think, you know, some of the statements that he's made are obviously problematic for him"). Walker needs to beef up his communications staff and do what they tell him. Which (I find) he is doing.
Clown Car
Gail Collins: "Chris Christie is political toast" [New York Times]. Well, let's hope she does a better takedown of Christie than she did of Walker.
Keen graphic on Wikipedia's most contested entries, which differ by language [The Economist]. For English, the top five: George W. Bush, Anarchism, Muhammad, List of WWE Personnel, Global Warming.
The Hill
Ezra Klein: "Obama made huge progress on liberal goals when he had a Democratic majority from 2009-2010" [Vox]. Yeah, like a stimulus of adequate size (not), checking the power of the big banks (not), restoring the rule of law by throwing some CEOs in jail (not), keeping people in their homes through the foreclosure crisis (not), single payer (not), kicking in the ribs of the party that impeached Bill Clinton over a ******* when he had them down (not)… Well, I could go on. Is "delusional" too harsh a word for Klein, do you think? What'd those squillionaires give him all that money for, anyhow?
Reid's real talent is obstruction when minority leader [Politico].
Herd on the Street
Barnes & Noble Inc will spin off its college books unit and keep its Nook tablets and e-book business [Reuters]. Reversal of direction driven by the board. Does anybody use Nook?
Amazon's Twitch streaming service draws 100 million users each month; Now, it has begun broadcasting online poker players, including several sponsored professionals, "to bring in more young, male users" [Wall Street Journal, "Amazon's Twitch Site Bets on Poker"].
"Some 96 percent of malware — or malicious software — employed by hackers target Google Android" [CNBC]. "The open-source nature of Android allows hackers to find the code behind a popular app, they said, and recreate the app almost identically but with a malicious code to infect users." Hmm.
Stats Watch
GDP for Q4, 2014: Revised down, but due to a lower estimate for inventory investment. "The economy grew 2.2 percent in the fourth quarter compared to the advance estimate of 2.6 percent. Expectations were for 2.1 percent" [Bloomberg].
Pending home sales index, January 2015: "[F]ell a very steep 3.7 percent in December after rising 0.6 percent the month before. A decline was not expected at all" [Bloomberg]. "All regions showed single digit declines."
Consumer sentiment, February 2015: "Remains very strong but it did move down after spiking in January" [Bloomberg].
Net Neutrality
Verizon issues "furious" press release in Morse code. Back to 1934, get it? [Ars Technica]. Stay classy, Verizon!
How John Oliver's video helped win the net neutrality debate [Bloomberg]. I toned down Bloomberg's triumphalist, celebrity-focused coverage; Oliver's video wouldn't have had the impact it did without many already being primed, and that's down to the labors of many thousands, most unknown and unrecognized.
Corruption
Tom Schweich, Missouri's Republican state auditor and a leading contender for the governor's office in next year's election, died Thursday after apparently shooting himself in his Clayton home [St Louis Dispatch]. "Schweich's wife was in another room of their house when she heard her husband making phone calls, followed by a gunshot. …. When Schweich announced his gubernatorial campaign, he promised to attack corruption in the state Capitol." Read the detail. Politics ain't beanbag.
Syraqistan
Iran's only golf course has thirteen holes because the Army took the land for five [Agence France Presse]. So they play five holes twice.
Class Warfare
Yemen ex-president Ali Abdullah Saleh amassed up to $60 billion, colluded with rebels [Reuters]. So how many other billionaires don't appear on the Forbes list?
"Jimmy Savile was given free rein to sexually abuse 60 people, including seriously ill eight-year-olds, over two decades at Stoke Mandeville hospital due to his gold-plated status as a celebrity fundraiser, an inquiry has found" [Guardian]. Horrible details (and an unmentioned detail is that Thatcher tried to give him a knighthood, despite warnings). So was Savile just a bad apple?
Hong Kong's Law Wan-tung found guilty of grievously abusing "helper" Erwiana Sulistyaningsih and another maid Tutik Lestari Ningsih and sentenced to six years in jail [Asian Correspondent].
Blinded with Science
"The Science of Why No One Agrees on the Color of This Dress" [Wired]. Apparently a thing that took over both Facebook and Twitter.
A whole site devoted to the theory of the selfie [Selfiecity].
NASA looking at techniques to discover life in Europa's frozen seas [New Scientist]. Mission is budgeted, with 2020s launch date.
"The report [from researchers at Peking University and elsewhere] is the first to conclude that those who speak tonal languages like Mandarin exhibit a very different flow of information during speech comprehension, using both hemispheres of the brain rather than just the left" [Quartz].
DNA study shows wheat in mesolithic Britain — but from trade, not agriculture! [Nature].
News of the Wired
* * *
Readers, feel free to contact me with (a) links, and even better (b) sources I should curate regularly, and (c) to find out how to send me images of plants. Vegetables are fine! Fungi are deemed to be honorary plants! See the previous Water Cooler (with plant) here. And here's today's plant, the last of Fungus Week (Rex):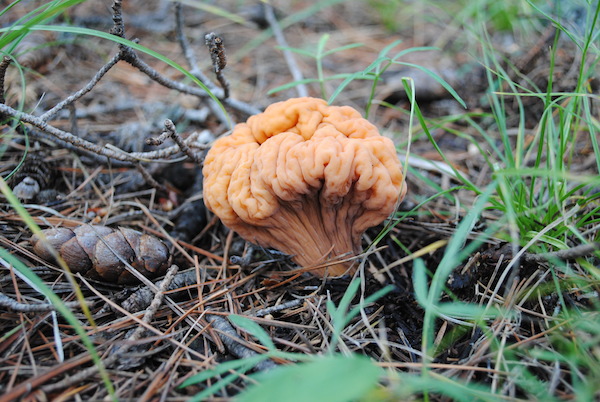 Brain fungus!
Readers! How about sending me some plants under snow and/or ice? Seems appropriate? And if that doesn't sound like a good idea, how about some humorous vegetables?
If you enjoy Water Cooler, please consider tipping and click the hat. It's the heating season!
Yes, I've got to fix the hat! Thank you all for your generous help in the mini-fundraiser!
Talk amongst yourselves!