By Lambert Strether of Corrente.
2016
Clinton supporter (!) on campaign line-up: "It's not thinking outside the box, it's essentially using the same class of political operative. Why is there not one new face from Austin, Texas or one person who hails from Silicon Valley? It's tired and predictable." [The Hill]. The pessimist in me puts that down to Hillary's lack of imagination. The optimist in me says you want outside-the-box thinking in the policy shop, not the campaign operation (at least if you're not an insurgent). Anyhow, does a real "outside the box" thinker ever even use the phrase "outside the box?"
The group portrait of Clinton campaign staffers is being filled in. The portrait of policy staffers is not [Ezra Klein, Vox].
Mandy Grunwald, long-time Clinton operative, leaves Warren staff for Hillary Clinton campaign [Politico].
No-names at the White House as Obama enters lame duck territory [CNN].
Establishment
Bush on immigration [The Atlantic].

Here for example is an informal Jeb Bush speaking to a friendly interviewer, National Review's Jay Nordlinger, early in 2014. "If we're going to grow at 4% a year, we have to have young, aspiring people be able to create dynamic activity. And we can't do that with our existing demographics."

Bush seems to have something more in mind than just the the familiar (if overstated) claim that immigration can counter the aging of the population. He seems to think that there is some quality in the immigrants themselves that is more enterprising—more dynamic to use his favorite term—than native-born Americans. This is not only a positive judgment on the immigrants themselves. It is also a negative judgment on native-born Americans.

Hmm.
Principled Insurgents
Walker adds a half-dozen new advisers and consultants this week. "Veteran Republican operatives" [Wall Street Journal]. Ka-ching! Guess Walker talked to a real Koch this time…

Walker: "I think [vaccination is] an issue that should be left up to the states" [Talking Points Memo]. Because contagious diseases totally respect state boundaries.
Clown Car
Perry has recently "sought to portray himself as a more moderate, thoughtful contender" than he was in 2012 [Politico]. I'm sure the million-dollar felony defense for abuse of power will help with that.

Headline: "Rick Perry's Donor List Is a Sports Almanac" [Bloomberg]. So I find the list, and the "sports figures" aren't players, but owners. Well, I suppose…
"Since the dawn of the Obama era, the whole country has shifted to the right. Literally every state but one is now more Republican it was than six years ago" (with handy chart) [Washington Post]. That's quite a record. Thanks, Obots.
Jill Stein to form exploratory committee for second Presidential run on Green Party ticket [Yahoo]. Hilariously, Bloomberg plays the Nader card in the subhead and the lead. Too bad it's not true; 308,000 Florida Democrats voted for Bush in 2000. Those Democrats lost the race for Gore, the end. I'm not sure when the behavior pattern, for Democrats, of never accepting responsibility for any failure began, but the fingerpointing and blameshifting certainly intensified after 2000. Fifteen years later, and Democrats are still mewling and puking about it.
The Hill
"Confessions of a congressman" [Vox]. Worth a read, especially the idea that we have a parliamentary system.
Herd on the Street
"Twitter's Earnings in Five Charts" [Wall Street Journal].
"With each product release, Twitter gets closer to resembling the vision that Costolo has outlined, where the social network becomes a place to find coverage of events as they happen" [Bloomberg]. That story is in fact Twitter's story; it has the great merit of being true. Let's hope they stick to it, and don't try turn themselves into Facebook.
Pascal resigns as Sony CEO after hacked emails debacle [New York Times].
Shale output will rise 3.2 percent in 2015, led by gains at the Marcellus formation [Bloomberg].
America's most-hated (and most-loved) companies [Bloomberg]. In a crowded field, the most-hated, where first is worst:
Goldman Sachs
AIG
Dish Network
Monsanto
Halliburton
Sears Holding
Koch Industries
Comcast
Charter Communications
Bank of America
Take a bow, Lloyd!
Stats Watch
Employment Situation, January 2015: "Heavily positive." Unemployment up, but that's because "the labor force participation rate rose to 62.9 percent from 62.7 percent in December." "[A]verage hourly earnings rebounded 0.5 percent," partly due to some state's increase in minimum wage [Bloomberg]. So not sure how long the Fed's "patience" will last. Now, if only the jobs weren't crapified.
Police State Watch
"He never resisted, he never struck them, he never fought back, they just started hitting him" [Los Angeles Times]. Frank Rizzo lives!
Our Famously Free Press
What if there are no news websites? [Awl]. That's gonna suck, because every app is an AOL in the making.
Corruption
Cuomo officials directed state loan to Cuomo donor, real estate mogul Leonard Litwin, at center of Sheldon Silver corruption probe [David Sirota, crushing it at International Business Times]. Oopsie.
Private equity veteran new Governor of Illinois Bruce Rauner brings in Laffer Curve veteran to straighten out state budget [Bloomberg]. I'm filing this under corruption because selling state assets to cronies, or privatizing state services is part of the playbook.
Christie signs bill allowing simplifying towns' selling of water systems to for-profits [North Jersey].
The bill has the potential to benefit water companies with ties to Christie [Shocker!]. Top representatives of American Water and United Water sit on the board of directors at Choose New Jersey, a tax-exempt organization that was created by Christie's office in 2010 to help sell New Jersey as a business-friendly state but lately has been helping pay the governor's expenses for overseas trips.
Class Warfare
Problems that have social gradients get worse across all classes as inequality increases [Inequality.org]. Interview with authors of The Spirit Level.
The URL: occupy-burning-man-class-warfare-comes-to-desert-festival; the headline: "The Billionaires at Burning Man" [Bloomberg]. NC, 2014-08-31; the sherpa stories broke on 2014-09-12.
Nebraska's socialized energy distribution system [Alternet].
"The Real Problem with Fast Fashion: Codes of Conduct" [The Fashion Law]. A knowledgeable take at compliance issues with industry "codes of conduct," and "compliance" as such, especially in clothing manufacturing.
"The [Pacific Maritime Association] made it clear that the disruption from go-slows by the union was growing so severe it would impose a lockout on workers within five to 10 days if the offer was not accepted" [FT, "Costly lockout looms on US ports"].
Aetna minimum wage boosted to $16/hour [Courant].
News of the Wired
Readers, feel free to contact me with (a) links, and even better (b) sources I should curate regularly, and (c) to find out how to send me images of plants. Vegetables are fine! Fungi are deemed to be honorary plants! See the previous Water Cooler (with plant) here. And here's today's plant (Jeff):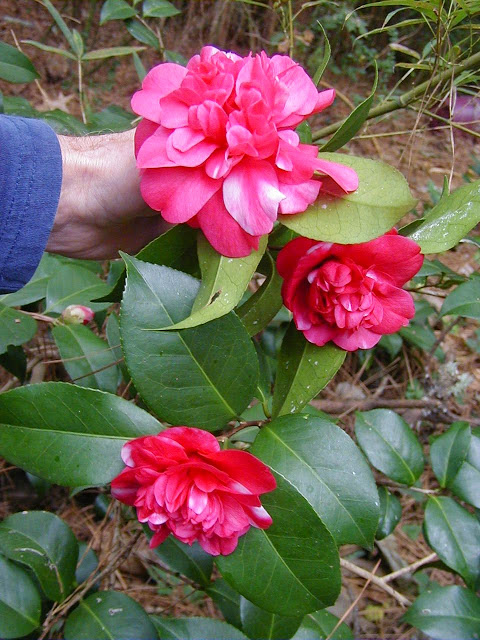 Not a bougainvillea, but I bet it would like to be!
If you enjoy Water Cooler, please consider tipping and click the hat. It's the heating season!
Talk amongst yourselves!