By Lambert Strether of Corrente.
THIRD YORKSHIREMAN: … There were a hundred and fifty of us living in t' shoebox in t' middle o' road.
FIRST YORKSHIREMAN: Cardboard box?
THIRD YORKSHIREMAN: Aye.
FIRST YORKSHIREMAN: You were lucky. We lived for three months in a paper bag in a septic tank.
–Monty Python's Flying Circus, Four Yorkshireman
* * *
Chapter three of Snow Crash, Neal Stephenson's libertarian udystopia, opens like this:
Hiro Protagonist and Vitaly Chernobyl, roommates, are chilling out in their home, a spacious 20-by-30 in a U-Stor-It in Inglewood, California. The room has a concrete slab floor, corrugated steel walls separating it from the neighboring units, and – this is a mark of distinction and luxury – a roll-up steel door that faces northwest, giving them a few red rays at times like this, when the sun is setting over LAX. …

But there are worse places to live. There are much worse places right here in this U-Stor-It. Only the big units like this one have their own doors. Most of them are accessed via a communal loading dock that leads to a maze of wide corrugated-steel hallways and freight elevators. These are slum housing, 5-by-10s and 10-by-10s where Yanoama tribespersons cook beans and parboil fistfuls of coca leaves over heaps of burning lottery tickets..

It is whispered that in the old days, when the U-Stor-It was actually used for its intended purpose (namely, providing cheap extra storage space to Californians with too many material goods), certain entrepreneurs came to the front office, rented out 10-by-10s using fake IDs, filled them up with steel drums full of toxic chemical waste, and then abandoned them, leaving the problem for the U-Stor-It Corporation to handle.
But didn't Stephenson go just a little meta, here? Rather than putting Hiro Protagonist [nudge] in an steel box at the decaying end of the supply chain, why not move the housing question back up the chain closer to the beginning?[1] Why not, in other words, a shipping container? Especially if your shipping container residence looks like this: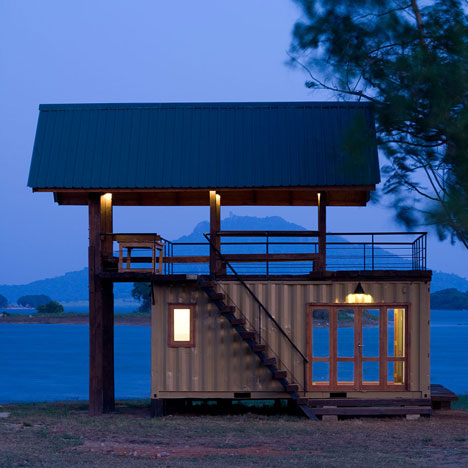 There are many other photos of bigger, more luxurious shipping container homes where that one came from; here's another set. However, it wasn't luxury that seized my imagination; it was cost.
However, additional advantages will spring to the mind of NC readers, in "A person's home is their castle, and vice versa" mode; a big steel box seems less vulnerable to infrared inspection by our increasingly officious national security state; not to mention less vulnerable to projectiles of all sorts. (Of course, as the owner opens holes in the box for light and air, water, and power, these advantages decrease, but no doubt that can be mitigated; slit windows, for example, as in medieval castles.) And while a conventional, stick built house is assaulted along many dimensions — I worry about the weight of snow on the roof, ice at the foundations, critters under the house, hurricanes, shifting foundations, the general tendency of wood to rot or get eaten, and many other things — a steel box is really vulnerable along one: Rust. And the Cor-Ten steel used to manufacture shipping containers is a "weathering steel," designed to resist rust by developing a protective oxide film. (Lots of solid technical detail at this site.)
Take this one from Australia: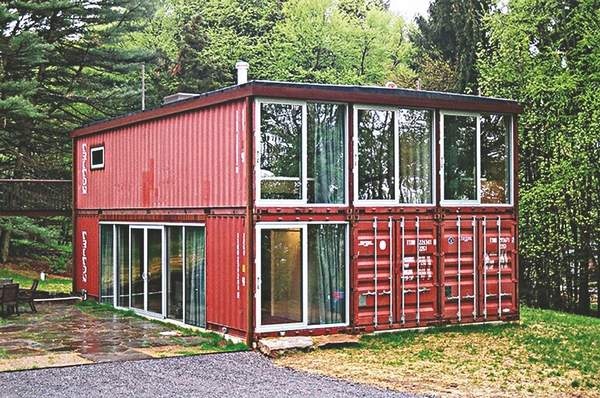 Or this even more utilitarian example: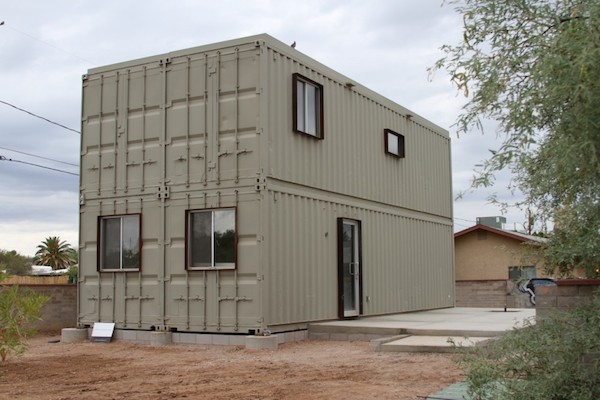 I'm deliberately picking small and utilitarian images, because many other examples seem over-architected and more than a little twee, to me; if you want to go all House and Garden, why start with a shipping container in the first place? For example: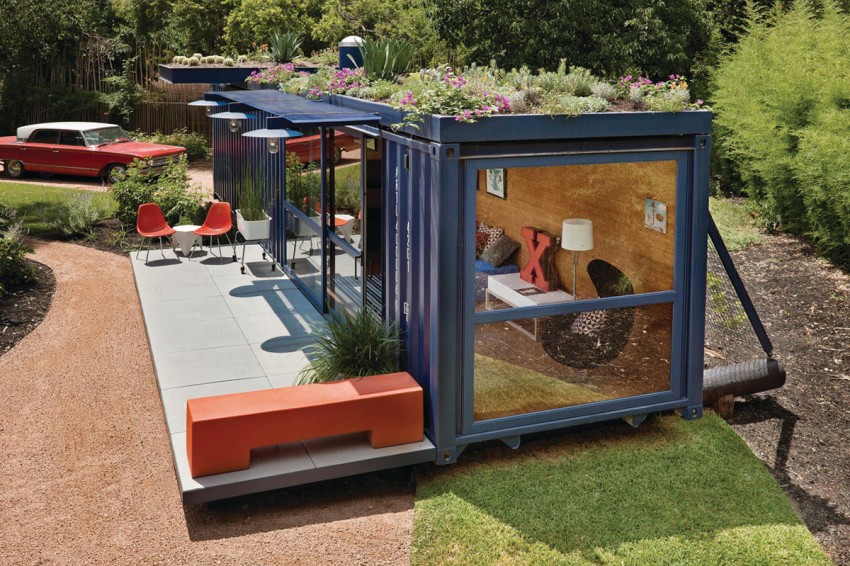 I love the roof garden, and I imagine it's cooling, and I assume however the plants are watered doesn't rust out the roof. Nevertheless, you know it was architected, because the first thought was to put in plate glass windows. So where's my protection from surveillance and gunfire? Not that I'm foily.
But, as I said: What caught my eye was cost. To start a shipping container home, all you need is $2,000 for the container. And I'm the kind of person who finds comfort in having mentally handled the worst case scenario, and it seems to me that if, for whatever reason, I lost my home, or had to leave the country and start over, that I could scrape together enough for shelter and start over. That's re-assuring!
Like that guy who lives year-round in a tent in Pownal, Maine: If he set up his tent in a shipping container, he wouldn't have to get up every hour to brush off the snow! $2,000 seems a small price to pay for a good night's sleep, every night, through the winters, plural.
And put a garden on the root, a permaculture garden round the container, start with some fruit and nut trees this time…
So perhaps I'm nourishing a fantasy of escape. On the other hand, there are plenty of people in Maine who escaped in just that way! Of course, if I wanted to live in the container, as opposed to living in a tent in the container, I'd need to think about insulation. Because every Mainer thinks about insulation! From a very useful FAQ at Residential Shipping Container Primer:
Q- Aren't shipping containers just hot ovens [We can see this guy is not from Maine] when they are used for homes or offices?

A- Absolutely not! Sure, if you don't know what you're doing and don't insulate. The reality is, that the new Ceramic spray insulation is most effective when applied to metal. In fact, if you build a home, office, emergency shelter or storage unitusing Ceramic Insulation paint (spray) the structure will probably be more energy efficient than a conventional home.
And from the same FAQ, the larger case for the container:
Q- Why promote Containers for home and office construction?

A- Shipping container modules are the most logical structure base for multiple reasons.

-Strongest structure. Stronger than wood, concrete, and even stronger than normal steel buildings.

-Lower cost per square foot than other base structures.

-They are truly Eco-Green structures: they are 85% recycled steel, and fully recyclable if demolished.

-Energy Efficiently because the metal is so cohesive to the Ceramic Insulation paints they are #1 in energy efficiency.

-Their use reduces the extreme surplus of Shipping Containers being stored near our harbors, ports, beaches and even inland cities.
And now, for fairness — and hedging in case I'm entirely driven by fantasy, here — let me quote the opposing case, from a shipping container home builder and owner, which I recommend you read in its entirety, including the comments, if you're thinking about this. Here is the conclusion from "Tin Can Cabin":
I'm not telling anyone they shouldn't build with shipping containers, just that they should truly assess their reasons for doing it before they proceed. A shipping container cabin can be comfortable, secure, and aesthetically pleasing, but it will cost you considerably more than a conventionally built cabin. It's not that different than wanting to build a log cabin – my true dream cabin, by the way. Log cabins also cost more per square foot than conventional construction, but somehow they seem like a better aesthetic deal to me.

In summary, I don't regret my decision to build with containers. The peace of mind when I lock up my cabin is priceless – well, at least $15K worth.
That is, the author, who knows how to build both conventionally and with shipping containers, paid $15K more to do it the container way, instead of buildng a conventional cabin. Read the article for the complete detail, but here's the basic principle:
You also have to consider that a shipping container shell still needs to be framed inside for attaching wallboard or paneling. This essentially turns the shipping container into very expensive siding if you don't need its security.
In other words, the more conventional amenities you add, the more conventional construction wins out; and I consider things like plumbing and electricity necessary, and your typical plumber or electrician is going to be used to working with conventional, stick-built houses, and so it's going to cost more to do it your way, instead of theirs.
So that's a quick round-up on the seductions advantages and harsh realities disadvantages of shipping container homes. If you, readers, are thinking about building a shipping container home, or have built one, and want to share your experiences, or you decided not to, and want to share your reasoning, we'd love to hear from you in comments.
Concluding, I'd like to dolly back from the structural aspects of shipping container homes, and speculate a little on the macro-economic effects. This is dangerous, since I know virtually nothing about the housing market! First, I'll talk about modularity; then, I'll talk about demand destruction. Here again, readers, I hope you'll expand on these ideas, especially those of you who are more knowledgeable than I am, i.e., almost all of you!
So, first, modularity. There's an ISO standard for shipping containers; they're completely modular. That's why any one container can be stacked on any other, any crane can handle any container, and so on and so forth. Shipping containers destroyed the "break bulk" system of cargo handling where skilled longshoremen loaded cargo onto a ship much as you would pack randomly sized objects into a suitcase or the trunk of a car. Well, isn't "stick built" construction just like "break bulk" cargo handling? Sure, two-by-fours are a standard size, and electrical sockets are standard, and Pemex plumbing is standard, but the dimensions of the housing structure itself are not standard. If they were, wouldn't that enable modular "snap-in" components for water, electricity, and heat that are currently installed by hand? (And will some Chinese company figure that out, and become the Ikea of global home construction?) Tin Can Cabin says this:
Designing an efficient and liveable cabin in multiples of 8, 20, and 40 foot lengths is a huge limitation. Need an extra two feet on one end to fit your dream kitchen? It's not going to happen without taking something away from an existing space. The flexibility of frame construction to scale to virtually any size is a substantial benefit compared to container construction.
Well, what happens when people, en masse, decide that dream kitchen isn't worth the extra two feet? Leading me to my second point:
Demand destruction. What if highly modular domestic architecture succeeds, and makes the dream kitsch go away? The marble countertop industry takes a hit; the stainless steel hood and fan industry takes a hit; fancy German appliances take a hit, and so on and so forth. The Tin Cabin alludes to demand destruction in extreme form:
I know I'm going to get comments like "I can build a container cabin for $20/sq foot" or "your cabin is overbuilt and too expensive". Both of these comments are true if you don't mind living in a shack more appropriate for a third world refugee camp [rather like Hiro Protagonist!]. I've seen shipping container "cabins" with no insulation, the wrong insulation, raw plywood flooring, no wallboard or paneling, no roof, no foundation, and no utilities. If all you want is a metal box lying on the ground….
That's a lot of demand destruction!
… then yes, shipping container construction can be both easy and cheap.
Of course, "easy and cheap" is what I had in mind for my fantasy of escape, and I bet that's what the guy in Pownal, Maine would want too.
But if we move up from the (rather over-wrought) "third world refugee camp" to "highly modular and much more simple," what happens to aggregate demand? If housing and construction are key drivers of the economy, what happens to jobs and growth when you can snap a house together out of interchangeable parts in standard dimensions? Or, as we say, jawbs and groaf?
NOTE
[1] Apparently, the economics of globalization, with the United States as "the consumer of last resort," enabled the growth of shipping container homes. Wikipedia:
The abundance and relative cheapness of these containers during the last decade comes from the deficit in manufactured goods coming from North America in the last two decades. These manufactured goods come to North America from Asia and, to a lesser extent, Europe, in containers that often have to be shipped back empty, or "deadhead", at considerable expense. It is often cheaper to buy new containers in Asia than to ship old ones back. Therefore, new applications are sought for the used containers that have reached their North American destination.