'We're not kidding': Police helicopter scrambles to reports of cries for help… finds goat London Evening Standard (Chuck L)
Ringling Bros. to Give up Elephant Acts in 3 Years ABC News (furzy mouse)
The People Revolt Against Sledding Ban in Nation's Capital Newsweek. EM: "9/11 … the gift that keeps on taking."
60 Minute Investigation shows Lumber Liquidators Laminate Flooring Contains Toxic Amounts of Formaldehyde; Democrats Want Federal Probe Michael Shedlock (Chuck L)
Poverty, not the 'teenage brain' account for high rates of teen crime PhysOrg (Robert M)
One Twin Exercises, the Other Doesn't New York Times (David L)
Reliance on smartphones linked to lazy thinking PhysOrg (Chuck L)
Apple Pay Fraudsters Target Company's Stores With Stolen Credit-Card Data Wall Street Journal
The palace of Nimrud, the home of Ashurbanipal II is being destroyed France24 (Davie L) :-(
Banned BBC Documentary Nirbhaya India's Daughter Full You Tube. Stephen M: "(This is the whole documentary. Not sure how long this will last as India has been pushing to get all uploads of this BBC documentary removed."
Ban on Nirbhaya documentary: Let's accept it, we are offended by our own ugliness DNA India (Stephen M)
Draghi's Bazooka
ECB launches €1.1 trillion blitz as bond market dries up Ambrose Evans-Pritchard

Dollar-euro parity coming: Strategist CNBC. Reader Li predicted this a while ago….

ECB could buy negative yielding assets Dow Jones
Marine Le Pen lays out radical vision to govern France Financial Times
Grexit?
Joseph Stiglitz and Martin Guzamn, A Fair Hearing for Sovereign Debt Project Syndicate
Ukraine/Russia
Why do Russians still support Vladimir Putin?Where The "Neutral" OSCE Mission in Ukraine Blames The Wrong Side Moon of Alabama

Crimea Annexation Boosts Russia's Deep Space Capabilities Moscow Times
How Has The Pentagon Shaped Innovation? Yale Insights
Imperial Collapse Watch
The Persistent Concerns about Altered Financial Data Marcy Wheeler

Air Force Mixes Up Constitutional Amendments in Test Given to Airmen Military.com (Chuck L)
Clinton Personal Email Cesspool Deepen Peter Van Buren, Firedoglake
US government still hunting WikiLeaks as Obama targets whistleblowers  Guardian
Two Prominent Judges Take Bizarre Action in Occupy Wall Street Case Wall Street on Parade
Attorney General Kamala D. Harris Announces 24 Year Prison Sentence For Leader of Mortgage Relief Scam (1SK) State of California Department of Justice. ""This predatory scheme robbed families of their life savings and in many cases, their homes." Too bad this sort of reasoning and punishment isn't applicable higher up the food chain.
Why global warming does not necessarily result in warmer wintersThe Economist
Businesses push to combat California drought Financial Times
BNSF oil train derails in rural Illinois; two cars aflame Reuters (martha r)
Some Who Are Part of Problem in Ferguson Are Asked to Fix It New York Times
Cops Say a High School Dean Shot a Teenager Execution Style Gawker. Only in America….
In Ellen Pao's Suit vs. Kleiner Perkins, World of Venture Capital Is Under Microscope New York Times
KKR in talks to settle SEC probe of expense sharing Chris Witowsky, PEHub. Note this is not the abuse publicized in the Wall Street Journal, involving KKR Capstone. This looks to be pure and simple bilking on breakup fees.
Can Gov. Wolf force Pa. pensions to dump high-fee managers? Philadelphia Inquirer
Oil
The World Is Running Out of Places to Store All of Its Oil Slate

Energy Price Plunge Hits Jobs Boston Globe. Quelle surprise!
Neoliberal Utility and the Paradox of Taxation Ed Walker, emptywheel
Fed tests point to $500bn risk for banks Financial Times
Auditing the Fed (or at least the staff forecasts) part 2 FT Alphaville
Counting on Billionaires Jacobin
Class Warfare
Years after bust, New Yorkers still struggling to stay in homes Metro

Scott Walker says $7.25 an hour is a living wage Daily Kos (furzy mouse)
Antidote du jour. From John B: "Here is my only male cat stretched out in my office on a Tibetan tiger rug. The cats like to lie on this rug probably because it is pretty plush. He does have little hidden tiger stripes in his fur (even though his name is The Lion because he looks like a little lion or as he is also known as Lover Boy because every woman that meets him wants to take him home). I some times say his fur has mystical symbols in it. He is a real sweety and an affection hog. He needs to be held several hours a day which makes it hard to get work done."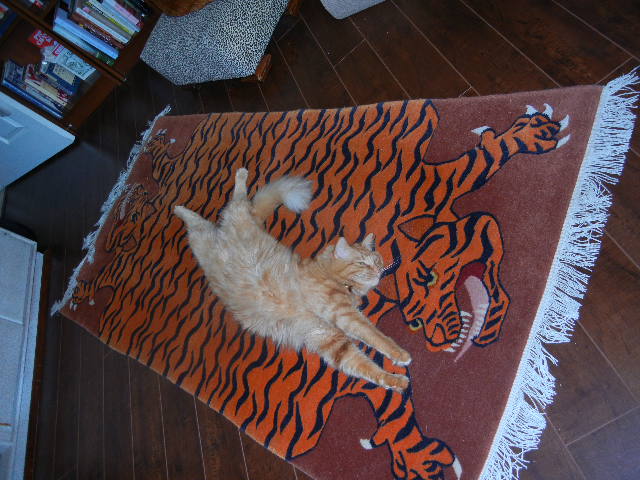 See yesterday's Links and Antidote du Jour here.