It's high time I updated the APGMI part of the saga of Virgin Gold Mining Corporation. Here's a round-up of the relevant parts of this sprawling series.
In our first post, we introduced a vast Far Eastern pyramid fraud ($2Bn?), Virgin Gold Mining Corporation (VGMC), that ran from early 2010 to mid 2013. In May 2013, the follow-up scam, "Plan A", turned into a fiasco when the intended vehicle, Asia(n) Gold Mining Asset(s) Corporation (AGMAC), a fake BVI-registered investment fund, was denounced by the BVI regulator.
In the second post, we sketched the role of VG Resources and Nauer Corporate Service(s), "Plan B", in operation roughly mid-to-end 2013. VG Resources was a supposed stock exchange listing (on GXG) for the (nonexistent) assets of VGMC. London-based Nauer Corporate Services purported to offer "Know Your Client" services supporting the upcoming GXG listing, but surprisingly, given that KYC processing is an FCA-regulated function, never registered with the FCA. In fact it appears that Nauer merely compiled the name, address and contact details of any duped VGMC investors gullible or desperate enough to undertake the round trip from Asia in the hope of salvaging their long-gone VGMC investment. Even after VG Resources announced the cancellation of its VGMC takeover plan, Nauer pressed on with this data collection exercise. There must be a "Plan C" on the way!
In the third post, we reached "Plan C", Asia Pacific Gold Mining Investments (APGMI), a company registered in New Brunswick, Canada, and in operation early 2014 to right now. Like the defunct VG Resources, APGMI is a GXG-listed vehicle brokered by Asia Finance Corporation, trading as London Capital (NZ). We explored more links between APGMI, London Capital, VG Resources and Nauer Corporate Services, especially via the names Julie Cecilia Cook and Bryan Leonard Cook. We noticed a public row breaking out, right at the end of 2014, between the board of APGMI, who look respectable, and APGMI's shareholders, who are London Capital Advisers, and want to kick out the entire board of APGMI.
In the fourth post we tracked the row between the APGMI directors and London Capital Advisers via their duelling web sites, saw the APGMI directors lose a court action in New Brunswick, and concluded that London Capital would get their way, and turf out the respectable board directors of APGMI.
Finally, we saw London Capital expelled from GXG Markets and publicly censured by GXG: evidently the London Capital boys aren't having it all their own way. Now read on.
On February 16th, just after that last post went up, London Capital Advisers notified shareholders of the meeting at which they would dismiss the rebel directors and, presumably, appoint sock puppets of their own. By the 20th, we have the inevitable outcome:
Asia Pacific Gold Mining Investments Ltd. ("APGMI") wishes to advise its shareholders and the public that at the special shareholders meeting of APGMI held in Saint John, New Brunswick on February 20, 2015 (the "Special Meeting"), the shareholders voted to remove Mr. David Mapley, Mr. Phillippe Cappelle and Mr. Michael John Cunningham as directors of the corporation.

Mr. Thomas Yi had previously been appointed to the board of directors by order of the Queen's Bench of New Brunswick and re-elected to his position at the Special Meeting. In addition to Mr. Thomas Yi, Ms. Lydia Amanuel and Mr. Chris Eddy were also elected as directors of APGMI.
As expected, Yi, Amanuel and Eddy have indeed worked together before, most obviously at Global 6 Technologies PLC, another GXG stock brokered by London Capital (NZ) (contacts tab) and ignominiously delisted in December 2014 "to maintain an orderly market". What a great pedigree they have, already.
Equally unsurprisingly, Eddy turns out to have his own connections to dodgy gold mining ventures, too. For instance via Eddy's Dubai entity Convergence Capital, one finds Eddy's business partner Timothy Hanley Coster. Coster also crops up as the director of a New Zealand company, Greywolf Goldmining, whose machinations around mining permit acquisition in New Zealand had been so conspicuous that the Serious Fraud Office were investigating them during  the unfastidious Coster's brief stint as director:
…one of the more intriguing responses came when the man listed in Companies Office records as Greywolf's New Zealand contact person told the Mail he had nothing to do with the company and wasn't related to Edward Lancaster.

Mr Lancaster's subsequent explanation – that the man was his son and had denied it to avoid drawing further attention – came too late to make any difference.

He sent that information through from Australia at 6.12pm on Tuesday. Two minutes later the Mail received notification from New Zealand Petroleum and Minerals that all Greywolf's 10 oil, gas, coal and mineral prospecting and exploration permits had been turned down.

Greywolf had itself said the day before that it was withdrawing from Golden Bay, but this was a comprehensive rejection, and ominously accompanied by the news that "deficiencies" had been identified in the financial information the company had furnished.

Firing a farewell volley the next day, Greywolf's New Zealand chief executive, Christchurch lawyer and ironsands mining advocate John Rutherford, issued a statement saying it had abandoned its plan to expand into New Zealand due to "exceptional media condemnation and factional opposition", and lamenting New Zealand's blindness to the benefits of mining.

But if Mr Rutherford thought that marked the beginning of quiet and dignified retreat, he was wrong. Yesterday morning came a development that didn't surprise anyone who had taken an interest in Greywolf. The Serious Fraud Office announced that it had begun an investigation into whether the company had told lies in its permit applications.
Since most of the possible perps were offshore, the SFO later canned its investigation:
Today, Mr Feeley said although the investigation had identified evidence of possible offending, it could not be pursued without extensive inquiries of people outside New Zealand.

"The focus of our investigation had been to determine the authenticity of certain statements made in the exploration applications," Mr Feeley said.

"While there are doubts as to the integrity of some documents, and the use to which they were put, it does not meet the threshold required for a prosecution."

Mr Feeley said that the SFO had considered the practical and jurisdictional challenges of pursuing the matter overseas and concluded public interest in the investigation wasn't strong enough.

The mining application in question had been rejected by the Ministry of Economic Development.
This tells you something about the advantages of being located offshore, of course.
This blogger can't help wondering if Mr Koster's recent colleague, Mr Eddy, is also aware of the advantages of being as jurisdictionally ambiguous as possible. After all, Mr Eddy of Dubai is now directing APGMI, a New-Brunswick-registered Europe-quoted gold mining company with embryonic and hard-to-visit operations in Ethiopia, majority owned by his mates at London Capital Associates of Hong Kong. APGMI possesses a balance sheet worth a million quid or so and no gold mines, and yet, a vertiginous market capitalisation of £230Mn, based solely on trades reported by more mates at London Capital (NZ), a New Zealand company 100%-owned by an Australian resident of Switzerland and directed, last time I looked, by stooges in the UK and Australia.
That surprising market cap is still proclaimed on www.asiapacificgmi.com as of 2nd March: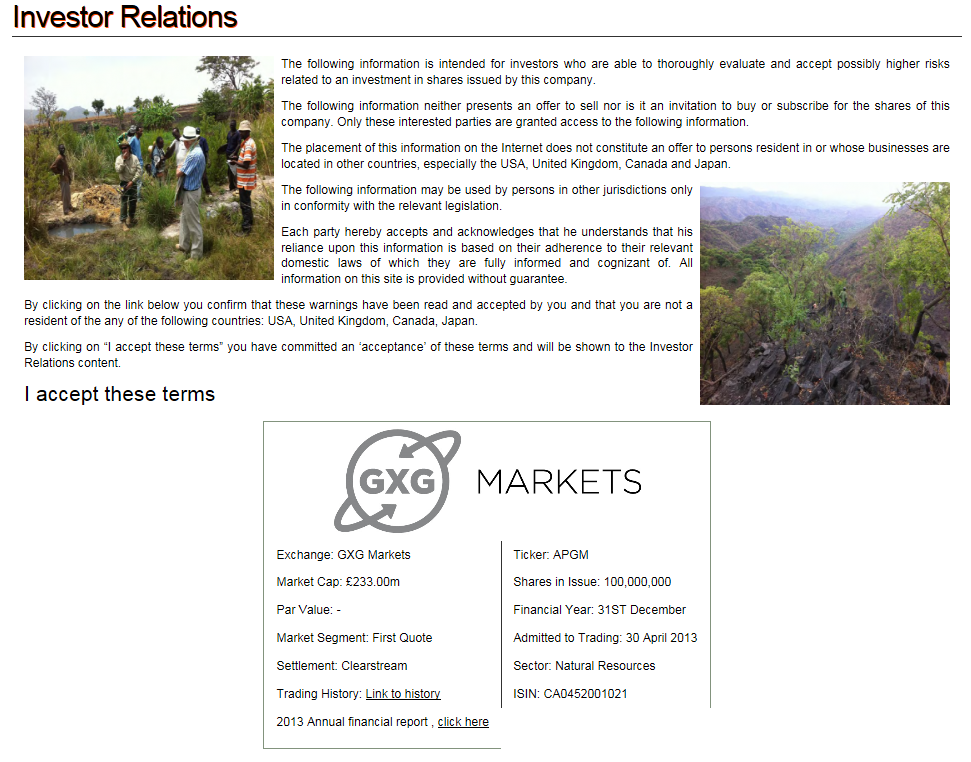 If you think that's all weird, who ya gonna call? With all those territories in the mix, you might as well call Ghostbusters. The regulators and enforcers won't have much to say, to you or to each other.
I wonder how Stewart McKelvey, the leading New Brunswick securities lawyers, who are acting for London Capital Advisers, overlooked all of that unappealing fact set, which was just as eye-catching,  when Stewart McKelvey took on London Capital Advisers as a client, as it is now.
Did Stewart McKelvey really not notice any of it? In that case they may not be terrific securities lawyers all the time, after all. If Stewart McKelvey saw, but just did not care, that makes little difference to the conclusions we draw about them.
Acting for an 80% shareholder who wants to turf out his board directors is easy money, but there can be an opposite payment, in kind. Thus, Stewart McKelvey, one of whose partners was behind the latest New Brunswick securities laws and now chairs the regulator, now has its contact details splattered all over a GXG announcement for what looks like a very obvious pump and dump stock, APGMI. That announcement was published just after Stewart McKelvey client's sister brokerage, London Capital, was terminated by GXG Markets and censured. Did Stewart McKelvey not see any of that coming?
Well, Stewart McKelvey now have an opportunity to retire gracefully, because the deposed directors of APGMI are not done yet. A couple of days ago, this appeared on a Facebook page frequented by the much-abused investors in Virgin Gold, lately put in, at still further expense, to the currently near-worthless stock of APGMI: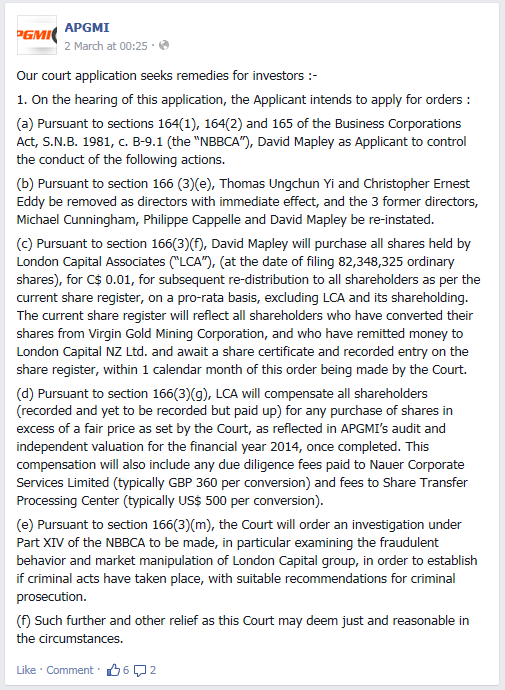 This is spirited, super cheeky, and strangely romantic, or perhaps, Quixotic. The legal basis, here, looks sorta OK; the proposed remedies, ambitious. But the basic idea is clear:

Let us see what the courts make of it, then, and whether Stewart McKelvey are still acting for London Capital Advisers in some counter-action yet to be announced.
To be continued…