By Rob Parenteau, CFA, sole proprietor of MacroStrategy Edge and a research associate of The Levy Economics Institute
Paul Krugman had a delightful field day with his March 2nd New York Times column trashing media poseur economists like Larry Kudlow – economists who somehow manage to survive on their entertainment value alone, despite their repeated analytical errors. No doubt their prolonged shelf life has more than a little to do with the fact that the points of view they espouse tend to encourage their readers (or viewers) to think that their self interests are perfectly aligned with the self interests of say, oh, the Koch Brothers and their ilk. Useful idiots is the phrase that comes to mind. Useful idiots engaging in willful ignorance.
On his way to skewering the clownier clowns of the economics profession, however, Krugman could not help but to once again remind his loyal readers that everything you ever needed to know about macroeconomics was already discovered and described in his 1998 paper on Japan's alleged liquidity trap. Humility is not one of Krugman's strong suits, but we will allow you to come to your own conclusions after reading yet another of his repeated attempts at shameless self pimping in the March 2nd piece:
In my own case, I'd guess that about 80 percent of what I've had to say about macroeconomics since the crisis was prefigured in my 1998 liquidity trap paper, which was classic MIT style — a stylized little model backed by and applied to real-world events, with lots of data used simply. (Seriously, skim that piece and you'll see why I sometimes seem so frustrated: People keep rolling out arguments I showed were wrong all those years ago, or trotting out arguments I made back then as something new and somehow a challenge to conventional wisdom.)
Now let's conveniently forget for the moment that Krugman really doesn't have a clue about liquidity traps, at least as Keynes presented them. Jan Kregel pointed this out over a decade and a half ago, but perhaps Krugman has not gotten around to reading that piece, since Krugman did not write it…and everything you need to know about macro, according to Krugman himself, is written by Krugman. You can read Jan's argument here if you care to discover where Krugman has gotten Keynes' liquidity trap wrong, especially as it applies to Japan's deflationary lost decades.
Since Krugman wrote the introduction to the latest edition of Keynes General Theory, which is where Keynes lays out the liquidity trap issue, this might be a source of embarrassment to a liberal, especially if he indeed has a conscience. But as Jan points out, in the world of Very Serious Macroeconomists, there are people walking around calling themselves New Keynesians, when really they are just Old Friedmaniac monetarists, with a little pre-Great Depression Irving Fisher, and maybe a dash of 19th century Wicksell too, thrown in on the side for good measure. And they get away with it. Somehow. Like Kudlow does.
New Keynesians like Krugman, Bernanke, Blinder, Yellen, etc. believe they have found a hammer, namely Irving Fisher's real interest rate hammer, and so the whole economic world looks like a nail to them. Got an unemployment problem? Lower real interest rates. Got an inflation problem? Raise real interest rates. Life is simple, and life is good. It's all there in Krugman's 1998 paper – seriously, skim that piece.
In that world, we are encouraged to forget about fiscal policy – government debt to GDP ratios are too high already – just ask Reinhart and Rogoff – and so few developed markets nations have the policy "space" to use fiscal stimulus, ever again, apparently. Even if they have sovereign currencies. Instead, monetary policy is deemed hegemonic.
And by the way, now that even central banks like the ECB are doing QE, monetary policy is fiscal policy. It is just that rather than using money to produce something useful and increase household incomes, which is what fiscal policy usually does, and is so unfashionable, money is being used to produce capital gains for bondholders, and maybe even equity holders as well, if the portfolio balance channels are not too clogged. The only problem seems to be that bond and equity holdings are highly concentrated in the highest reaches of the income distribution, so this is just trickle down economics in New Keynesian drag.
But putting that all to the side, there is a big black fly doing the back stroke in the New Keynesian policy soup. And nobody dares call the waiter over – it is all just a little too embarrassing. And nobody dares to clue Krugman into the insect intrusion, because he did not write about it, so it has not been discovered yet…has it?
Matthew Klein reported in Tuesday's FT Alphaville on some findings delivered by Goldman Sachs economist Jan Hatzius, who is no clown, and BAML's Ethan Harris, to the Chicago Booth Monetary Policy Forum last week. As displayed in the FT chart below (full article linked here) there is a little problem with the widely received and deeply believed story that real interest rates are the one and only steering wheel of economic policy.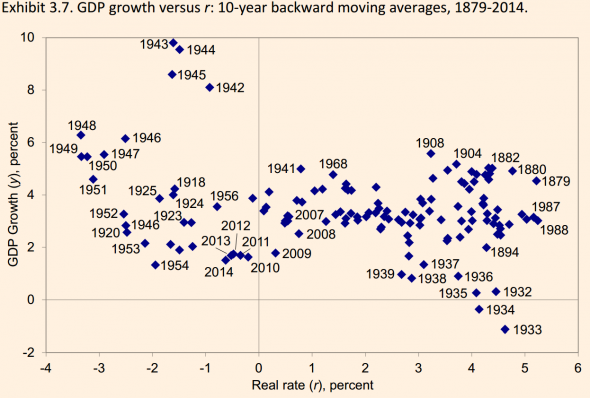 As you can see for yourself in the chart, over the past 135 years, there is not much of an inverse relationship between real interest rates and real GDP growth rates over the long run. We should concede the point that the expected inverse relationship between real interest rates and real GDP growth does appear to show up only at the extreme high and low levels of real interest rates. But notice the dates on these observations at the tails of the distribution.
Real GDP last reliably rose with low real interest rates in the late 1940s and early 1950s. They also last reliably fell with high real interest rates in the 1930s. So that means Krugman, rather than Keynes, appears to be practicing "Depression Economics" – that is, an economics only relevant to long ago and far away, which is basically how Krugman interprets Keynes, but that is an issue we'll take up on another day.