By Lambert Strether of Corrente.
2016
Former Rhode Island Governor Lincoln Chafee (D) launches exploratory commitee [Rhode Island Public Radio]. Chafee: "unilateral military intervention has damaged American interests around the world." My first debate topic… Plus ca change…
The S.S. Clinton
Clinton writes a pre-launch epilogue for Hard Choices, about the birth of her granddaughter [HuffPo]. Call me a sloppy sentimentalist but I hope Charlotte is covered by single payer by the time she's ten, and we don't go to war in Iraq again.

"When the presumed Democratic front-runner announces her 2016 bid in [on Sunday], expect a Facebook post, a video, maybe some tweets. Then it's off on the trail to meet one-on-one and in small groups with voters in the early states of Iowa, New Hampshire, South Carolina and Nevada" [WaPo]. This is smart; it's what Clinton did post-February Caucus debacle in 2008, when she won all of the big states and the popular vote, if all the votes are counted. The press didn't notice because they were too busy burnishing their resumés for the White House press operation. (Politico does a happy dance because they called their shot on March 27. Ahem.)

"They are going to raise in one week what some Republican presidential candidates are going to raise the entire cycle," said one Clinton aide" [Daily Beast].
The campaign is "expected to be a $2.5 billion effort, dwarfing the vast majority of her would-be rivals in both parties" [New York Times].

Democratic populism: "How do you balance reflecting some of the concerns of the base without alienating the voters that you need to win the general election?" [Wall Street Journal, "Liberal Democrats Try to Push Hillary Clinton Left"] Concrete material benefits.

Clinton is "the single point of failure" for the entire Democratic Party [The New Republic]. What could go wrong?
Republican Establishment
Jebbie delays picking foreign policy campaign advisor for fear of offending warmongering neo-con donors [Wall Street Journal, " GOP Foreign Policy Factions Tussle for Sway in Jeb Bush Campaign Team"].
Republican Principled Insurgents
Paul: I would "never take the country to war without just cause and without constitutional approval of Congress." USS Yorktown in the background [Herald-Leader]. Guy's a loony!

Pastor who spoke at Paul rally: "In five years we'll find out what [Obama's] real religion is" [Buzzfeed]. Let the oppo begin!
Republican Clown Car
Christie and Bridgegate. I think this is a brilliant and useful diagram, worthy of careful study [New York Times]. But I'd be interested in what readers think.
"This tool allows users to visualize and explore differences in public opinion about global warming in the United States in unprecedented geographic detail" [Yale School of Forestry and Environmental Studies].
"Under this scenario, Democrats still start with an Electoral College lead of 191 to 164 for Republicans, but it's not nearly as large as the traditional "blue wall" framework of 247-191." With handy map [Cook Political Report]. "[T]here's no such thing as a permanent Electoral College coalition."
The Hill
Elizabeth Warren: The system works "to make sure that the tender fannies of the rich and the powerful are always carefully protected" [Vox].
"Long knives" out for Social Security as Warren and some other Democrats want to increase it [HuffPo].
Stats Watch
Import and export prices, March 2015: "there's scant signs of any inflationary pressures" [Bloomberg]. "The strong dollar is a central factor that is pulling down, not only foreign demand for US exports, but also prices of foreign imports."
Water
"Scarcity is the crucible of good governance. Shedding light on what countries are actually doing to manage freshwater and wastewater is the focus of the OECD report" [OECD Insight].
Moral suasion vs. private incentives for water management [Marginal Revolution].
Emanueldämmerung
Sanders: "I am worried about whether any candidate who represents the working class and the middle class of this country will ever be able to beat the billionaire class" [HuffPo]. After Rahm's squillionaires bought him all that TV time.
Big Brother Is Watching You Watch
A look at Privacy International, a London-based anti-surveillance advocacy group founded 25 years ago [Fusion].
"The Great Cannon, the researchers said in a report published Friday, allows China to intercept foreign web traffic as it flows to Chinese websites, inject malicious code and repurpose the traffic as Beijing sees fit" [New York Times].
"This post describes our analysis of China's "Great Cannon," our term for an attack tool that we identify as separate from, but co-located with, the Great Firewall of China. The first known usage of the Great Cannon is in the recent large-scale novel DDoS attack on both GitHub and servers used by GreatFire.org" [Citizen Lab]. This is the real deal; here is the New York Times coverage.
Workplace Watch
Police cams create problems of their own: how to analyze, process and store the mountains of video each camera generates [Wall Street Journal]. I don't like the idea of cams in every workplace at all, and I think that's what police cams lead to (and some assume that the cops can't game the cams. Dubious). FWIW, I think the answer is to get cops out of their cars, make them walk the beat, and ideally take their guns away.
Black Injustice Tipping Point
Why was Walter Scott running? [The Marshall Project]. One idea: "In South Carolina, at least one in eight people in jail are there on contempt-of-court charges related to late or unpaid child-support orders," and he didn't want to be among them.
Atmosphere piece on North Charleston, from a local paper [The State]. Compare: "To many black residents, the overt hatred and segregation that ruled this place during the Jim Crow era has morphed into something more insidious: the routine traffic stop" [Los Angeles Times].
Class Warfare
"There's already almost $800 billion in student loans that's directly on the government's balance sheet, according to Wall Street experts who advise the U.S. Treasury on its borrowing strategy" [Bloomberg]. Ah, "Wall Street experts."
Hold on to your wallets; former Enron trader and hedgie squillionaire John Arnold wants "pension reform" [Reuters]. Like rats in a grain warehouse. We need some cats!
"If healthier wage data keep coming, interest-rate rises from the Federal Reserve will soon follow" [The Economist].
News of the Wired
* * *
Readers, feel free to contact me with (a) links, and even better (b) sources I should curate regularly, and (c) to find out how to send me images of plants. Vegetables are fine! Fungi are deemed to be honorary plants! See the previous Water Cooler (with plant) here. And here's today's plant, the fourth of "I Wish It Were Spring!" week four (JG):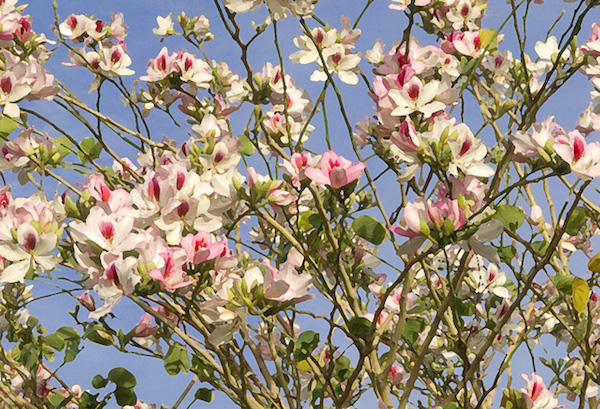 Orchids!
Does anybody have any gardening photos yet? Too early?
NOTE To whoever filled out my contact form; please include your email (not mine, which is foolishly the default (got to fix that)) because otherwise I cannot respond to you!
If you enjoy Water Cooler, please consider tipping and click the hat. It's the heating season!
Talk amongst yourselves!