By Lambert Strether of Corrente.
Readers, today's water cooler will again be a bit light; I'm still having tooth-grindingly frustrating problems with my routers. –lambert
TPP
"With progressive voice Sen. Elizabeth Warren helping lead the fast track/TPP opposition, and possible candidates Bernie Sanders and Martin O'Malley joining in opposition, it's time for Hillary Clinton to tell people where she stands on fast track and TPP" [Dave Johnson, Huffpo]. Indeed.
Chris Dodd, heads of the Motion Picture Assocation of America, signed on with six other former Democratic National Committee chairs to urge fellow Democrats to support trade-promotion, or fast-track, authority for Obama [Los Angeles Times]. The grass roots have spoken…
The TPP is so odiferous that even the WFF can't support it, despite White House claims otherwise [Truthout].
Japan: Catherine Mellor, from the US Chamber of Commerce, said the Chamber was not only "very optimistic" there would be bipartisan fast track, but that there would be a breakthrough in US-Japan negotiations during Japanese Prime Minister Shinzo Abe's imminent visit to Washington DC [ABC Australia]. Last I checked, Japan wanted more skin in the game from Obama. Haven't seen it yet…
Australia: Australian health groups are concerned that the proposed Investor-State Dispute Settlement (ISDS) clause, which would allow foreign corporations to sue governments in overseas tribunals, could have dire implications for public health policies and programs [Macrobusiness]. That's not a bug…
New Zealand: "The fear [of many healthcare unions and doctors in New Zealand] is that, once TPP is in force, many District Health Boards will be unable to opt for New Zealand's own services or contractors as their first choice. Also, they will face problems in excluding suppliers who may be dealing in products such as tobacco" [International Business Times].
Maine: "New Balance still doesn't know for sure if the agreement will eliminate footwear tariffs on shoes made in Vietnam" [Mainebiz]. Yes, we still manufacture shoes in Maine. Not many, but we need all the jobs we can get.
Generational differences in polling at TPP [Progressive Economy]. The older you are, the less likely you are to support TPP. Idea: People who experienced trade deals understand their effects better than those for whom the trade deals created a "new normal."
Microsoft Government Affairs Director Irene Plenefisch: Microsoft favors both "fast track" and the TPP, saying they deter piracy and create new opportunities for digital content. In addition, she said, the TPP for the first time would address cross border data flows [Crosscut]. Hmm. What the heck are "cross-border data flows." Doesn't the NSA handle all that?
"It may take decades before we really understand the stakes of the TPP" [The New Republic]. We have to pass it to find out what's in it.
The Wyden blimp makes the big time! [Wall Street Journal].
2016
The S.S. Clinton
"Stephanie Hannon, who is Google's director of product management for civic innovation and social impact, will become the chief technology officer of the expected Clinton campaign" [WaPo]. Ka-ching.

Clinton oppo: "The Rodham brothers have a history of embarrassing their sister" [Mother Jones].
Establishment
"Bush cut taxes each of the eight years he was governor, from 1999 to 2007, for a total of nearly $20 billion. He helped streamline state government, privatizing many functions and cutting the civil service payroll by 14,000 jobs" [Governing]. Floridians didn't consider Jebbie a moderate at all.
Principled Insurgents
"Ron Paul Withholding Presidential Endorsement Until True Libertarian Candidate Enters Race" [The Onion].

Ron Paul is Mike Dukakis-short [Bloomberg].

Paul to Today anchor: ""No, no, no, no, no, no, no, no. Listen, you've editorialized" [New York Magazine]. Getting off on the right foot with the press, I see.

Paul's approach to campaign finance [ABC interview]. Totes rights-respecting:

[PAUL:] And I am for some limitations. I think there's a possibility of campaign finance reform that would include a contractual clause in government contracts to say that if I'm gonna give you $1 billion to do work for the government you will agree not to do certain things to lobby government for more money.

Paul oppo: "A criminal probe involving his father's 2012 campaign is inching dangerously close to Paul's inner circle" [Mother Jones]. I read the whole thing, and I can't boil it down (!). Keyword: "Coordination," which is what "outside groups" can't do with campaigns, even though everybody knows they do just that. Bottom line: "They are in such a bubble in this Rand Paul universe, and I think the bubble's going to pop real quick in the heat of the primaries," says the conservative strategist familiar with the Pauls and their allies. "They are not ready for prime time." Pass the popcorn.

Walker oppo: "Prosecutors allege Gov. Scott Walker was at the center of an effort to illegally coordinate fundraising among conservative groups to help his campaign and those of Republican state senators facing recall elections during 2011 and 2012, according to documents unsealed Thursday" [Journal-Sentinel]. Hmm. There's that word again: "Coordination." Moar popcorn!
The Hill
Tea Party hires actors to pose as protesters against Everglades plan [Grist].
Herd on the Street
NBC goes from disaster to disaster after Comcast, which wants to run the Internet, bought it [Vanity Fair].
"Fed Minutes Guide: From Slowing Economy to Rate-Rise Timing" [Bloomberg]. To be released at 2:00PM. Just after deadline!
Emanueldämmerung
Headline of the day: "Chicago Waiting to See if Runoff Truly Has Humbled Rahm Emanuel" [New York Times]. I think not. FWIW, I saw non-Chicago outsiders handing Chuy dagger after dagger — Police torture (Guardian), corruption (International Business Times) — and Chuy refusing to drive the dagger home. I think Karen Lewis would have been a very different candidate, but I'm hesitant to generalize beyond that. Chicagoans?
Water
"Agriculture uses 80 percent of the state's water only if you exclude water that is reserved for environmental purposes" [Los Angeles Times]. Good explainer. It's not all the almonds!
Black Injustice Tipping Point
North Charleston, South Carolina officer Michael Slager faces murder charge after video shows him shooting a fleeing Walter Scott in the back [Post and Courier]. Gee, this keeps happening, doesn't it?
Walter Scott's father: "The way [Officer Slager] was shooting that gun, it looked like he was trying to kill a deer" [Los Angeles Times].
Online fundraising campaign for Slager has been removed after just one hour [International Business Times].
Walter Scott family's lawyer: "It's not about race. It's about power" [Los Angeles Times].
Police in South Carolina have fired their weapons at 209 suspects in the past five years, and a few of officers have been accused of pulling the trigger illegally – but none has being convicted [The State].
Ferguson elects two new black city Councillors, and doubles turnout (!) [USA Today]. Kudos #BlackLivesMatter GOTV operation.
#BlackLivesMatter vs. the Black misleadership class [Gothamist (AH)]. Good explainer, names names. Looking at you, Al Sharpton!
Police State
County clerks oppose eliminating prison for debt, since the fines fund the courts [KPLU]. I had no idea that "LFO" (Legal Financial Obligation) was an acronym. Yes, you can go to jail for an LFO.
"Driver's license suspensions push poor deeper into poverty, report says" [Los Angeles Times].
"Ferguson is emblematic of how municipalities in the St. Louis region, and across the country, operate as carceral, mob-like states that view and treat poor black people as cash cows" [The Intercept]. The story hook is arresting a woman on old warrants, and jailing her, on a names mixup.
Cops would rather drop Stingray cellphone interception cases than disclose how the evidence was gathered [Ars Technica]. That's not reassuring, is it?
News of the Wired
* * *
Readers, feel free to contact me with (a) links, and even better (b) sources I should curate regularly, and (c) to find out how to send me images of plants. Vegetables are fine! Fungi are deemed to be honorary plants! See the previous Water Cooler (with plant) here. And here's today's plant, the third of "I Wish It Were Spring!" week four (joe6pac):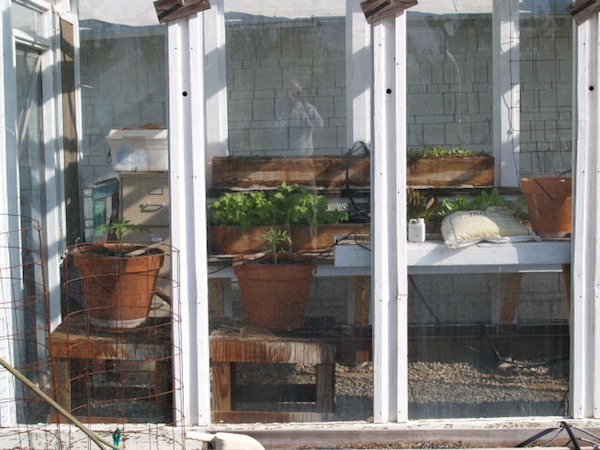 Salad stuff in the green house. That's awesome; I don't organize myself well enough to do that.
Does anybody have any gardening photos yet? Too early?
NOTE To whoever filled out my contact form; please include your email (not mine, which is foolishly the default (got to fix that)) because otherwise I cannot respond to you!
If you enjoy Water Cooler, please consider tipping and click the hat. It's the heating season!
Talk amongst yourselves!